Mini's in-house tuning arm has turned up the wick on its Cooper S hot hatchback and aims to make this JCW the sportiest model it has produced... so far. Is it enough of a step up from its S sibling or just a tuned-up version with some fancy badging? Let's find out
We like: more composed on the road than previous JCW, agile in the twisties, exhaust popping leaves a grin on your face.
We don't like: Not the best manual gearbox, expensive with options fitted.
Alternatives:
For more pace: Renault Megane RS – add some options to the JCW and you've spent Megane RS money. The Megane, now in the twilight of its production cycle, is for the more hardcore driver who's likely to go to track days with their car, however.
For something similar: Audi S1 – the Audi offers similar outputs to the Mini, but utilises a quattro drivetrain to lay down its power; its handling ability is quite similar to that of the JCW and it costs about the same too.
For a left-field alternative: Alfa Romeo Mito Quadrifoglio – the baby Alfa offers a little less in the power stakes, but has lots of personality and charisma.
What is it?
With a John Cooper Works (JCW), Mini takes a standard Mini Cooper S (which is anything but pedestrian) and tweaks virtually every aspect of the car in the pursuit of extra performance. The result is a more sporting exterior, replete with boy-racer bits and a racy interior that, again, has a few more exciting touches to it. The handling dynamics and engine outputs get slight seeings to and the final product is a very fast, quite firm and special Mini.
How does it fare in terms of…
Performance?
The JCW obviously has a performance bent to it, so the standard Cooper S has its power "adjusted upwards" from 141 kW to 170 kW while peak torque is kicked up from 280 Nm to 320 Nm. The major positive about the performance upgrade is that it doesn't turn the JCW into a wild, tyre spinning, crazy car. It remains composed and deals with the extra power... almost as if it was always meant to have 20% more clout. Traction control does not intervene in an obtrusive manner (even when the front wheels are beyond their limits); it merely reigns the power in gently until full traction is regained.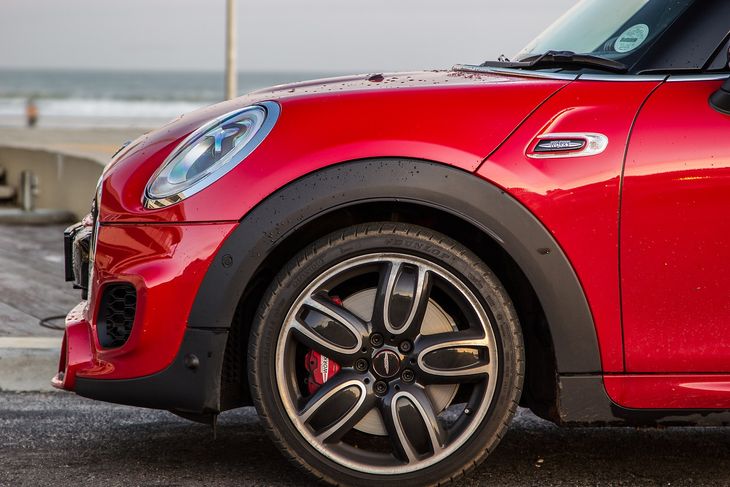 Extra power of the JCW harnessed by Brembo brakes and lightweight wheels
The tuned exhaust system helps improve power, but when Sport mode is selected it has a far more noticeable effect. On the overrun, there's a cameo appearance from the Rice Krispie triplets (and in full voice!). It's hilariously entertaining and definitely over the top for what a 2.0-litre turbo motor would normally express. Fuel consumption takes a hit as a result of the showy sportiness; we were only able to achieve 10.2 L/100 km during the JCW's tenure.
Handling?
The second most important requirement for a JCW is that it needs to offer some sort of handling benefit over a standard Cooper S. The main upgrades occur not to the suspension, but to the brakes and wheels. The brake discs are pinched by Brembo calipers and the wheels are specially-designed lightweight racing alloys (17 or 18-inch). The brake upgrade is very noticeable and there's great feel and confidence in the pedal that tends to promote late braking manoeuvres just before your favourite set of bends. There's a Sports suspension fitted as standard and adaptive dampers are offered as an option.
The adaptive dampers have a pronounced effect on the overall ride quality, allowing the JCW to remain calm when not buzzing around a track or quick section of road. In a normal driving situation (like the daily commute) the Sports setting makes the Mini's ride a bit too stiff and bumpy to live with, but opt for the dynamic dampers if you want to choose between a calm and – when required – hyperactive JCW.
Meanwhile, all you need to do is point the JCW towards a collection of chicanes and you get the best out of it. It has a fast front end that vacuums up apexes while the rear is mostly settled and very rarely do you feel any lift-off oversteer. The centre of gravity is particularly low, so lateral grip is exceptional for a front-wheel-drive car. Whipping it into an apex and then powering out while unwinding the steering really shows how well the JCW's chassis can hang on.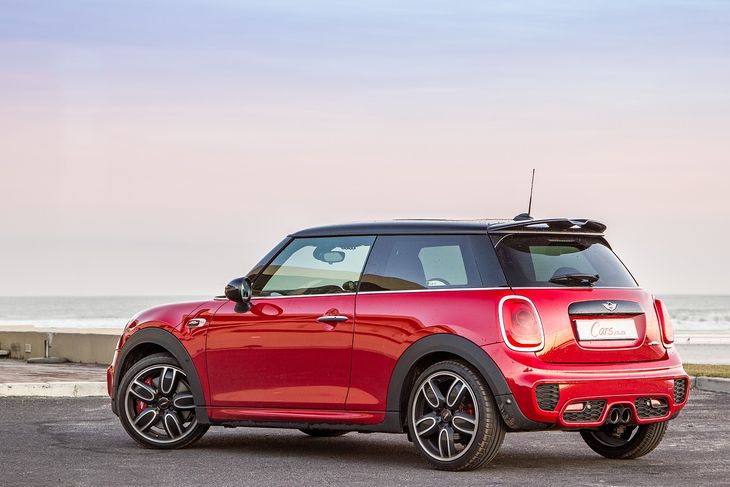 JCW front and rear bumpers have loads of little grilles to help cooling and aero
The JCW we tested was equipped with a manual gearbox, something we haven't seen in a long time on a performance Mini, surprisingly. The lever is frustratingly long and it's not the most pleasing thing to look at with its thin long stalk and T-shaped head. It's also not that great a shifter, it's springy between gears and has quite a long throw... a Mini should really have a short, very direct shifter. The manual is some R40 000 cheaper than the sports automatic.
Specification?
What's available in the standard Cooper S is also available in the JCW. Our model came specified with the Cockpit Chrono Package, which adds an extra set of dials above the instrument cluster. The dials indicate values such as turbo pressure and an analogue lap timer that you need to reach over the steering wheel to activate. We think the latter is a bit of a gimmick, but a neat little feature to show your buddies.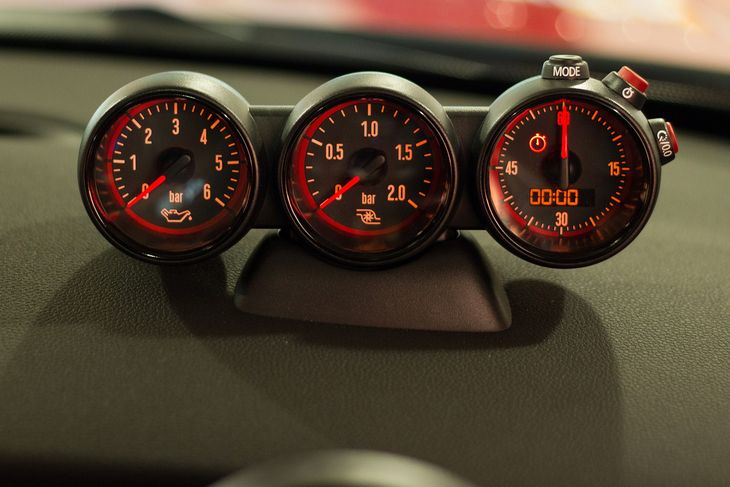 Cockpit Chrono package adds these dials in front of the steering wheel. Yes, you have to reach over the wheel to push them
If it's unique JCW cosmetic addenda that you're after, then the Chilli Red roof and mirror covers are available, as are JCW stripes on the bonnet. The interior is fitted with JCW sports seats and a derivative-specific multifunction 3-spoke leather steering wheel. There are loads of options available for connectivity, navigation etc and funky ways to further spruce up your Mini (so that there is little danger that it will look quite like someone else's).
Verdict
Success! The Mini John Cooper Works ups the ante on the standard Cooper S without turning the Mini into an unmanageable Neanderthal. It's not quite a track-day special car, but it's certainly a thoroughly entertaining driving machine. The dynamic damper option is a must-have (in our opinion) as it really does smooth out the ride/make the JCW less of a back-breaking proposition on an everyday basis. Unfortunately, the manual gearbox is less engaging than we hoped for due to its springy action and long throw but, it is some R40k cheaper than the auto. The Audi S1 proves to be the JCW's main competition, but, in fairness, the Ingolstadt hatchback takes itself more seriously than the Mini. The JCW has a funky, fun personality; is it too measured for its own good? Nah.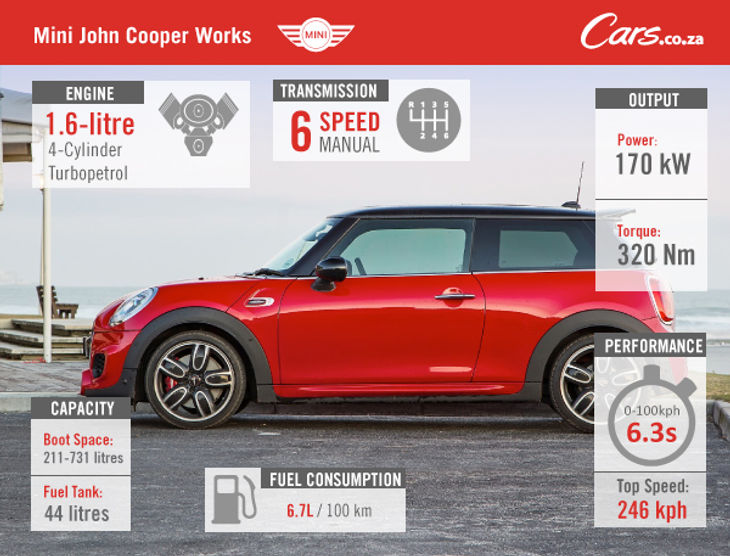 Related Content:
Mini Announces Hardcore, Track-Focused JCW Challenge
Interested in buying a Mini JCW?