The One is the entry-level offering in Mini's product line-up and while it's the most affordable way to get into this refreshingly different and edgy brand, does it represent great value?
We Like: Cheapest path to ownership of a new Mini, still retains fun-to-drive characteristics, excellent engine, oozes charm and personality.
We Don't Like: Still expensive for what you get, lacks standard equipment, extras are costly, too close to a Mini Cooper.
Alternatives:
For similar money: The Audi A1 3-door 1.0T S may share its underpinnings with a Volkswagen Polo, but offers the prestige of the Audi badge. Combining compact cuteness with a modern, minimalistic interior, the A1 is not as fun to drive as the Mini and it feels a more mature, premium choice. It suffers from the same affliction as the Mini One: you're buying a shell of a car and you'll be paying extra for the cool toys.
For something similar: Citroen DS3 e-THP 81kW Style The most successful model in the DS line-up has the Mini in its crosshairs, but it is not the newest product in the market. The engine is excellent and the package is well equipped and stylish, but sadly the exchange rate makes this model considerably more expensive than the One and priced dangerously close to the Cooper.
For a cheaper offering and similar experience: Opel Adam 1.0T Glam The Opel isn't as premium as the Mini, but lacks little in terms of cuteness and charm. The engine is a peach, the specification (in Glam guise) is comprehensive and this model is cheaper than the One.
See how the Mini One fares compares with the Audi A1, Citroen DS3 and Opel Adam Glam here.
What is it?
Compared with its 3- and 5-door Mini Cooper brethren, the One purports to offer the engaging, fun-filled driving traits and cheeky image that have endeared it to fans for all these years, but at a more affordable price. Under the bonnet lurks a rather spirited little 1.2-litre 3-cylinder petrol motor mated with a turbocharger. The mill produces a tidy 75 kW and 180 Nm, which gives the lightweight compact city car plenty of go.
How does it fare in terms of…
Fun to drive factor?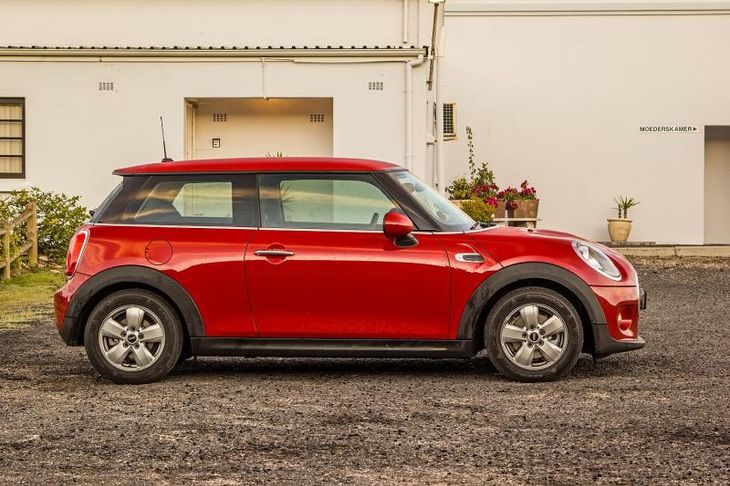 The pointy front end of the One certainly makes it fun to steer the Mini around tight corners at low speeds and the gear action encourages you to press on. The sound emitted by the motor is rorty, which is typical of 3-cylinder engines and the accompanying turbo chatter will put a smile on your face. There's the tiniest amount of turbo lag, but a deftly placed foot on the loud pedal will cure this. The 6-speed transmission comes replete with a light clutch, a positive throw and you can hit 100 kph from zero in about 10 sec. While that doesn't sound fast, there's certainly no shortage of urge; the One feels eager to go.
The steering offers positive feedback and in response to energetic inputs, the One will dart about enthusiastically. It's pleasing to see that some manufacturers are still engineering "fun cars: while others are numbing the driving experience with, shall we say "excessive refinement".
Gadgetry?
As the One is essentially Mini's equivalent to a Fisher Price "My first..." toy, you can't expect too much in terms of luxury features, but it has the basic conveniences covered. You get power steering, electric windows, air conditioning, radio with CD player and USB/aux inputs as well as Bluetooth connectivity. Strangely, there's no Bluetooth audio streaming. Our Mini One test unit came optionally equipped with cruise control and the multifunction steering wheel. The infotainment setup is small and relies on an old-school orange LCD screen, which, to be fair, is simple to use.
Despite it being a no-frills vehicle, safety has not been compromised. ABS with EBD and brake assist are standard, as is traction control. Six airbags in the cabin round off the safety package.
Open up the options list and it's possible to spec the One liberally. We'd advise going for one of the two option packs that offer a combination of add-ons at a discount: Wired and Chili. Wired costs R23 000 and consists of Bluetooth streaming, navigation and Mini Connected XL, but if you had to spec those features individually, you'd pay more. Chili costs R34 350 and comes with some exterior features such as LED headlights and body-coloured wing mirrors, as well the driving mode functionality, climate control, sports seats, a height-adjustment function for the front passenger and a few other details.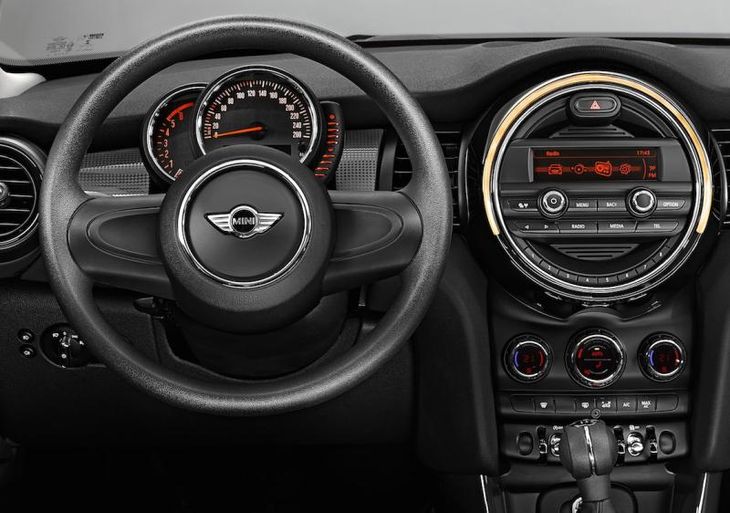 A Mini without a multifunction steering wheel does seem very plain, even in One specification.
Value for money?
Mini has become a premium brand, but that tag does not grant it immunity from comparisons to well-specced products offered by "less glamorous" brands. Consider the Opel Adam, for example. The Adam follows the same funky and fun-to-drive recipe as the One, but costs substantially less while its standard specification is comparatively comprehensive. The Mini One, by contrast, requires careful inspection of the online configurator as the car without options is very basic. Basic won't cut it when you're paying over R250 000 for a compact car – even with a large helping of brand prestige in the mix.
On the other side of the coin, the One's build quality is reflective of its price tag and the old rattling and brittle-feeling Mini cabin is seemingly a thing of the past. Rear space is cramped (as you'd expect of a two-door car), but there's a 5-door Mini One if you're desperate for extra room.
Mini One price in South Africa
The Mini One range starts from R275 000 for the 3-door manual, while the automatic version goes for R290 000.
Verdict
While it's good to see that a starter-pack Mini hasn't lost any of the brand's fun-to-drive characteristics and that it's under the R300 000 barrier, the product feels a bit light on features. You're buying a very basic car that requires at least one or two ticks of the options list to bring it up to the same level of standard specification as its rivals. We could cut it some slack as Mini has become a premium brand and the One is the cheapest way of getting onto this ladder.
When you remove logic from the equation and judge the Mini One purely on the strength of its emotional appeal, you cannot deny the little car's desirability. What's not to like? You're getting a Mini with the cool factor associated with the brand for under R300 000; it's still a charming vehicle that is fun to drive and oozes so much character that it makes other brands' wares seem tepid and bland. If you want a new Mini, but your budget can't quite stretch to a new Cooper, then the One is worth a look, but you're unlikely to be satisfied with it at its list price. Be mindful that a One with all the options ticked will come dangerously close to the more powerful and pleasant Cooper. Spec it carefully... we suggest you tick one of the options packages marked Chili or Wired.

Related content:
Mini Announces Hardcore, Track-Focused JCW Challenge
Mini Cooper S Clubman (2016) Review
Interested in buying a Mini One?