The new-generation Mazda BT-50 will arrive in South African showrooms next year... in other words, before the bakkie on which it is based – the upcoming Isuzu D-Max – comes to market.
Last week, Cars.co.za reported that Isuzu South Africa has had to delay upgrades of its manufacturing facilities in Port Elizabeth (where it will produce the new generation D-Max) due to the impact of Covid-19, which had, in turn, also caused interruptions to the Japanese brand's development programme to adapt the bakkie's various components specifically for local conditions.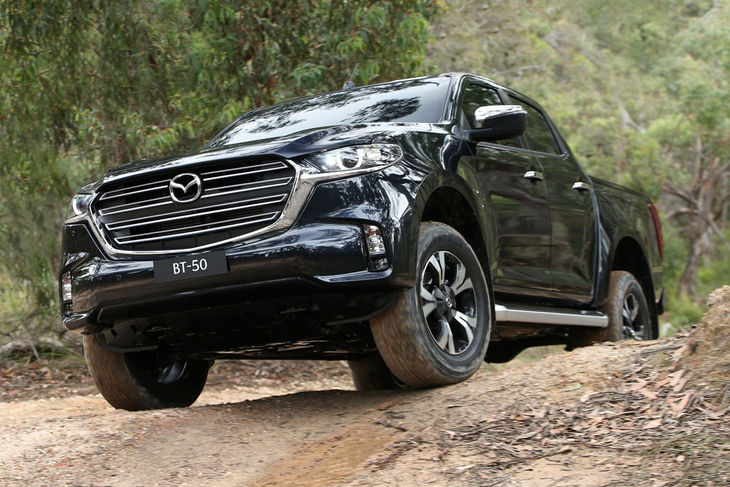 Compared with its predecessor's love-it-or-hate-it looks, the new BT-50 is more classically handsome (for a bakkie, anyway).
According to Isuzu SA, "some of the key projects being undertaken include testing of the (newcomer's) load box, which in the current bakkie has significantly thicker steel in strategic areas such as the load box inner panels, load box front panel, and tailgate."
"Other areas receiving attention from local engineers include, dust sealing, suspension tuning and development of local dampers, development of all-terrain tyres, rear diff lock and axles, wiring harnesses, and accessories," the manufacturer said.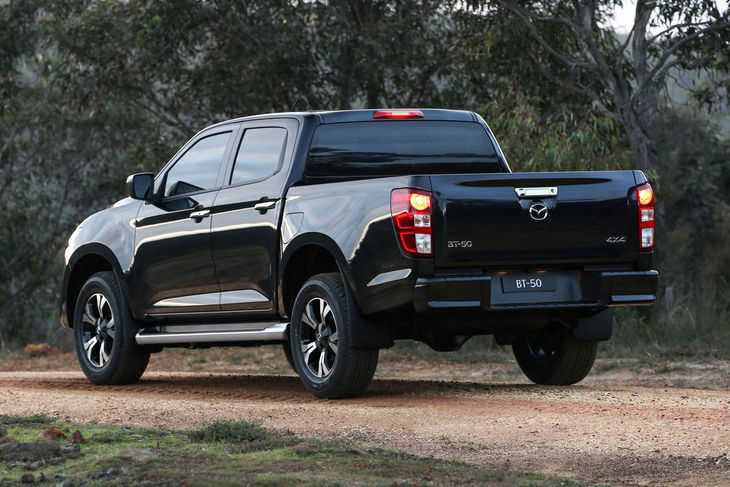 The BT-50's tail-light clusters (with Mazda's circular lighting signature) and tailgate are unique to the Japanese bakkie.
The net result of this development is that the new Mazda BT-50 will debut in South Africa before the bakkie on which it is based, the new D-Max, goes on sale locally in 2022. Unlike the Eastern Cape-produced D-Max, however, the BT-50 will be imported from Thailand.
"I can confirm that the BT-50 is part of our product planning for 2021, but we will only be able to communicate the exact timing of the model's introduction closer to our launch time," Mazda Southern Africa brand manager Melané Bezuidenhout told Cars.co.za. "We have yet to be finalise the new range's line-up of derivatives and their respective specifications, including powertrains, features, interior trim etc."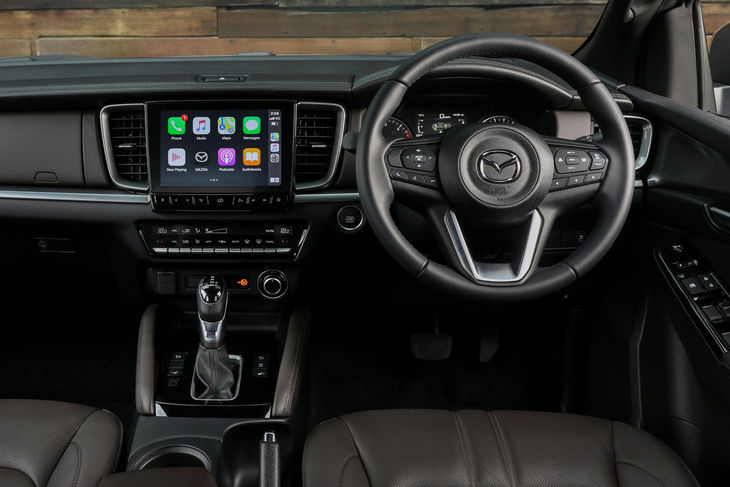 Mazda was determined to make the BT-50's cabin as plush and passenger-car like as possible.
The fact that Isuzu feels its needs to bolster and optimise the new D-Max for the unique challenges of operating in local conditions is not surprising; the Japanese manufacturer (then under the custodianship of General Motors) did exactly the same (conducted a thorough localisation programme) in the lead-up to the introduction of the current bakkie, which was then known as the KB.
But while the next D-Max will be produced in various configurations, from a no-frills single-cab LCV to a higly-specced double cab to compete with top-end versions of the Ford Ranger, Toyota Hilux etc (and it will be distributed throughout Southern Africa), the Mazda BT-50 is likely to be offered in double-cab guise only in South Africa and it will be aimed squarely at family-car buyers that use their vehicles for lifestyle activities.
Read our Toyota Hilux (2021) International Launch Review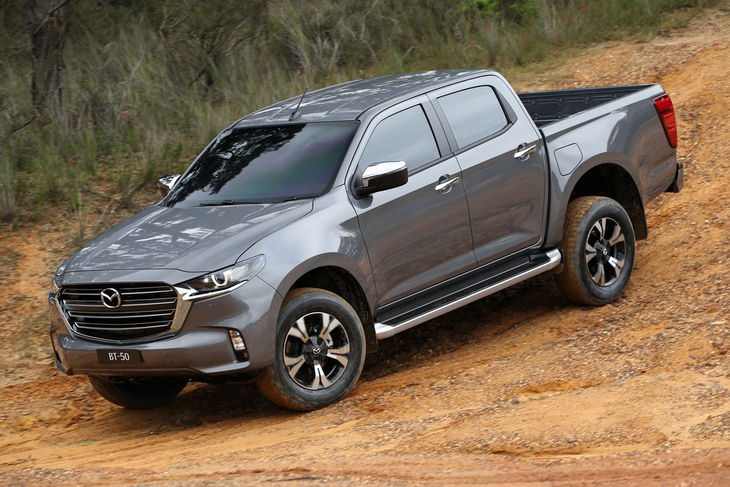 The new BT-50 also has an approach angle of 30.4-degrees.
For such buyers, the Thailand-made BT-50, with its distinctive frontal aspect characterised by a bulging bonnet with a pair of broad ridges and an expansive chromed grille that underscores sculpted slim LED headlamps (flanked by 3-dimensional wraparound fenders), will be quite suitable.
The BT-50 might sell better than its predecessor based on its handsome looks alone! There are elements of the brand's Kodo design language in the sweeping crease lines that flow from the grille to the side mirrors, as well as the pinched waistline (just above the running boards), while the defined shoulder line aligns with the load bed and the tops of the BT-50-specific tail-light clusters that feature the brand's signature circular motif.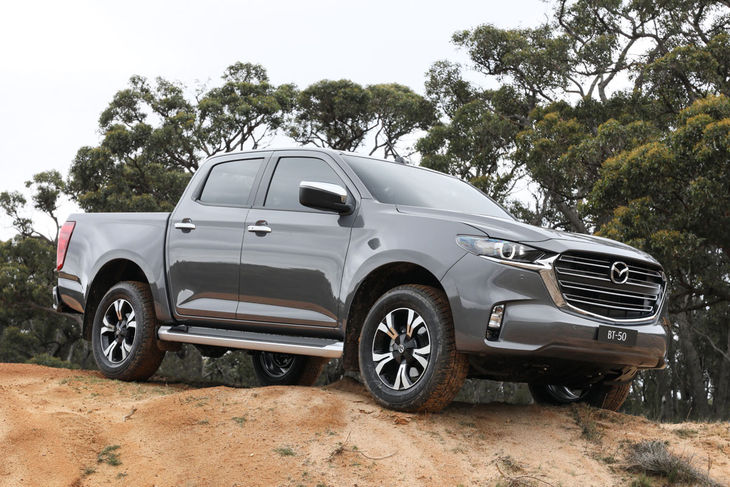 Off-road capabilities are competitive, with 240 mm of ground clearance and an 800 mm water-fording ability.
There are more similarities with the D-Max on the inside, however. Like the Isuzu, the new BT-50 features a 9-inch touchscreen infotainment system that features, inter alia, satnav and wireless(!) Apple CarPlay and Android Auto compatibility and its steering wheel design, heating and ventilation controls are the same as those of the D-Max.
However, the sweeping soft-touch dash, instrument cluster (with digital speedo) and air-vent designs are unique to the Mazda. In some markets, top-spec BT-50 derivatives feature electrically-adjustable (including lumbar) and heated front seats, leather trim, dual-zone climate control, keyless entry/start, auto headlights and -wipers, and parking sensors both front and rear. The rear seats are said to offer decent legroom and are fitted with ISOfix child seat anchors, and aft passengers are availed separate air vents.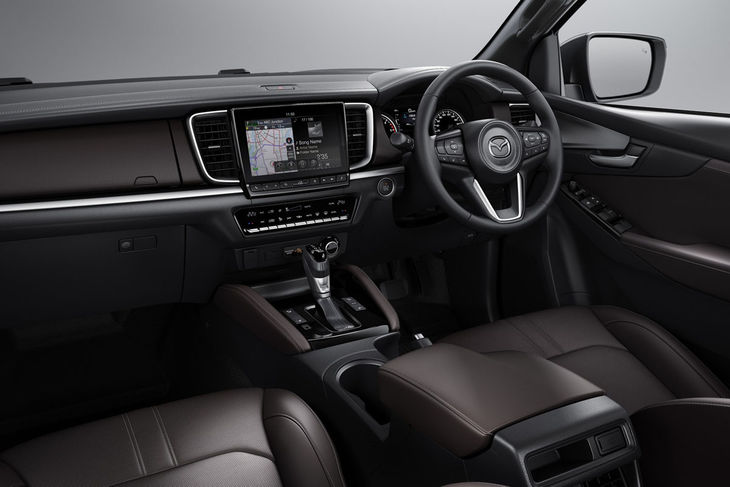 The BT-50 is higher specced than its D-Max cousin in Australia... Will the same apply to the South African market?
Mazda has further incorporated new features such as Adaptive Cruise Control, Auto Emergency Braking, Lane Keep Assist, Blind Spot Monitoring and Rear Cross-Traffic Alert in hte BT-50 in some markets. As the local spec is unconfirmed, don't read too much into the previous list, however.
Meanwhile, the Ford-sourced 3.2-litre 5-cylinder turbodiesel (147 kW and 470 Nm) has been replaced by a slightly-less potent Isuzu 3.0-litre 4-cylinder turbodiesel motor that produces peak outputs of 140 kW and 450 Nm, in combination with either a 6-speed manual or 6-speed automatic transmission, in 2- and 4-wheel-drive guises, the latter with a locking rear diff.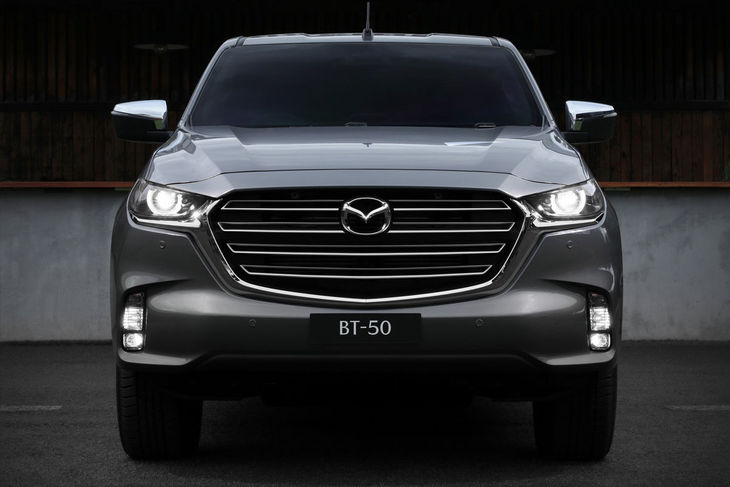 LED headlamps and fog-lamp clusters give the Mazda BT-50 a distinctive lighting structure.
Off-road capabilities are competitive, with 240 mm of ground clearance and an 800 mm water-fording ability. The new BT-50 also has an approach angle of 30.4-degrees and can leave a technical obstacle at 25.3-degrees, without doing damage to its rear section bodywork or bumper.
To provide customers with a broad option of customization, it will offer a generous selection of accessories. One of the most impressive new BT-50 accessories is a wraparound steel bullbar. Designed to not interfere with the BT-50's engine cooling, sophisticated parking sensors or safety scanning cameras, this bullbar also offers mounting points for additional spotlights.
Read our Isuzu D-Max (2021) International Launch Review
We'll bring you updates on the BT-50's local arrival date as soon as more information becomes available.
Related content
Local Isuzu D-Max postponed until 2022
5 Stars for Isuzu D-Max Safety
How the AmaFord changes everything
5 reasons Hilux and Ranger should worry about a Korean bakkie onslaught