We know there's a facelift coming for the market-leading Toyota Hilux, but the most anticipated ALL-NEW bakkie heading for Mzansi is the next-generation Isuzu D-Max. It will go on sale in the 2nd half of 2021, but it's already available in Australia, where our correspondent Matt Campbell has put the newcomer through its paces. How does it compare with the current crop of bakkies in South Africa? Has Isuzu taken a significant step forward? Read on...
First, a disclaimer: the new-generation D-Max that will be sold in South Africa will be built at the Japanese firm's plant in Port Elizabeth and will undergo an extensive local development programme to adapt its powertrain and underpinnings (including suspension tuning) to suit the requirements of the Republic (not least its plethora of road conditions, which range from fine to atrocious, depending on where you're driving). What's more, the units that are sold in Australia are liberally specified, especially with passenger-car-like safety technology. Local units may feature fewer high-end features – and indeed some class-leading considerations – that have been made available in other markets, but it will essentially be the same bakkie, which is why we were keen to find out what it's like to drive.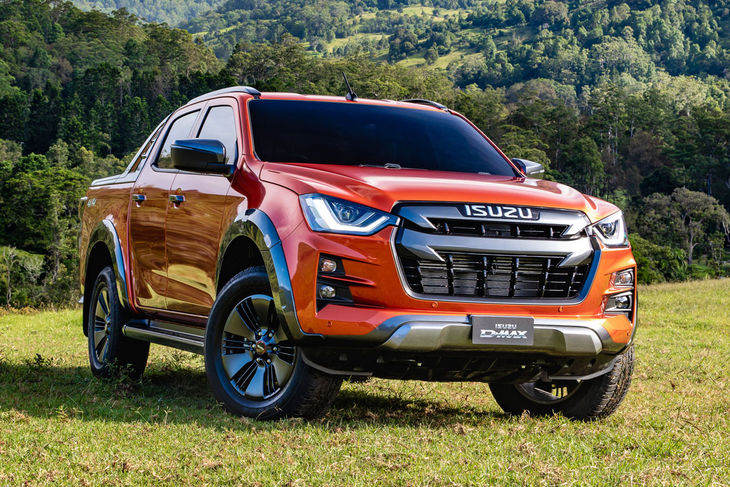 The combination of a dark-grey grille and other exterior accents work particularly well with the vibrant orange paintwork.
So, what's new?
Pretty much everything. Isuzu's global team has made a huge effort to leave no stone unturned for this new-generation D-Max. It's not like the "facelifted facelifts" of old. In fact, the Australian version is unique in its specification, with a number of specific inclusions that will help it compare better with lifestyle-focused offerings in the line-ups of the Ford Ranger, Toyota Hilux and other models.
The Japanese brand says the all-new D-Max has been "completely redesigned from the ground up": the chassis has been thoroughly reworked, and there is new suspension front and rear – the latter of which is now a 3-leaf setup, yet still manages payload of 1 000 kg or more on most derivatives. To read more about the specifications, be sure to revisit All-New Isuzu D-Max: More Details.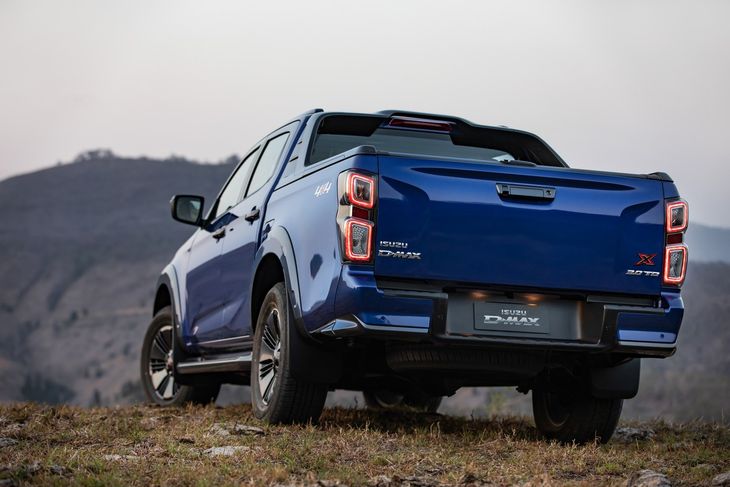 In Australia, the top-of-the-range derivative is called the X-Terrain, which is designed to be a Ford Ranger Wildtrak competitor.
If you just compare the versions Down Under with those sold in Thailand, you'll immediately notice the increased standard safety equipment for the Australian market. That list incorporates automatic emergency braking with pedestrian and cyclist detection, lane keeping assistance, blind spot monitoring and rear cross traffic alert, and adaptive cruise control on automatic derivatives – not all of those features are guaranteed to be offered in other markets, including South Africa. It's a shame, really, as it sets the D-Max apart. Still, local specification is still being finalised, so watch this space.
Isuzu says it has paid extra attention to customer feedback for the new bakkie's ride and handling settings, and the evidence is clear when it comes to the D-Max's newfound road manners – it's as if the Japanese contender has been to finishing school and graduated with honours. Indeed, there's a lot that's better about the new D-Max...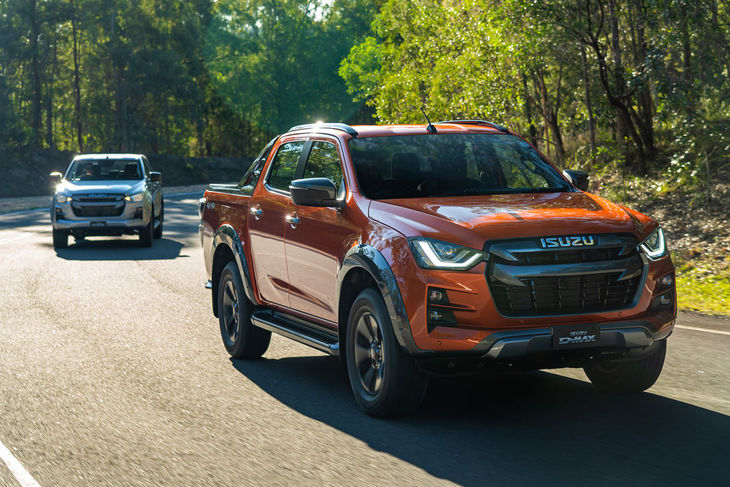 The D-Max's on-road refinement has always been near the top of the segment and Isuzu has improved it even futher.
What's it like to drive?
The new D-Max's electric power steering system is both light and accurate on the road, and still tractable off-road. What's more, the suspension is considerably more, well, considered when it comes to handling bumps and lumps. You can still tell you're driving a vehicle with a 1-tonne payload and towing specs of up to 3 500-kg (braked capacity), but it is a vast step forward from the agricultural underpinnings of its predecessor.
The more pliant ride quality is particularly noticeable when driving the Isuzu at freeway speeds when it's carrying little or no cargo on its load bed. There is markedly improved suspension control over uneven tarred surfaces and, in terms of overall refinement (wind- and engine noise suppression), it arguably still trails the Ford Ranger, but not by much and matches its other rivals in this regard.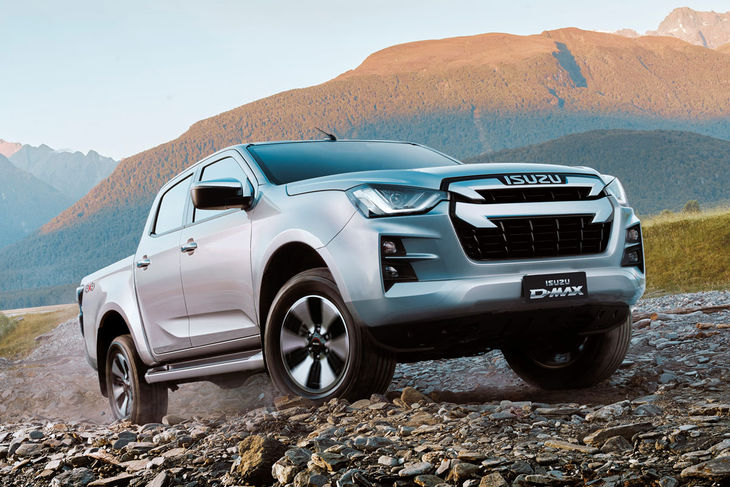 The new D-Max doesn't mind loose gravel; for tougher courses, 4x4 versions feature standard diff-locks and upgraded software.
As for off-roading, we didn't tackle anything more serious than a rough dirt road during the initial evaluation (the Isuzu will be put through a strict test regimen on a 4x4 course at a later date), but the vehicle's stabilty at (for the most) average dirt-road speeds was admirable, with minimal shaking and rattling of the cabin (and its occupants) on rutted sections.
There are still disc brakes at the front and drums at the rear, and Aussie versions have steel wheels on base grades (in 17 inch size), while higher grades get alloys in either 17- or 18-inch design.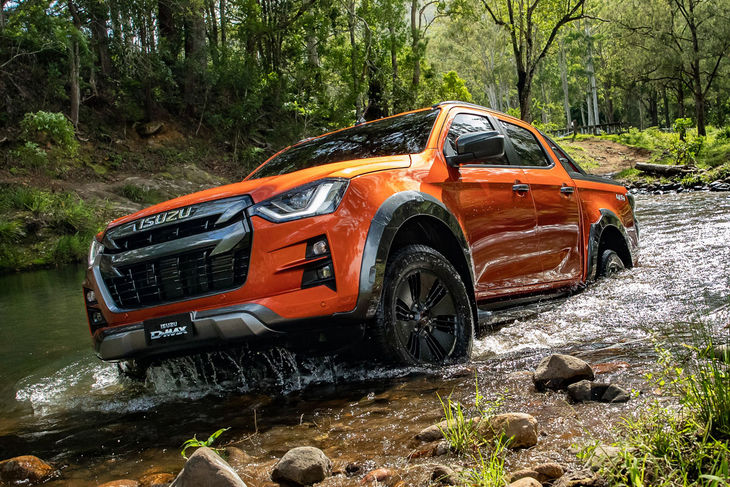 The new model has a ground clearance of 240 mm, with a maximum wading depth of 800 mm.
It looks the business
Australia has even seen the introduction of a new flagship derivaitve, named the X-Terrain, which is designed with the Ford Ranger Wildtrak squarely in its targets. It has plenty of standout features, including dark grey highlights all around the vehicle, and the top-grade version gets a leather-accented cabin trim and dark headliner… that's straight off the "Wildtrak checklist", isn't it?
But even the average D-Max derivative offers vastly more kerb appeal than the existing bakkie, which wasn't exactly fashion-forward, even when it was brand new. What's more, the KB/D-Max's interior execution was lacklustre, with hard, scratchy surfaces and a staid design. The new one, by contrast, feels fresh, which is possibly as much as some buyers will need to get them over the line.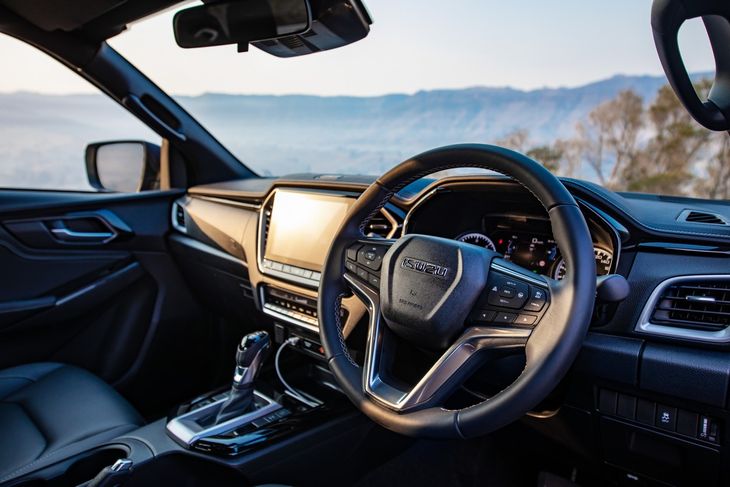 Higher-grade derivatives feature a 9-inch touchscreen infotainment system with wireless smartphone screen-mirroring tech.
But it's more than just the cabin design. The front seats are very comfy, plus there's reach and rake adjustment for the steering wheel, and height adjustment for the driver's seat – the X-Terrain even gets electric driver's seat adjustment. The rear-occupant space, in particular, is competitive in double-cab derivatives; in terms of knee- and headroom, the Isuzu feels more spacious than the Toyota Hilux, for example, although it doesn't offer as much shoulder room as in the back of a Volkswagen Amarok. In Aus, all D-Max double cabs are equipped with separate vents for rear passengers.
For interest's sake, there are 4 trim levels available and all of them are well equipped and presented… but the prices have gone up substantially to compensate for all the additional technology and equipment. An example is the media setup, which is a 7.0-inch touchscreen infotainment system with smartphone mirroring technology in the base grades (Android Auto and wireless Apple CarPlay – a first in the bakkie segment, we understand), while the higher derivatives get a 9.0-inch screen with sat-nav. The latter really looks the part, especially alongside the 4.2-inch digital instrument cluster.

The newcomer's cabin is notably spacious, with better-than-average rear leg- and headroom.
The Isuzu is also eminently practical, with storage options in the cabin comprising outboard cup holders in the dashboard, big cup/bottle holders between the seats, plus door pockets that are large enough to accommodate a 1-litre bottle. There's a dual glovebox, while high grade versions are additionally equipped with a closable dash-top box.
But Isuzu hasn't gone the whole hog inside – even the top-spec version misses out on some desirable options like an auto-dimming rearview mirror, seat heating/cooling, and electric adjustment for the front passenger seat. A few of those items have shown up on the equipment list of the D-Max's cousin, the next-gen Mazda BT-50, however – be on the lookout for a driving impression of that soon.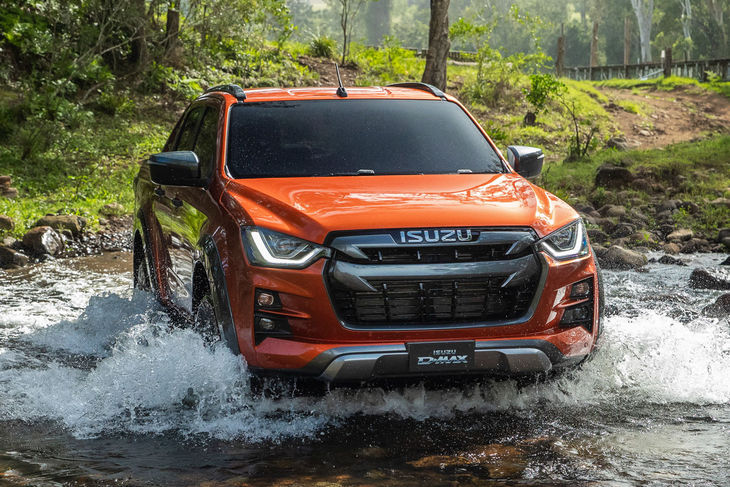 Improvements to the engine comprise improved refinement and efficiency, the motor's power and torque outputs are middling.
What's the engine like?
Isuzu says the D-Max's 3.0-litre 4-cylinder turbodiesel is an all-new motor – the engine code (for those who care) is 4JJ3-TCX. Despite the "re-engineered" engine apparently stepping things up for the Isuzu brand, it hasn't taken huge leaps and bounds in terms of its outputs. The maximum power output is 140 kW (at 3 600 rpm) and peak torque is 450 Nm (from 1 600 to 2 600 rpm).
Those are modest increases for what is now a "large capacity" turbodiesel bakkie and, even though the engine's ostensibly more refined than the motor it replaces, it still sounds rather strained under firm acceleration. Toyota in Australia recently upgraded its 2.8-litre unit to 150 kW and 500 Nm, while the 2.0-litre Ranger Bi-turbo reins supreme with a comparatively huge 157 kW and 500 Nm.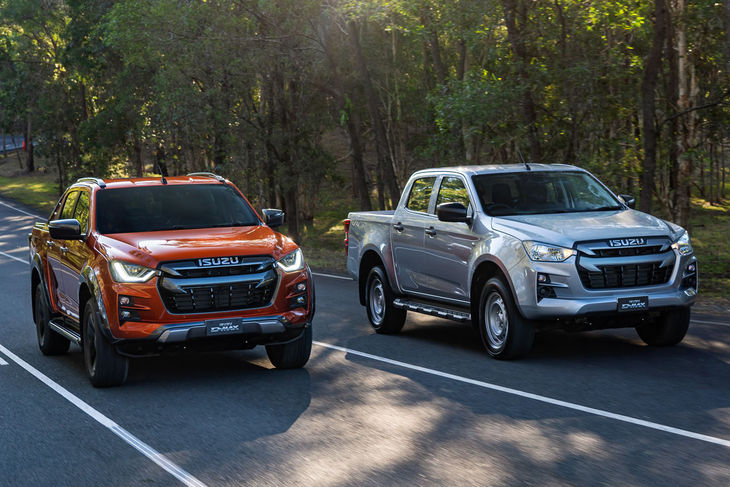 Isuzu is not chasing ultimate engine outputs with its 3.0-litre D-Max motor – but then, the Japanese manufacturer never has.
Suffice to say, some buyers may want more. There's also an argument, though, that you might want less, especially for the sake of long-term reliability under sustained hard use. Maybe not as little as the current entry-level single cab 250 Base unit with 58 kW and 176 Nm, but in some markets there will be also be a 1.9-litre twin-turbo and it will likely come with a smaller price tag than the 3.0 litre.
The transmission choices remain a 6-speed manual or 6-speed automatic for the 3.0-litre in Australia, but with the choice of a 4x2 rear-wheel drive or the selectable 4x4, the latter now with a standard rear differential lock in conjunction with hill descent control and tweaked traction- and stability control settings. In our brief experience of the manual 'box, we found the shift quality positive without an overly long throw, while the automatic transmission shifted reasonably crisply, although it did exhibit a tendency to hunt a little in the higher gears in some traffic conditions.
Summary
All the signs are there that the new-generation D-Max will continue the success story of its predecessor, which certainly has a loyal following in South Africa. The overseas indications are very promising, and if all the hard work that Isuzu has put into making the Australian version as good as it is ends up being carried over to the South African-spec bakkie (which it should, even though local specification has yet to be confirmed), it will no doubt do very well for the brand. If anything, the new model has the potential to grab an ever bigger slice of the lucrative lifestyle market than before.
Related content:
All-New Isuzu D-Max: More Details
How Toyota got Hilux to 150 kW
Ford Reveals Ranger Wildtrak X
Ford Ranger Thunder vs Wildtrak: Key Differences