Audi's new Q5 took its sweet time to arrive in South Africa... it was launched abroad late in 2016 and now that it has finally arrived in South Africa (end of July 2017) it has to be absolutely spot on if it wants to contend for top honours in the competitive premium executive crossover/SUV segment. Fortunately for the Ingolstadt-based brand, the Q5 is a goodie. Here's our first drive review from the new Audi Q5 launch, which took place in the Western Cape this week.
The Audi Q5 is a popular model in South Africa, with almost 12 000 units sold locally. Typically, the exterior of a new Audi has not changed much, but tell-tale signs such as a redesigned grille and fancy new headlights are present. There are far more changes under the skin and the entire complement of Audi's technology and features has made its way into the new Q5. Physically it's a tad larger than before, but clever use of lightweight materials and packaging has seen it shed some kilos and it's therefore lighter than the outgoing model.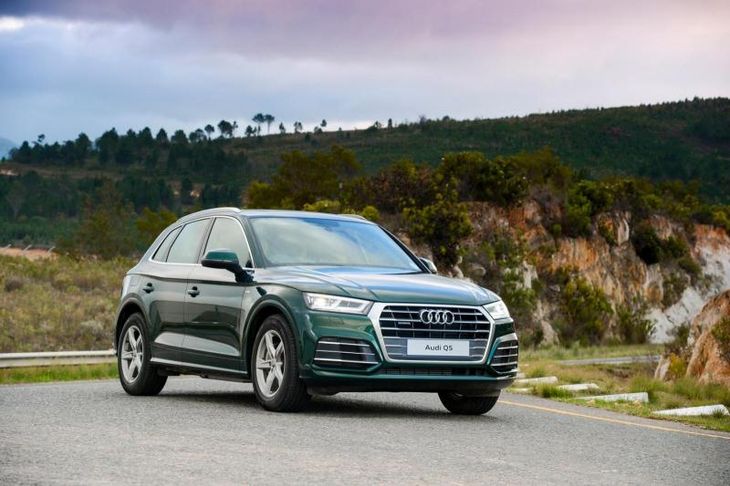 The new Audi Q5 boasts a revised front end with a new-look grille and smart headlamps.
On the launch, we had the chance to drive all three engines. There are two petrol engines and one diesel option available. The second petrol engine is the flagship performance variant - more on that in a bit. It's a five-model line-up, with something for everyone. Kicking off the range is a 2.0-litre turbodiesel four cylinder model, with the next engine being a 2.0-litre turbocharged petrol engine, lifted straight from an S3 hatchback. Finally, there's a V6 turbocharged SQ5, for those wanting brisk performance. All models are automatic and all feature the latest generation of quattro all-wheel drive. There are two trim levels for each, while the flagship offering gets its own specialised trim. The range kicks off with a 2.0-litre TDI quattro for a fraction under R700 000, while the top-spec SQ5 offering comes to market at just over R1 million.
Look at Audi Q5: Specification, Price, Details here!
Interior Quality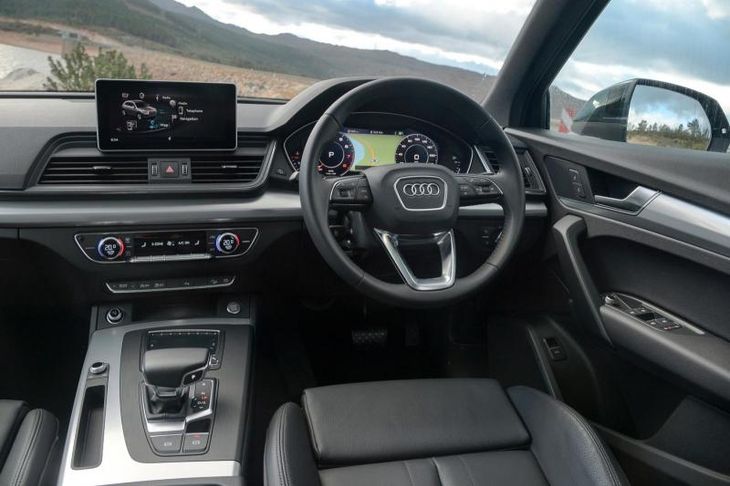 Business as usual for the Audi Q5. A superbly finished and well-assembled cabin is the order of the day. Virtual Cockpit is an option.
Audi has nailed the brief when it comes to getting that premium cabin quality just right. Sure, some of the niceties are optional extras, but well worth forking out for. Audi has made available the Virtual Cockpit digital dashboard which is lovely and intuitive, but it needs to be purchased in conjunction with satellite navigation which adds around 30k onto your cost. There are two trim levels: Base and Sport, and based on our experience of the Sport models, we'd advise looking into this as the benefits outweigh the additional spend.
Standard spec from the bottom is fair, with 17-inch alloys, Bluetooth connectivity, cruise control, Aux/USB connectivity, tyre pressure monitoring system, rear park assist, Xenon headlights and 3-zone automatic air conditioning being just some of the highlights. Of course, you can go to town with options and we'd suggest an uprated audio system, Virtual Cockpit and the Audi Smartphone interface which includes Apple Carplay and Android Auto.
The Drive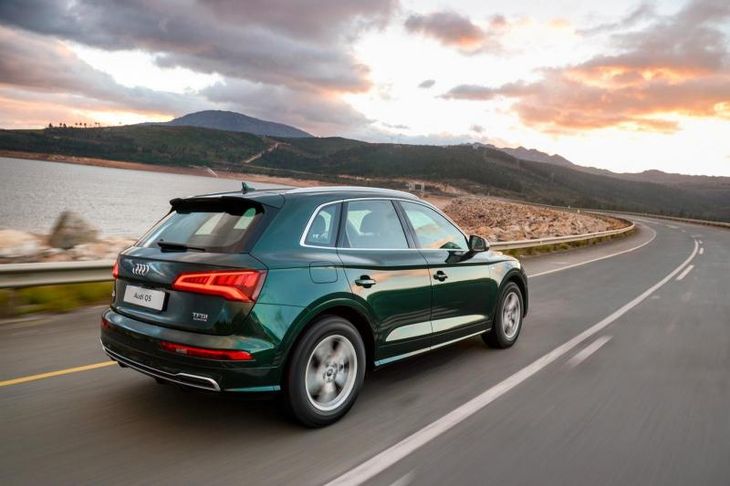 Audi Q5 is best on the open road and demonstrates exceptional refinement and ride quality. Opt for the air suspension for maximum on-road comfort.
Our driving route took us through the winding roads of the Overberg and while the majority of Q5s will be doing the commute to work and the school run, the roads we travelled gave us an indication of what the vehicle would be like for those going on a cheeky weekend away. A combination of quick sweeps and national highway were adequate proving grounds, but the litmus test will be the commute in heavy traffic.
First impressions are favourable. The Audi Q5 has exceptional ride quality when paired with the optional air suspension. Even without it, it's quiet and fuss-free. The damping and ride characteristics can be changed from a gentle pillow in Comfort to mildly sporty in Dynamic Mode. Sure, it's not performance biased, but the additional stiffness is welcomed for those seeking some involvement and feedback. There's a familiarity about the way this Q5 rides and drives, and it's easy to work out why. See, it rides on the same platform as its bigger Q7 brother and it's this MLB architecture which underpins all large Audi products.
What Audi (and Volkswagen Group) gets right 99% of the time is refinement and exceptionally low NVH, and the Q5 is no exception. There's a remarkable lack of wind noise at national highway speeds, with the only noise permeating through the cabin is from the tyres on coarser sections of tarmac. Fortunately, this can all be drowned out with the, again, optional high-quality audio setup from Bang & Olufsen.
While both the turbodiesel TDI and petrol TFSI offer adequate performance, with the former boasting low fuel consumption, the setup that petrolheads will be after is the SQ5.
Audi SQ5 - Potent Performer
The market is craving SUVs of all shapes and sizes, and it makes logical sense to expand on the SUV offering with sub-niches. Mercedes-Benz, for example, is a brand which has capitalised on this by offering standard, coupe and performance SUVs. Land Rover has a convertible Evoque and despite its awkward and quirky design, it's selling. Audi already has a diesel performance SUV in the SQ7 (may come to SA) and the outgoing diesel-powered SQ5 proved to be a hit with buyers. For the new model, Audi is offering a petrol-powered SQ5, with talk of another diesel SQ5 following later.
With a 3.0-litre turbocharged V6 engine lifted straight from the S5 coupe, quattro all-wheel drive and a surprisingly responsive 8-speed Tiptronic 'box, the new Audi SQ5 is a happy blend of luxury, comfort and outright performance. While Audi claims a sprint to 100 kph time of 5.6 seconds from that roaring 260 kW and 500 Nm engine, we feel that it'll realistically hit 100 kph in about 6 seconds, which is enough to see off most of those pesky boy racers. Did we mention that the engine note is crisp and purposeful too?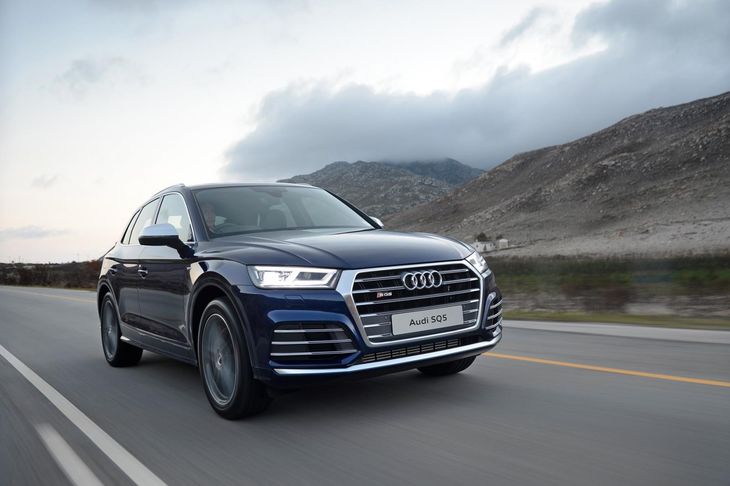 Audi SQ5 is a high-performance luxury SUV with a turbocharged V6 engine lifted straight from the Audi S5 coupe.
As with most performance products from the VAG family, there's a delicious exhaust note with a distinct bang as the next gear is selected. The only downsides are the prodigious thirst when you're living in the most performance-focused driving mode and the fact that the source of the engine music is tucked away out of sight behind the bumper, with fake covered exhaust tips doing duty. For a performance derivative and for Audi trying to build a brand in the form of Audi Sport, this is not okay. Fortunately, there is some recourse as the sound and performance make up for it.
Can it go off-road?
The idea of taking a luxury SUV off the tar seems a cruel and damaging exercise, especially considering most of these products ride on low-profile rubber and expensive alloy wheels. Regardless of this, Audi SA was keen to show the media that its new Q5 was more than capable when turning off the tarmac and hitting the dust. With the reassurance of quattro all-wheel drive and the drive mode set accordingly, the new Q5 was unflustered when traversing dirt and gravel roads, admittedly at higher-than-usual speeds. The stability control did a fine job of keeping it on track and arguably the best thing about this dusty detour was returning to the main road without the slightest rattle or squeak coming from the vehicle.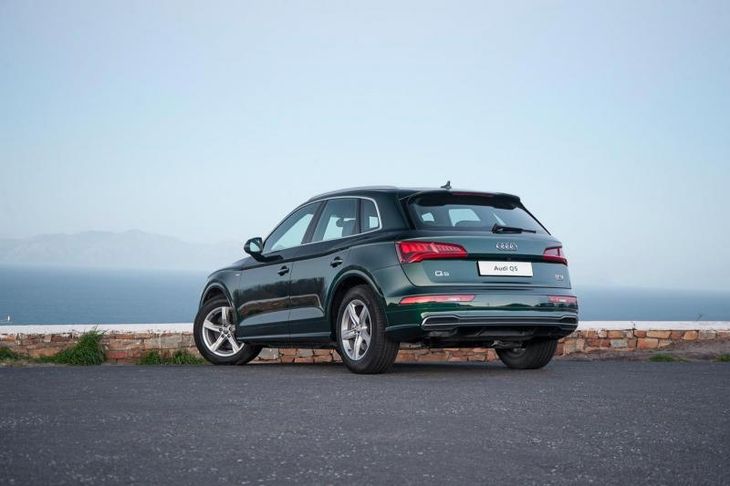 While it may not have changed much in terms of exterior design, the Audi Q5 cabin and comforts is where it really shines.
Summary
The new Audi Q5 brings to market a wealth of premium features and refinement. However, the executive crossover/SUV market is saturated and we're going to see an influx of competition making landfall in 2018 in the form of Jaguar's E-Pace and an all-new BMW X3. Mercedes-Benz is making the most of its GLC range – it already has a standard SUV, a coupe variant and, arriving soon, a performance AMG model. Audi's Q5 looks like it's coming in at just the right time and no doubt current Q5 owners will be clamouring to get behind the wheel of the all-new model. Sure, it lacks that "head-turning new car" visual punch that car aficionados crave, but it's only when you step inside and drive the newcomer that you'll realise what a truly complete vehicle it has become.
Further reading:
Jaguar F-PACE 30d AWD R-Sport (2016) Review

Jaguar F-PACE (2016) First Drive

Mercedes-Benz GLC Coupe (2106) Specs & Pricing

Mercedes-Benz GLC 300 (2015) Review

New Lexus NX200t: All You Need to Know (Video)

Lexus NX 200t F-Sport (2015) Review
Interested in buying a used Audi Q5?