Audi has introduced the latest iteration of the Q5 executive crossover/SUV in South Africa. Here are the specifications and pricing for the newcomer.
Compared with its predecessor, the new Audi Q5 features numerous changes both inside and out. It's very definitely still an Q5 mind you: there is nothing visually dramatic or out of the ordinary in terms of design. The front is typically elegant with touches of sportiness, typical of most German premium SUVs at the moment. There are the trademark Audi LED lamps at the front, but as an option, there is the excellent Matrix LED with swishing indicators. The new design contributes heavily to the aerodynamics and Audi is claiming its new Q5 is the class leader when it comes to slipping through the air.
In terms of dimensions, the new Q5 is bigger in every way when compared to the outgoing model. Interestingly, while it may be physically bigger, it's actually lighter and, depending on which motor it's powered by, up to 90 kg less than the predecessor. This 5-seat executive SUV offers credible cabin space and particular focus is on the luggage bay, where volume capacity is rated at 10 litres more than the outgoing model. With the seats folded down, the capacity is rated at 1 550 litres. You can opt for air suspension which will lower the body to make access to the luggage bay easier.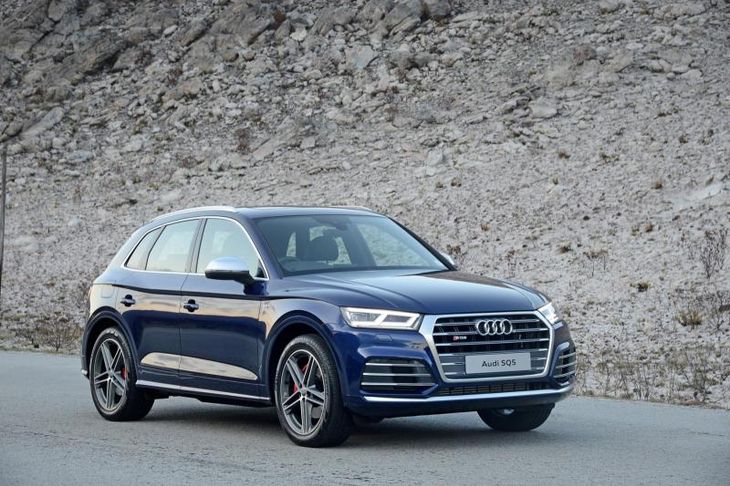 Powertrain
Audi offers the regular Q5 derivatives with a choice of 2 engines. There's a petrol and a diesel, and both are 4-cylinder units. The petrol motor is the 2.0-litre turbocharged unit seen across the Volkswagen Audi Group and in this application, it produces peak outputs of 185 kW and 370 Nm. It's the more brisk of the two, with a claimed time of 6.3 seconds from 0 to 100 kph. It's claimed to consume just 6.8 L/100 km.
The second engine in the lineup is the 2.0-litre turbocharged diesel motor. It produces 140 kW and 400 Nm, and is the more frugal of the two engines, with a claimed economy of 4.9 L/100 km. It's no slouch, however and will reach 100 kph from standstill in just under 8 seconds.
For the performance aficionados, Audi has introduced a third option and its called the SQ5. Featuring the same turbocharged 3.0-litre V6 as the S5 coupe, this potent performance derivative leaps from 0 to 100 kph in a claimed 5.4 seconds and will go onto a limited top speed of 250 kph. Despite its performance bias, Audi claims the SQ5 consume just 8.3 L/100 km, but that's only if you drive gently.
All Q5s feature a new version of the quattro all-wheel drive system. The vehicle operates mostly in front-wheel drive, with the rear axle disengaged. Should there be a loss of traction, the vehicle immediately sends power to the back wheels (the newcomer can go from front- to all-wheel drive in 200 milliseconds and Audi says its new setup allows up to 100% drive can be sent to either the front or the rear axles).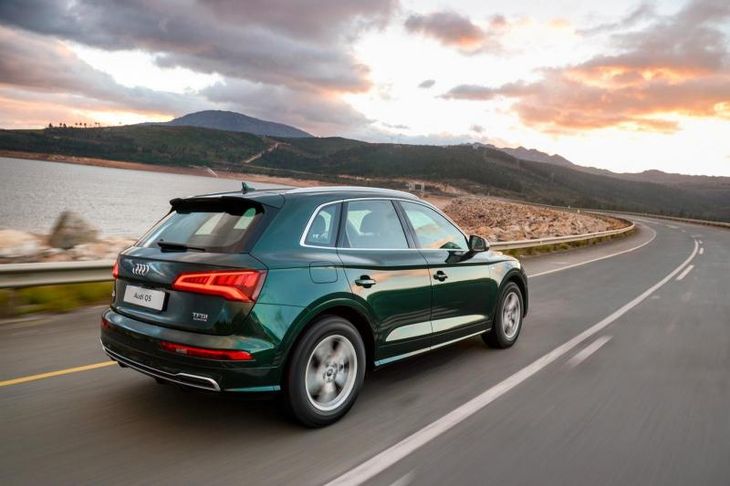 Features and equipment
The Audi Q5 comes in numerous trim levels. There is a base spec and a Sport spec, with the flagship trim being the S Line Sport. The following features are standard on the 2.0T FSI and 2.0 TDI.
17-inch alloys
Audi sound system
Bluetooth connectivity
Collapsible spare wheel
Cruise control
Driver information system
Dynamic suspension
Aux and USB connectivity
Tyre pressure monitoring system
Leather multifunction steering wheel
Rear park assist
Three-zone automatic air conditioning
Xenon headlights
Sport models add on the following:
18-inch alloys
High gloss package
LED headlights
Sport seats
Steering wheel with chrome inlays
Audi SQ5 additional spec:
20-inch wheels
Four-way lumbar support for the front seats
Silver mirros
Alcantara/Leather seats
LED headlights
Tyre pressure monitoring system
Automatic open/close boot
Full park assist with parking system
quattro with self-locking centre differential
Roof spoiler
Flat-bottom sports steering wheel
Three-zone automatic air conditioning
Audi Q5 and SQ5 Price in South Africa (July 2017)
The new Audi Q5 range comes standard with the 5 year / 100 000 km Audi Freeway Plan and is priced as follows:
2.0 TDI quattro S tronic R698 000
2.0 TDI quattro S tronic Sport R748 000
2.0 TFSI quattro S tronic R747 500
2.0 TFSI quattro S tronic Sport R797 500
SQ5 3.0 TFSI quattro Tiptronic R1 044 000
Further reading:
Jaguar F-PACE 30d AWD R-Sport (2016) Review

Jaguar F-PACE (2016) First Drive

Mercedes-Benz GLC Coupe (2106) Specs & Pricing

Mercedes-Benz GLC 300 (2015) Review

New Lexus NX200t: All You Need to Know (Video)

Lexus NX 200t F-Sport (2015) Review
Interested in buying a used Audi Q5?