The new Audi Q5 is destined to reach South Africa in the third quarter of 2017. It's the follow-up to Audi's best selling model and what the firm calls the world's best-selling premium SUV, so expectations are high. Does it deliver? Our British correspondent, Mark Tisshaw, reports...
Audi simply has to get this new Q5 right. Of course, the launch of any new model is important, but when it's one that has recent history as your global best seller and you've constructed a whole new factory in which to build it, the pressure is ramped up on you quicker than you can say "Dieselgate".
The second-generation mid-sized SUV's vitals are quite easy to guess – new modular platform, lighter weight, more efficient engines, high-tech interior – but it's the context of the car that intrigues most, and why we've flown halfway around the world to Mexico for an early drive of it before it enters full-scale production early next year.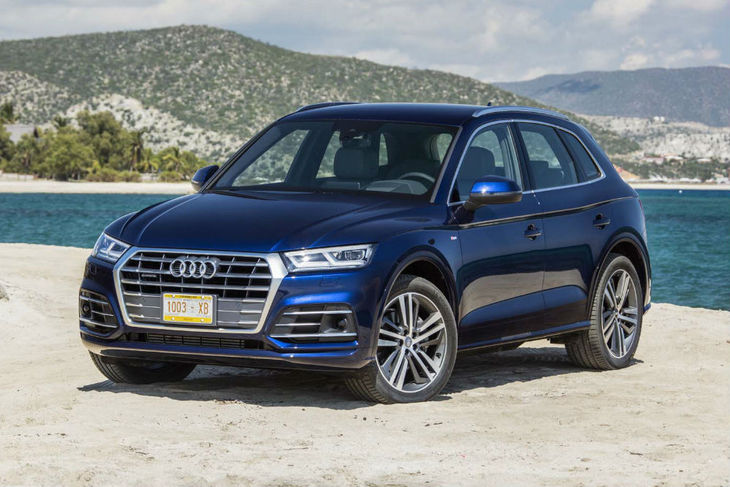 Given that the Q5 is the kingpin in Audi's SUV line-up (from a global perspective), the newcomer's styling is "safe".
Mexico is where the Q5's new factory has been built. This is the first time Audi will export a model globally from one of its plants outside of Europe. The facility is jolly big, at almost 4 km2, and is the most advanced Audi plant in the world, as well as being the one at the highest altitude... the significance of which I have no idea. We do know what all those workers will be building because we saw the new Q5 at the recent Paris Motor Show.
If not good-looking, plush on the inside
The new Q5 is built on the same MLB Evo platform as the larger Q7, a mixed-material structure that will be used across all big Audis from the A4 up. A looker it ain't, on the outside at least, being all too generic and Germanic, but inside Audi has incorporated a combination of materials to offer something impressively luxurious and high-tech.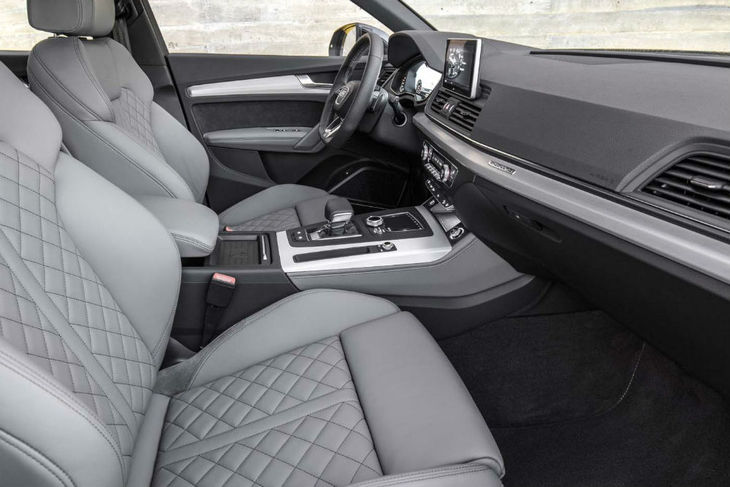 Given that the Q5 needs to repel rivals from Porsche, Jaguar and even Lexus, its interior quality is suitably top-notch.
The same is true of most new Audis these days, though, so here the significance of the car's context comes in. The Q5 was launched in 2008 as a baby brother to the Q7 and went on to find more than 1.6 million homes in its 8 years on sale. Back then, Audi knew it was probably on to a winner as the SUV boom started – but just how successful the Q5 would become it didn't predict.
That success was indeed to make the Q5 not only the firm's best-selling model but also, Audi claims, the world's best-selling premium SUV, coinciding with a time of a record-breaking sales boom for Audi.
Must follow up a bestseller
Replacing something successful, then, is no mean feat. You can't get it wrong and kiss goodbye to sales, profits and growth at a time when rivals, including the new Jaguar F-Pace and Mercedes-Benz GLC, have never been stronger. The fact that Audi can't afford to get it wrong probably explains those conservative looks. This isn't a time to be alienating loyal buyers.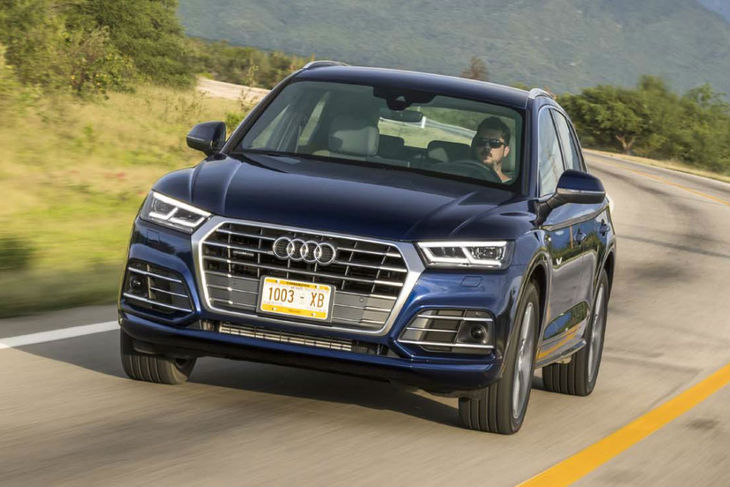 Compared with its predecessor, Audi's newcomer is exceptionally well-engineered, smooth-riding and refined.
The thing is, though, the old Q5 was a tricky car to get excited about. Sure, it was pleasant enough to drive and sit in, but it was all a bit, well, bland and anonymous. You probably see a good dozen Q5s a day without even realising it, and I had to spend a week driving one before coming to Mexico to remind me what it was like, because driving it first time round had left no lasting impression on me.
Wouldn't it be lovely, then, if the new Q5 could not only be Audi's most successful car, but also one of its best to drive?
Ah. Here's the thing about the new Q5. It may be an exceptionally well-engineered, smooth-riding, refined and well-built car that's lovely to sit in and probably to own, but it's just not that much fun to drive. Porsche and Jaguar have shown with the Macan and F-Pace that cake can be had and eaten, too, with a sporty drive while still fulfilling all of the other SUV requirements. As competent as it is, it still feels like an opportunity missed.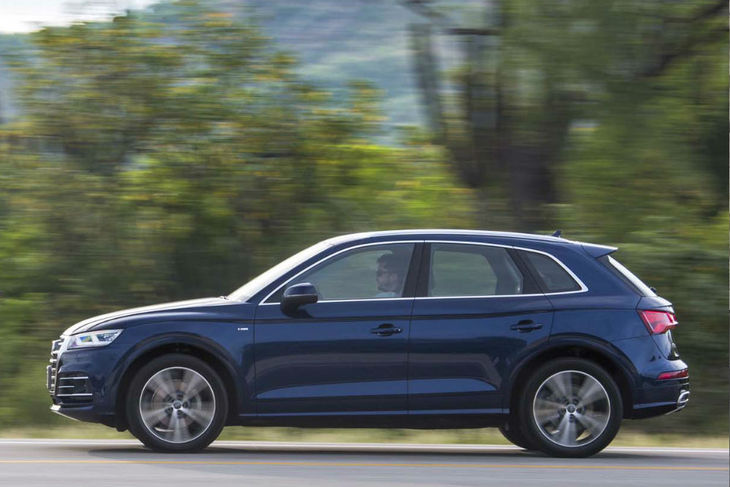 If there is a criticism to the Q5, it is that its driving experience is, if comfortable and accomplished, not really involving.
But there remains much to admire and explore with the Q5, because it's still an interesting thing, with a rather tantalising solution in the offing to its only real problem. It does have some standout features and, at times, it excelled on Mexican roads. Our route was some 200 miles in length, on a loop around the southern part of Baja California peninsula in Mexico - apparently the largest peninsula in the northern hemisphere.
Unmatched interior finish
We start near the town of Cabo San Lucas, where straight away we tucked into the Q5's killer feature: its interior. The choice of materials, the sophistication of the technology and overall fit and finish are excellent and unmatched by any rival. We can see many people buying it for this alone.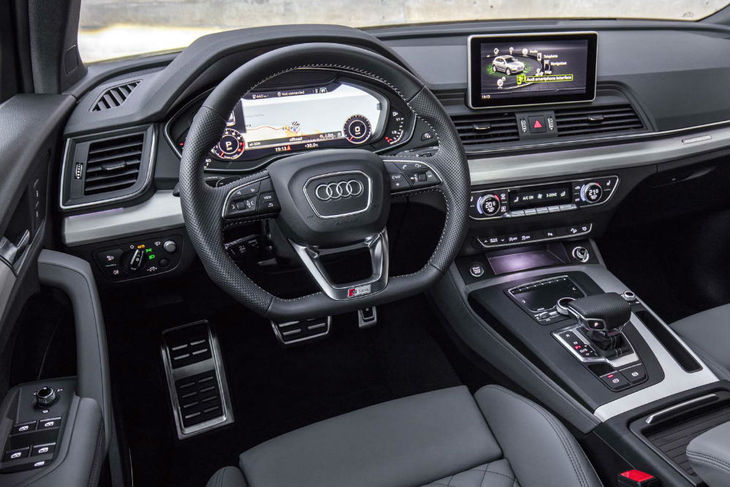 From the Virtual Cockpit instrument panel to the crisp-looking infotainment system and trim quality, the Q5 exudes class.
Your eyes will be drawn first to the excellent 12.3-inch Virtual Cockpit colour screen, where the instrument binnacle once lived and which displays everything from the navigation screen to the speed. It's very good in other Audis and the same applies here.
The MMI infotainment system, displayed on an 8.3-inch screen in the centre stack, is also as good as ever, ticking every type of usability and connectivity box you'd like, including Wi-Fi and Apple CarPlay and Android Auto smartphone mirroring functions. It's also not one of those blasted touchscreens, being controlled by a superior rotary knob controller and a few shortcut buttons. Not only is the interior of a higher quality than before, but it's also more spacious, with room for five adults and an increase in luggage capacity to 610 litres.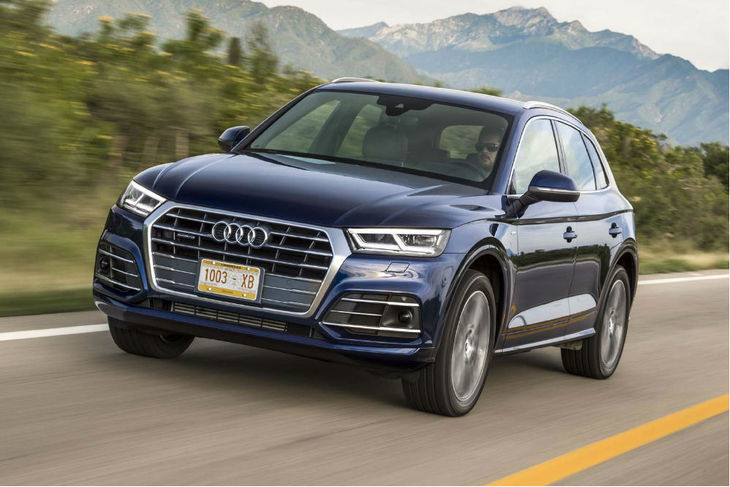 The initial engine line-up is headed up by a 3.0-litre turbodiesel, but the 2.0-litre derivatives should be more popular.
At the other end of our test car sits a 3.0-litre V6 turbodiesel engine with 210 kW, one of three launch engines for the Q5. Two 2.0-litre four-cylinder engines are also offered: a 186 kW turbopetrol and a 139 kW turbodiesel, both of which feature quattro four-wheel drive and automatic transmissions, of course.
Potent 3.0-litre V6 turbodiesel
This engine makes a positive impression as we head up the western shoreline of the Gulf of California. My word, it's smooth and refined – perhaps a good description of the car as a whole. There's a wide spread of torque, with even the occasional sledgehammer delivery of it, such is the potency. You certainly won't be wanting for any extra performance, and the 8-speed automatic gearbox works well with it and is unobtrusive.
The smooth carriageway along the shoreline, which crosses the Tropic of Cancer line at one point, also reveal one of the Q5's other strong suits: its smooth, comfortable ride quality. The original Q5 was plagued from its launch with a dodgy ride, which was in part fixed for the facelifted version.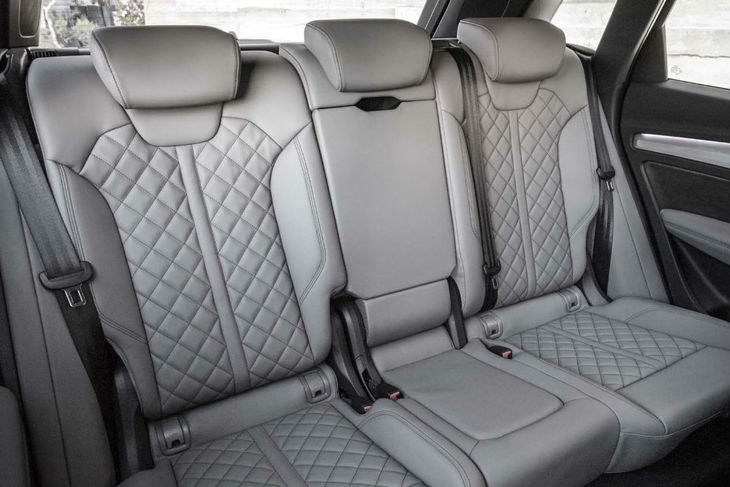 The Q5 benefits from sharing Audi's common large vehicle platform. It can comfortably seat adult passenger in the rear.
But Audi has got it spot on first time with the new Q5, at least with the optional air springs and adaptive dampers fitted to our test car. Not even the more extreme road surfaces later on the route seem to trouble it.

So far, so good. But as we turn inland and cut across the twisty roads of the peninsula towards the town of Todos Santos, the Q5's mood killer rears its head. It turns in okay, it grips well, body control is well controlled and understeer is kept in check by the standard torque vectoring system, but you never come out of a corner with a smile on your face. Nor do you end up in a ditch even when taking corners at some speed, highlighting the fact that the chassis has plenty of slack in there.
Selecting Sport mode, one of seven available on the Audi Drive Select controller, lowers and stiffens the air springs and communicates through your bum a bit more of what is going on, as well as allowing the car to corner a touch flatter. But it's still not involving and the lack of steering feel doesn't help, either.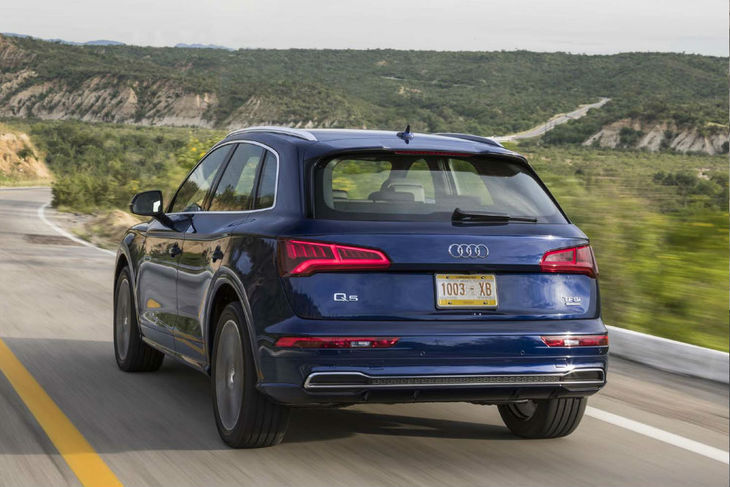 Optional air springs and adaptive dampers elevate the Q5's ride quality to a class-leading level.
Is the Q5 adept at off-roading?
Before reaching Todos Santos – home of the actual Hotel California –apparently, we sample one of the air suspension's other tricks: rising 60 mm above its Sport mode setting to improve offroad performance.
Amazingly, it's actually rather good. This is not an offroad course in the traditional sense with water hazards and huge inclines to descend; rather, it's a series of heavily rutted gravel and sand tracks, but still the sort that might raise questions over the ability of a car like the Q5 to conquer them.
It does so without fuss, accompanied by an Audi engineer's insistence that, in the development stage, they had a Range Rover and a Mercedes G-Class along for some comparison and the Q5 could do what they could do in any kind of 'real-world' offroad situation in which an owner could realistically find themselves.

Mild off-road courses present little challenge to the Q5; its top-of-the-range suspension can raise/lower itself by 60 mm.
Impressive 2.0-litre turbodiesel derivative
After putting the windscreen washers to use exiting the tracks back towards another super-smooth highway, this time along the Pacific coast, to return to our starting point, we switch to a 2.0-litre turbopetrol version.
It's a nice, flexible engine, with a good spread of torque and a better sound than the larger turbodiesel. It also makes the Q5 feel a touch more sprightly and agile, but without fundamentally altering the character of the car.
That last phrase – fundamentally altering the character of the car – is one I'm left pondering as we return to our starting point.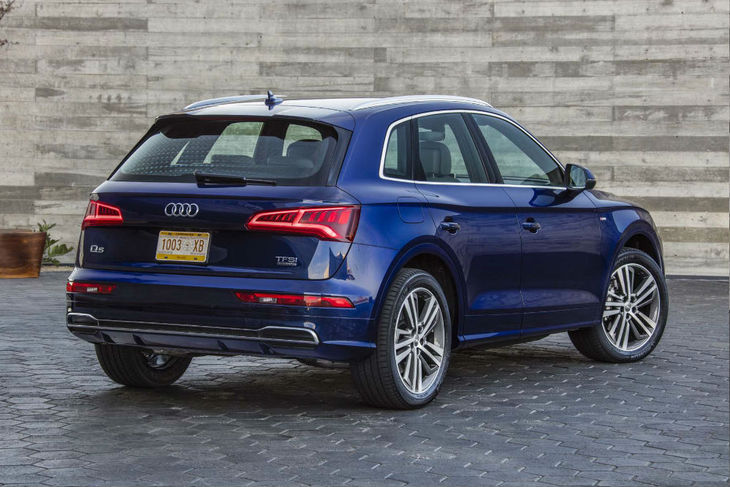 The 3-quarter aspect of the Q5 is probably its most generic look; like many SUVs, it looks best with large alloys.
Summary
For now, the new Q5 has pretty much everything going for it: it's quiet, comfortable, lovely to sit in and unlikely to cost you too much to run. Anyone who buys one will do so for any or all of those reasons and not be disappointed with what is a very impressively engineered car. It's clear that the newcomer's target market are those that would traditionally consider mid-sized premium SUVs produced by Audi's traditional rivals (also of the German variety); its refinement is exemplary.
But Porsche showed with the old Q5 that altering its character could be done, in turning the Q5 into the Macan and making the best-handling SUV around in the process. We're sure Porsche will do that again but, in the meantime, Audi is already quietly talking up the abilities of the SQ5 derivative, which could, like its predecessor, eventually make it to South Africa.

There's talk of not only more power and some clever tech raided from the SQ7, but also new tuning for the suspension and steering, and a sports differential that will lead to "oversteer", as one engineer put it. Crikey, that sounds like fun. What's more, the Q5's chassis is clearly a mighty fine thing just waiting to be tuned in a more involving way. Bring it on, Audi!
Watch a promotional video of the new Q5 below:
Related articles:
Jaguar F-PACE 30d AWD R-Sport (2016) Review
Jaguar F-PACE (2016) First Drive
Mercedes-Benz GLC Coupe (2106) Specs & Pricing
Mercedes-Benz GLC 300 (2015) Review
New Lexus NX200t: All You Need to Know (Video)
Lexus NX 200t F-Sport (2015) Review
Interested in buying a used Audi Q5?