The Mini Countryman, which is heading towards the end of its product lifecycle, was updated late in 2020. With so many competitors in the small-crossover segment, does the biggest model in the Oxford-based marque's line-up still stand out from the crowd... or is it destined to quietly drop off the sales charts?
We like: Better ride and comfort than before, balance of performance and efficiency.
We don't like: No Android Auto, optional connectivity extras should be standard at this price.
Fast Facts
Model tested: Cooper S Countryman
Price: R696 354 (April 2021)
Engine: 2.0-litre 4-cylinder turbopetrol
Power/Torque: 141 kW/280 Nm
Transmission: 7-spd dual-clutch automatic
Fuel Consumption: 6.7 L/100 km
Load capacity: 450–1 390 litres
Acceleration: 0-100 kph in 7.5 sec (claimed)
Where does the Countryman fit in?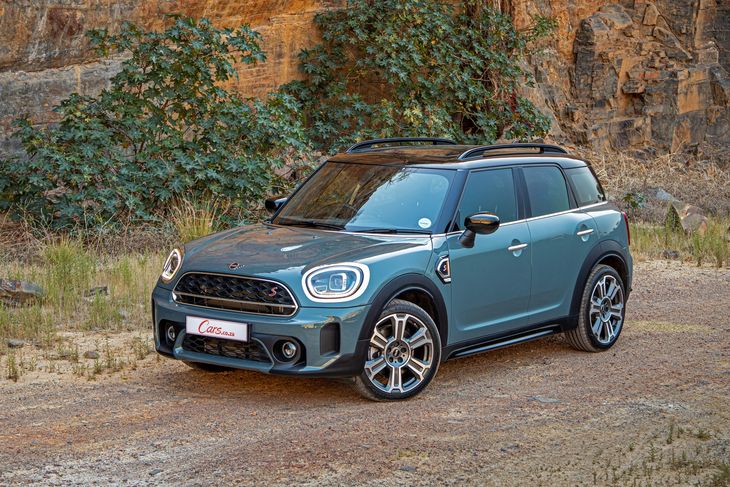 Facelifted Mini Countryman features fresh front LED- and Union Jack rear LED light-cluster designs.
The Mini Countryman, of which the first iteration was launched in 2010, is now in its 2nd generation; in fact, this is the final facelift of the model, which sets the scene for the introduction of an all-new version in a few years' time. The Countryman fills a niche segment in which buyers are specifically looking for something different, or a vehicle that they can customise to their personal tastes. Those factors tend to trump factors such as practicality and occupant space, but crossover styling and all-purpose usefulness (provided by added ground clearance, for example) still need to be part of the overall package.
Other cars that compete in this segment are the Audi Q2, BMW X2, Mercedes-Benz GLA, Volkswagen T-Roc and even something like the new Mazda CX-30.
If, however, you're looking for something more practical than the Countryman, then the Volvo XC40, Audi Q3 or even the Volkswagen Tiguan are certainly worth a look.
How the Mini Countryman fares in terms of…
Performance and efficiency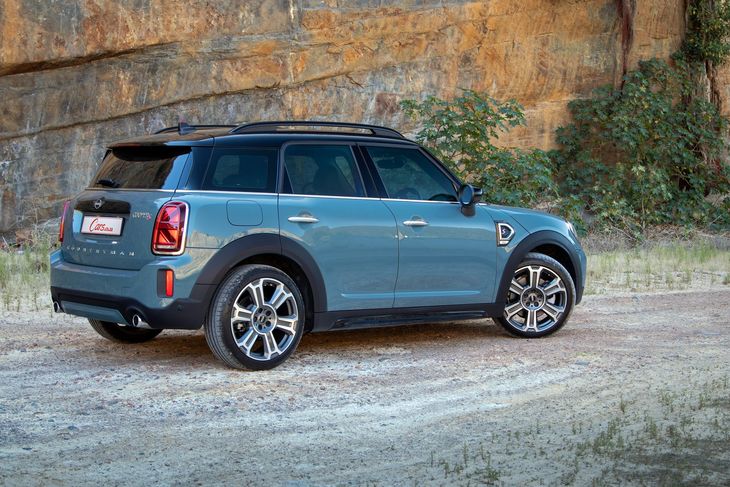 The performance of the Cooper S engine is a highlight in the package.
Considering there's an S badge affixed to this Countryman, you'd expect a decent level of performance. The 2.0-litre 4-cylinder turbopetrol motor is a known quantity, because it featured in the pre-facelift model and the smaller Mini Cooper S. Its peak outputs (141 kW and 280 Nm of torque) provide good acceleration, but the Mini's not going to "set your hair on fire" when you flatten the accelerator pedal.
It's fast enough, however, if you bear in mind this is a lifestyle vehicle – not a hot hatch. The dual-clutch transmission doesn't come augmented with steering-wheel-mounted shift paddles unless you spec the Sports Auto version, which seems a bit cheeky (this is the S version, after all). That said, it's a very good auto 'box; it rarely feels like you need to intervene for it to select the right gears when it needs to.
Even with ample performance for a crossover and a larger-displacement engine than many of its competitors, the Countryman proved quite fuel-efficient throughout its tenure in our test fleet. During longer stints on the freeway, it averaged in the 6.9-L/100 km range and, when combined with bursts around town, the overall figure of 8.1 L/100 km represented a good balance of performance and economy.
Ride Comfort and Handling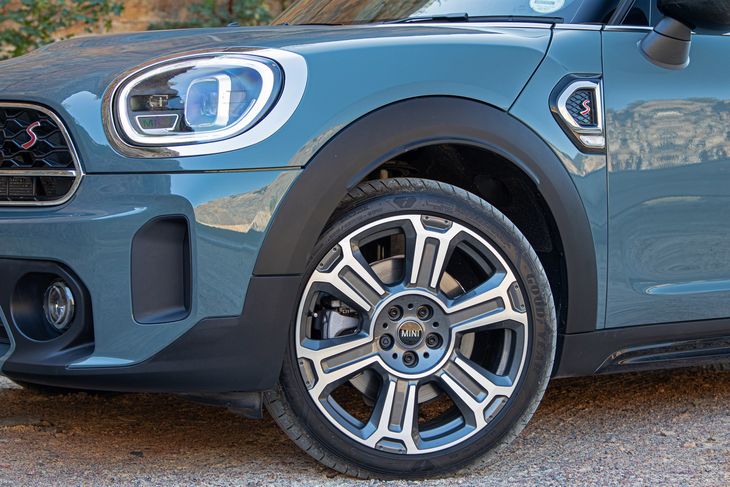 18-inch wheels are standard on the Cooper S Countryman.
The facelift model has a condensed line-up of just 3 derivatives and, unless you opt for the JCW (John Cooper Works version), the Countryman is a front-wheel-drive only model. It's not as if the lack of all-wheel-drive propulsion is a big loss in this case, though... the "Grande Mini" was never the sort of vehicle to take into the great beyond anyway – it's very much a city slicker with a raised ride height.
Besides, front-wheel drive removes some of the mechanical complexity and will therefore improve fuel consumption in the long run.
The front axle, meanwhile, rides out bumps well with good cushioning in a firm, but sure-footed manner. It's not upset by bumps and thuds as much as the rear end, which reacts to nastier thwacks (such as pothole impacts) a little harder than you might expect. Obviously, the larger the wheels you opt for, the more pronounced the firmness of the ride quality will be...
The Countryman has a faint sprinkling of those genetics that make a Mini fun to drive. Most of the fun is delivered by the grunt from the turbocharged motor, but you can still have fun when the right road pops up. The steering is quick, which helps the Countryman feel nimble with a brisk change of direction. The firm suspension also limits body roll nicely, providing the crossover with substantial lateral grip.
Push the fun levels a little too far and the front of the car will quickly let you know that you've reached the limit of adhesion, courtesy of (audible) tell-tale tyre scrabbling. Again, the Cooper S Countryman is not meant to be a hot hatch by any means, but it does feel as if the fun will invariably be curtailed a little sooner than you'd like.
Interior comfort and connectivity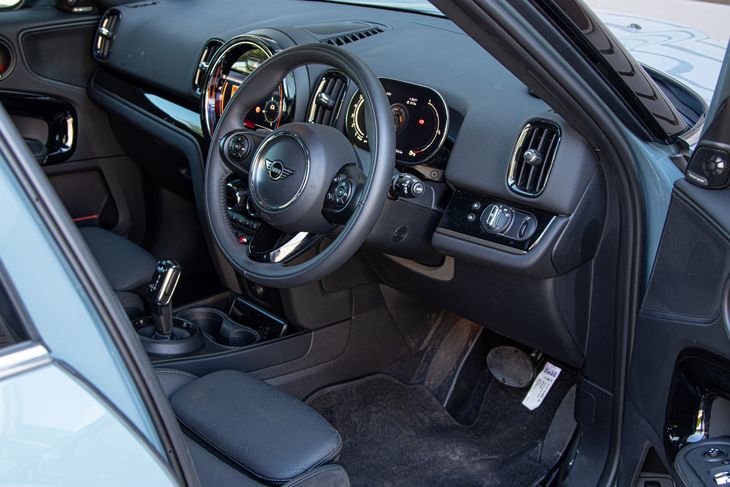 The interior on every Mini still feels like a unique place to be.
There's no doubt that Minis have some of the most interesting cabins on the market. Nobody can ever say a Mini interior is boring or anything but special. For the facelift, there's now the option of an entirely digital instrument cluster. It's fairly simple (by Mini standards) and comes at the cost of some of that authentic Mini-ness that the circular dials gave the Countryman's pre-facelift predecessor. The whole unit moves up and down when you adjust the steering column, which obscures the trip-meter numbers at the bottom no matter in which position you choose to set it.
Passenger comfort, in terms of occupant space and the availability of oddment space, is good all-round, while the rear seats, which can split in a 40/20/40 configuration, add an extra modicum of practicality. The seatback folds fully flat to open up 1 390 litres of utility space, while the load bay is said to accommodate a competitive 450 litres' worth of luggage.
Mini offers its in-car connectivity in 3 packages, Connected Media (no cost), Connected Navigation (R15 200) and Connected Navigation Plus (R26 000). Connected Media incorporates Bluetooth connectivity and access to Mini Connect services, while the Connected Navigation package includes built-in navigation, real-time traffic information and Apple Carplay (Android Auto is not available yet). Connected Navigation Plus adds enhanced Bluetooth services as well as a wireless charging pad.
A premium of R26 000 may sound a bit rich for equipment that's standard in crossovers less expensive than the Mini, but that's the way the premium brands (which Mini considers itself) play the game. Therefore, you can expect to fork out extra for high-end infotainment functionality if you're shopping for an equivalent Audi, Mercedes-Benz or Volvo model too.
There are also loads of optional accessories that you can add to the Countryman, such as roof rails, cargo nets, black-capped mirrors and a more rugged-looking exterior with plastic cladding.
After-sales support and warranty
The Cooper S Countryman retails for R696 354 (April 2021), which includes a 2-year/unlimited km warranty and a 5-year/100 000 km maintenance plan, which can be optionally increased to 200 000 km.
Verdict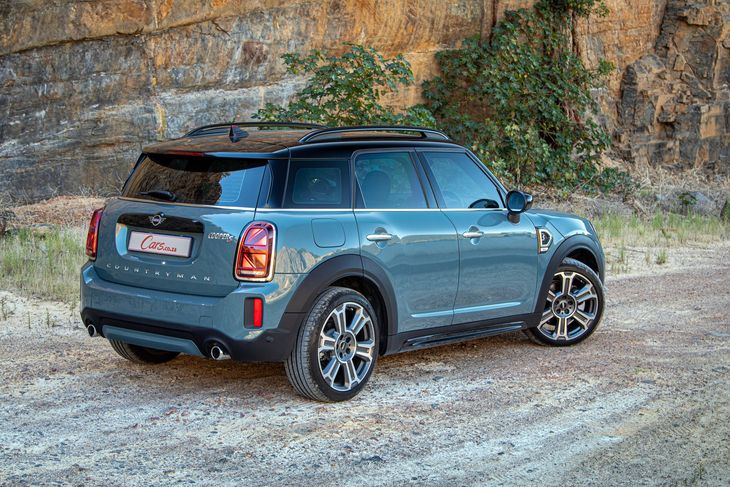 While a premium is charged for the Countryman, buyers are still likely to be lured by its likeable character.
The Countryman is Mini's biggest model yet and accounts for 30% of its global sales. The facelift's Union Jack motifs in the taillights will certainly get the brand loyalists excited, but beyond that, there's not much to write home about regarding the update. The engine is the highlight of the package; it provides notable acceleration, flexible performance and a bit of excitement the Mini's competitors don't offer.
It's still fun to drive and the interior's unique design and lighting always provide the driver with that little boost (or pep) when they ensconce themselves behind the Countryman's 'wheel.
As a compact family vehicle, there are better value-for-money and more practical options than the Countryman, but the Mini targets buyers who are looking for something that stands out from the humdrum of sensible motoring... and for that, its select clientele is happy to pay a premium.