Mercedes-Benz South Africa recently gave its SUV portfolio an extensive update, which included the introduction of the all-new GLA. Cars.co.za contributor Ian McLaren unpacks the wealth of updates and improvements the Three-pointed Star's premium compact crossover offers over its predecessor.
Launched in 2014, the 1st-generation GLA was marketed as a lifestyle-oriented, adventure-seeking alternative to the then 3rd-generation A-Class. Although it shared its underpinnings with its hatch sibling, the GLA offered a raised ride height and improved all-round visibility and it immediately found favour with an audience who enjoyed its more purposeful stance – and rugged intent – compared with a traditional premium hatchback.
Suffice to say almost 1 million units of the GLA have been sold since its introduction; the A-Class has its place, but evidently many buyers favour the inherently more compliant ride quality of this raised-body derivative, as well as its roomier interior (afforded by the larger overall dimensions).
So, what's new?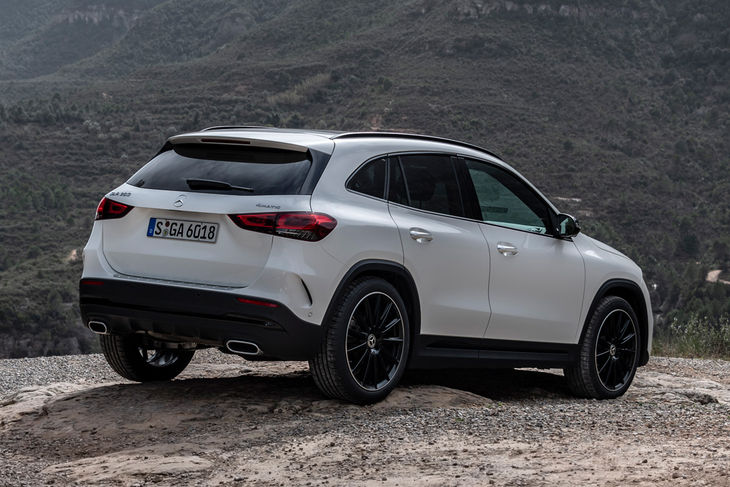 A little taller and wider, but actually shorter than the previous model, the new GLA is still more practical than the previous model.
Sharing its updated (lighter yet stiffer) MFA2 platform with the W177 A-Class, the 2nd-generation GLA incorporates a host of improvements and updates over the outgoing model. Not only is it 100 mm taller and 30 mm wider than its predecessor, but the Benz has a more purposeful stance by virtue of being 150 mm shorter than before (at 4 410 mm). That may seem like a disadvantage (in terms of packaging), but thanks to a 30-mm stretch of its wheelbase, as well the adoption of wider tracks, the newcomer has shorter overhangs and improved interior space/versatility!
The 2nd-generation GLA further features a higher ride height (up by 9 mm, to 143 mm), as well as a taller seating position. A 22-mm increase in overall headroom means that the newcomer feels that much more substantial and "imposing" when you're seated behind its steering wheel.
The updated packaging has resulted in a 14-litre increase in luggage capacity, with the option of a sliding 2nd-row bench and 40:20:40-split rear backrest adding additional versatility. While an electrically operated tailgate is optional, a multi-level load-bay floorboard is standard fitment.
The range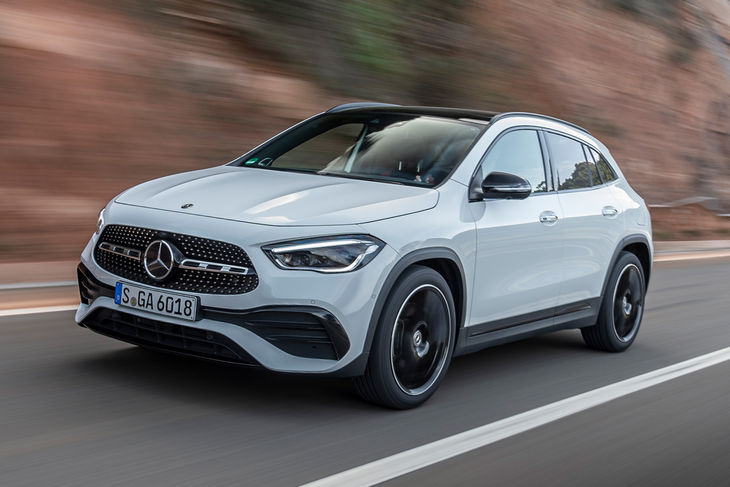 The choice is either 1 diesel or 1 petrol model, both autos.
With the new GLB introducing a degree of ruggedness with a modicum of off-road ability to the brand's compact SUV family, the 2nd-generation GLA is offered exclusively in a front-wheel-drive guise, with a choice of either a 1.3-litre turbopetrol or 2.0-litre turbodiesel engine. The latter produces outputs of 110 kW/320 Nm, is mated with an 8-speed dual-clutch transmission and has a claimed fuel consumption of 5.1 L/100 km.
Both derivatives can be specified with 17- to 20-inch alloy wheels, along with optional Style, Progressive and AMG Line trim packages, and the enticing Edition 1 line adds red accents to the bodywork, grille and alloy wheels, as well as matte black roof rails.
Added innovation comes in the form of various optional driver assistance packages, including a car wash function that automatically folds your mirrors, closes all windows and calls upon the parking-camera system to help guide you into the wash bay.
While some launch attendees saw hints of Volvo and, indeed, Opel in the new GLA's design, the consensus was that the 2nd-generation of Benz's smallest SUV offering looked altogether sleeker than before, effortlessly complementing the brand's broader portfolio of raised ride-height vehicles.
Behind the 'wheel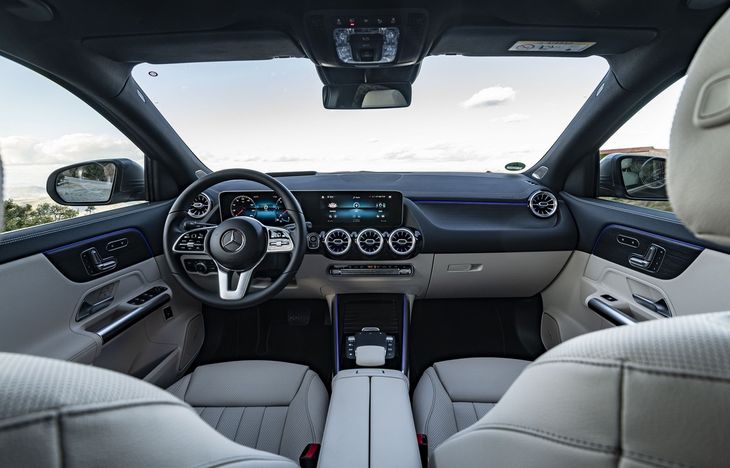 Not much in here to tell the GLA apart from the A-Class. It's a very modern and classy interior with plenty of tech.
We had an opportunity to put the GLA 200 through its paces during the model's media presentation. The derivative's 1.3-litre turbopetrol develops 120 kW, with 250 N.m of torque available from 1 620 to 4 000 rpm, and is mated with a Getrag-sourced 7-speed dual-clutch gearbox. The 200 does not pull away with tremendous urgency, but its drivetrain quickly settles into its duties, complementing a package that feels suitably lighter on its, um, wheels and, indeed, more nimble than before. Mercedes-Benz claims average fuel consumption of just 6.0 L/100 km for the GLA 200.
The GLA's interior mimics that of the 4th-generation A-Class. It's a good thing, too, with all controls feeling suitably light to the touch and generally well put-together. Subjectively, the Benz comes within a whisker of matching the material feel of its class-leading (in this regard) rival, the Audi Q3.
As with the hatchback, it's advisable to spend a bit more and opt for the pair of 10.25-inch display screens (the digital instrument cluster and multimedia screen), if only to experience both the crispness and functionality of the brand's impressive MBUX infotainment system. Broadly configurable in terms of layout, this touchscreen-based technology is also accessible via the "Hey, Mercedes" voice-activated wizardry.
While the lightness of the electrically assisted power steering may take some getting used to on the open road, around town it suits the feisty character of this model when it comes to negotiating the hustle and bustle of urban living. A suitably tight turning circle certainly helps as well.
Most buyers will probably want to specify the optional larger wheels, shod with suitable low-profile rubber, but because the GLA has a reasonably pliant suspension tuning, at least compared with its lower-riding stablemates, the newcomer feels less susceptible to a choppy ride.
Summary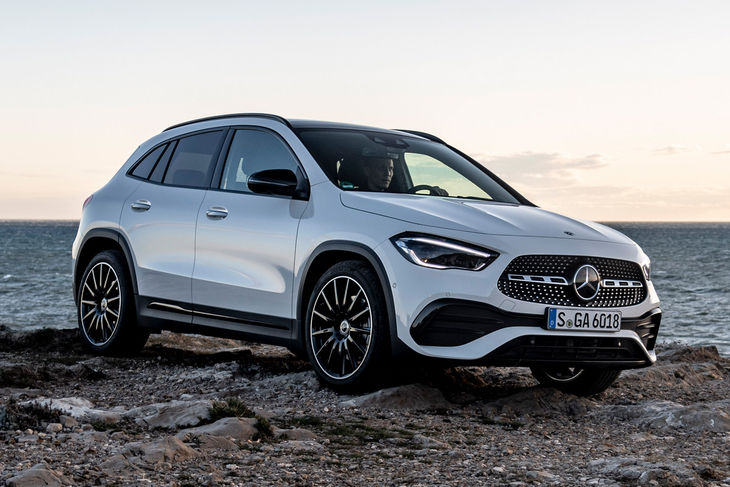 There are plenty of A-Class platformed versions to choose from with the GLA being the entry into the Merc SUV lineup.
There's a lot to like about the new GLA. It feels notably more substantial on the road compared with its predecessor and offers more in terms of comfort and versatility. Whereas the previous model broadly improved on the minor shortcomings of its A-Class siblings (of which there were a few, including ride quality and interior space), the new car feels like an upgrade over its hatch and sedan equivalents. It offers a bit of respite from the lengthy options list with standard features such as automatic climate control, auto-dimming rear-view mirror and electric-folding side mirrors (to name a few), but moreover, it has more presence/a greater sense of occasion than its more traditional siblings, which explains its premium pricing.
Having said that, in a hotly contested segment – where pricing doesn't seem to play as big a role in buyers' purchasing decisions – the GLA is a credible rival to the aforementioned Audi and BMW X1; it also represents a prime entry-point into the ever-expanding Mercedes-Benz SUV family.
Related content:
Mercedes-Benz GLA (2020) Specs & Price