The BMW X2 hasn't captured the imagination of South African consumers as much as many expected it would. Will a powerful engine under its bonnet change matters? We drove the new M35i derivative to see if it holds more appeal.
We like: Smashing 4-cylinder engine. More spacious than it looks.
We don't like: Not immediately pretty to look at, uninspiring interior.
Fast Facts
Price: R815 172 (August 2019) R919 472 as tested
Engine: 2.0-litre 4-cylinder turbopetrol
Transmission: 8-speed auto
Fuel economy: 7.4 L/100 km (claimed)
Power/Torque: 225 kW/450 Nm
Performance: 0-100 kph in 4.9 seconds (claimed)
Own a BMW? Tell us about your experience here.
SERIOUS ABOUT BUYING?
Where does it fit in?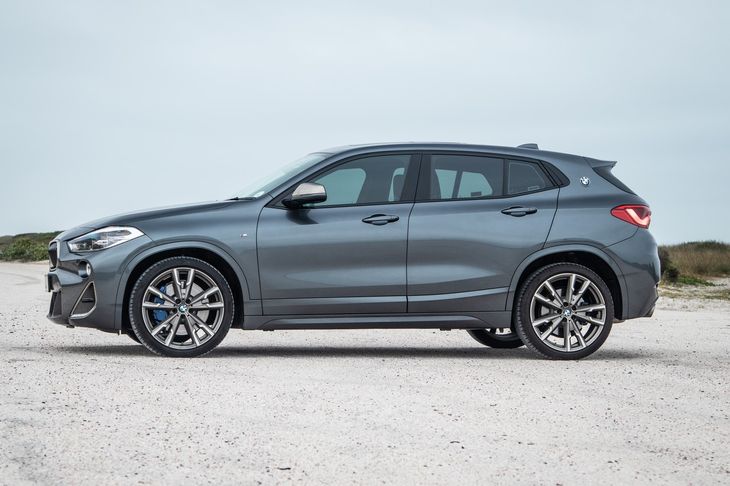 The X2 M35i utilises all-wheel-drive only when it's absolutely necessary.
The X2's packaging is... eurocentric. It's a chic premium compact crossover that favours design flair over everyday practicality, which is probably why it hasn't done as well in our market as BMW SA had hoped; to be fair, the same can be said of the Audi Q2, which also has a niche target market. If you want a small car for the city, it's awkwardly sized, but still not ideal for transporting a family and its detritus to holiday destinations.
So what about making it a performance SUV or SAV (sports activity vehicle, as BMW calls it)? Well, that's exactly what the Munich-based firm did by fitting a powerful 2.0-litre turbopetrol and xDrive (all-wheel-drive powertrain) to the X2 and then adding an M Sport differential to its front end.
Interestingly, the turbocharged 4 cylinder under the M35i's bonnet is arguably BMW's first real attempt to create a performance 4-pot since the E30 M3. It will also be the engine to power BMW's future compact performance cars, such as the M135i xDrive and possibly a few JCW-badged Minis.
How it fares in terms of…
Going fast
Until now, BMW's turbo-era 2.0-litre engines have not been all that inspiring. The 330i's motor is a bit droney and its engine note is artificially (read: electronically) enhanced. Its acceleration is not particularly linear either, which makes for a meh driving experience, which does not befit a BMW.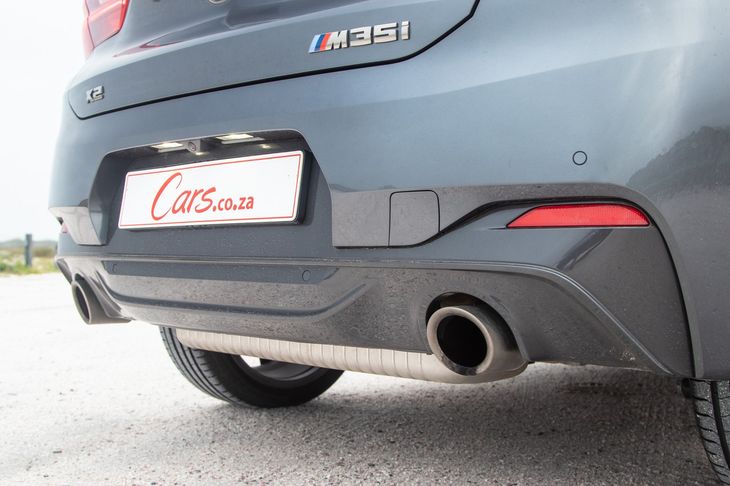 Bored out pipes (by 10 mm) give the M35i a throaty roar that sounds more natural than the 330i.
The M35i's powerplant is a development of the 330i's engine, but has been tinkered with to develop peak outputs of 225 kW and 450 Nm of torque. Those are excellent numbers for a performance hatch, even if it's technically a crossover/SUV! BMW has achieved them by redesigning the motor's cooling system and fitting a larger turbocharger and air intakes. Different pistons and a reinforced crankshaft top off the changes for the M35i unit.
And what a difference those upgrades have made! The M35i's motor delivers rapid acceleration, is eminently tractable throughout its rev range and, significantly, emits an evocative, racy soundtrack. The sound from both the engine and exhaust system are profound and rorty, plus gearshifts are accompanied by percussive bursts from the bored-out exhaust ends. GTI owners will long for a vrrr pha sound the likes of which this X2 flagship delivers.
An 8-speed automatic is the only transmission available in the M35i, at least for now. It does have a habit of finding itself in too high a gear at low speeds, which leads to slow getaways from intersections or traffic circles, but if you engage Sport mode it temporarily addresses the issue. The vehicle also has launch control and it can deliver some impressive sprints from a standstill.
Handling bends?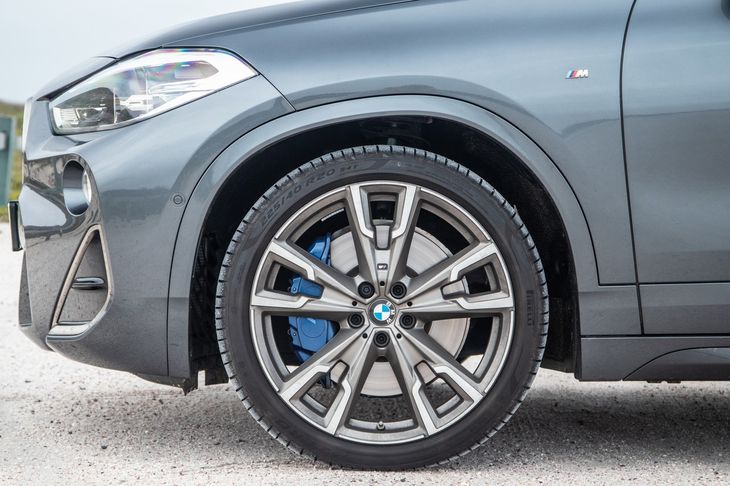 Special 20-inch rims and M Sport brake callipers feature on the X2 M35i.
While the X2 M35i might not be a sportscar, it's still a BMW, which means it will appeal to driving enthusiasts. And even if some BMW aficionados or purists feel ambivalent about the X2's front-wheel-drive architecture, the M35i's all-wheel-drive capability most certainly increases its handling limits.
The M Sport differential at the front end aids traction and facilitates smooth, progressive acceleration out of corners. The rear wheels are only called upon to provide propulsion when it's absolutely necessary – so there's a distinct front-end bias in the way the X2 M35i feels to drive enthusiastically.
The wide, low profile tyres (225/40 20-inch) afford plenty of grip and, should you feel inclined to use them, the steering-wheel paddle shifters provide added driver engagement (the 8-speed auto shifts promptly and crisply in Sport). Overall, the M35i is not stirringly exciting to drive, but it satisfies more than most small SUVs and, by virtue of a lower-than-usual seating position, it feels sportier than rivals such as the Range Rover Evoque.
Looking the part

Simple iDrive and drive mode button layout in the centre console makes it easy to navigate infotainment menus and settings.
The exterior execution of the X2 M35i is not wildly different to that of its standard X2 siblings, which leads us to believe BMW is either leaving room for an even more potent version or, that this derivative is aimed at strongly individualistic, rather than flamboyantly extroverted (or showy), buyers.
The M35i gets 20-inch wheels accented with blue brake callipers and a few grey accents on its front bumper. The exhaust tips are bored out to 100 mm, which makes them 10 mm bigger than those of the standard X2. Make no mistake: the BMW's a distinctive car with plenty of sporty appeal, but in a segment where you also have a Range Rover Evoque and a Volvo XC40 fighting for the limelight, the X2's looks are probably a bit too fussy.
Appealing interior
BMW SA really went to town when it specified the interior execution of this particular X2 M35i. The outside might be a bit "plain grey", but the inside looks like someone loaded it with water, emptied a few tubes of fizzy tablets inside, closed the doors and then waited to see what would happen...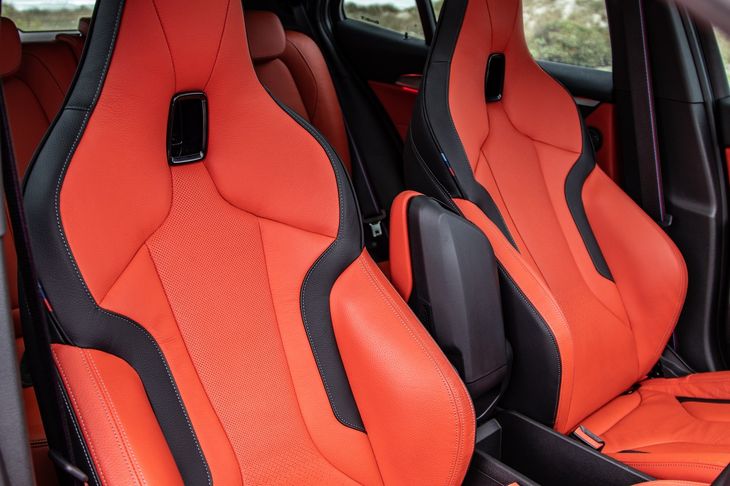 Effervescent Orange (not the real name, but it should be) leather seats are very comfortable and don't diminish rear legroom.
Yep, it's very orange inside the X2 M35i test unit's cabin, but the ability to individualise models' interiors is one of the major drawcards in this segment. The bucket seats fitted in the M35i look the part and are supportive under hard cornering as well as comfortable on longer drives.
The thick BMW M-Sport steering wheel adds a luxurious feel to the cabin, but beyond that, it's "fairly standard BMW fare" inside. The flagship X2's interior design is functional and easy-to-use/ergonomically excellent, but it isn't exciting (or inspiring) once you look past the orange seats and sporty cladding. In a segment in which the ability to stand out is a must, there's too little of that hey-shoo-wow feeling when you sit inside the M35i.
Aside from that, virtually all the technologies that BMW offers in its compact-car range are fitted, including the slick and smart-looking infotainment system. Consult your options list closely, as the total price can quickly get away from you if you get carried away with adding optional extras.
Rear passenger space in the X2 is better than expected, as is it load bay size, which, at 470 litres, could just about swallow 4 passengers' luggage for a weekend away. One of our testers even managed to load a mountain bike (albeit a dismantled one) in the back alongside a rear passenger.
Price and after-sales support
The BMW X2 M35i costs R815 172, but the recommended retail price for the test unit, as specced, was R919 472 (August 2019). A 5-year/100 000 km maintenance plan is included in the asking price.
Verdict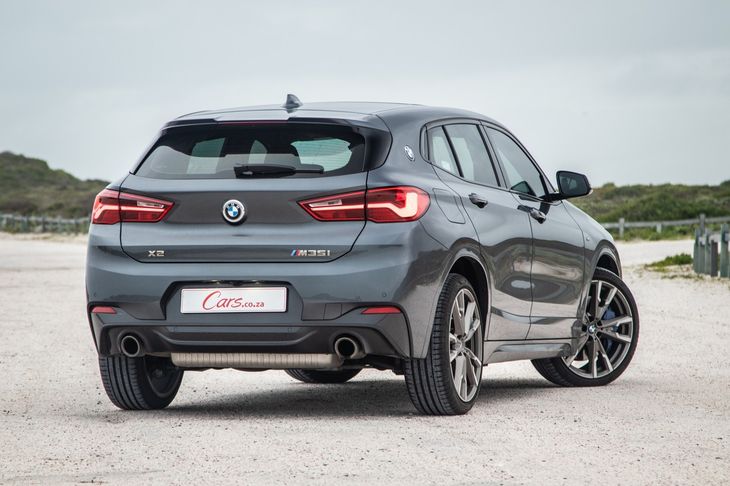 The M35i is the most appealing of all the X2s, but it doesn't feel like a sure-fire winner, which many of its rivals do.
The introduction of BMW's new performance-oriented 2.0-litre 4-cylinder turbopetrol motor has endowed the (resultant flagship version of the) X2 with serious sporting credentials. First of all, it's a potent performer that emits a memorable soundtrack. Secondly, it handles well for a compact crossover/SUV, replete with predictable limits and enough traction from the all-wheel-drive system to keep driving enthusiasts relatively happy.
The Bimmer's exterior may not be as pretty as that of the Range Rover Evoque or Volvo XC40 (tastes differ, but the X2 certainly has its critics). Even so, the X2 M35i does have nonconformist appeal. Its lower driving position is engagingly car-like, but in premium compact crossovers that's currently bang on-trend. The personalisation of the interior trim and seats adds some fun to what is a smart, if rather predictable BMW, interior.
The starting price of R800k is hard to swallow when you consider that rival models from BMW's fellow premium manufacturers are priced similarly to the X2 M35i; some of them arguably offer more universal appeal, better practicality and, once you step inside them, a greater sense of occasion. It's also hard to ignore something like a Volkswagen Golf R – a time-honoured SA favourite that is likely to appeal to the X2's prospective clients too. What may go down particularly well, however, is if this new engine finds its way into the Mini Countryman; we'd certainly like to have a go with that.
Related content:
Volvo XC40 T3 R-Design (2019) Review
Range Rover Evoque (2019) Video Review
Jaguar E-Pace D240 R-Dynamic HSE (2018) Review