Mercedes-Benz's South African arm recently published the price list of its entire portfolio. While most we knew already, there were also details for some soon-to-be-launched models, such as the facelifted E-Class. Here's pricing for the entire Mercedes-Benz E-Class range, including sedan, coupe and cabriolet models as well as the AMG derivatives.
Despite the onslaught of the SUV, the legacy German manufacturers still heartily believe in the allure of a big comfortable sedan and the updated E-Class will be hitting SA showrooms soon. Set to rival the likes of the Audi A6, itself just launched as well as the BMW 5-Series (facelift due before the end of 2020), the updated E-Class boasts a few changes.
Visually, the E-Class has been refined with a wider grille design, updated bumpers, and a newly shaped boot lid. The standard LED headlights have been redesigned (LED Multibeam headlights are optional) while tail lights also take on a fresh design. There are 3 new body colors are on offer as well as aero wheels which aim to save fuel and improve efficiency.
Most of the changes can be found on the inside. The E-Class' cabin now features updated trim finishes as well as a new multi-function steering wheel with capacitive hands-off detection. Another change is the presence of a touchpad to control the infotainment system which replaces the previous rotary controller. A widescreen cockpit featuring two 10.3 inch screens can be had or buyers can upgrade to the larger 12.3-inch widescreen cockpit layout. The latest Mercedes-Benz User Experience (MBUX) operating system will also be fitted with voice control and augmented reality.
In terms of engines, Mercedes-Benz will be offering the sedan in 2.0-litre turbocharged petrol with 145 kW and 320 N, as well as a 2.0-litre turbocharged diesel motor packing 143 kW and 400 Nm. Sitting at the top of the sedan range is the E63 S with its biturbo 4.0-litre V8 producing 450 kW and 850 Nm.
There will also be coupe and cabriolet versions of the updated E-Class. There'll be one engine, available in 2 outputs. The 2.0-litre turbocharged petrol produces 145 kW and 320 Nm for the E200. The same engine delivers 190 kW and 370 Nm in the E300. There'll be no 63 motor for the coupe or cabriolet, with Mercedes-AMG using its petrol/electric 53 setup. The 3.0-litre turbocharged and electrically boosted V6 produces 320 kW and 520 Nm, and we've sampled this motor before in the outgoing version. Simply, it's a peach!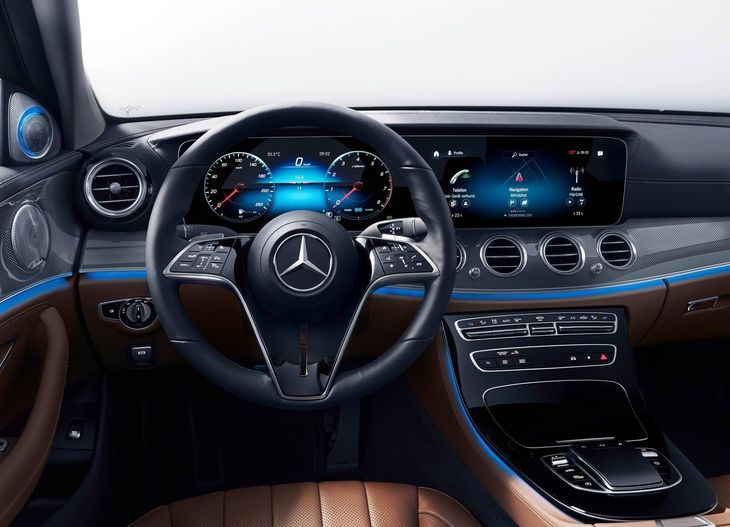 Mercedes-Benz E-Class Facelift Price in South Africa (October 2020)
Sedan
E 200 Facelift R920 000
220 d Facelift R984 000
Mercedes-AMG E 63 S 4MATIC+ R2 423 000
Coupe
E 200 Facelift R1 036 000
E 300 Facelift R1 131 000
Mercedes-AMG E 53 4MATIC+ R1 618 000
Cabrio
E 200 Facelift R1 164 000
E 300 Facelift R1 268 000
Mercedes-AMG E 53 4MATIC+ R1 756 000
Further Reading
Mercedes-Benz E-Class Coupe/Cabriolet Revealed
Facelifted Mercedes-Benz E-Class Revealed
Mercedes-AMGs Coming to SA in 2020