Mercedes-Benz has revealed its facelifted E-Class executive sedan, see what's changed below…
A few weeks back Mercedes-Benz gave us a taster of its updated E-Class which was shown in disguised form. Now, the facelifted E-Class has broken cover. It was meant to make an appearance at the Geneva Motor Show in Switzerland but due to a Coronavirus outbreak, the show was cancelled late last week.
What's changed?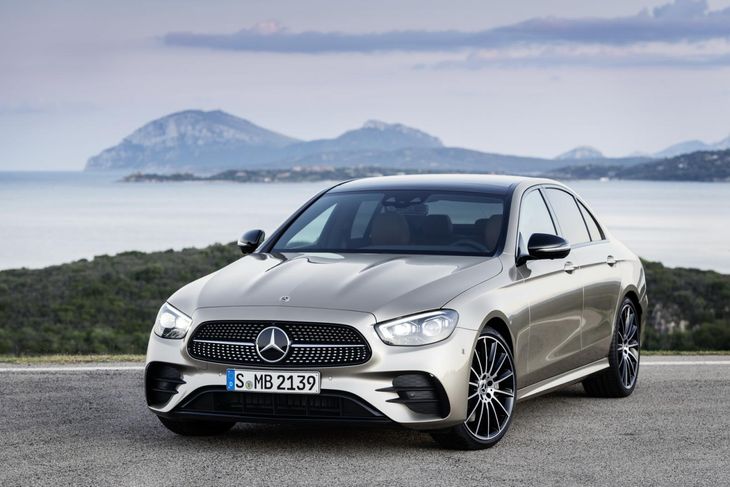 While the E-Class' exterior design has undergone mild changes, the interior sees more substantial upgrades.
Visually, the E-Class has been refined with a wider grille design, updated bumpers and a newly shaped boot lid. The standard LED headlights have been redesigned (LED Multibeam headlights are optional) while tail lights also take on a fresh design. There are 3 new body colors are on offer as well as aero wheels which aim to save fuel and improve efficiency.
Most of the changes can be found on the inside. The E-Class' cabin now features updated trim finishes as well as a new multi-function steering wheel with capacitive hands-off detection. Another change is the presence of a touchpad to control the infotainment system which replaces the previous rotary controller. A widescreen cockpit featuring two 10.3 inch screens can be had or buyers can upgrade to the larger 12.3-inch widescreen cockpit layout. The latest Mercedes-Benz User Experience (MBUX) operating system will also be fitted with voice control and augmented reality.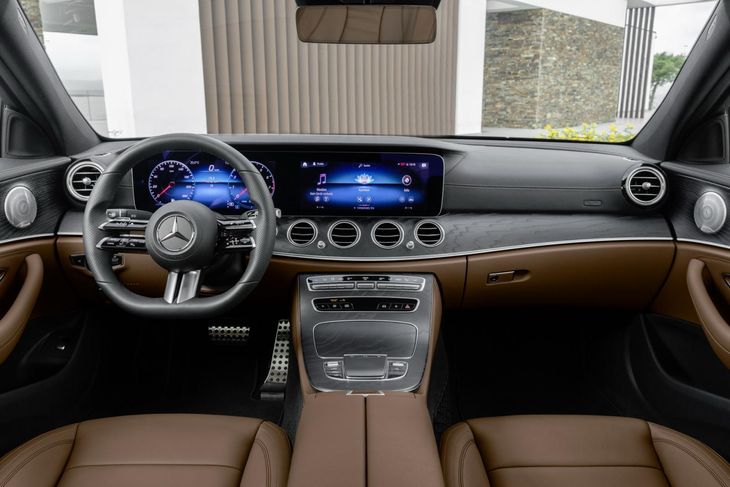 A new steering wheel is a major highlight inside the latest E-Class.
While the changes to the E-Class may seem superficial, the company says that it's actually one of the most comprehensive facelifts it has undertaken. This is because Mercedes-Benz has thoroughly revised the electrical system of the E-Class which has made it possible to introduce a host of driver assistance systems.
Some of these driver assistance systems include:
Active Distance Assist Distronic with route-based speed adjustment: with the help of information from LiveTraffic, the E-Class can recognise and respond to traffic jams and slow-moving traffic even before the driver becomes aware of them. When a traffic jam is detected (and if the driver does not choose a different response), Distronic (if activated) will reduce the car's speed to around 100 kph as a precaution.

Active Traffic Jam Assist: in the event of a freeway traffic jam (where there are clear lane markings), the system can substantially assist the driver with lane-keeping and maintaining a safe distance at speeds up to around 60 kph.

Active Steering Assist: can assist the driver with steering into an emergency lane on multi-lane roads.

Active Brake Assist with cross-traffic function: if there is a danger of a collision with "oncoming traffic when making a turn across a freeway, the E-Class can apply braking at the speeds typical of such manoeuvres", Mercedes-Benz claims.

Active Blind-spot Assist with exit warning: this function can lower the risk of a collision with other road users, for example passing cyclists. Active Blind Spot Assist also monitors the blind spot when at a standstill, and can warn the driver of approaching vehicles, motorcycles or bicycles when opening the door.

Parking Package with 360-degree camera: Side View gives the Parking package a new function that keeps an eye on the entire side of the vehicle. The extended side view makes it easier to manoeuvre alongside nearby, parallel obstacles.
Electrified E-Class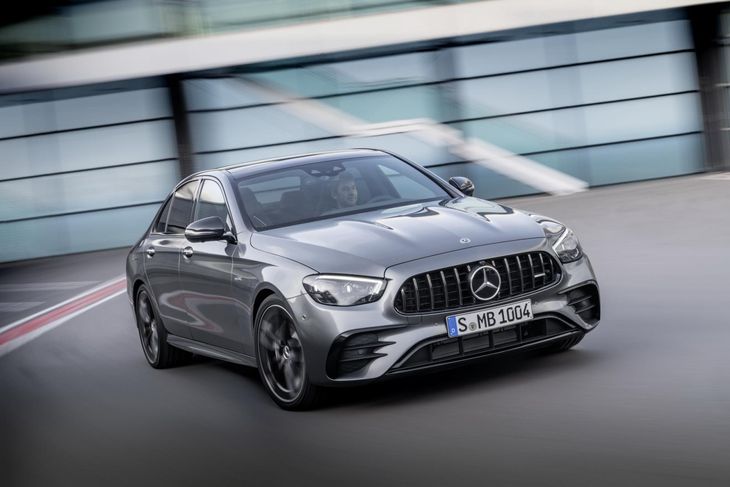 The AMG E53 4Matic will sprint from zero to 100 kph in 4.5 seconds.
Mercedes-Benz has electrified its E-Class range and in some markets, up to 7 plug-in hybrids will be offered in petrol and diesel guise as well as in rear-wheel-drive and all-wheel-drive formats. Mercedes-Benz says that the petrol engine range will cover outputs of between 115 kW to 270 kW while the diesel E-Class will offer between 118 kW to 243 kW.
A 200 kW (+15 kW) four-cylinder 2.0-litre turbopetrol engine and an in-line 6-cylinder, 3.0-litre engine will be equipped with an Integrated Starter-Generator (ISG) and a 48-Volt on-board electrical system. A 6-cylinder, 3.0-litre turbodiesel engine will also be offered in some markets. A 9-speed automatic transmission is standard.
In South Africa, however, the current 145 kW and 190 kW 2.0-litre turbopetrol and 143 kW turbodiesel engines are expected to carry over.
Mercedes-Benz also took the opportunity to reveal the AMG E53 4Matic which is powered by a twin-turbocharged 3.0-litre petrol engine that develops 320 kW and 520 Nm of torque. An EQ Boost starter-alternator provides an additional 16 kW and 250 Nm while feeding the 48-Volt onboard electrical system, taking outputs to 336 kW and 770 Nm. The AMG E53 4MAtic makes use of a 9-speed AMG SpeedShift twin-clutch transmission. Zero to 100 kph is claimed at 4.5 seconds with a limited top speed of 250 kph. The AMG Driver's Package will take that top speed to 270 kph.
We will keep you updated as soon as local specification and pricing becomes available.
Buy a Mercedes-Benz E-Class on Cars.co.za