The 53-badged Mercedes-AMGs offer something in between full-bore AMG scary-pants machines and run-of-the-mill Benz models. We tested the new straight-6 engine in the cabriolet version of the E-Class to see what it's all about.
We like: Beautiful straight-6 sound. Classy design. Understated performance.
We don't like: How much is it, did you say? Plasticky cabin materials.
Fast facts
Price: R1 441 226 (July 2019)
Engine: 3.0-litre twin-turbo 6-cyl
Power: 320 kW
Torque: 520 Nm
Transmission: 9-speed automatic
Fuel consumption: 8.9 L/100 km
Own a Mercedes-Benz? Tell us about your experience here.
SERIOUS ABOUT BUYING?
Check out full specification details and finance estimates.
Some Mercedes-Benz dealers regularly offer specials. Have a look here.
What is it?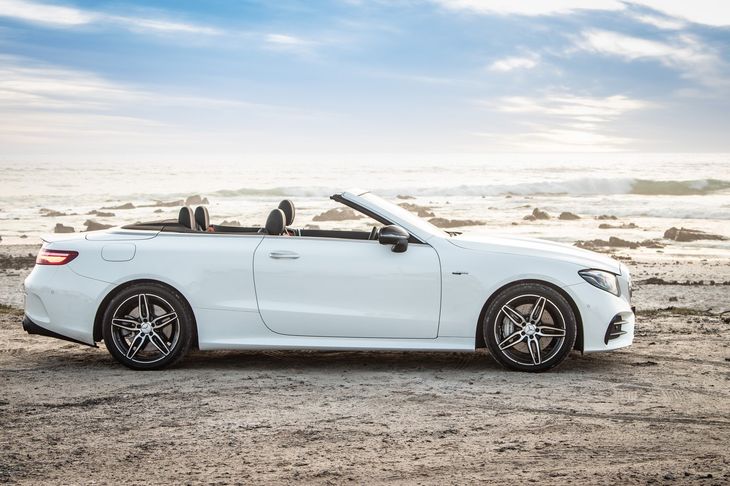 A less fussy design than many of the current German products.
The Mercedes-AMG 53 models represent more stately, "less hooligan" propositions for owners who want the AMG badge, but don't want to deal with gawking petrolheads goading them to rev their car's expensive engines at traffic lights. An "AMG53" harnesses an all-new motor augmented by electric power, a supercharger and a turbocharger, to get it down the road at a fair lick; it lays down its torque courtesy of 4-Matic all-wheel-drive.
The E53 Cabriolet 4Matic+ is part of a quartet of E-Class-based 53 models, including the E53 4Matic+, E53 Coupe 4Matic+ and CLS53 4Matic+.
How it fares in terms of...
Performance
It's a Mercedes-AMG model, so it has to be designed and built to produce maximum performance – that's what most people would expect. Not so much in the E53, though. If you expect to be blown away when you bury the accelerator for the first time, you're bound to be a trifle underwhelmed. The newcomer is not brutishly fast in the way that the headline figures (320 kW and 520 Nm) suggest. It will, even in Cabriolet guise, get to 100 kph from standstill in 4.5 seconds and run on to 250 kph (270 kph with the Driver's Pack). In a time when every turbocharged performance engine has to deliver a kick in the back and a torrent of torque, there's something refreshing about the way the E53 Cabriolet 4Matic+ goes about its business.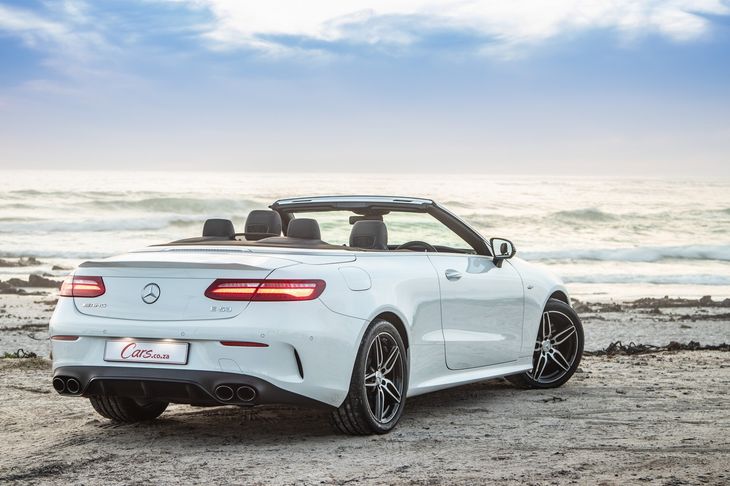 The 6-cylinder under the bonnet is laden with modern tech but delivers old-school thrills.
It delivers its power in a linear manner, and even though the redline kicks at just over 6 000 rpm, the transmission is long-geared, so it feels like the motor revs "endlessly". The secret to this performance characteristic lies in the power unit's 3-tiered boosting system. At the heart of this 3.0-litre straight-6 is a 48V electric system with an integrated starter/generator, which can contribute 16 kW and 250 Nm of torque, but more importantly, it spins up a supercharger that cuts out lag before handing over to (an exhaust-driven) turbocharger that increases the top-end grunt. Despite this very complicated mechanism, it feels every bit an old-school 6 cylinder unit from behind the 'wheel, replete with a creamy power delivery and a sweet-sounding exhaust note. It's not trying to bark, pop and make every other sound from a heavy-metal anthem, just emit an operatic howl. It's a gem.
The 9-speed automatic transmission works well with the new engine and, by actuating gear changes with the steering wheel-mounted paddles, a driver can feel more connected with their machine. On downshifts, the EMS blips the engine to provide just a hint of overt sportiness to the package.
A driver's car?
All Mercedes-AMG 53 models come with Ride Control Plus (it's based on Benz's standard air suspension, but tuned for a slight performance bent) and the E53 Cabriolet 4Matic+'s driver can choose between 5 different driving modes to tailor their car's driving experience to their preference.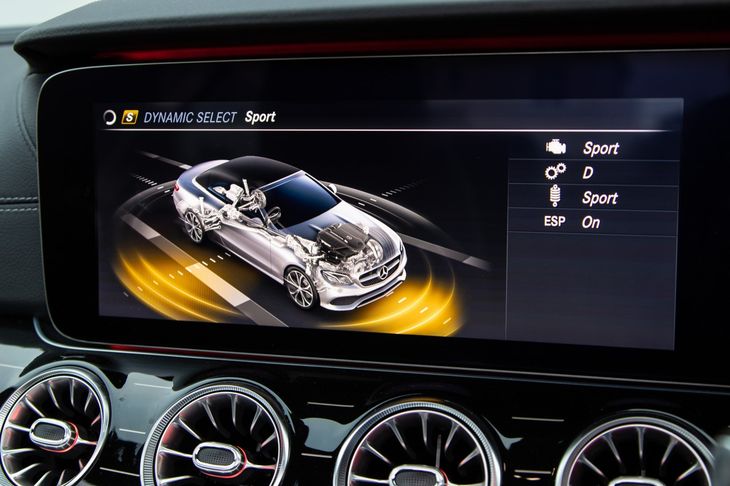 Mode select allows you to customise your drive experience to your current mood.
The E53 Cabriolet 4Matic+ rides on the firm side, but its suspension is certainly not as unforgiving as those of "full-fat" 63 versions. For a ragtop, the Benz's body is reasonably taut and largely free of much of that "sideways shuffle" that cabriolets tend to exhibit on bumpier surfaces. Rougher roads expose the firm ride, even in Comfort mode, but overall there's a reasonable balance between AMG-worthy performance and pillowy comfort.
Where you'll get the most out of E53 Cabriolet 4Matic+ is out on the open road, where a driver can drop the soft top, let the sophisticated 3.0-litre 6-cylinder go for a gallop and be quite assertive with steering inputs. The Benz feels confidently planted in long, sweeping bends and the 4Matic system provides more grip than you're ever likely to need. By virtue of the hefty body, changes in direction are a little dopey but the steering feel and feedback is better than what you'd get from any of the rival German brands. Truth be told, one can hustle this "Big E" more than you'd expect.
A boulevard cruiser
Tastes differ, but we think the current generation of E-Class Coupe and E-Class Cabriolet are some of the best-looking models in Mercedes-Benz's line-up. Classy, understated and less fussy than many other current designs, the E53 Cabriolet 4Matic+ is easy on the eye with the roof up or down.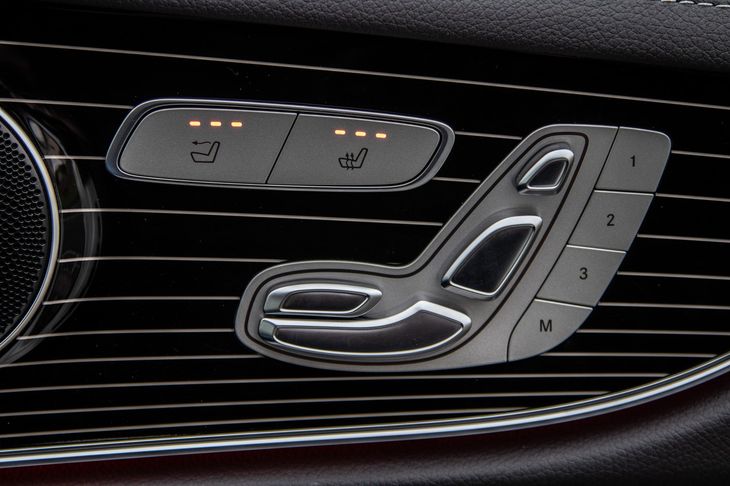 When driving with the roof down in the heart of winter, the seat warmers and air scarf setting need to be cranked up.
The derivative does get a bit of special treatment to enhance its overall look. It's 61 mm wider at the front and 50 mm wider at the rear, giving it more presence and a lower centre of gravity. The quad tailpipes and small boot spoiler add a bit of brashness and subtlety to the car's visual impact.
So, is this Benz tailor-made for summer cruises? Yes, however, we believe the Cabriolet could be enjoyed to its fullest on sunny winter or spring days (when the sun's rays are not too harsh): drop the roof, pump up the heat on the Air Scarf and take a relaxing drive on a country road.
Interior appeal?
Mercedes-Benz interiors are beautifully designed, but the E-Class was the first to introduce the current layout with the "skateboard" centre screen that spans half the width of the cabin. The issue is that it has since been improved upon in the new A-Class, which now sports Benz's best interior.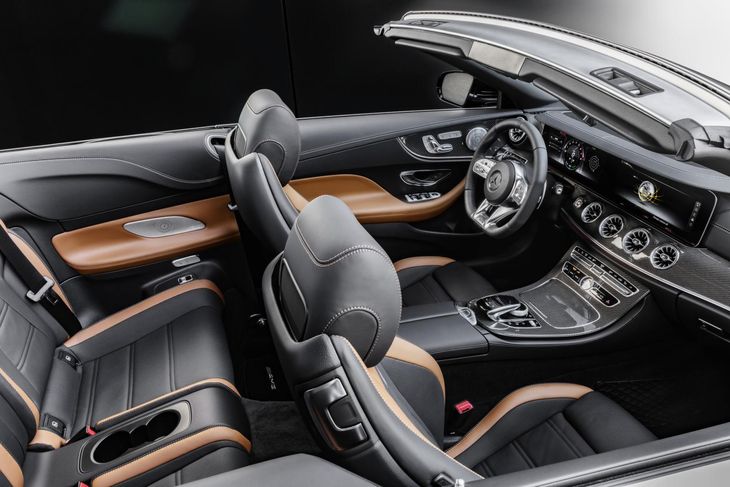 It's a beautifully designed cabin, just features too much plastic disguised as premium materials.
And while the E53 Cabriolet 4Matic+'s infotainment system offers all the connectivity options one could ask for, the fit and finish of the cabin materials could be better. Although the cabin's aesthetically pleasing, it contains an awful lot of plastic. It might be fancy plastic, with gloss finishing or a carbon pattern, but it's still plastic. It would feel more expensive if there were more leather surfaces or rich carpeting, or even metallic inlays.
As for practicality, the E-Class Cabriolet can thankfully store more than an overnight bag in its boot. With the roof up, there's a claimed 385 litres of luggage space and with the roof down it's still a commendable 310 litres.
Price and after-sales support
The E53 Cabrio 4Matic+ costs R1 441 226 (July 2019) and has a 2-year/unlimited km warranty and a 5-year/100 000 km maintenance plan.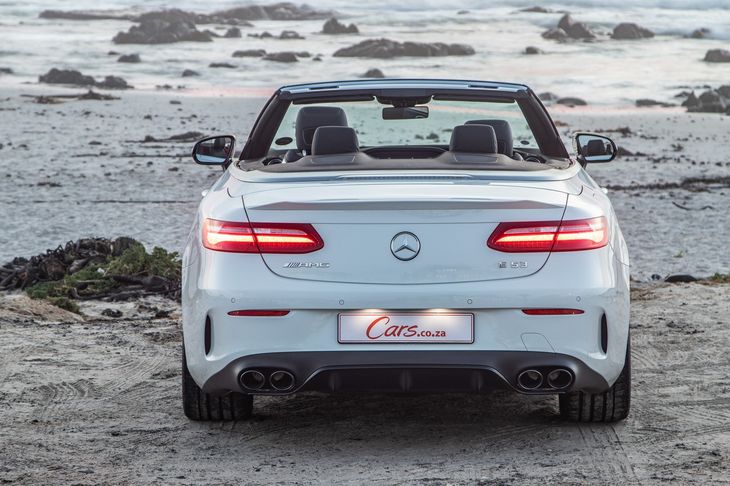 Without many competitors (the BMW 6 Series has been discontinued, save for GT), the E53 has set a very high price.
Verdict
The E53 Cabriolet 4Matic+ feels like a grown-up piece of kit – it's a product made for the discerning enthusiast who might be expected to say: "I don't need to go everywhere sideways, but I do like to show off a little." The engine is the highlight of the package, underneath all that amazing tech is a powerplant that feels and sounds a bit old-school. What's more, it sounds great, like a symphony orchestra, rather than a fireworks display.
There's enough in the way of AMG fettling to make this cabriolet handle well on twisty backroads and, most importantly, effortlessly catch the eye when things slow down on the cruise through town (with the top down, of course).
It is a rather expensive commodity, however. With a price tag of R1.4 million, the E53 Cabriolet 4Matic+ has no direct competitors (the 6 Series Convertible has been discontinued, for example), so Mercedes-Benz South Africa has exercised its option of setting its own pricing. If you don't want a pure sportscar, like a Porsche 911 Cabriolet or Jaguar F-Type Roadster, it's the only open-topped cruiser with a performance badge apart from the SL63, which, at double the asking price, is another prospect altogether. And as, for the Mercedes-AMG S63 Cabriolet, well, that costs R3.3 million!
Related content:
Mercedes-AMG CLS 53 (2019) Launch Review
Mercedes-AMG C43 Cabriolet 4Matic (2017) Video Review