The forthcoming Mercedes-AMG A45 is near production ready and while we don't have exact details yet, we do know that it'll be available in two states of tune; A45 and A45 S. Here's what we know so far.
The Mercedes-AMG A45 really upset the hot hatchback market when it made its arrival back in 2013. Boasting 265 kW and 450 Nm, mated to an all-wheel-drive system, it was devastatingly quick off the line. A facelift version arrived with even more power (280 kW and 475 Nm) which was even more ballistic in a drag race. We proved that over a short distance, a Mercedes-AMG 45 motor in a GLA would be quicker than its sledgehammer S65 AMG, highlighting just how great that powertrain is.

With the introduction of W177 aka the 4th generation of A-Class, there was no doubt that there would be a successor. Now officially Mercedes-AMG has not yet revealed this model, instead introducing the A35, which bridges the gap between A250 and the new hardcore road-legal weapon. It pushes out 225 kW and 400 Nm, and with a 0-100 kph claimed sprint of time of 4.7 seconds, it's squarely in the crosshairs of the Audi S3 and Volkswagen Golf R.
But what of the flagship Mercedes-AMG A45? Well, while details are scarce, we do know a number of things. Back in 2015 when we attended the international launch drive of the current Mercedes-AMG A45, we asked the head of Development Mercedes-AMG Compact Cars about the potential of electric assistance in the next-gen A45. He was not forthcoming with a definitive yes/no answer, but did say that the current 2.0-litre turbocharged engine was at its limit. Of course, AMG could always imbue the mill with more power, but at the cost of reliability. The answer lies in electric boost.
Now the next-generation A45 won't be the first to debut this technology, and we're already seeing a number of products from the Affalterbach-based brand which have electrical assistance called EQ. Any car with a '53' badge boasts this tech and it works by combining a starter motor and alternator in a powerful electric motor, located between the engine and gearbox. This electric motor in AMG 53 application generates 16 kW and 250 Nm and reduces consumption and emissions. The additional bonus is the electricity generation needed to power things like lights, infotainment displays and so on. Mated to a 9G-Tronic gearbox with predicted short ratios to aid acceleration and with the electric boost, we think the all-new A45 AMG will be easily able to break the 4-second barrier to 100 kph, assuming the same EQ system found in the CLS 53 makes its way into its compact sibling.
Another thing we have learned is that the new Mercedes-AMG A45 will follow its bigger siblings naming convention and being available in two distinct flavours, namely A45 and A45 S. We've been led to believe that the South African market will only be receiving the full-fat A45 S model in 2019, with a hopeful arrival in the 2nd quarter, not that long after its A35 warm-up act.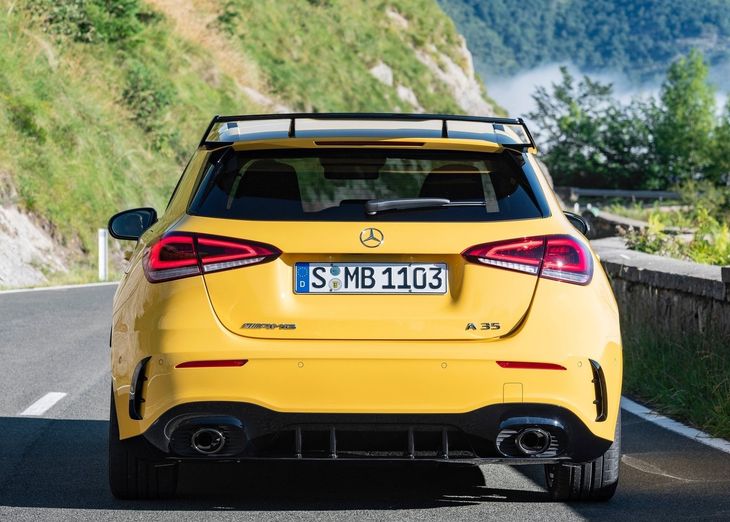 The rear of the forthcoming Mercedes-AMG A35. Its bigger A45 brother will revert to the traditional 4-exhaust AMG setup
Buy a new or used Mercedes-Benz A-Class on Cars.co.za
Related content:
Mercedes-Benz A-Class (2018) Launch Review
Mercedes-Benz A-Class (2018) Specs & Price
5 moments that defined the A-Class story
Mercedes-Benz Reveals new A-Class Sedan