Controversial 20 years ago. Crucial to the brand in 2018. We look at the evolution of Mercedes-Benz's A-Class premium hatchback.
A month after introducing its latest C-Class, Mercedes-Benz's 4th-generation A-Class debuted in South Africa this week. When it was first shown back in 1997, 'Benz traditionalists were aghast. How could the world's oldest and most esteemed automotive company build a hatchback?
In the 20 years that followed, A-Class has evolved from a dinky baby Mercedes to the brand's foremost agent of capturing younger and more sustainable demographic. It's worth remembering that Mercedes-Benz of 1997 was a very different company to the current one. An enormous and ultimately disastrous corporate merger with Chrysler had just been concluded, AMG was a margin note in the yearly results and successful young professionals bought German compact cars from Audi and BMW, because there simply wasn't anything smaller than C-Class available from Mercedes.
Nearing the millennium, the Stuttgart volume luxury car brand realised that it had a problem: its customer profile was ageing rapidly. Mercedes-Benz's strategy was to conquer a more youthful market and make the Three-pointed Star desirable and attainable to a more diverse audience. A-Class was the tactic and it would evolve in ways nobody could have predicted.
The original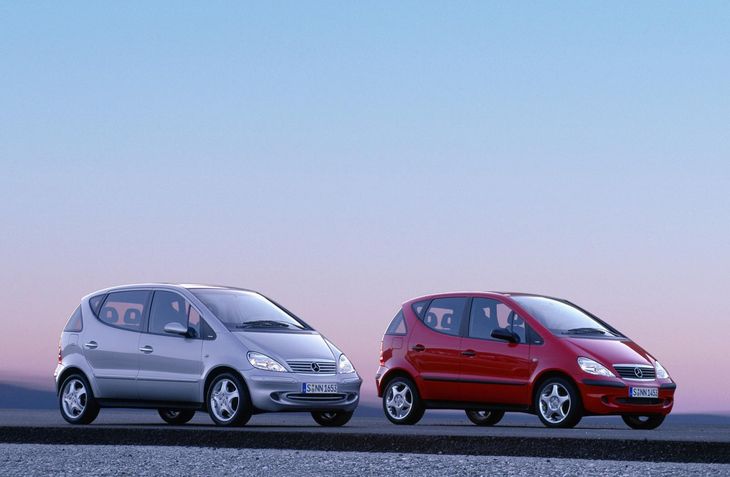 It all started with W168, which was not universally loved. The notion of a Mercedes hatchback appeared odd and contrary to the brand's values. Scepticism increased when the first of these A-Class models appeared to exhibit an alarming propensity to roll over during abrupt high-speed lane changes (the infamous "moose test").
Mercedes-Benz allayed the issue with a rather expensive post-production engineering upgrade to the electronic stability algorithm. Despite a problematic introduction, the A-Class delivered on its mandate and eventually outlasted its city-car premium hatch rival from Audi, the A2.
Although a front-wheel-drive Mercedes was supposed to lure hip urbanites and young designers, something quite peculiar happened. A fair volume of South African A-Class buyers were retirees who cherished the Mercedes-Benz brand values and wanted something of more manageable dimensions to drive around town. What do they say about the law of unintended consequences?
The long one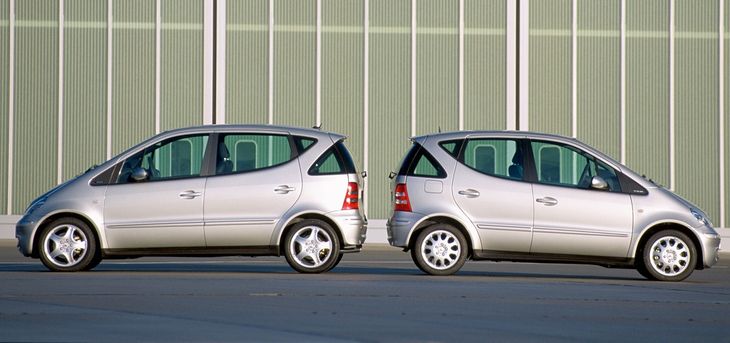 Revolutionary packaging was a defining characteristic of the original A-Class, with engineers managing to place the engine and gearbox within a steel floor structure, thereby consolidating interior space. For their size, 1st-generation A-Class hatchbacks were generously large inside.
The 2001 A-Class refresh ushered in a new derivative too, the A-Klass Lang. With a wheelbase stretched by 170 mm this was a German hatchback that could flow with confidence around crowded urban infrastructure and had unbelievable cabin roominess too. Legroom was improved by 13% and knee room was an additional 22%, compared with the standard-length A-Class.
Beyond the plentiful improvement in rear-passenger comfort the stretched A-Class configuration brought with it a beneficial characteristic of long-wheelbase vehicles: stability. Of all the 1st iteration A-Class models, the long-wheelbase versions were perhaps the best execution of Mercedes-Benz's revolutionary packaging idea. Their overall dimensions remained sufficiently compact to make parking and urban driving an unintimidating task for nervous drivers, yet inside they were huge.
The AMG Twin Study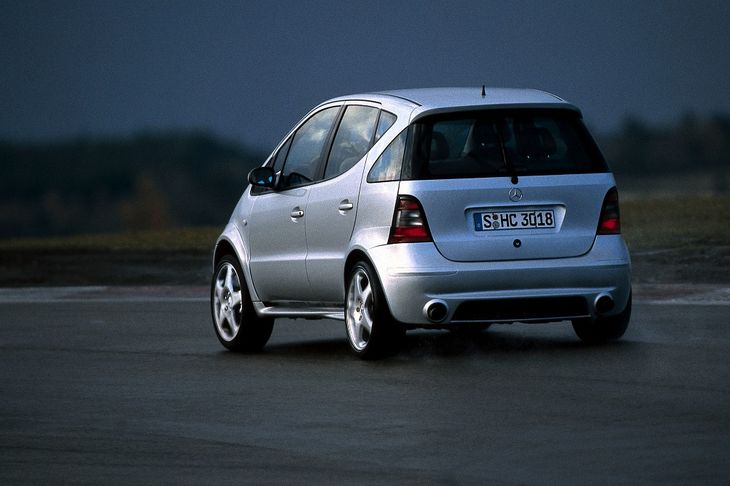 Before turbocharging became the default engine configuration, most hatchbacks were powered by naturally-aspirated engines. The A-Class was no exception.
So, how do you make a 1st-generation A-Class go that much faster without forced-induction? You double the capacity by adding a 2nd engine in the rear of the car.
This was AMG's first contact with A-Class and the A190 Twin Study was built to show that even in the late 1990s, Mercedes-Benz was cultivating a wild streak amidst its engineering staff. To accommodate the 2nd engine the spare wheel was deleted, and some clever exhaust routing fabricated.
The combined power output was 186 kW and with each engine driving an individual axle, it was, therefore, all-wheel drive too. The foreshadowing of AMG's eventual A45 configuration is almost uncanny. To the credit of all those involved, the A190 Twin Study worked and ran 0-100 kph in a just under 6 secs, before running out of gears by 225 kph. AMG's engineers had the good sense to fit it with brakes from the E55 sedan and the project cars (only built 4), became known as "A38s".
Ahead of the battery trend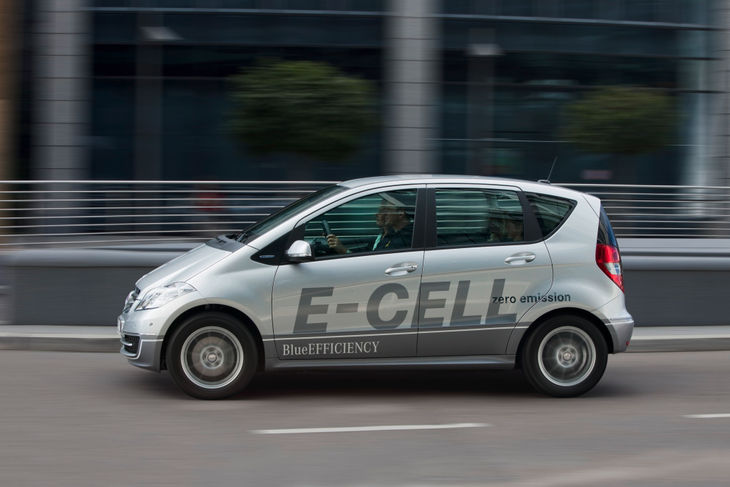 With a power- and drivetrain engineered to be sandwiched in the floor structure, unconventional for a front-wheel drive hatch, A-Class was a battery car waiting to happen.
The 2nd-generation A-Class proved that Mercedes-Benz's compact car architecture was nearly perfect for repurposing as a battery car. In 2010, the A-Class E-cell was revealed and a limited production run of 500 cars was released for ownership testing across Europe. Maximum range was an impressive 200 km and performance was superior to any combustion engined A-Class, with E-cell running the 0-60 kph benchmark in only 5.5 seconds. Remember, this was the time before the BMW i3 and i8, when most people associated any alternative powertrain with utterly pedestrian performance.
Where did Mercedes source the battery technology for its A-Class E-cell project? None other than Tesla Motors, who engineered the 36 kWh battery packs which produced 70 kW and 290 Nm. Imagine what could have been if Mercedes established a joint-venture with Tesla and built the A-Class E-Cell in significant volumes?
A45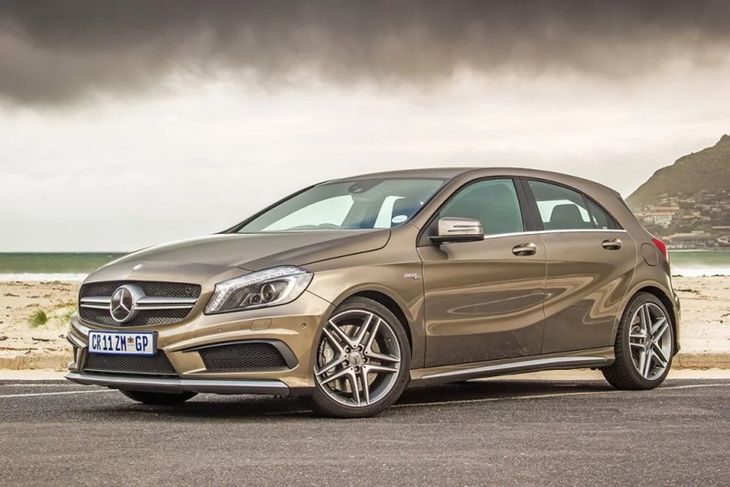 This was the first true production A-Class from AMG after that crazy Twin Study A38. Like the original twin-engined AMG hot hatch, A45 was all-wheel drive and considering the abundance of power on offer, it could certainly be no other way. A front-wheel-drive A45 would simply have been a complete failure.
A45 would debut AMG's smallest engine and upon its release, all expectations of what represented hot hatch performance were reset. Boosting 265 kW from a 2-litre turbocharged four-cylinder block, made it vastly more powerful than any rival back in 2013. Here was a hatchback which could confidently run with V8 engined AMGs, never mind its three- and five-door C-segment competitors.
Not only did A45 prove that AMG's engineering genius wasn't limited to large-capacity V8 engines, it also demonstrated that Mercedes-Benz could assert its dominance with a vast product portfolio across nearly all segments: from limousines to hot hatchbacks.
Although A-Class had started out as a larger Smart car of sorts, A45 signalled an apex of maturity for the range. With the 4th-generation A-Class, featuring its predator nose styling, advanced turbocharged engines and cabin digitation, it's telling how far the front-wheel-drive Mercedes concept has evolved in two decades.
Searching for a used A-Class?
Related content
Mercedes-Benz A-Class (2018) Launch Review
Drag Race: BMW M2 vs Mercedes A45 AMG [Video]