Mercedes-Benz is launching its all-new A-Class in South Africa this week! We first drove the newcomer in April, now see how much the Stuttgart-based manufacturer's latest premium hatchback will cost upon its local release...
What to expect: Mercedes-Benz A-Class (2018) International Launch Review
The current generation of Mercedes-Benz's premium hatchback has won many fans thanks to its striking design – it's one of the most attractive vehicles in its segment. The Stuttgart-based manufacturer hopes the all-new A-Class will be even more successful. Launching on local soil this week, the A-Class will be available with two engines, with performance-focused AMG versions following in 2019.
Codenamed the W177, this new Mercedes-Benz A-Class brings a considerable number of technologies to the segment, such as the Mercedes-Benz User Experience (MBUX) infotainment system. What's more, several safety systems from the S-Class first class sedan make their debut in the hatchback. For example, the car's cameras and radar can scan the road 500 metres ahead and it'll be able to recognise pedestrians and cyclists. There will be a fair degree of autonomy too: the car can automatically follow the traffic in front of it and prevent bumper bashes by applying automatic braking.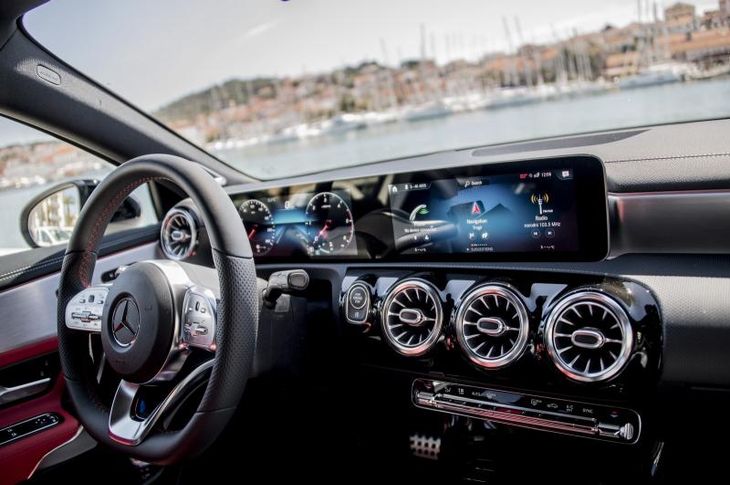 The cabin of the new Mercedes-Benz A-Class looks very upmarket and tech-focused.
The 2 engines are both turbocharged 4-cylinder petrol powerplants mated with 7G-Tronic dual-clutch transmissions.
A200: 1.3-litre turbo with 120 kW and 250 Nm. It can do 0-100 kph in a claimed 8.0 seconds.
A250: 2.0-litre turbo with 165 kW and 350 Nm. It can do 0-100 kph in a claimed 6.5 seconds.
In terms of consumption, the A200 is claimed to consume 5.2 - 5.6 L/100 km, while the A250 is claimed to use between 6.2 and 6.5 L/100 km.
We'll have more details about the features, performance, and availability of the new A-Class from launch.
2019 Mercedes-Benz A-Class Price in South Africa
Mercedes-Benz A200 R499 000
Mercedes-Benz A250 R593 300
Related content:
Mercedes-Benz A-Class (2018) International Launch Review
Mercedes-Benz A-Class L Sedan debuts in Beijing
5 Cool Tech Features of New Mercedes-Benz A-Class
Track Race: Audi RS3 vs Mercedes-AMG A45
Design Sequels: 4 That Missed the Mark & 4 That Broke the Mould
Searching for a used A-Class?