When a long-wheelbase A-Class Sedan was shown in April this year, it appeared to be a China-only model, but Mercedes will indeed make it available in the rest of the world (it will exist alongside the next-generation CLA).
The A-Class Sedan seems to be a confusing model, considering that the brand already makes the CLA – a decidedly so-so 4-door version of the A-Class. The A-Class Sedan is slightly different as it's a little larger than the outgoing CLA and aims to be more practical too, which is commendable.
Two engines have been earmarked for the new model, the turbopetrol A200 with 120 kW/250 Nm and the turbodiesel A180d with 85 kW/260 Nm.
Mercedes-Benz claims the A-Class Sedan is the world's most aerodynamic production car (Cd of 0.22), which equals the figure set by the CLA, but the A-Class Sedan has a notably smaller frontal area. The benefit of a low Cd is, of course, reduced drag and lower fuel consumption.
The dimensions of the A-Class Sedan show that it's markedly longer and wider and has a longer wheelbase than the CLA. The A-Class Sedan has a slightly smaller boot at 420 litres to the CLA's claimed 470 litres, although the Sedan probably has slightly more space for rear passengers.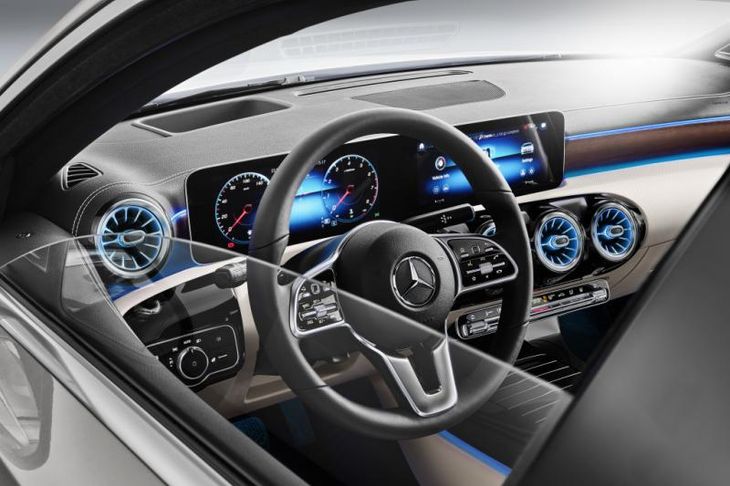 Mercedes-Benz MBUX infotainment system is modern and looks incredible.
As with its hatchback sibling, it's fitted with much of the technology that's trickled down from the S-Class. Available technologies include a new MBUX system that encompasses the infotainment system, built-in applications and artificial intelligence that learns the driver's needs. How this actually works we will have to see, but Mercedes-Benz claims the system "creates an emotional bond between the vehicle, driver and passengers".
Then there's the safety kit, which includes features such as semi-autonomous driving and a multitude of pre and post-collision safety systems.
It is unlikely we will see the A-Class Sedan this year, as the new German plant that will build extra production will only come online during 2019.
Want to buy a Mercedes-Benz CLA?
Browse through new and used stock here
Related content
Mercedes-AMG CLA 45 4Matic (2016) Review
Mercedes-Benz A-Class (2018) International Launch Review
Mercedes-Benz A-Class (2018) Specs & Price