Does the motoring world really need high-performance premium family cars? Whatever the right answer is, Mercedes-AMG has produced another firecracker to inhabit that market niche. Producing 310 kW/500 Nm in S guise, the second-generation GLA 45 is ready to put its Audi RS Q3 rival firmly in its place.
Powered by the M139 2.0-litre turbocharged engine – the most powerful series-produced 4-cylinder car engine in the world – the GLA 45 produces 285 kW and 480 Nm (plus 25 kW and 20 Nm for the S version), thanks to a plethora of technical upgrades compared with its predecessor. The GLA 45 S's outputs outstrip those of the RS Q3 (294 kW/480 Nm) and BMW X2 M35i (225 kW/450 Nm).
Mercedes-AMG claims the GLA 45 will gallop from 0 to 100 kph in 4.4 sec and go on to a top speed limited to 250 kph (4.3 sec and 270 kph for the S), but interestingly, the Affalterbach division says it has purposely tuned the motor to have "a power delivery akin to a naturally aspirated engine"… Turbocharged engines are renowned for offering maximum twist at low engine speeds, but by contrast, the M139's peak torque is available from 4 750 to 5 000 rpm (5 000 to 5250 in the S), so drivers are encouraged to exploit the rorty engine's rev range...

The GLA 45's engine isn't simply a higher-output version of the unit that powered its predecessor, it's been extensively modded.
Apart from the engine being repositioned (the turbo and exhaust manifold are now at the rear of the engine bay, the intake system at the front), it features a 2.1-bar twin-scroll turbocharger (with anti-friction bearings), 2-stage fuel injection, an electronically-controlled wastegate and updated cooling system, with separate water pumps to cool the cylinder head (mechanical) and crankcase (electric).
The motor is mated with an 8-speed AMG Speedshift dual-clutch transmission (operable by steering-wheel-mounted shift paddles, of course) with a Race Start function, a characteristic drive sound with partial ignition interruption when shifting up (South Africans know this particular auditory phenomenon as vrrr-phaa), as well as, when required, automatic double-declutching when changing down.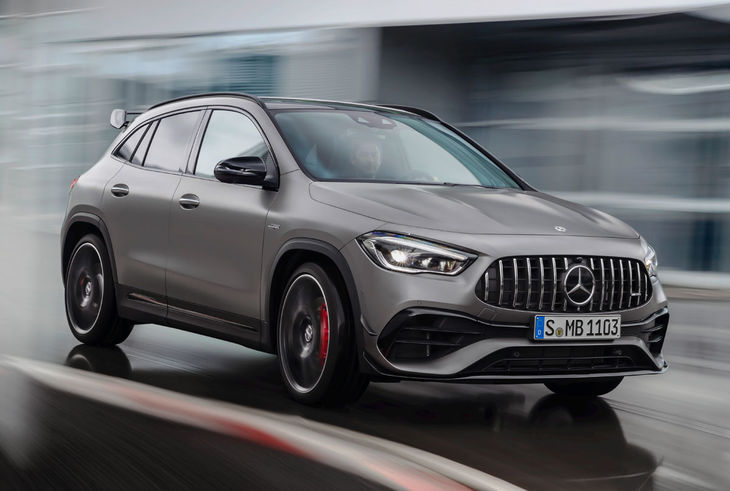 The addition of AMG Torque Control sees improved traction for the rear wheels, which are favoured by the GLA 45's 4Matic+ setup.
Furthermore, the AMG Performance 4Matic+ all-wheel drivetrain is appended by AMG Torque Control: the rear-axle differential is equipped with a pair of electronically controlled multi-disc clutches, each of which is connected to a driveshaft. This allows the AMG 45 to variably apportion power – not only between the front and rear wheels, but also selectively between the left and right rear wheel.
To help keep the Benz's 19-inch wheels and tyres (or optional 21s) planted on terra firma, the McPherson-strut front- and 4-link rear suspension is aided by AMG Ride Control adaptive damping with 3 selectable modes (Comfort, Sport, Sport+), while Mercedes-AMG has bolted a lightweight aluminium "shearing plate" underneath the engine and diagonal struts at either end of the underbody to improve the GLA 45's body rigidity.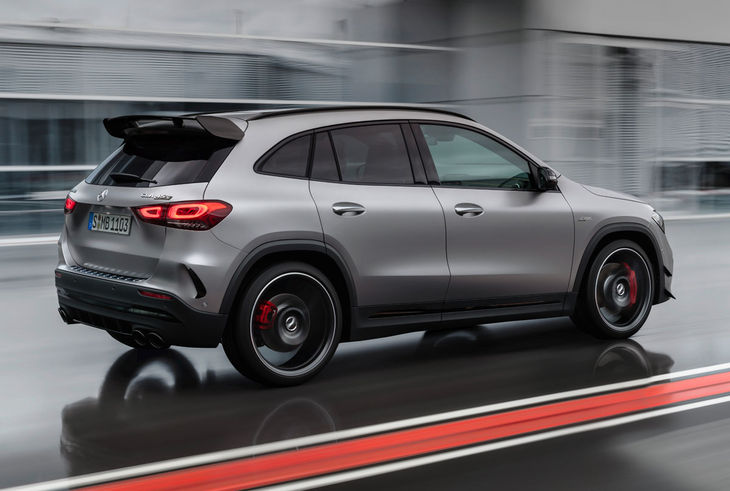 The GLA 45 was designed to be the most powerful light crossover in the market; it outpunches both its Audi and BMW rivals.
Stopping power comes courtesy of 350-mm front discs with 4-piston fixed calipers and 330-mm discs at the rear, which can be beefed up with the AMG Dynamic Plus package. What's more, the GLA 45's integrated agility control facility enables brief braking interventions at inner-rear wheels when cornering at speed for improved body control and quicker, more precise to steering inputs.
There are half a dozen AMG Dynamic Select drive settings to choose from: Slippery, Comfort, Sport, Sport+, Individual and Race, each of which appropriately modify the GLA45's throttle and shift mapping, all-wheel drive and traction settings, suspension stiffness and the loudness of the active-exhaust sound from those 31-mm pipes.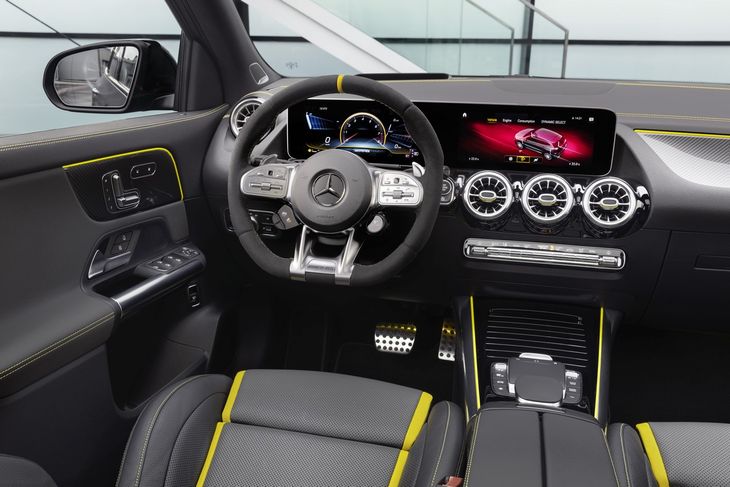 The GLA 45 benefits from eye-catching AMG detailing and its MBUX comes equipped with model-specific functions and readouts.
In terms of the GLA 45's exterior execution, as one would expect, it's not meant for shy and retiring types… Benz's newcomer stands out by virtue of its standard LED high-performance headlamps, AMG-specific grille, a bulged bonnet, purposefully-sculpted front and rear bumpers (including a diffusor), 2-piece tail light clusters, and a motorsport-inspired wing spoiler.
As is the case in its A45 sibling, there is no shortage of go-faster detailing inside. The front sports seats are trimmed in an MB-Tex-with-Dinamica combination, complemented by coloured double topstitching and trim accents. AMG Performance seats and colour safety belts are optional, but the carbon-fibre inlays and chrome-look pedals are standard.
As for the MBUX infotainment system, drivers can choose between "Classic", "Sport" and "Supersport" AMG display styles for the all-digital instrument cluster and, via the AMG menu, call up various special displays such as gear speed indicator, Warm-up, Set-up, G-Meter, Race Timer and Engine Data.

AMG Performance seats are an extra cost option, as is full leather trim, if that is more to your taste...
Other tantalising extra-cost features include the AMG Performance steering wheel (trimmed in Nappa leather, Dinamica or a mix of Nappa/Dinamica) and the AMG Track Pace data logger. When negotiating a race circuit, the latter continuously monitors more than 80 vehicle-specific data. On top of this, lap and sector times are displayed, as well as the respective difference from a reference time. Because specific display elements are shown in green or red, the driver is able to see at a glance without reading numbers whether they are going faster or slower than their best time.
What's more, the AMG Track Pace's MBUX Augmented Reality function allows the ideal line of a stored race track to be displayed on the multimedia display or optional head-up display, so that the driver can improve their lap times with the help of "a virtual instructor". We doubt many GLA 45 buyers will ever drive their cars on track, but those who do will absolutely love this gizmo...
The more demure GLA compact crossover range, on which the GLA 45 is based, is expected to arrive in South African showrooms in the coming months (at least by mid-year). As for the GLA 45 and GLA 45 S, they should arrive here before the end of 2020. How much demand there will be for this fiery compact crossover (like its predecessor, it's a very niche offering)? That remains to be seen.
Related content:
Mercedes-AMG A45 S (2019) International Launch Review