Why did Mercedes-AMG develop its 2.0-litre 4-pot to produce near-ludicrous peak outputs of 310 kW and 500 Nm? Well, so that the engine could power the flagship of the W177-generation A-Class, which (again) moves performance goalposts in the "hyper hatchback" segment... We headed to the ex-F1 Jarama circuit in Spain to sample the A45 S.
What's new?
First shown at the recent Goodwood Festival of Speed, the A45 S is the first 45-series Mercedes-AMG to be spun from the new A-Class. The A35 has had a month or 2 to shine, but now it's time for the real McCoy to grab the limelight, which few would argue it doesn't deserve. The headline news is that the newcomer's 2.0-litre 4-cylinder turbopetrol develops no less than 310 kW and 500 Nm of torque. Those numbers see the Benz leave the hot hatch brigade well in its wake and move towards the realm of the hyper hatch; its an engineering achievement that beggars belief.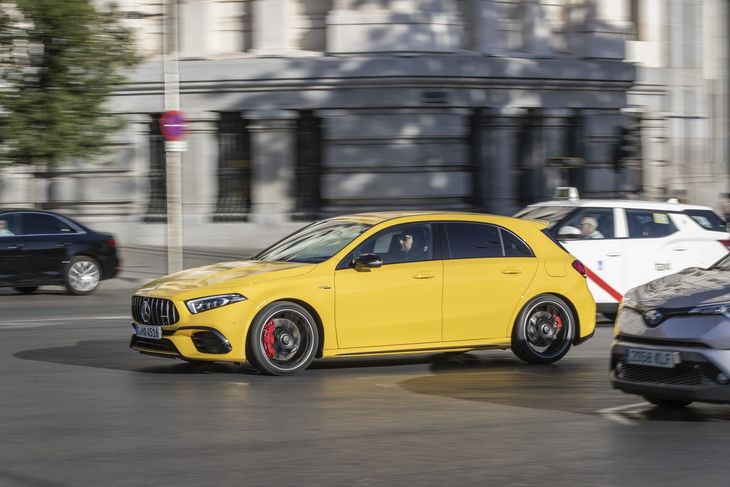 Don't confuse this with the A35, this one gets the full Panamericana grille.
The A45 S – the only version of the W177 A45 hatchback that will be released in South Africa – has undergone a raft of improvements to optimise its handling, performance and even comfort. It doesn't appear to be all about statistics and numbers with this version, either: Mercedes-AMG seems to have endeavoured to transform the A45 from an electronically-aided marvel to more of a driver-focused machine. Has Affalterbach succeeded?

Have a read of our A35 launch review here
Engine wizardry
The A45's potent powerplant is nothing short of a gem; it's positioned differently to the comparatively mild 2.0-litre motor in the A35 (turned by 180 degrees, with its turbocharger and exhausts at the back and the intake facing towards the front bumper). This configuration aids aerodynamics and shortens piping distances. The twin-scroll turbocharger has been cranked up to boost to 2.1 bar (it's where the bulk of the performance gain comes from), while new roller-bearings within the turbo's internals allow it to spin up faster and reach optimal pressure sooner, which reduces turbo-lag.
In action, the enhancements prove... extremely effective! The responsiveness and immediacy of power delivery when exiting corners with the A45 S is quite unlike any turbocharged petrol engine that I've driven to date (well, at least ones without electric assistance). The motor easily spools up to 7 200 rpm, where the acceleration sensation just starts to taper, before you summon the next gear and the surge repeats with renewed brute force.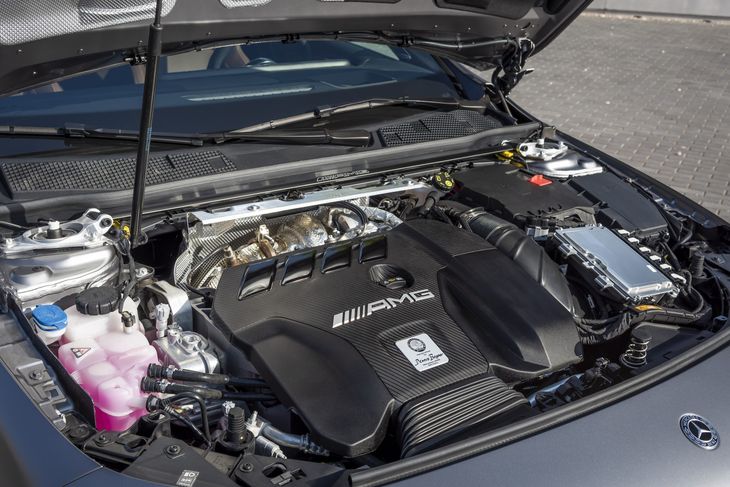 Intake at the front exhausts at the back, it's turned 180 degrees compared to A35.
The engineers have attempted to give this engine a unique soundtrack and the way they've gone about it is the product of a fair bit of hocus pocus. The sound is conjured up through a combination of exhaust flaps that open up as well as special engine sensors that pump actual engine sound into the cabin. When out on the road, short bursts of acceleration make the A45 S sound beastly, really raspy and loud, much like you'd expect from a shouty hatchback with flared arches, a front splitter, rear diffuser and 4 exhaust ends. On track, when you're on maximum throttle for long periods, it's a bit droney and tiresome, but come off the throttle (while in Sport plus or Race mode) and it'll rattle off a hilarious volley of cracks and backfires.
All of this translates into some manic acceleration times, as you may imagine. If you utilise launch control in Race Mode, the A45 S will propel itself from 0 to 100 kph in a ballistic 3.9 seconds – it marks the first time one of the German Big 3 (Audi, BMW and Mercedes-Benz) officially claim to scrape under the 4-second barrier with a compact performance model. The 8-speed dual-clutch 'box fires though shifts with the ferocity of an '80s headmaster's cane. Downshifts are met with rev blips, but are engaged with alarming speed, especially when using the manual paddle shifters.
Mercedes-AMG will launch the A45 S and CLA45 S during Q4 of 2019.
Is it good to drive?
Okay, so the original A45 had a few issues, many of which we've reported on. Its ride quality was overly rigid (almost bouncy at times) and it wasn't very involving to pilot – the whole driving experience seemed to revolve around the front differential helping to steer the car out of corners.
Fortunately, the new A45 S represents a vast departure from its predecessor in terms of its general demeanour. The newcomer's body is admittedly fundamentally stiffer and its suspension is still taut, but not in a way that it jolts its occupants around or skips across uneven surfaces. Out in the hills around Madrid, the roads wind for tens of kilometres; they're perfect for getting into a rhythm and assessing the nuances of the new A45 S' handling talents. The front end bites more than before, reducing some corner-entry push and increasing agility when changing direction. It still requires soft, guiding inputs to alter direction, more so than in hot hatches like a Fiesta ST or Megane RS, which can be "thrown about" merrily, if at lower speeds.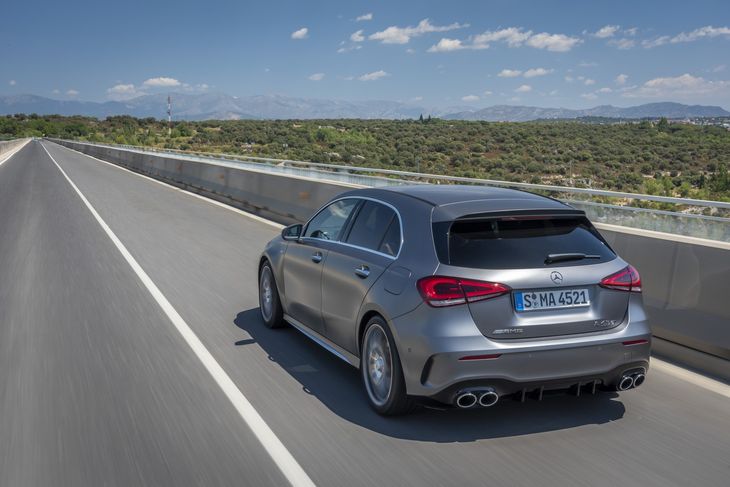 The ride is much-improved from the bumpy and crashy previous generation.
Much of the improved handling can be attributed to the talents of the A45 S' new differential, which can divert torque to individual rear wheels, where before it could only send it fore or aft. To put it another way: you can now achieve power-on oversteer in an all-wheel-drive hatchback. The Jarama circuit starts with 3 alternating slow-speed hairpins and with the bitier front-end you can snap up an apex and then bury the throttle early. Instead of boring understeer (so characteristic of AWD hatches) the rear actually starts to come around in a controlled easy-to-catch slide. It adds another, unexpected, element to driving the A45 S. Previously, it lacked the driver engagement of the rear-wheel-drive BMW M2, but now there's something less predictable about going fast in the flagship A-Class. It's also equipped with a Drift Mode, which adapts the ESP to facilitate power slides.
If the slidey stuff doesn't interest you, simply slip the drive mode back into Sport or even Sport Plus and let that confidence-inspiring 4Matic all-wheel-drive system ensure that all 4 corners of the A45 S remain in check/solidly-glued to the road. The steering deserves more credit than most electrically assisted setups for providing good feel and feedback; although it weights up artificially the more angle you apply, it feels quite natural.
Take a look at the CLA 45 S here.
Performance add-ons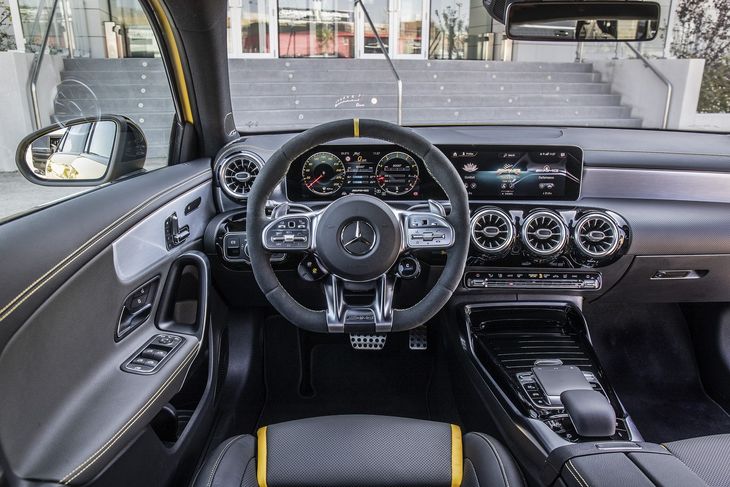 The A45 S interior can be specced with yellow stitching, stripes and an Alcantara wheel.
There are notable changes to the interior. Keenly-eyed observers will note the rotary dial within the steering wheel and the adjacent toggle buttons. The rotary dial deals with the driving modes, making it easy to scroll through modes without having to peer at the transmission tunnel. The toggle buttons on the left allow for transmission adjustments, exhaust loudness, suspension setup and traction control settings. It's a clever, uncomplicated solution, but it feels plasticky to touch where it could have been rubberised or even metallic. The iffy finish lets down an otherwise intuitive design.
Meanwhile, onboard data logging is becoming a must-have for modern performance cars. Evidently, some owners don't only want to flail and cane their performance machines on race circuits; they want to record electronic records to prove their track work and compare their lap times (and other herculean feats achieved by their cars, such as g-force) with other drivers. The AMG Track Pace system tracks all performance telemetry, which you can download to your phone/computer for closer inspection later on. It will also sync video footage to the telemetry if you use your phone's camera.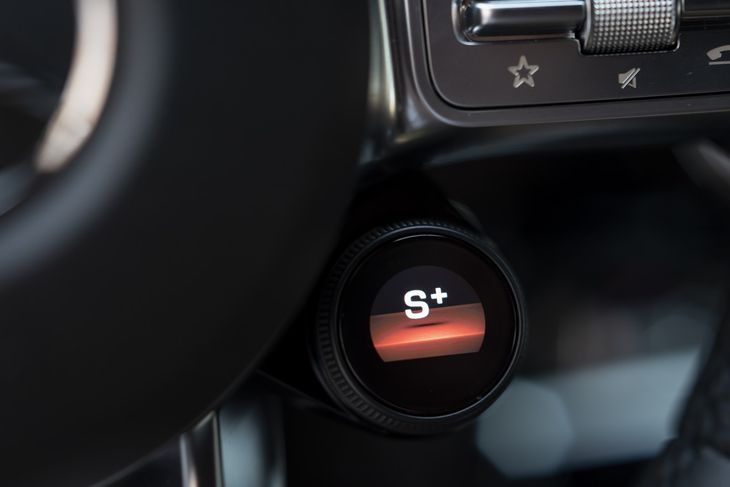 This steering-wheel-mounted dial lets you quickly scroll through driving modes. It feels a bit too plasticky to operate, however.
As for the quality of front-passenger accommodation, the Mercedes-AMG single-piece man-made leather sports seats are comfortable and offer ample lateral support. The sporty ambience is heightened by the flat-bottomed steering wheel covered in dimpled leather. This can be upgraded to Alcantara at extra cost and there's the option of adding yellow stripes to the seats, steering wheel and centre-console stitching. It ups the sporty atmosphere in the cabin, but, as with most of Benz's current A-Class derivatives, the fit-and-finish and material choices could be more luxurious.
Summary

Overall the A45 S feels more engaging to drive than its immediate predecessor, which was already a very rapid car.
Whereas the Mercedes-AMG A45 S' predecessor was a potent performer, it proved a bit of a blunt instrument when driven on a track. By contrast, the new more powerful and, therefore, faster W177 version offers much-improved dynamics, rides less harshly on public roads and is better to drive on an everyday basis. On a track (with Race Mode engaged) you can play around with the rear end under power while the front- is more eager to turn in. Plus, the new differential adds an extra dimension to the A45 S it didn't have before – drift mode should facilitate raucous fun on a skid pan.
To sum it all up, the newcomer's engine is a technological masterpiece. It somehow produces tremendous outputs while all-but-banishing boost lag from its turbocharged setup. As a whole, the A45 S feels more engaging to drive and more of a driver's car than ever before. Qualms about interior quality aside, this AMG is wholly better than its predecessor and deserves a seat at the head of the table in the battle for hyper-hatch supremacy.
Related content:
2020 Mercedes-AMG CLA 45 Goes Official
New Mercedes-AMG A45 for SA in 2019
Track Race: Audi RS3 vs Mercedes-AMG A45
Drag Race: Audi RS3 vs Mercedes-AMG A45