It seems outrageous: this notion of an open-topped first class car. But the S-Class Cabriolet is not a volume-selling product aimed at practically minded consumers; it's a calculated and superbly executed spinoff of one of, if not the, world's finest premium luxury sedan(s). We drove it in the Western Cape winelands and never, not once, did we feel inclined to raise the Benz's fabric roof.
You know you are at the wheel of something exclusive if the entry-level derivative of the range is named the S500 and it positively sails along a mountain pass courtesy of its cosseting AIRMATIC suspension and its (sometimes burbling, but usually humming) 4.7-litre twin-turbocharged V8 motor.
From its expansive gullwing-shaped front air intakes, to its clamshell bonnet and sharply raked A-pillars; its well-proportioned flanks to its yacht-like stern; the S-Class Cabriolet exudes tasteful sophistication and effortless grace, with a hint of subtle athleticism. We'll expand on the range's AMG derivatives in a short while, but suffice to say the S500 (R2.3 million, in standard trim) is the definitive S-Class Cabriolet.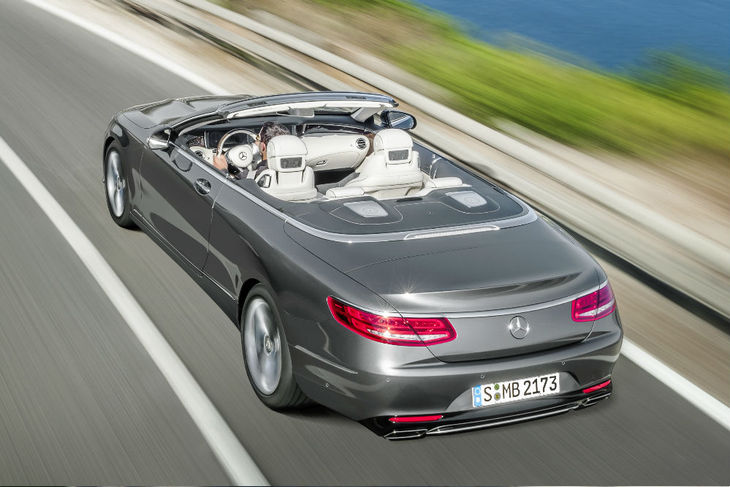 Although rear legroom is less than generous, front passengers get the full S-Class luxury experience.
Redefines open-top premium luxury motoring
And, in many ways, the S-Class Cabriolet redefines open-top premium luxury motoring. Granted, none of Mercedes-Benz's traditional rivals offer anything to compete with it (the BMW 6 Series ragtop is in a minor league in terms of size and execution), which leaves the long-in-the-tooth and dynamically compromised Maserati Gran Cabrio and, after that, Aston Martin, Bentley and Rolls-Royce products: all of which are exquisite, but they're older designs and stratospherically expensive.
You see the Benz is more structurally composed (as in resistant to scuttle shake, interior creaks and wind noise intrusion), dynamically accomplished (offering a pliant ride quality that belies the stiffer underpinnings required for a car of its configuration) and wholly cossetting (offering supreme comfort not only in terms of plush seating, but also climate control with the roof down) than any car of its kind. The newcomer demonstrates that the S-Class platform doesn't know its own strength.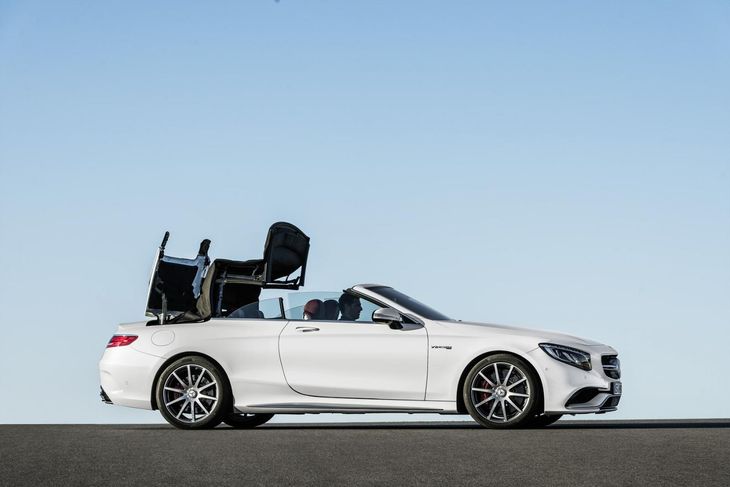 The S-Class Convertible's folding roof is mechanised poetry; can retract or deploy at speeds of up to 60 kph.
To illustrate: the S-Class Cabriolet can be driven at higher speeds while its roof is down without the cabin turbulence and billows of cold air becoming unbearable; you can carry a conversation with your fellow occupant(s) at 120 kph without needing to raise your voice by a single decibel; the steering is featherlight without venturing into the floppy/imprecise category and, the coup de grâce: its pliant ride quality irons out road ripples while still exhibiting commendable body control.
Makes roof-down motoring more accessible
As with the S-Class, the cabin is a delectable melange of leather and metal trim, it pipes perfume into the ventilation system and the seats offer a variety of active bolstering and indulgent massage functions. Thanks to the AIRSCARF technology, which directs the flow of temperate climate controlled air to aid occupant comfort, in conjunction with heating functions in the seats (and even the armrests), practically any rain-free and breezy (not gusty) day could be a roof-down day…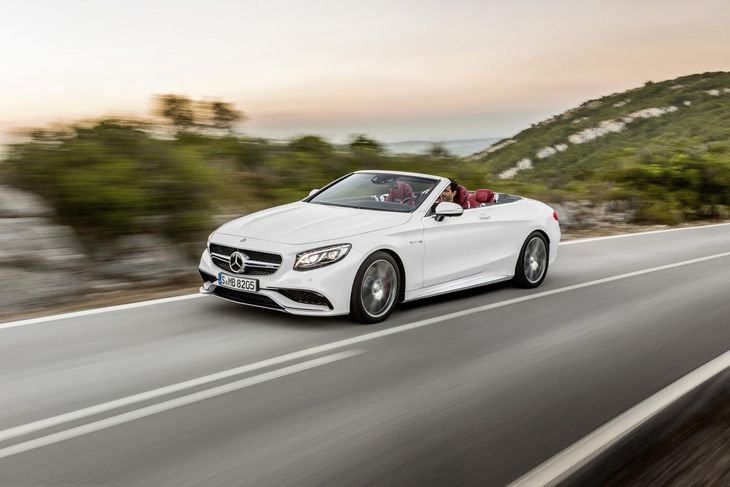 One of the newcomer's biggest achievements is that it makes high-speed topless motoring very comfortable.
More impressive still is the AIRCAP function, which, at the push of a button, deploys windscreen and aft wind deflectors, so that when the 4 windows are fully extended, interior buffeting is reduced to a minimum, even at heady speeds. The drawback of the system is that it increases the gush of wind noise at ear level, but for those who favour physical over aural comfort, the S-Class Cabriolet's Burmester surround audio system is happy to drown out the ruckus in a melodious manner.
Not perfect, however
As the newcomer is a lifestyle vehicle by the strictest definition, buyers will need to be willing to make some compromises. First of all, the S-Class Cabriolet is not an S-Class Coupe with a fabric roof… The cost of having front seats that can do virtually anything but bring you your pipe and slippers before bedtime is that they're sizeable items; that, in conjunction with the roof assembly and mechanism that needs to be accommodated behind the passenger cell, means that rear legroom is not generous when a driver of average height is behind the wheel.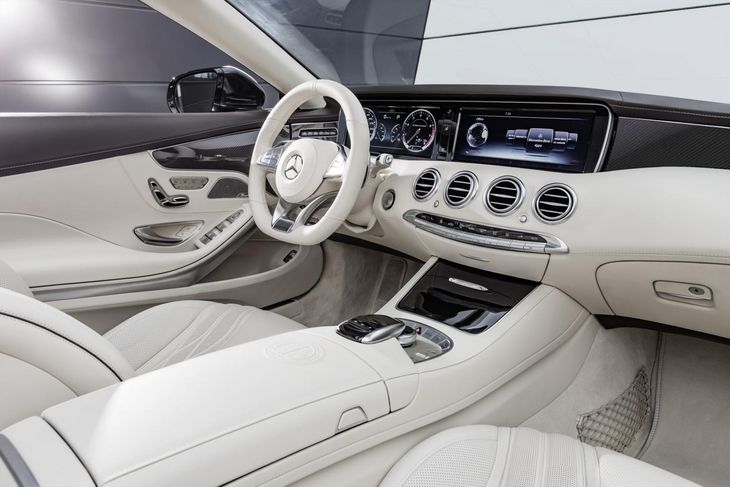 S-Class Cabriolet's front occupants are availed a plethora of luxuries; roof/AIRCAP controls hidden in centre console.
Also, the doors are long and heavy to open if you park the vehicle at an angle where gravity works against you. The boot capacity, as expected, is compromised too, but by Cabriolet standards, it is perfectly acceptable.
Oh, and for those who require more performance than the S500 can provide, Mercedes-Benz has availed a pair of AMG derivatives too. With an asking price of R3.5 million, the twin-turbo V12 engined S65 borders on the ludicrous. At this end of the market conspicuous consumption is a relative term, however, so if you compare the flagship Benz with what a Bentley or Rolls-Royce of similar configuration would cost you, the puffing, meteoric 12-cylinder flagship almost makes sense… sort of.
The S63 AMG, propelled by the Affalterbach's 5.5-litre twin-turbo V8, however, represents a good compromise. The S500's motor "speaks softly"; it will clear its chest and hum intently under full-bore acceleration, but by V8 standards, it's not exactly a burbling motor. The S63 AMG, however, is eminently characterful, delightfully responsive and will catapult the sizeable Benz along at a fair lick at the flex of the driver's right foot. Given the generally demure and urbane clientele of the S-Class Cabriolet even the S63 AMG seems a bit overblown, but then our consumer advice is, again, relative.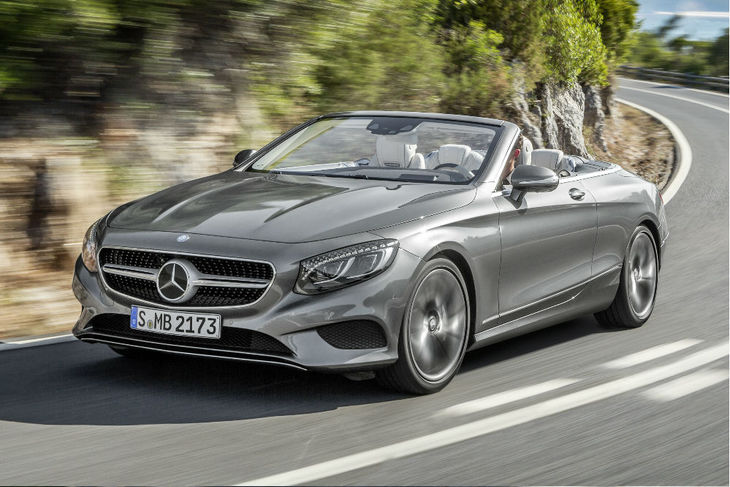 Even though the Benz makes a powerful statement in itself, its driving experience backs that up beautifully.
Summary
The biggest compliment we can pay the S-Class Cabriolet is that it has instantly made the SL range, one of Mercedes-Benz's most revered and iconic products of the past 5 decades, seem surplus to requirements. After all, who'd want a large luxury roadster if a more practical, sophisticated and equally desirable (if not prettier) Cabriolet is available? The Stuttgart-based firm chose to halt the production of the S-Class Cabriolet in 1971, ostensibly because it felt the SL could carry the torch, which it did remarkably, but now it remains to be seen if Benz will produce another big roadster.
But back to the newcomer. For all its technological prowess, on-road sophistication and undeniably supreme occupant comfort, the S-Class Cabriolet still feels more than the sum of its parts. Like its S-Class siblings, the car is literally impressive, as in it evokes feelings of prosperity, prestige and accomplishment in its driver in ways that few other cars can match. Granted, the by-products of privilege and opulence that come part and parcel with ownership of such a vehicle may be politically incorrect in an era of social upheaval and economic strife, but that is not the Benz's fault. It's a triumph.
More: Mercedes-Benz S-Class Cabriolet – Specs and Pricing
Related content:
S65 AMG Coupe - World's Most Expensive Mercedes-Benz (Video)
Drag Race: Mercedes S65 AMG Coupe vs Mercedes GLA 45 AMG Edition1
Six Cool Things You Should Know About the Mercedes-Benz S65 AMG Coupe
Mercedes S65 AMG Coupe (2015) Review
Watch a promotional video featuring the S-Class Cabriolet below:
Want to buy a Mercedes-Benz S-Class?