Does the Mercedes-Benz C-Class Cabriolet deliver enough style, luxury and on-road comfort to tickle the imagination (and wallet) of the lifestyle-orientated buyer? We sampled the turbodiesel-powered C220d Cabriolet to find out…
We Like: Attractive styling, cruising ability, decent fuel consumption

We Don't Like: Lacks performance punch, limited rear legroom, harsh ride quality

Alternatives
For more power: Consider the BMW 430i Convertible priced from R792 076. It offers 185 kW and 350 Nm of torque courtesy of its 2.0-litre turbopetrol engine. Yes, it's petrol-powered, but the Mercedes-Benz C220d Cabriolet is currently the only turbodiesel convertible/cabriolet on offer in SA, at least in this particular segment. Similarly, you can also look at the C300 Cabriolet with 180 kW and 370 Nm of torque developed from its 2.0-litre turbopetrol engine. It's more pricey though, starting at R818 674.
New Audi A5/S5 Cabriolet is coming: The new Audi A5 and S5 Cabriolet will reach South Africa later this year. A range of petrol and diesel engines will be offered including a 185 kW 2.0-litre TFSI engine, a 140 kW 2.0-litre TDI and a 160 kW 3.0-litre TDI power unit, while a 3.0-litre TDI engine with 210 kW will power the S5 Cabriolet. Pricing will be announced closer to launch.
Browse the used car market – You can also find a suitable cabriolet on the used car market and Cars.co.za has a number of options available from Mercedes-Benz, BMW and Audi.
Compare the C220d Cabriolet with the BMW 430i automatic Convertible and Mercedes-Benz C300 Cabriolet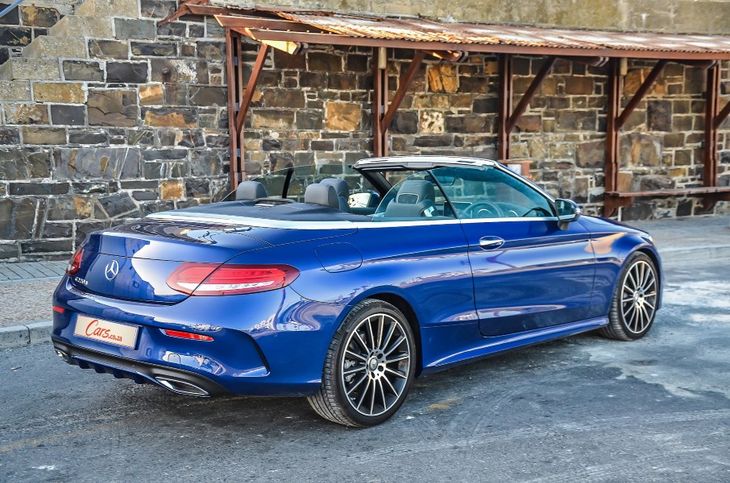 The C220d Cabriolet is stylish and garners a fair amount of attention on the road.
What is it?
Cabriolets are niche products that don't sell particularly well in the local market and this is largely due to the fact that they aren't that practical. They are often bought out of desire rather than necessity, which is hardly surprising if one considers that the Mercedes-Benz is historically renowned for producing some of the most memorable and desirable roadsters and cabriolets in the world, such as the 1957 300 SL, the1963 230 SL "Pagoda" Roadster and the 1972 "Panzerwagen" or "Bobby Ewing" SL, for example. Recently, after a four-decade hiatus, the S-Class Cabriolet returned.
Mercedes-Benz launched the new S-Class and C-Class Cabriolet models locally in the second half of 2016 and although the S-Class Cabriolet predictably stole the limelight with its ultra-luxurious finishes, technological wizardry and hefty price tag, we were interested to sample the more, shall we say, "mundane" C-Class Cabriolet to determine if it's a segment leader. On test here is the C220d Cabriolet, the only turbodiesel model in the range alongside its petrol-powered C200, C300 and range-topping AMG C43 and AMG C63 stablemates. Let's get to it then, shall we?
How does it fare in terms of...
Kerb appeal?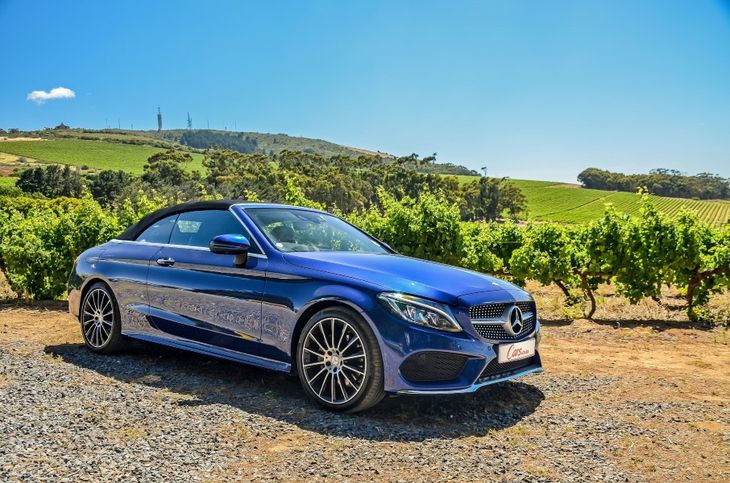 The AMG exterior styling package gives the C220d Cabriolet a more purposeful stance.
There's something charming about the design of the C-Class cabriolet that will make your heart flutter as soon as you lay eyes on it. The combination of the lowered suspension (courtesy of the AMG package), long bonnet and attractive diamond grille and its coupe proportions gives the C220d Cabriolet graceful road presence. The rear-end design spurred some debate, with some onlookers referring to it as having "sagging bum", while others regarded the Benz's rump sumptuously sculpted. This C220d arrived at our offices donning an optional AMG Sports exterior design package with large 19-inch multi-spoke alloy wheels filling the wide wheel arches, giving it a more purposeful look over the standard 17-inch wheels.

With the electrically retractable fabric roof down, the C-Class Cabriolet becomes somewhat more sophisticated to the eye. The fabric roof is easy to retract (it can open and close in less than 20 seconds) and it's neatly stored in its own compartment behind the rear seats.

Overall, we found the C220d Cabriolet to be stylish and the longing gazes it drew from the public seemed to affirm this sentiment.
Performance and ride quality?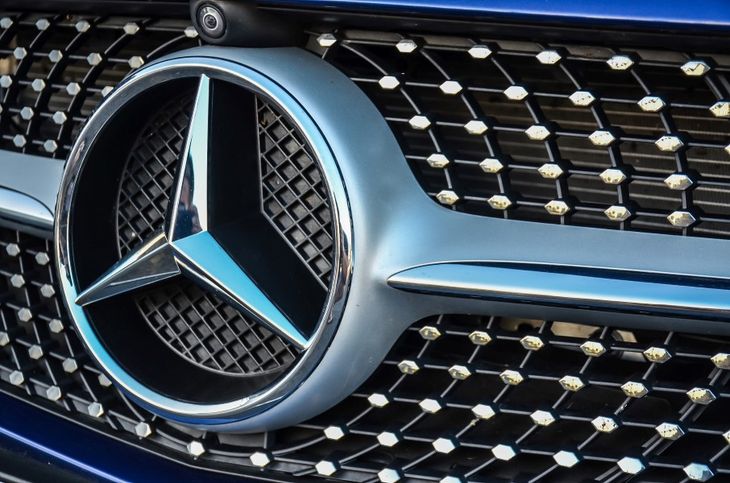 The C220d Cabriolet offers good cruising ability but it lacks a degree of driving excitement.

The C220d Cabriolet is the more sedate offering in the range with 125 kW and 400 Nm of torque developed by its 2.1-litre turbodiesel engine. The rear wheels are driven through a 9-speed automatic transmission and mounted paddles behind the steering wheel lets you engage manual shifting when the urge arises. More so, you can toggle through a range of driving modes including Eco, Comfort, Sport, Sport Plus and Individual to suit your driving intentions.

If you are looking for outright performance, you won't find it in the C220d Cabriolet. Full acceleration is neither as rapid nor eventful as its the C220d's sporty exterior might suggest it would be. Benz claims a leisurely 8.2 seconds in the sprint to 100 kph and the C220d seems to lack a degree of punch, even with Sport or Sport Plus mode engaged. It won't make your heart skip a beat and it's not particularly exciting to drive.
On the up side, the C220d Cabriolet excels at cruising. The car much rather prefers to be driven with more tact and there is ample power to execute overtaking manoeuvres as required. The automatic transmission is also quite smooth and unobtrusive in its gear selections, adding to a general sense of composure and comfort.
It must, however, be said that we were quite disappointed in the ride quality of this particular test unit. For a vehicle that should offer higher levels of comfort, the suspension felt rather stiff and the ride was choppy on rougher surfaces. The compromised ride quality can be attributed to the optional 19-inch wheels and low-profile rubber that lends itself to an unforgiving ride and should improve somewhat should you decide to stick with the standard 17-inch rims, even though they may not be as striking. The optional air suspension system is also worth considering in this case.

Road and wind noise is kept to a minimum inside the cabin and only under harder acceleration does the engine become marginally noisy. Handling is good, but the car's weight is noticeable through the steering and even so, it feels relatively well-planted and composed while cornering.

In terms of fuel efficiency, the C220d Convertible is the most frugal C-Class Convertible on offer with Mercedes-Benz claiming 4.9 L/100 km. You will struggle to achieve those figures in the real world and during our test, we achieved an acceptable 7.1 L/100km, but figures between 6 and 7 L/100 km are achievable if you drive conservatively.

Comfort and safety features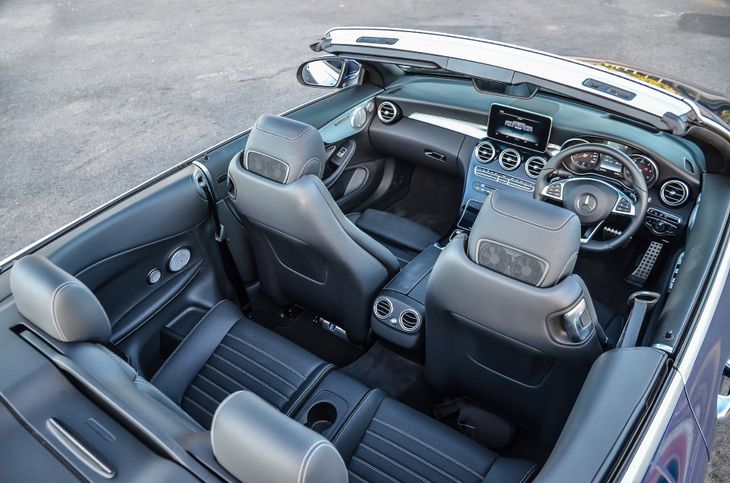 Features such as AIRSCARF neck-level heating and supportive seating make the C220d perfect for open-top cruising.

Perhaps the most welcome features on the C220d Cabriolet is the AIRCAP draught stop system and the optional AIRSCARF neck-level heating system. These features help create a favourable cabin environment when the roof is retracted, meaning that you can drive topless whenever you please, provided that it isn't raining. At the push of a button, a wind deflector rises up above the windscreen and a rear screen is deployed behind the rear passengers to keep the cabin draught-free. Even better, when it's cold, you can have warm air blasted onto your neck, which is just delightful.

The black Artico leather heated seats were comfortable to sit in and they offer good bolstering to limit body movement while driving and optional 4-way lumbar support provided additional comfort. As is the case with the C-Class coupe, interior quality in the 220d Cabriolet is good with an upmarket feel, but the black gloss trim marks easily and you might want to consider other trim options that would require less cleaning.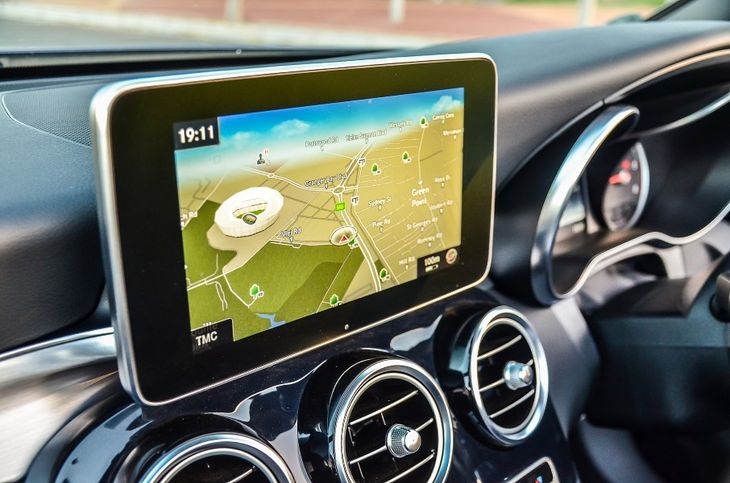 The optional Comand Online infotainment system has navigation and is relatively intuitive to use.

Infotainment in this 220d Cabriolet comes courtesy of the optional Comand Online via a 7-inch display controlled using Merc's familiar Comand controller and touchpad system. You can browse and configure various vehicle functions and it's generally easy and convenient to use. Navigation is standard with this system and it's useful if you're the type of person who gets lost easily. The optional Burmester surround sound system was also fitted on this C220d Cabriolet, a must-have feature if you want to get the most bang from your music collection.

On the safety front, the C220d is adequately equipped with features such as ABS with EBD, traction and stability control, brake assist and 7 airbags. Front and rear park distance control is optional, as is a rear view camera, but it's probably best to tick that option box if you want to avoid mishaps in close-quarter situations. Other optional safety gadgetry includes blind spot assist, parking assist and a 360-degree camera, all of which were fitted to this test unit.

Practicality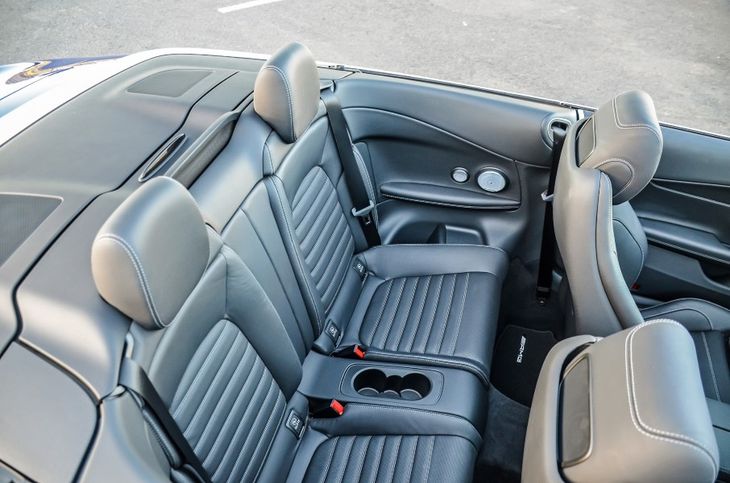 Legroom for taller rear passengers is tight and the upright rear seating position is not ideal.

Although the C-Class Cabriolet is a 4-seater with two individual rear sear seats, passengers seated there might find legroom to be a bit cramped. Shorter rear passengers, however, will be happier. The rear seats are very upright too, making the seating position rather awkward. Nonetheless, rear passengers should find shorter trips more bearable and there are two central cup holders for convenient beverage storage.

As for storing luggage and other items, the boot is reasonably sized, offering 360 litres of space with the roof closed. With the roof down, however, boot space decreases to 285-litres. There's also a false boot floor that allows you to store smaller items underneath the floor. If you want to transport longer items, you can fold the rear seat backs down to load items through the boot and into the rear cabin. There's also ample storage space for front passengers in the centre console and two USB ports come in handy for charging devices.

Pricing and warranty

The Mercedes-Benz C-Class C220d Cabriolet is priced from R783 056 in its base form. Start ticking off options and the price will quickly soar through the roof. The C220d Cabriolet under review here is priced at approximately R980 000 with a long list of optional extras fitted, so it's advised to choose your options carefully. The price includes a 2-year / unlimited km warranty and a 6-year/100 000 km maintenance plan.
Verdict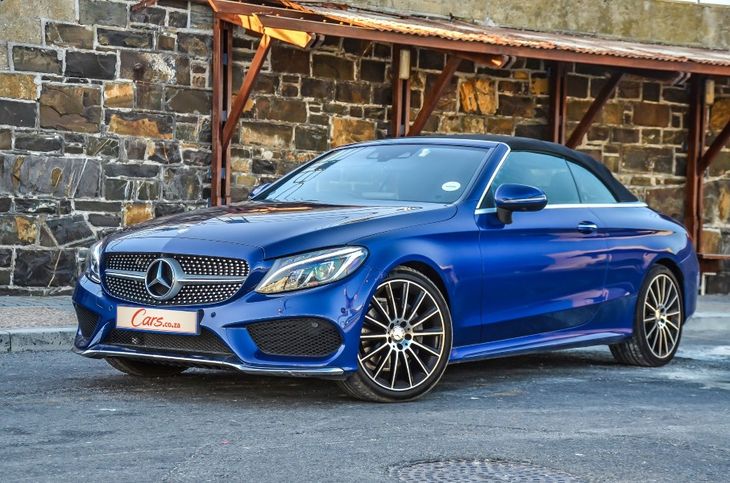 Style, good cruising ability and acceptable fuel economy returns are some of the C220d's strengths.
The Mercedes-Benz C220d Cabriolet is a stylish offering that should garner admirable glances on the road. Although the C220d Cabriolet lacks excitement in its performance, it makes up for the shortfall with its notable cruising ability and buyers will also appreciate good fuel economy returns on a regular basis. The interior, much like the rest of the C-Class range, is well-built and aesthetically pleasing.
However, given the mild nature of the C220d Cabriolet, we feel that it's perhaps too restrained, making it a hard sell. But, if you are not too concerned about outright performance, then you will find the C220d Cabriolet to be an adequately capable boulevard cruiser.
Related content

Mercedes-Benz C-Class Cabriolet – Specs and Pricing in SA
Mercedes-Maybach S650 Cabriolet Revealed
Mercedes-Benz S-Class Cabriolet (2016) First Drive
New Audi A5/S5 Cabriolet Headed for LA Motor Show

Want to buy a Mercedes-Benz?