There's a new AMG engine in town and despite the lack of two cylinders, the 3.0-litre biturbo V6 made enough of an impression to keep petrolheads happy. Meet the 43!
When we think of Mercedes-AMG products, we think of the mighty V8 and it has always been associated with those three letters. Trouble is, these aren't affordable machines, but AMG has released a new engine that opens up a new market. You can spot the new models with a biturbo badge, a 43 badge on the rear bumper and they ride on distinct 43 alloy wheels. The cabin features extensive use of red stitching and the addition of sportier seats.
The New Engine and Powertrain
It's officially called the Mercedes-AMG 43 and on paper at least, offers credible performance. The 3.0-litre biturbo V6 motor has 270 kW and 520 Nm on tap. It's not an AMG-built engine, but rather a standard Mercedes-Benz powerplant, with some mild fettling from the AMG division. Interestingly, this motor pushes out the same amount of power as the old naturally-aspirated V8 of the Mercedes-Benz C55 AMG.

See, downsizing isn't that all bad! In terms of transmission, the 9G-Tronic is the 'box of choice. All models, excluding the SLC 43, feature 4Matic all-wheel drive. While 4Matic is engineered to ensure vehicle stability, in 43 application, the front/rear bias is set to 31% and 69% respectively. This setup gives it some sense of performance and there's not much of the fun-killing understeer, but more on the driving experience further down. The brakes have been uprated too and the big wheels feature four-piston stoppers. There's a sportier steering setup as well.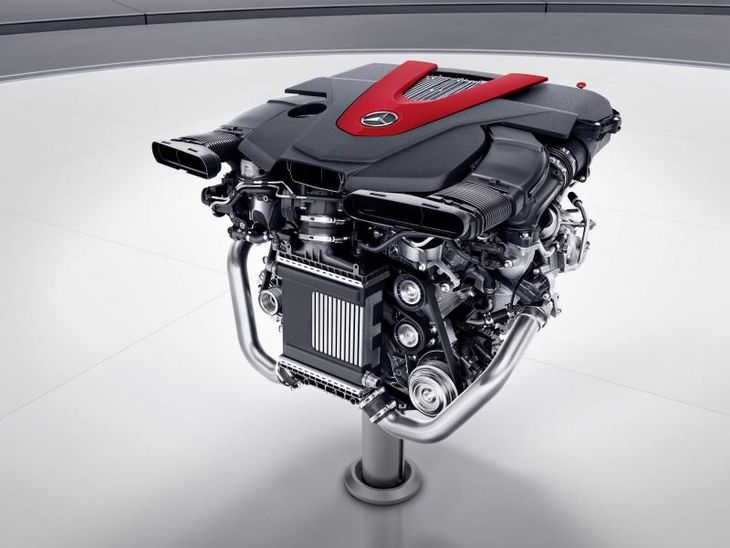 The AMG Sport engine features red detailing on the engine cover to differentiate them from the rest of the range.
Applications
This 43 AMG engine comes to market in numerous products. You can opt for:
C43 sedan
C43 coupe
C43 cabriolet
GLC 43
GLC 43 Coupe
GLE 43
GLE 43 Coupe
The Drive
There were two opportunities to sample the 43 engine range: a track session and a public road session. On track were the C-Class products, with the SLC and SUVs available for the on-the-road drive. We opted straight for the coupes as they're by far the prettiest models in the C-Class lineup. We also discovered that they'd been fitted with the optional AMG sports exhaust, certainly a box worth ticking. It had been some time since this author had driven the technical Zwartkops layout and after a few fast sighting laps, it was time to put the hammer down. Mercedes-AMG claims the C43 with 4Matic will hit 100kph in 4.7 seconds, which sounds about fair. Given a long enough road, it'll run all the way up to 250 kph.
The new engine offers good performance and the twin-turbocharged setup produces shove straight from low revs. There's a glorious induction bark which is quickly followed by a tingling V6 roar. Thanks to the sports exhaust, there's a delicious bang after each gearshift - something we appreciated. What's the point of an AMG if it doesn't sound the part? This engine does sound great, but if you're after the big gearshift-induced bangs, you must specify the AMG sports exhaust. Trust us on that one. In comfort mode, it's civilised and quietly changes gear without any fuss. Up the ante by putting it into Sport+ mode and it comes alive and things get considerably more hands on. The C43 lacks the Race Mode functionality of the C63, something we're actually okay with as things can get a little out of hand.
There are a series of tight and technical corners on Zwartkops and past experience in an assortment of vehicles over the years has shown that these are prime places for understeer, yet the 4Matic all-wheel drive Mercs exhibited very little of that behaviour. It was only under duress and manhandling on some of the off-camber turns, that some understeer presented itself. The car feels nice and neutral, and there is none of that mild fear and traction issues that we have when pressing on in the normal C63. The brakes provided ample stopping power and didn't show much fade, despite repeated hot laps. The ride comfort and suspension setups are a fair blend of sportiness and driver comfort, which we'd put down to a smooth track and fairly-sized alloy wheels. We'd think that it's best to avoid the largest wheels as they'd negatively affect the ride quality.
On track and when you're putting in 100%, the steering makes the car feel quick, agile and light, but there's not that much feedback. We felt that we could just pitch the car in and if things went awry, the 4Matic and traction control would set us on the right path, and we were right. As mentioned earlier, understeer can appear if you're going really quickly into a corner, but there's plenty of grip once you're past the apex, and you can get onto the power sooner than you would in, say, a rear-wheel drive.
Once off the track, we switched to the SLC 43 AMG cabriolet and headed out onto public roads. The noise from the engine gives the SLC a much more purposeful attitude and the performance adds some much-needed performance credentials to the little roadster. The SLC range was lacking something exciting, and this 43 derivative waves the performance flag nicely. There's no word from Mercedes-AMG on whether the SLC will get a V8. Remember the SLK55 AMG?
The other vehicle we drove was the GLE 43 AMG. Having sampled many versions of this big SUV, we were a little apprehensive about the 3.0-litre engine's ability to shove the big vehicle around. The diesel engines are commendable and the V8 biturbo GLE 63 AMG S is just ballistic.

Can a relatively small engine work in this SUV and perhaps more importantly, is it worthy of an AMG badge? The short answer is yes. There's some hunting for gears in the two sportier modes as the car attempts to put the engine in the sweet spot and to be fair, there are nine ratios. If you were to indulge in manual mode, you'd only ever use the first seven gears as they offer a fair spread. In automatic mode, gears 8 and 9 are for saving fuel.
The GLE 43 AMG was a pleasant surprise. Not only is the engine more than capable of delivering baby AMG-worthy performance, but there's a respectable soundtrack thrown in too. Even though it's the baby AMG, you feel as if it's not treading on any other model's toes, and it's this thought which pretty much sums up the 43 AMG Sport line.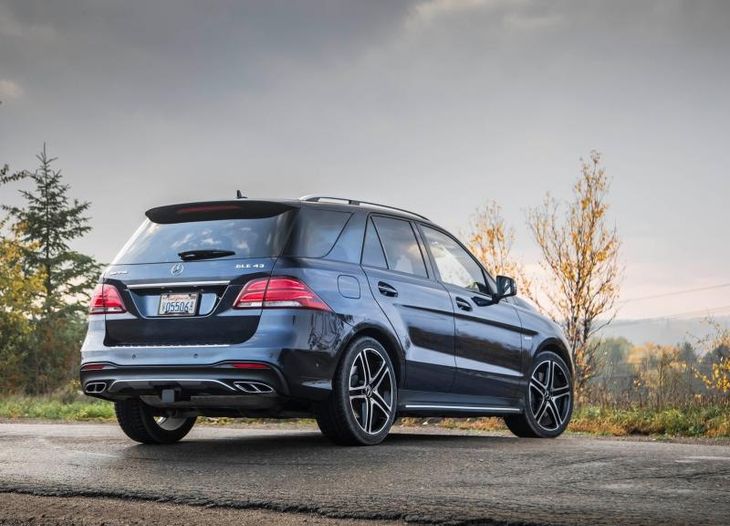 Mercedes-AMG GLE 43: A sensible, yet performance-orientated SUV. Makes a business case for itself, as opposed to the mental GLE 63 AMG S.
Verdict and summary
The chasm between AMG and the rest of the Mercedes-Benz lineup is substantial and there's plenty room for a lesser AMG model (as well as something like a C450). While hardcore AMG fans will undoubtedly frown upon this lesser model and decry it as an insult to the AMG brand, remember that BMW has pulled off this trick for some time. Think of AMG Sport following the same nomenclature as BMW's M-Sport (M240i as opposed to M2) and Audi's S. This is not a fully-fledged AMG, yet the performance suggests otherwise. 4Matic is a welcome addition to the model range and the setup is completely manageable from a driving point of view. The main benefit of 4Matic would be in the wet, where a rear-wheel-drive AMG driver is the most uncomfortable. We're finding it a challenge to fault the 43 AMG range in terms of actual product and marketing strategy, and it appears to have been well positioned and priced in the Mercedes-Benz hierarchy.
It's not a case of C63 owners wanting to buy down, but rather opening the AMG brand up to a new market. Pricing is competitive and you can get behind the wheel of a hard-topped C43 for under R1-million, which is about the going rate for something of this magnitude. It may not have the outright thunder of its V8 sibling, but there's definitely a place for an entry-level AMG which offers a lot more over a conventional C-Class.
Mercedes-AMG 43 Price in South Africa
Prices include a PremiumDrive 6-year/100 000 km maintenance plan.
Mercedes-AMG C 43 4Matic Sedan - R858 400
Mercedes-AMG C 43 4Matic Coupé - R928 100
Mercedes-AMG C 43 4Matic Cabriolet - R1 050 300
Mercedes-AMG SLC 43 Roadster - R1 037 400
Mercedes-AMG GLC 43 4Matic - R960 400
Mercedes-AMG GLC 43 4Matic Coupé - R1 070 900
Mercedes-AMG GLE 43 4Matic - R1 206 700
Mercedes-AMG GLE 43 4Matic Coupé - R1 297 500
Related Content
Spy Shots: 2018 Mercedes-Benz C-Class
Mercedes-Benz C-Class Cabriolet – Specs and Pricing in SA
Mercedes-Benz C-Class Coupe (2016) First Drive
2018 Mercedes-Benz GLE Spied
Mercedes-AMG GLE63 AMG (2016) Review
Mercedes-AMG GLE 63 Video
Mercedes-Benz GLE450 AMG Coupe (2015) Review
Mercedes-Benz GLE350d Coupe (2016) Review
Drag Race: BMW X6 M vs Mercedes-AMG GLE63 S Coupe
Mercedes-Benz GLC 250d Coupe 4Matic (2017) Review
Quick Drive: Mercedes-AMG GLC 43 Coupe 4Matic
Spy Shots: Mercedes-AMG GLC 63
Want to buy a Mercedes-Benz?