What do you get when you combine the roofline of a coupé with the high-riding machismo of an SUV and a snarling twin-turbo V6? The Mercedes-AMG GLC 43 Coupé 4Matic, which was launched in9 South Africa in March 2017, is the car you never thought you wanted, and which wants a piece of the highly-acclaimed Porsche Macan.
Facts & Figures
Price: R1 080 362 (February 2017)
Engine: 3.0-litre V6 biturbo petrol
Transmission: 9-speed automatic
Power: 270 kW
Torque: 520 Nm
Fuel Consumption: 8.4 L/100 km (claimed)
Top speed: 250 kph (limited)
0-100 kph: 4.9 sec
We like: Snarling, powerful engine, great ride/handling balance, interior execution
We don't like: Pricey, less practical than standard GLC
Summary in a Tweet: "It delivers a charismatic engine, superb on-road poise and an excellent cabin. Less space, sure, so definitely a heart-over-head decision."
Where does it fit in?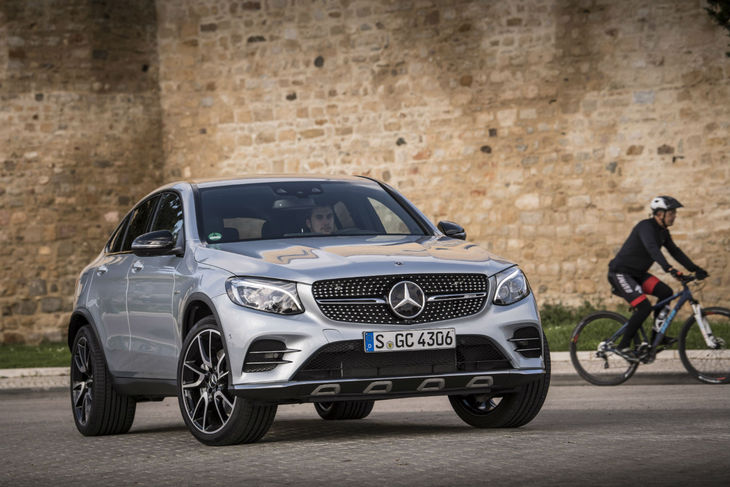 The Mercedes-AMG GLC 43 is a high-riding SUV clothed as a "coupé" and with the heart of a serious sportscar.
Mercedes-Benz's GLC SUV/crossover is already a popular choice in the South African market, and this Coupé version is essentially a spin-off variant created for people who want greater individuality and flair. It's Mercedes-Benz's direct rival to the BMW X4, and therefore appeals to a similarly niche audience. At the price level of this range-topping AMG 43 variant, Porsche's highly-rated Macan also looms large. In short then, this is a car for consumers who demand performance and style, but for whom a traditional coupé is probably both too compromised (practically) and too old-fashioned or predictable (in design).
That's a lot of power...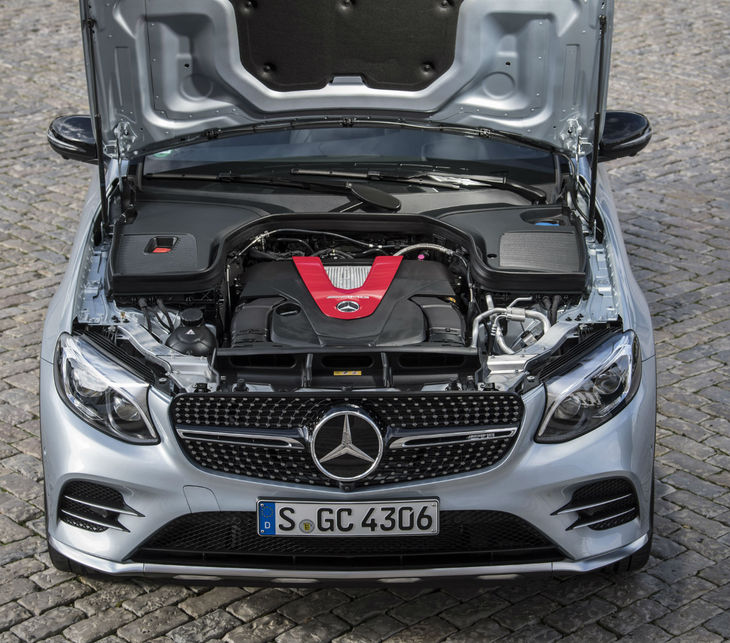 The twin-turbo V6 emits a lovely sound and serious kick!
This particular model is powered by a 3.0-litre twin-turbo V6 that delivers a whopping 270 kW and 520 Nm of torque. There is currently no BMW X4 on offer that comes close to those power and torque figures. Even the slightly more expensive Porsche Macan S is outgunned by the Mercedes. It's not all academic either, because the engine is a star performer on the road.
Coupled with the brand's 9-speed G-Tronic transmission, it blasts to 100 kph in 4.9 seconds. More impressive is the way it revs smoothly, yet delivers a nice, snarly engine note under hard acceleration. In Sport+ mode it will even deliver some crackles and pops through the exhaust. So yes, it delivers on the performance and drivetrain entertainment front...
Does it handle?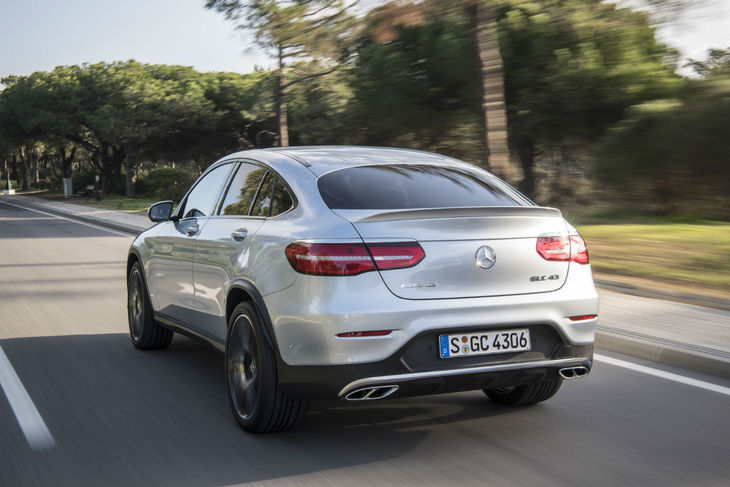 Standard rear-biased all-wheel drive system and sports-tuned air-suspension endow GLC Coupé with superb road manners.
We drove the GLC 43 Coupé in Portugal, on road surfaces that varied quite significantly. Surprisingly, given the overtly sporty nature of this vehicle and its large wheels/low-profile tyres, it dealt with the bumps and broken patches rather well. It features Mercedes's automatically adjusting Air Body Control suspension system as standard, and whether we selected Comfort, Sport or Sport+ modes, it appeared to always deliver excellent damping characteristics.
Also standard on this model is 4Matic all-wheel drive, with a 31% / 69% front-to-rear torque split. Mercedes-AMG points out that they were keen to achieve a rear-biased power delivery, for a sportier on-the-road feel. The engineers have been largely successful – the GLC 43 Coupé stays flat and stable in the corners, but on our relatively short drive we didn't really get to experience its "rear bias". Nevertheless, it is a stunningly easy vehicle to drive very fast, and there's enough character from the engine, and enough inherent "sportiness" in the suspension to make the GLC 43 Coupé an enjoyable drive.
Worth the extra outlay?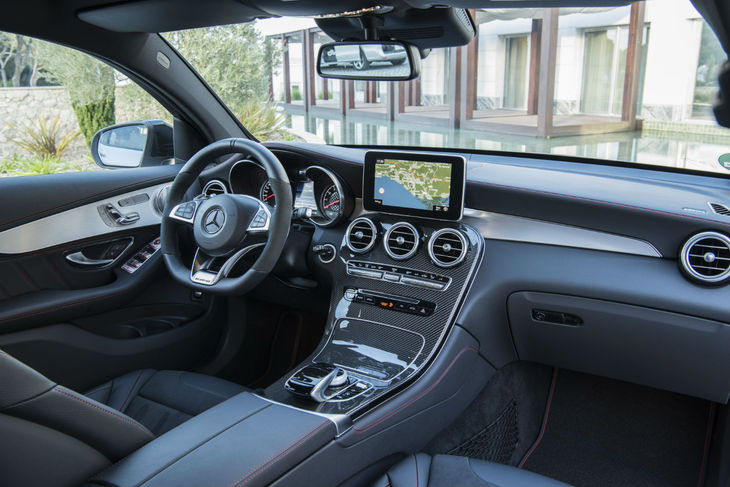 Cabin environment is superb, with just enough AMG detailing to make it feel more special.
The GLC 43 Coupé costs just over R100 000 more than its standard GLC 43 sibling. What do you get for your extra outlay? Well, you get less space in the boot, but more individualistic looks – we say "individualistic", because not everyone rates the Coupé shape as more attractive than the standard model. The Porsche Macan S is priced within close proximity, but can't match the GLC 43 Coupé's power and spec. Another rival that may be overlooked here is the Jaguar F-PACE 35t R-Sport, but that, too, is down on power and performance.

Overall, then, if you like the looks and the idea of a searingly fast coupé-SUV, this Mercedes is unlikely to disappoint. After all, underneath all that show and go, it's still a GLC, which means you get great build quality, a superb cabin and excellent refinement.

You may also be interested in;
Mercedes-Benz GLC Coupé specs and pricing (2016)
Spied: Mercedes-AMG GLC 63
Mercedes-Benz GLC 300 (2015) Review
Jaguar F-PACE 30d R-Sport (2016) Review
Looking for a Mercedes-Benz GLC to buy?