With little direct competition at its price point, the Mahindra XUV 500 has built itself quite a sizeable following in South Africa. Until recently, however, it had lacked an automatic offering. Perhaps predictably, the new self-shifter has quickly become one of the most popular derivatives in the XUV 500 line-up.
Facts & Figures
Price: R394 995 (October 2017)
Engine: 2.2-litre turbodiesel
Transmission: 6-speed automatic
Fuel consumption: 7.4L/100 km
Seats: 7
Warranty: 5-years/150 000 km

Mahindra South Africa has been on a roll lately, with the local introduction of the much improved new Pik Up following on earlier model launches of the TUV300 and revised Scorpio SUV. It has also recently announced that it intends setting up a local assembly plant, possibly in Durban or Port Elizabeth. Also introduced in the second half of 2016 was the long-awaited automatic variant of the popular XUV 500. We recently had the opportunity to spend some time with this variant in and around Johannesburg.
Focus on Efficiency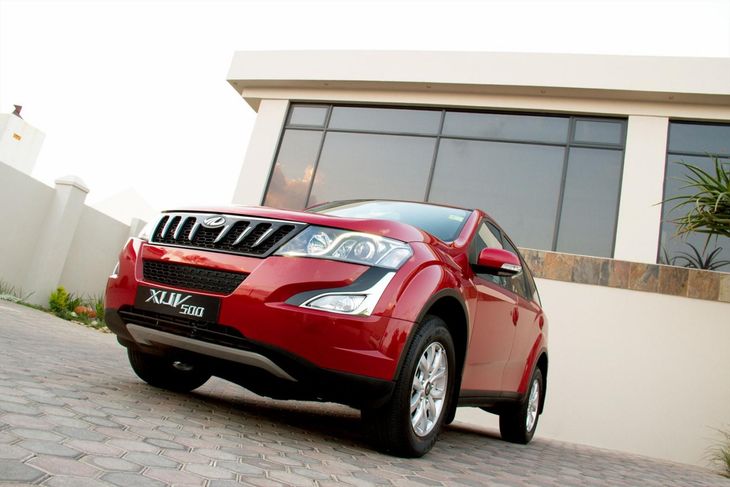 XUV 500 offers 200mm of ground clearance, but with front-wheel drive is more family crossover, than rugged SUV.
The XUV 500 was originally launched in South African in 2011 and had its major facelift in 2015, at which time Mahindra introduced not only a new look, but much improved interior ergonomics and other cabin refinements. At its core, however, the XUV 500 is now one of the elders in the local market, but is wearing its years well. While it is offered as a 7-seater, it is important to keep in mind that this is not a direct rival for the likes of the bakkie-based Ford (Everest) and Toyota (Fortuner) SUVs, but rather a spacious family car with SUV looks. It features front-wheel drive in this application and of particular interest is the transmission, a 6-speeder sourced from Aisin.
Coupled with the brand's well-known 2.2-litre turbodiesel engine, the drivetrain has been tuned for efficiency. In other words, relaxed performance is paired with a claimed combined-cycle fuel consumption figure of 7.4 L/100 km, which given the size of the vehicle is impressive. The engine delivers 103 kW and 330 Nm of torque, with the latter figure being available from 1 600 to 2 800 rpm. Mahindra doesn't quote claimed performance figures, but subjectively speaking the XUV 500 has no trouble performing daily driving duties. It generally responds satisfyingly to throttle inputs and there is sufficient power for cruising at the national limit. While the gearbox is generally quite good at selecting the appropriate ratio, it does, however, occasionally select too a low a gear for the prevailing driving situation, and then tends to hang onto that gear for too long, resulting in a strained engine note. Of course, using a little switch mounted on the side of the gearlever, you can always change gears by yourself.
On a side note... with the right gear selected and when cruising at higher speeds, the cabin proved hushed, a big improvement on earlier XUV 500s I had driven. In fact, Mahindra appears to have given the suspension a fair bit of tweaking as well. It claims that Lotus was called in to fine-tune the MacPherson front/multi-link rear arrangement. On the roads around Lanseria/Hartbeespoort Dam, the XUV 500 proved be slightly firm at lower speeds, particularly on poor, broken surfaces, but it significantly improved as the speeds picked up.
Design & Practicality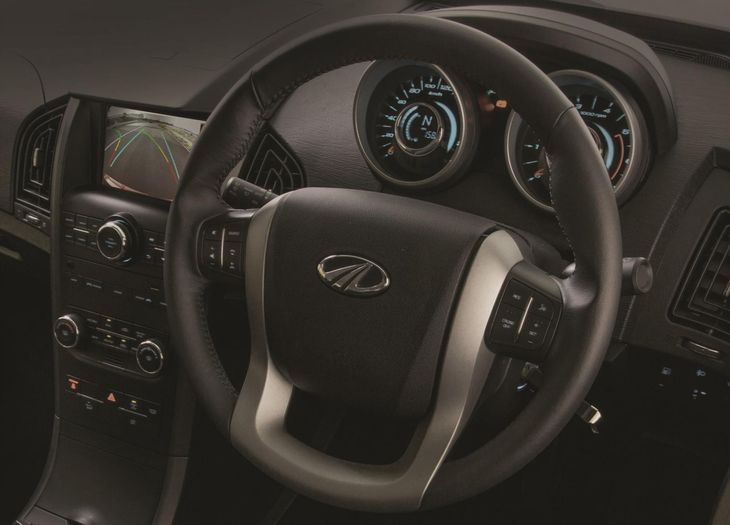 Revised cabin is an improvement, but some design and fit quirks remain. Specification is comprehensive.
The XUV 500 is a good 30cm-odd shorter than a bulky vehicle such as a Ford Everest, so if you're looking for a 7-seat quasi-SUV primarily for town use, that's worth keeping in mind. The reality is, of course, that it's not quite as spacious as those larger vehicles inside, either. That being said, the XUV 500 offers generous second-row legroom, but the third row is really for kids or smaller adults, and then also only for shorter distances. With all 3 rows occupied, luggage space is negligible. Fold the third row flat into the boot floor, however, and there's sufficient packing space for a family of four or five's holiday luggage. A nice touch is that ventilation outlets and drinks holders are provided for all 3 rows – there is even fan control in the third row.
The focus on family practicality is also evident in the front, where there are two glove compartments, a fairly large and rubber-lined storage box on the facia, more storage between the front seats and a fold-down mirror that allows you to keep an eye on the rear seat passengers.
Features & Design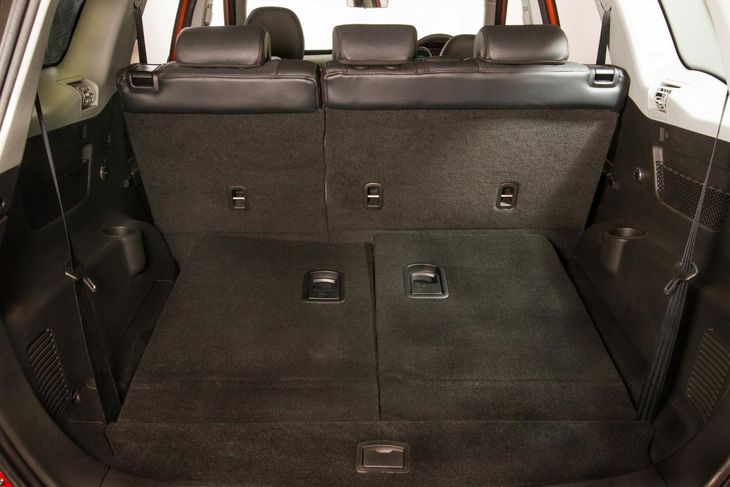 Seven seats are standard and stow away neatly into boot floor. Luggage space is generous with rear seats folded down.
The automatic version of the XUV 500 is only offered in W8 specification, and that means you get a lot of features as standard, including a touch-screen infotainment system with navigation and bluetooth/Aux/USB support, auto lights and wipers, cruise control, climate control, leather upholstery, rear-view reverse camera, 6 airbags and ESP as standard, amongst quite a few other items. Visually, it's a neatly finished vehicle with far more coherent design than its predecessor. It comes standard with 17-inch alloy wheels, LED daytime running lights, twin exhaust outlets and roof rails.
In terms of interior design, there are however a few niggles. The touchscreen slightly moved in its housing when pressed, which doesn't create an impression of great solidity. You also have to be quite slow and deliberate with it when selecting functions on the screen. That said, the test vehicle had more than 20 000 km on the odo and was completely free of rattles and creaks, so design integrity overall seems good.
Mahindra has clearly worked hard to correct many of the initial model's failings, including haphazard trim and almost OTT (over-the-top) design detailing. Things are much calmer in the latest XUVs, with predominantly tasteful charcoal and black used in the cabin. Still, some awkward surfacing remain, as well as somer lower quality fittings lower down in the cabin. Given the price of the vehicle, however, we can forgive many of these quirks, particularly as they are related to design, which is always subjective.
Warranty and Service Plan
The XUV 500 comes backed with a pretty impressive 5-years/100 000 km warranty and a 5-years/100 000 km service plan. Service intervals are spaced at 20 000 km/12 months.
Verdict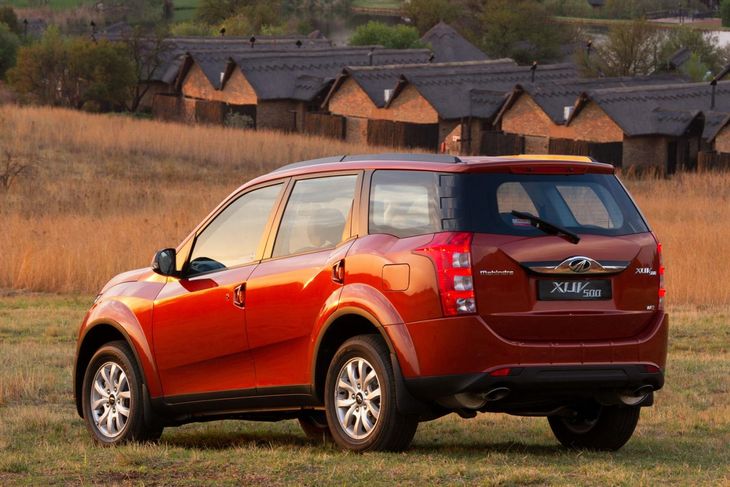 The XUV 500 is still quirky, but offers exceptional value for money and much-improved refinement.
At its current price just below R400 000 there really is very little direct competition for the XUV 500. The nearest automatic Ford Everest sells for roughly R80 000 more, but can't match the Mahindra's specification. And if you look at the Korean 7-seater twins (Kia Sorento and Hyundai Santa Fe), those are even more expensive. If you need a feature-laden family/holiday vehicle that is also rich in safety specification, provides occasional 7-up seating and which offers the combined appeal of an efficient turbodiesel motor and automatic transmission, then the Mahindra XUV 500 is hard to beat in the new-vehicle market at the price.
You may also be interested in;
Mahindra to build bakkies in South Africa
Mahindra Pik Up Double-Cab (2017) Launch Review
Mahindra TUV 300 1.5CRDe T8 (2017) Review
Looking to buy a new / used Mahindra XUV 500?