As one of only 2 Indian manufacturers currently trading in South Africa, Mahindra has built a fairly loyal following for their cost-effective and tough but rather agricultural bakkies. The TUV300, however, is Mahindra's third foray into the compact family car market. Does this cut-price 7-seater make for an appealing family car?
We like: Low price, fuel economy, generous boot space, comfortable front seats, generous features as standard, gravel-tackling abilities
We don't like: Rough diesel engine, interior beige-ness, old fashioned tailgate, stop/start system
Alternatives*
* A note on alternatives: given the TUV300's low asking price, its unique body-on-frame chassis, rear-wheel drive layout and the physical size of the vehicle, the car does not fit neatly into any particular segment. However, we have compared it to rivals here which offer similar practicality, as that is one of the main concerns for buyers in this segment.
For refinement and 7-seats: Consider the Honda BR-V. The base BR-V is priced at R246 100, just R17 000 more than the TUV300, and offers more car-like levels of ride quality and comfort, 7-seats and an impressive 5-year/200 000 km warranty.
For 7-seats on a budget: The Suzuki Ertiga tries to outdo the TUV300 in terms of interior beige-ness and nearly succeeds. But it remains a spacious 7-seater with a bulletproof little engine, all for under R200 000. Pricing starts at R196 900.
For 7-seats with an established badge on the nose: The Toyota Avanza, in our experience, has build quality issues, but for those interested in a household name, with 7 seats and a decent price tag, the Avanza is a mainstay of the market. Keep in mind that base-spec Avanzas offer very little creature comforts and you'd need to opt for the SX model at around R250 000 to match the TUV300 in terms of spec.
Compare the Mahindra TUV300, Honda BR-V and Suzuki Ertiga here!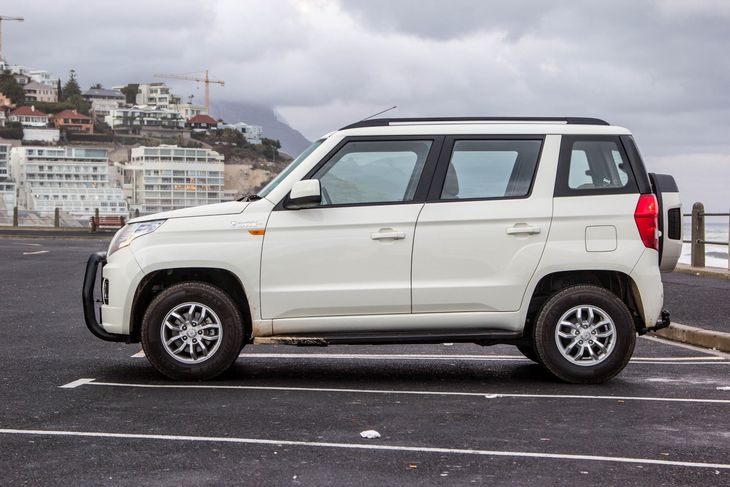 The rear-wheel drive TUV300 is a no fuss compact SUV/crossover that's reasonably practical with 7-seat capability.
Facts and Figures
Price: R229 995 (July 2017)
Engine: 1.5-litre, 3-cylinder turbodiesel
Power: 74 kW
Torque: 240 Nm
Transmission: 5-speed manual
Fuel Consumption: 5.4 L/100 km (claimed)
What is it?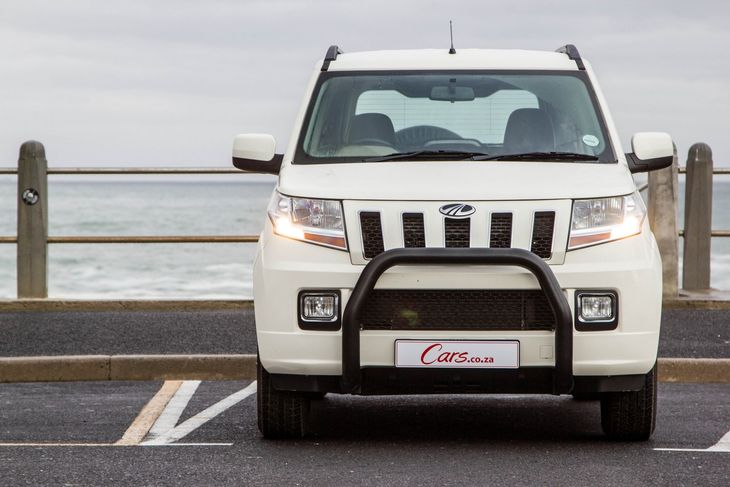 With a body-on-frame construction, the TUV300 is a more rugged offering than the Suzuki Ertiga, Honda BR-V and Toyota Avanza.
The TUV300 is a curious creature. Despite its compact family car dimensions, it shares most of its DNA with the humble bakkie. Foregoing unibody construction for a more robust body-on-frame design, the TUV300 might be more rugged than your average crossover but the downside is fairly agricultural ride quality and moderate levels of noise, vibration and harshness. Over smooth surfaces, the ride comfort is acceptable but as soon as the road surface deteriorates, the chassis and body tend to have a protracted disagreement and the cabin "jiggles". If you've driven bakkies or SUVs such as the Toyota Fortuner, this will feel very familiar.
The TUV300 is also rear-wheel drive. In a segment where most cars are simply raised-height, front-wheel drive hatchbacks, some buyers might be pleased by this, as rear-wheel drive is regarded as being more suited to tackling gravel roads. And given the TUV300's ride height, the car is well suited to this pursuit.
While the car is advertised as a 7-seater, the fold-down, military-style (face each other) rear seats are not fitted with seatbelts. For obvious safety reasons, we advise that you don't use them to transport passengers.
The good
Build quality and standard features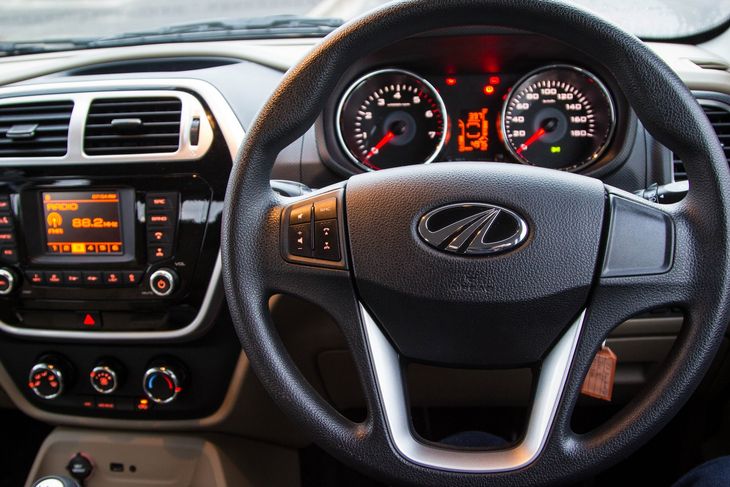 The TUV300 is well-specced with standard features and is sold as an 'all-inclusive' package with no options to tick.
While the TUV300 does feel cheaply made, with hard plastics dominating the cabin, it's not badly made. Everything feels properly screwed and glued together, and there were no rattles or squeaks to speak of during our test period. The incredible beige-ness of the interior aside, it's actually well-specced. There are no option boxes to tick at all - everything is included in the purchase price.
Bluetooth audio and telephony are standard, all controlled from the steering wheel, and the radio/CD player includes an aux jack and USB port. Rear park-distance control is a handy feature but there's no reverse camera. There's ample storage space in the cabin and the front seats are particularly comfortable on long journeys, with the driver's seat featuring a fold-down armrest.
Engine power and efficiency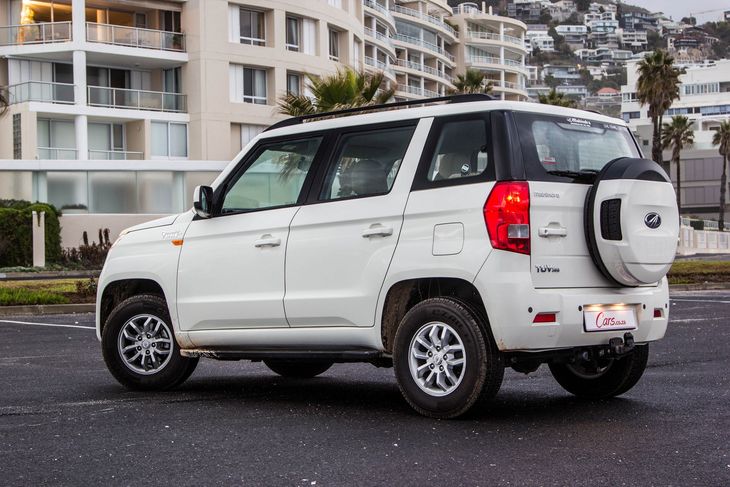 Performance is adequate in most situations but overtaking will require planning to execute safely.
While the 3-cylinder, 1.5-litre turbodiesel engine does sound quite gruff, it's no worse than a similar turbo-diesel from, say, a Toyota Fortuner. And it doesn't have the typical unbalanced feel of a 3-cylinder; if no one told you it was a 3-cylinder, you probably wouldn't notice.
Power and torque is quoted at 74kW and 240Nm and while that power figure seems a little low, the torque more than makes up for it. The engine develops its torque smoothly and the power band does feel quite wide for a turbodiesel. As long as you don't stab at the throttle, the TUV300 actually makes brisk progress in urban areas and is competent at highway speeds. Overtaking manoeuvres, however, need to be planned carefully as it's not the sort of car that can spontaneously sprint past slower moving traffic.
Practicality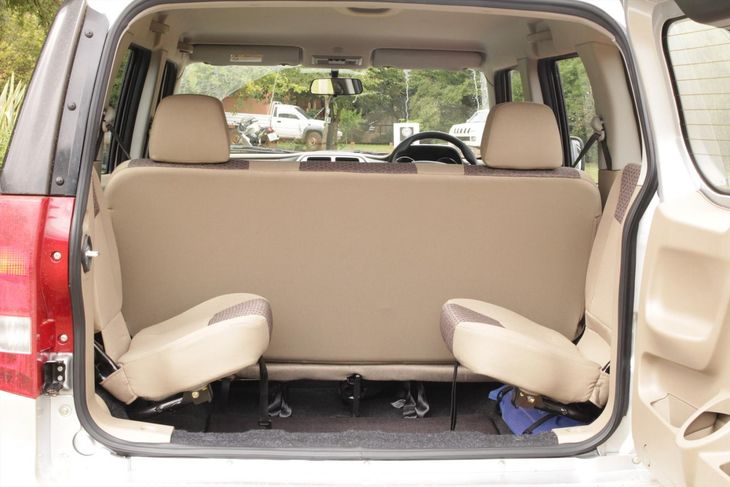 The 2 rear seats are not the most comfortable to sit on but rather serve as emergency seating should you require them.
The TUV300 offers generous interior space, and, in particular, boot space. The rear bench can easily accommodate 3 adults side-by-side, but take note that there are no ISOFIX child seat mounts. The spare wheel is mounted on the back of the car (protected by a hard plastic cover in body colour) and as such, the boot space is especially deep - buyers should have no trouble throwing in children's bicycles and a month's worth of groceries. Of course with the rear seats folded down into place, this does essentially negate the boot area, which is a downside.
The purchase price also includes a tow bar, very handy for bicycle racks and of course trailers. The TUV300 feels like it should cope with everything up to a light caravan.
The not-so-good
The engine, gearbox, clutch and its stop-start system
While the engine's vibration and sound levels are acceptable when compared to the average bakkie, in this segment, those characteristics are woefully behind the competition in terms of audible engine noise and refinement. Additionally, although the engine is a newly developed powerplant, shared by Mahindra and Ssangyong, the engine is only Euro2 compliant - an emissions regulation standard which was forced on the European market in 1999. Europe is currently on Euro6.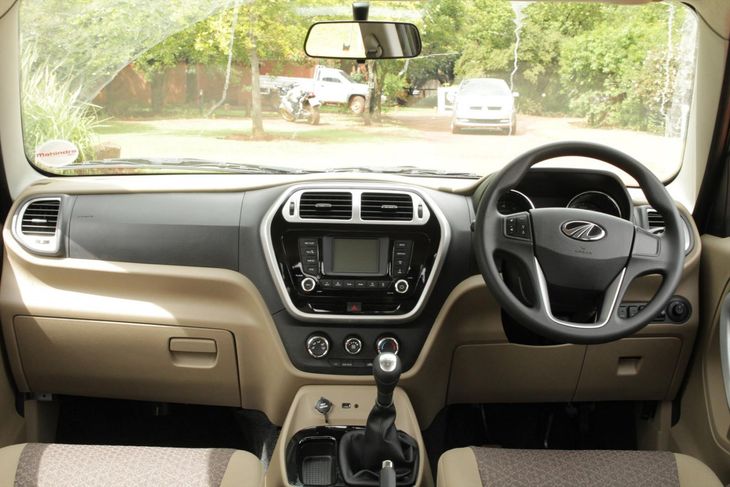 Beige is, unfortunately, the only interior colour on offer.
But the biggest bugbear with the engine is the stop/start system, which cannot be disabled. When the car comes to halt, and as long as the driver's foot is off the clutch, the engine will cut out. This is the only time one feels the effects of a 3-cylinder motor - the car shimmies from side-to-side as the engine shuts down. This is fine in principle but restarting the engine in practice is unnecessarily tricky. In theory, the driver simply needs to depress the clutch. However, if the driver engages the clutch and selects first gear simultaneously, the engine will not restart. This left this tester marooned at intersections on a number of occasions. Of course, the long-term owner will adjust to this foible, but I found it particularly irksome.
The beige
It's very, very beige in there, and there is only one interior trim available.
Pricing and Warranty
At R229 995, the TUV300 fits that old adage: a lot of car for your money. With no options boxes to tick, that is the price you'll pay, potential discounts excluded. The car is sold with a 3-yearr/100 000 km warranty and a 3-yearr/90 000 km service plan, with service intervals of 20 000km.
Find a new or used Mahindra TUV300 on Cars.co.za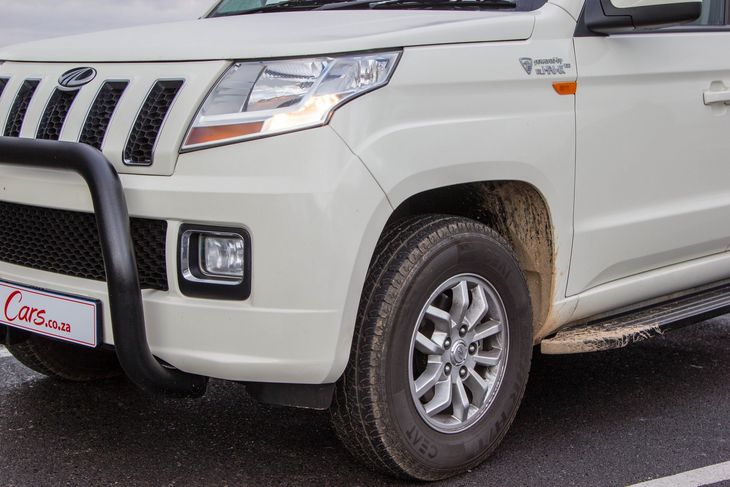 Although it lacks refinement, the TUV300 is an affordable, fuss-free SUV option.
Verdict
The TUV300 represents something very unique in a segment filled with soft-roaders and crossovers. Its rear wheel drive layout, ride height and robust chassis separate it from other offerings.
However, those same characteristics make it a relatively agricultural car to live with in the city. There are simply much more refined alternatives available, albeit generally at a higher price. However, for those living a more pastoral lifestyle, perhaps in a more rural area, especially with gravel roads to traverse, the TUV300 makes for an interesting option; it does feel like it can handle a rough-and-tumble lifestyle. Its no-nonsense interior and affordable price tag mean that you probably won't treat the car as a precious asset, and you probably won't be too bothered with the kids and dogs having their way with the beige interior either.
If you are looking for a cut-price people mover with bakkie credentials, this could be the oddball hybrid you've been waiting for.
Watch the video review of the Mahindra TUV300 1.5 CRDe T8 below:
Related content:
Mahindra TUV300 (2017) First Drive
Mahindra KUV100 G80 K8 (2016) Review
Mahindra Scorpio Pik Up 4x2 Adventure (2015) Review
Honda BR-V 1.5 Elegance Manual (2016) Review
Suzuki Ertiga Receives Upgrades
Update: Toyota Avanza Gets Added Safety
Interested in buying a Mahindra?