The double-cab bakkie market continues to be robust in a depressed South African economy, and Indian brand Mahindra wants a bigger slice of the action. Its refreshed Pik Up range is packaged and priced to appeal to a much wider audience than its Scorpio-branded predecessor. At its launch in Gauteng this week the brand also hinted at bigger plans for South Africa...
Appearances can be deceptive. We all know that. But after walking up to, and then sitting inside the "new" Mahindra Pik Up, I was still left with the distinct impression that this upgrade was nothing more than a substantial aesthetic facelift, inside and out.
Certainly, the front-end is significantly different to its predecessor's and far more modern, complete with LED "eyelashes" on high-spec S10 derivatives. Unfortunately Mahindra, which owns the legendary design firm Pininfarina, did not alter the rest of the exterior all too much, so it still appears wilfully quirky and outdated (from some angles) compared with its market rivals.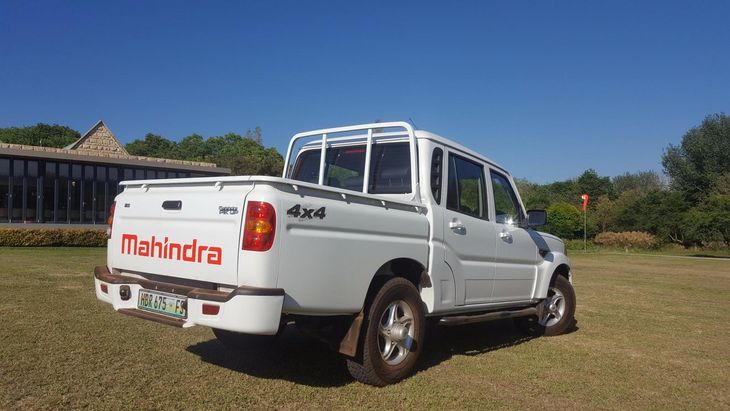 Exterior upgrade doesn't really change the look from this angle. 1 000 kg payload is claimed.
The changes inside are far bigger and more important. Unlike earlier Mahindra vehicles, which where prone to display overly fussy designs and inconsistent materials, the Pik Up now sports a predominantly black and upmarket-looking facia with neat finishes, including some subtle chrome inlays. Fit and finish is good too, and the standard specification is very, very generous (more of that later).
But ultimately the overall shape of the vehicle is identical to its predecessor's and I therefore expected it to drive similarly.
Much improved refinement
To be honest, the memories of my last drive of a Mahindra (Scorpio) Pik-Up are vivid and generally not kind. It was very rough around the edges, the cabin was noisy, the ride unrefined and the engine coarse. It gave me a splitting headache.
With that as context, I am downright amazed at what Mahindra has achieved with this upgrade. Accompanying the cabin upgrade, it would appear a lot of work has gone into noise insulation as well as ride refinement. We travelled on some particularly poor roads during the test drive, and the Pik Up's ride remained controlled and comfy. The cabin remained rattle free, too, and even when cruising at the national speed limit, noise levels remained low.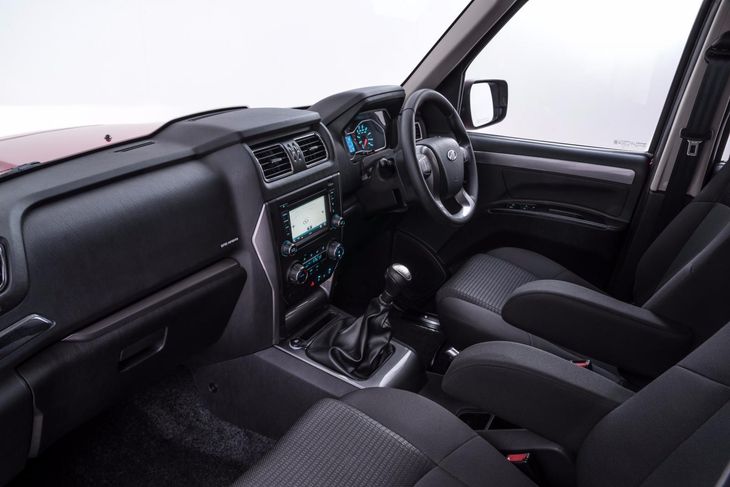 Vastly improved cabin features better materials and impressive fit and finish. Note fold-down armrests.
The star of the package is undoubtedly the 2.2-litre turbodiesel engine, shared with the brand's XUV 500 crossover/SUV. It delivers 103 kW and 320 Nm (figures that compare well with the competition) and is mated with a precise 6-speed manual transmission. There is very little lag evident, and strong, smooth acceleration is on offer. Mahindra says the maximum torque figure is available from 1 600 to 2 800 rpm. This engine has transformed the Pik Up driving experience to the point that a number of established brands' offerings may feel rather "agricultural" in direct comparison.
Mahindra claims a combined cycle fuel consumption figure of 7.9L/100 km for all variants, which is very good, too. A large 90-litre tank should ensure long distance cruising happens without having to frequently stop for fill-ups.
Generous standard specification
Mahindra offers 3 levels of standard specification; S4 (basic Single Cab workhorse), S6 (mid-spec Single Cab) and S10 (high-spec Double Cab). Our test units were all to S10 specification and as such included items like cruise control, climate control, 6-inch touch-screen infotainment with navigation, Bluetooth and USB/Aux support, multi-function steering wheel, auto lights/wipers, dual front airbags and ABS/EBD, amongst others.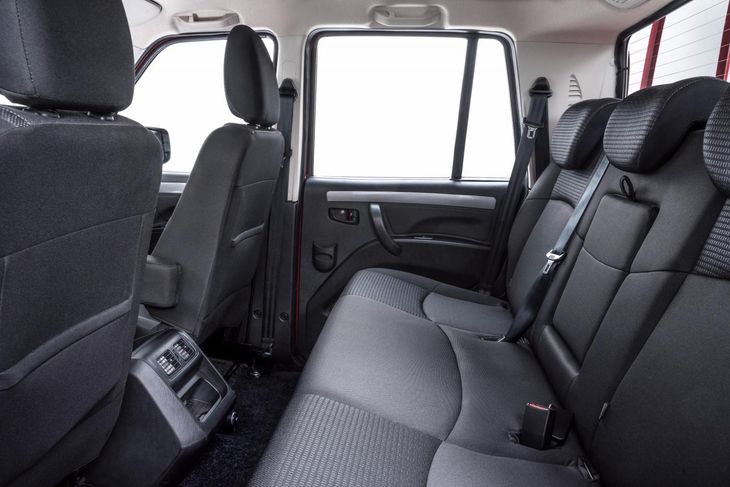 Rear legroom is good and passengers sitting in the back have their own ventilation outlets. Upholstery is neat dark cloth.
Compared with similarly priced rivals from more established brands the Pik Up's specification can't be beaten. Ventilation outlets are also provided for rear passengers, which is always a nice touch and the modernised instrumentation display is a particular highlight of the much improved cabin. Boosting the Pik Up's family appeal from a safety perspective is the fitment of a 3-point safety belts for all rear occupants and S10 derivatives also get 2 Isofix child-seat mounts in the rear.
A minor irritation experienced on our drive actually concerned the positioning of the navigation display on the facia. It is mounted quite low down by modern standards and unfortunately the screen display isn't bright enough to remain clear when there's a lot of natural light/reflections inside the vehicle.
Still a hard worker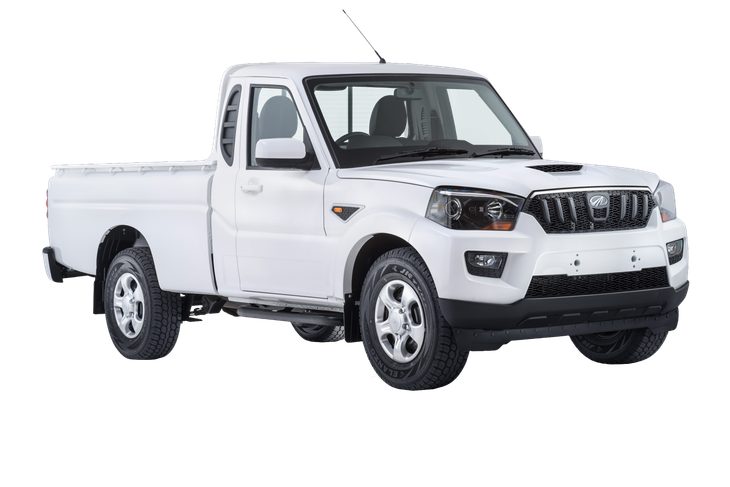 Single-cab derivatives also get the new-look front, but the interior is more basic. A 1 200 kg payload is claimed.
While Mahindra believes that the revised Pik Up will appeal to a wider audience (read, more leisure-oriented shoppers), it remains at its core a practical product developed to work hard. The Double-Cab Pik Up offers a payload capacity of around 1 000 kg (1 200 kg for Single Cabs) and with this new engine/gearbox combination, it is now rated to tow up to 2 500 kg (braked trailer).
A short off-road course demonstrated the vehicle's build integrity (not a rattle or squeak to be heard) as well as low-speed crawling ability. A simple rotary dial allows drivers to select between 2H, 4H and 4L. The low-range is seemingly geared for serious off-road use, and combined with the engine's low-down torque delivery makes the Pik Up feel pretty much unstoppable. All Pik Ups (including 2-wheel drive variants) come with a rear-axle Eaton MLD (manually locking differential) as standard.
Model line-up and pricing
All Pik Up variants use the same engine and transmission. The Single-Cab Pik Ups are only offered in S4 and S6 spec, with the more basic offering priced at R187 995 (service plan is optional). The S4 is a very basic workhorse and comes with vinyl seats. Power steering is its only luxury, and it also does without airbags or ABS/EBD. The S6 is priced at R239 995 (4x2) and R284 995 (4x4) and comes with a service plan as standard, as well as more niceties such as cloth upholstery, electric windows, air-conditioning, a radio/CD player and dual front airbags and ABS/EBD.
On the Double Cab front, the S10 4x2 is priced at R324 995 and you'll pay R354 995 for the S10 4x4 as reviewed here. The pricing includes a good 4-years/120 000 km warranty and roadside assistance, as well as a 5-years/90 000 km service plan. Service intervals are conveniently spaced at 20 000 km (or 12 months).
Summary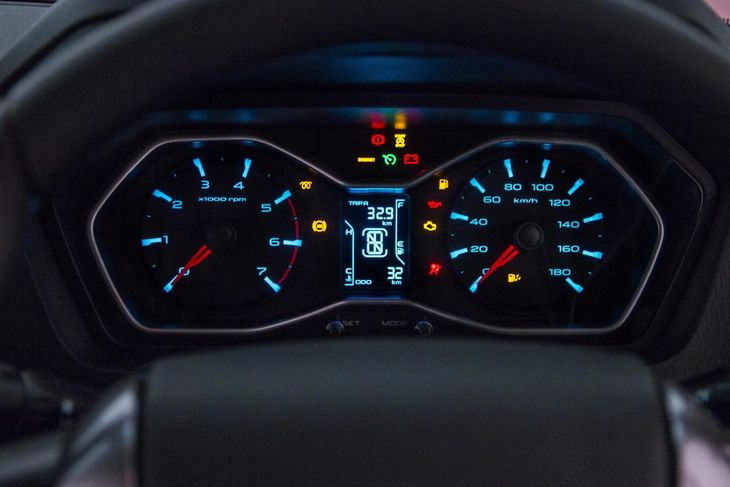 Instrumentation on S10 derivative is modern and stylish.
Contrary to expectations, this is much more than just a facelift. In fact, while the interior in particular now looks far more attractive than before, the exterior will still polarise opinion. No... of far more significance is the vastly improved refinement, in terms of ride and performance, that's on offer here. Combine that with the generous specification (including generous service plans on most models), and Mahindra is indeed likely to find many more buyers for this model than its ungainly predecessor.
So, the Indian giant now has a much better product to compete with at the value end of the South African double-cab market. But that's not all... The Pik Up may very well end up being assembled in South Africa in the very near future.
At the launch event the company made it clear that South Africa was a priority market and that the time had come for increased investment, in the form of local manufacture. The company is currently considering options and either Durban or Port Elizabeth looks likely. Look out for an interview with Mahindra's Chief of International Operations, Arvind Mathew, on this soon, but meanwhile we can confirm that both the Bolero and Pik Up models are being considered for local assembly. South Africa is then likely to serve as a base to launch export projects into predominantly East Africa.
You may also be interested in;
Mahindra TUV300 1.5 CRDe T8 (2017) Quick Review
Mahindra XUV500 gets automatic transmission
Mahindra KUV100 G80 K8 (2016) Review
Looking to buy a new / used Mahindra?