Foton is a relative newcomer to the bakkie market and therefore many buyers still compare buying a Tunland to taking a leap of faith. But how big a leap does it need to be? We found the top-spec Chinese bakkie old-school in some ways, and pleasantly luxurious in others
Foton Tunland 2.8 Double Cab 4x4 Luxury – Quick Specs
Price: R409 995
Engine: 2.8-litre, 4-cylinder turbodiesel
Transmission: 5-speed manual
Power: 120 kW
Torque: 360 Nm
Fuel Consumption: 8.3 L/100 km (claimed)
Load Bay Capacity: 965 litres
Eye-catching presentation
Lifestyle family car buyers favour double-cabs for a variety of reasons, not least value for money and utility. While the competition in the segment grows tighter by the day, manufacturers realise that exterior paraphernalia, colloquially known as "bakkie bling", represent extra value to showroom visitors, many of whom would probably want to specify some "off-roader bits" at extra cost anyway.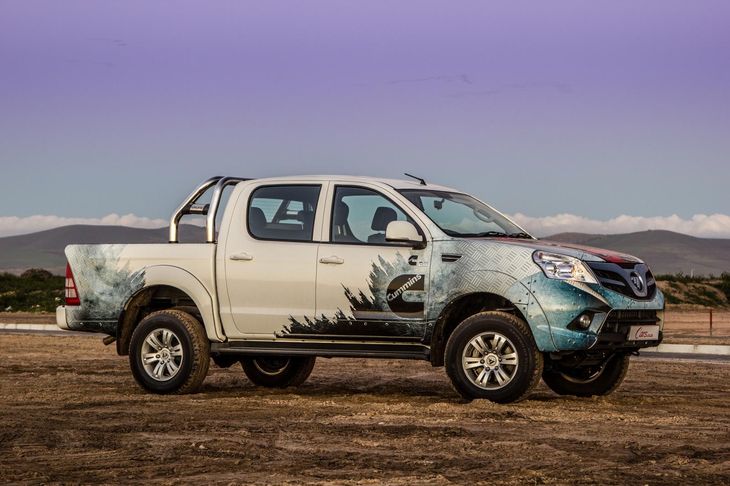 Distinctive looks are supplemented by sporty adornments such as a chrome-look roll bar and running boards.
The bold, colourful plastic body wrap (applied by the Foton's distributor for marketing purposes) helped the otherwise plain-white Tunland draw admiring glances throughout its tenure in Cars.co.za's extended test fleet, but the Luxury's "bakkie bling" will be of most interest to prospective buyers...
Standard fog lights, running boards, colour-coded mirrors and door handles (the former with integrated indicator lenses, the latter amended by chrome accents), a chrome-look roll bar, as well as a tonneau cover gave the Foton good kerb appeal. Why a chrome-look nudge bar, which would have complemented the roll bar beautifully, was not fitted remains a mystery, but check with local dealers to see if there are Tunland demonstration units that might already have them fitted.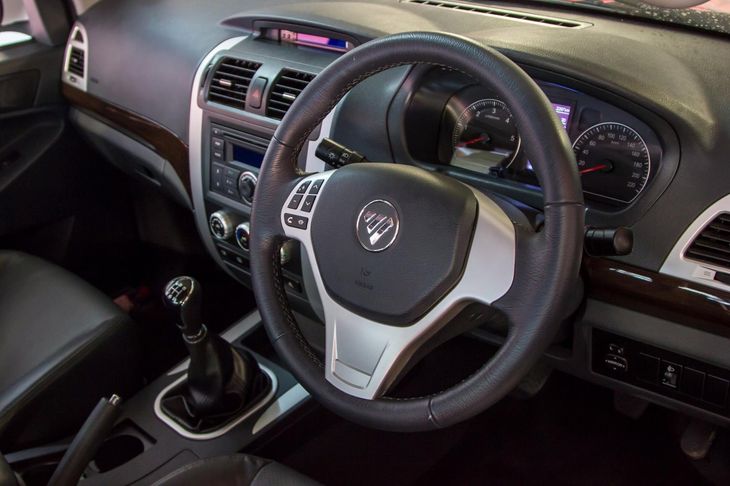 The dark faux wood interior inserts and shiny trim strips aren't garish, but arguably out of fashion...
If you are considering purchasing a double cab, note the relatively sparse exterior specifications of other bakkies listed as new for around R410k and compare it with the Foton's standard fitments, as well as...
An interior awash with nice-to-haves
Whereas "luxury" and "SUV" are commonly associated with one another, "luxury" and "bakkie" sit together less comfortably, especially at the value end of the double-cab market. Some offerings have basic steering wheels, cloth/vinyl seats and basic radio/CD/MP3 audio systems (if standard), but the Tunland comes equipped with leather upholstery (with adjustable lumbar support for the front seats), a leather-wrapped multifunction steering wheel, electrically folding side mirrors (with a demisting function) as well as rear PDC system (with audible warnings); quite a comprehensive package.

Streaming music from a smartphone via Bluetooth is just as easy as... loading a CD into the audio unit!
However, bakkies that are of a newer design than the Foton certainly have comparatively more "car-like" interiors. The Tunland's fascia and dashboard designs are rooted in the bakkie's commercial vehicle origins and although that shouldn't ultimately deter too many buyers, it does show up the Chinese firm's attempts to make the interior look more upmarket, because chrome-look trims and faux wood are a bit passe nowadays, let alone in a bakkie cabin. Exposed screw heads in the door handle housings and steering column are obtrusive: why not hide them under plastic caps, for example?
Having said that, the Foton's cabin quality held up well (for the most part) during the test. We initially judged the audio system on its plain appearance (it still has a CD slot!), but it offers USB and auxiliary inputs and can stream music from a smartphone via Bluetooth, plus it's easy to set up and use. Furthermore, the multifunction steering wheel's controls work well and the integrated handsfree system's microphone (mounted on the inside of the A-pillar) relays clearly audible dialogue.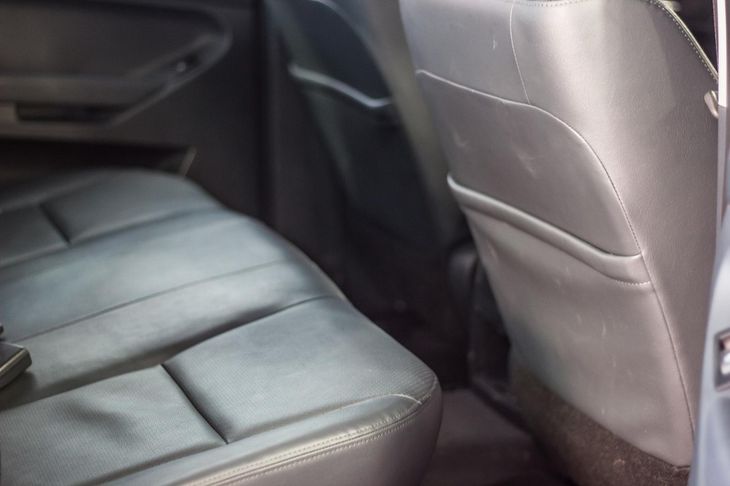 The rear seats in the Tunland don't offer generous legroom, but can accommodate 3 adults at a squeeze.
The front seats are comfy and the cabin is spacious enough to accommodate up to 5 adults at a squeeze, even if the rear legroom is comparatively tight. Voluminous cupholders in the centre console are big enough to accommodate a pair of large takeaway coffees, the lidded oddment storage spaces (at the bottom of the fascia) is ideal for storing sunglasses and other valuables from prying eyes.
But a one-touch up/down function on the driver's window and more than one 12V outlet would not have gone amiss. The only glitch we encountered was with the ventilation control knob, which stopped working toward the end of the test. We also noted that the shift-on-the-fly 2H/4H/4L push button console did, at times, refuse to obey inputs (yes, we adhered to the maximum speed limit for shifting between 2H and 4H). Switching the ignition off and on again "resolved" the problem.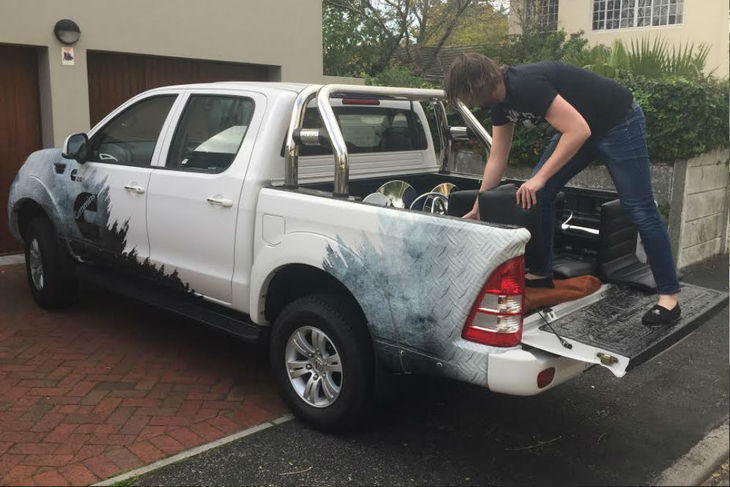 Lugging detritus? The load bay easily swallowed a quartet of bar stools.
Willing to work hard
The Foton was one of the first vehicles to join Cars.co.za's extended-test programme and its arrival was perfectly timed to facilitate a staffer's house move (and the repeated loading/loading it requires). It's a sizeable bakkie, which is advantageous in terms of its spacious cabin and broad, deep loading area.
Removing the standard tonneau cover requires loosening 4 g-clamps, lifting the cover's frame and a pair of braces off the load bay's edge and sliding the cover out of a groove behind the rear screen. One person can do it, but refitting it is much easier with assistance. We were impressed with the quality of the cover's components and installation, although as the pictures of a trip to a hardware store suggest, the tonneau' does not limit practicality in all scenarios.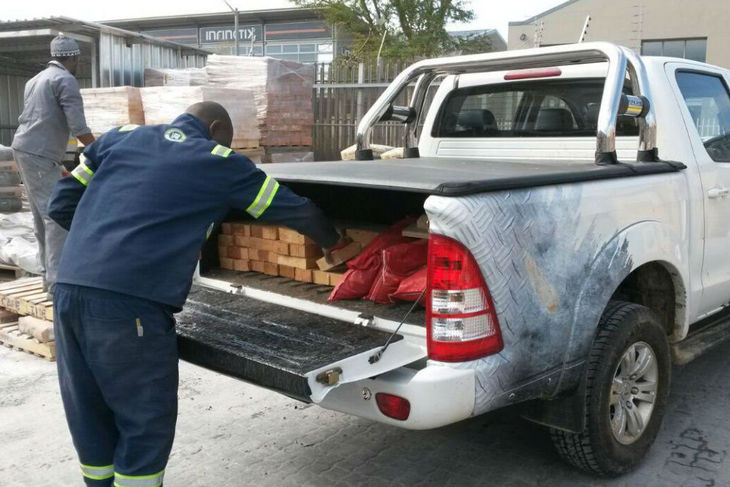 With a load bay capacity of 965 litres, the Foton easily hauled a load of building supplies.
We did notice sporadic creaks emanating from the left rear suspension (it could have been caused by the load bed straining against the chassis), but otherwise the Tunland performed dutifully. As a source of everyday transport, however, the bakkie's exterior dimensions were, as expected, disadvantageous in congested parking lots, where the wide turning circle made parking a bit tricky. Having said that, the manoeuvrability problem is not limited to the Foton, but endemic to most modern double cabs.
Old school motor, but frugal
The 2.8-litre Cummins engine at the heart of the Foton is a proven quantity, but it's neither as refined, nor significantly more powerful, than its (smaller-capacity) competitors. Apart from the somewhat noisy engine, the bakkie's 5-speed transmission is notchy, especially from a cold start and we found that when trundling below the urban speed limit (60 kph), we'd flit between the second and third gears of the Tunland just to keep the motor "on the boil". The motor always performed tirelessly, however.

The instant consumption readout isn't particularly helpful, but L/100 km is a click of the trip computer button away.
An extra ratio would undoubtedly have facilitated cruising in freeway conditions, but, having said that, Foton's claim of an average consumption figure of 8.3 L/100 km is quite conservative. The highest indicated figure we saw was 8.1, which was most impressive (if the trip computer is accurate). In addition to the frugal performance, the bakkie rides as comfortably as any product of its generation, the road-holding is relatively neutral and predictable and the "snatchiness" of the brakes at low speed (to which we alluded in the review of this Tunland derivative) did not require all that much familiarisation.
Meanwhile, the Foton offers more than capable off-road capability. We've already praised the bakkie's shift-on-the-fly functionality, but a diff-lock is conspicuous by its absence… It suggests that Foton conceived the bakkie as an urban-based family vehicle that will only be called into action as a 4x4 lifestyle vehicle now and again. It is rated to tow braked trailers of up to 2 500 kg, incidentally.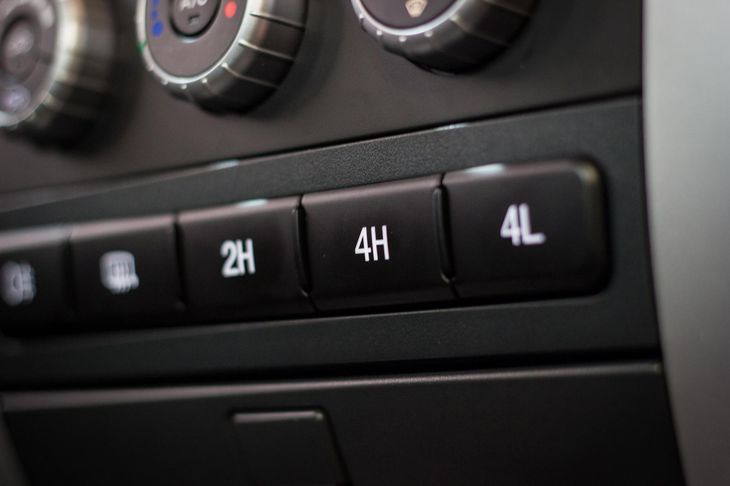 The rightmost (ventilation control) knob felt a little flimsy to operate; the shift-on-the-fly buttons are chunky.
Verdict
Underpinned by a prudent design and reasonable build quality, the Foton Tunland 2.8 double cab 4x4 Luxury is undeniably an attractively-packaged bakkie, especially insofar as aesthetic accoutrements and luxury interior features are concerned. After all, in a market where other fringe players that are priced below it don't feel as substantial, and more sophisticated/newer products priced above it feel relatively stripped down, a generous standard specification undoubtedly adds to showroom appeal.
However, the Tunland isn't flush with features in every respect. On the safety front, auto-locking doors, front airbags and ABS with EBD are standard, but that's not a class-leading specification (there's neither traction- nor stability control).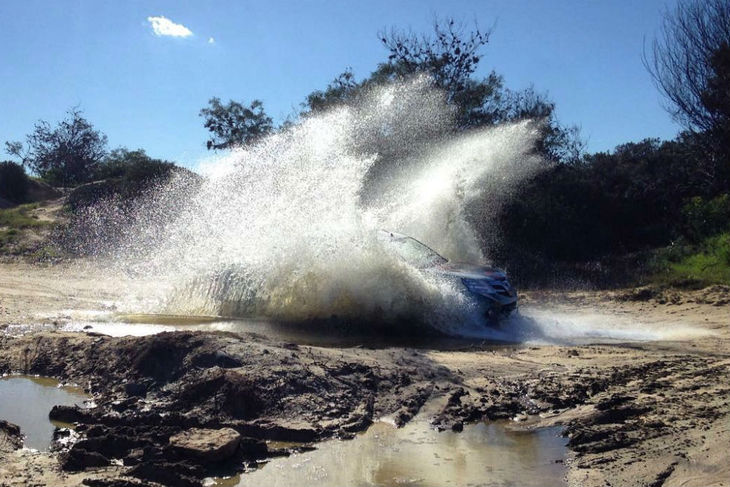 When the time came for the Tunland to make its video star turn, the bakkie didn't hesitate to make a splash.
Then factor in Foton's limited dealer footprint compared with those of top-selling bakkie brands, the military medium 3-year/100 000 warranty and limited (albeit 5-year) 70 000 km service plan and one could not begrudge conservative, brand-loyal buyers (especially in the bakkie market) for favouring used examples of established products over the newcomer.
Yet this test highlighted that Foton deserves to be considered based on its new-out-of-the-box proposition. Apart from the annoying ventilation knob malady and shift-on-the-fly quirk, the Tunland "did not put a wheel wrong". If this product is a harbinger of future Foton products, even those that incorporate incremental improvements, the brand deserves to grow its presence in the cutthroat double-cab market. Dismissing the Tunland as just an astute used buy would be patently unfair.
Related content:
Foton Introduces Tunland Granite Special Edition in SA
Foton Tunland 2.8 Double Cab 4x4 Luxury (2016) Review
Renault Duster Oroch Double Cab (2016) First Drive
Best Leisure Double-Cab Bakkies in SA
6 New Double Cabs to Look Out For
5 Cheapest Automatic Double-Cab Bakkies in SA
5 Most Fuel-Efficient Double-Cab Bakkies in SA (2016)
5 Cheapest Family Double-Cab Bakkies in South Africa
Interested in buying a Foton Tunland?
New? Check our Car Specials page for the latest deals
Used? Browse Cars.co.za stock for available vehicles