Would you prefer if your new-generation M3 or M4 had a titanium exhaust system with a quartet of stacked, ceramic-coated tailpipes, surrounded by matt-black trim and an extended carbon-fibre diffusor? These are but some of the numerous M Performance parts that BMW will offer buyers when its dynamic duo goes on sale next year.
BMW dealers will be offering the range of accessories (developed in collaboration with BMW M GmbH) for buyers that either cannot bear driving a stock-standard M3 or M4 (or their Competition derivatives) or want to beef up their cars before hotter OEM versions come to market.
ICYMI: BMW M3 & M4 revealed, but no manuals for SA!

This M3 is festooned with absolutely every carbon-fibre accoutrement that can be ordered from the M Performance catalogue.
The titanium M Performance silencer system, for example, weighs around 5 kg less than a standard M3 or M4's setup and the unusually arranged ceramic-coated tailpipes emit a more gutteral growl thanks to optimised exhaust-gas routing. Having said that, it also features flaps (such as those on the standard exhaust setup) so that the volume of the mechanical din can be adjusted to the cars' individual drive modes.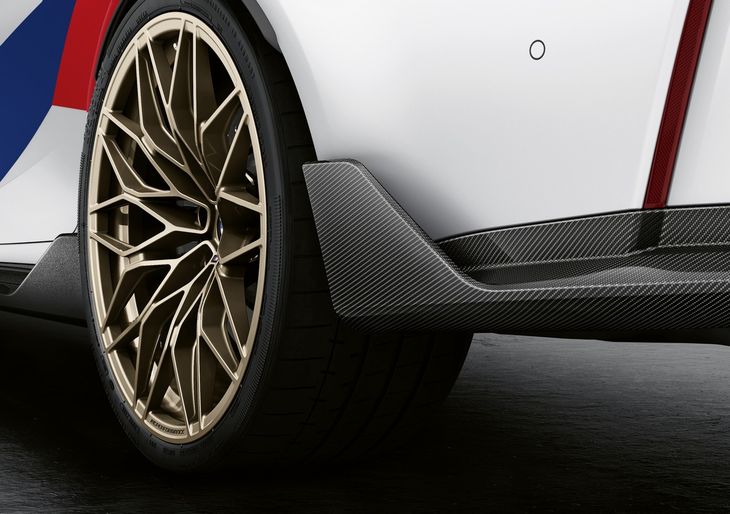 The Gold Bronze matt wheels can be specified up to 21 inches in size; note the fin-like winglet on the carbon bumper trim.
The adjustable M Performance sports coilover suspension, meanwhile, allows reductions of ride height of between 5 and 20 mm. With unchanged damper adjustment, the mod lowers the car's centre of gravity, reduces rolling movement and facilitates higher cornering speeds, BMW says. It can ideally be combined with track-optimised M Performance sports brake pads...
Then there are the carbon-fibre-reinforced-plastic M Performance accoutrements, such as carbon splitter, -air-intake housings and -aero flicks at the front, plus -wing-mirror caps, fender gills and skirt trims with motorsport-inspired winglets on the flanks. At the rear, the previously mentioned carbon diffuser can be combined with winglets that effectively wrap the ends of the bumper and, of course, the eye-catching boot spoiler.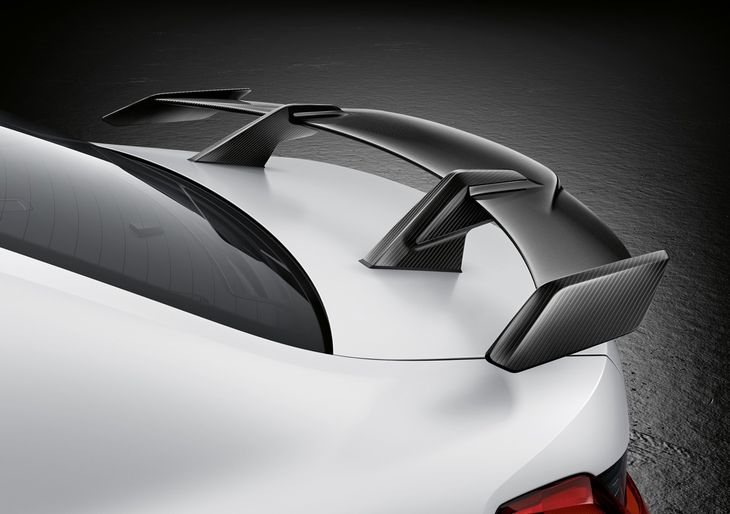 If there is one accessory that will rival the novel exhaust- and diffuser configuration for popularity, the rear spoiler is probably it!
Although the M Performance Motorsport adhesive foils (in the 3 BMW M colours: blue, red and purple) work particularly well on the examples of the M3 and M4 shown here (white is, after all, the firm's motorsport colour), perhaps they'd lose their impact on other exterior finishes. The upsized wheels and tyres, however, are bound to be effective on whichever colour car you've ordered... The entry-level option is the M Performance forged wheel with a Y-spoke design in Frozen Gunmetal Grey with M Performance lettering and mixed tyres (19 inches fore and 20 inches aft). However, you can the upgrade the wheels to cross-spoke forged wheel 1000M in Gold Bronze matt or Jet-Black matt of up to 21 inches in size!
Carbon & Alcantara interior detailing
To match the racy-looking exterior upgrades, the M3 and M4's interior can be specified with a host of carbon fibre and Alcantara trims and M Performance-branded finishes, such as the strike plate with a carbon insert and coloured lettering, Alcantara kneepads on the centre console, branded floor mats and LED door projectors that display the M logo "and other M Performance motifs" on the ground when the door's opened.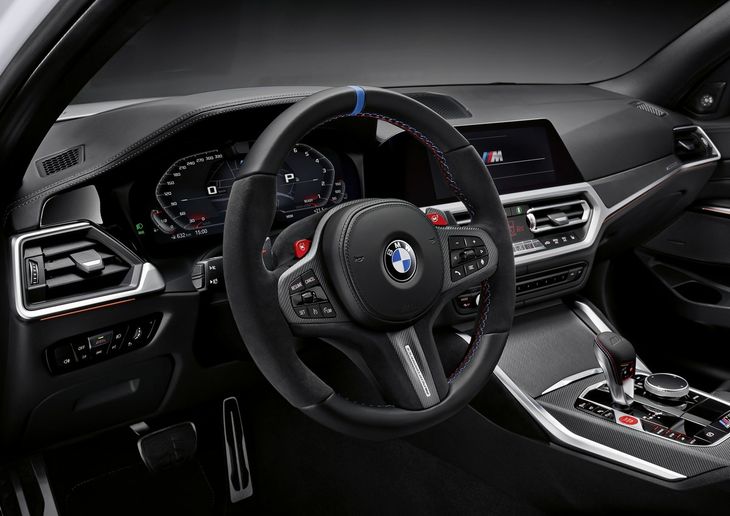 The M3 and M4's interior can upgraded with various carbon and Alacantara details and a handful of steering-wheel options.
As for the steering wheel, there are a number of options: The M Performance Pro steering wheel features an Alcantara gripping area with large thumb rests, a blue centre marker (in the 12 o'clock position) and a handstitched M seam finished in M colours. In addition to the standard leather-covered steering-wheel trim, the optional M Performance steering wheel can be ordered with a combination of carbon and Alcantara or carbon and leather (with M Performance lettering in each case). BMW SA will only offer the Competition versions of the M3 and M4, which are automatics; for them, the bespoke steering wheel can be further upgraded with shift paddles covered with an open-pored carbon-fibre trim.
Other options? Oh, items such as an M Performance indoor car cover, -tyre bags and a -key wallet finished in Alcantara with a carbon insert...
ICYMI: BMW M3 & M4 revealed, but no manuals for SA!
Related Content:
BMW M3 (2020) International Prototype Drive

BMW M3 Touring Confirmed
BMW M3 Touring: Will it succeed?