It sounds far-fetched, but if this rumour is to be believed, BMW will be making an M3 Touring.
*Update: BMW M put out a teaser image of the new M3 Touring on its Instagram social media channel on the 12th August 2020. It's confirmed and the German performance arm hinted that it will hit showrooms in 2022*
Station wagons or as BMW calls them Touring, aren't the most popular of bodystyles any more. Despite the market leaning towards the SUV bodystyle, some brands continue to market the estate. Audi is one brand that does this and the RS4 and RS6 are only available in station wagon. Mercedes-AMG will sell you a C63 S station wagon, but the numbers are small in comparison to its coupe and sedan siblings. BMW? Well, there hasn't been much M-flavour for the station wagon fans. We can recall there was an M5 Touring, but other than that, not much.
BMWBlog reckons that despite there being zero official confirmation, a source has said the BMW M3 Touring has been given the go-ahead and will be hitting showroom floors after 2023. As it stands, right now the closest thing you can get to a BMW M3 Touring is the M340i xDrive Touring which you can see above. BMWBlog goes on to saying this new-generation of BMW M3 is 'the most wagon-ready M3 of all time, thanks to its optional all-wheel drive and more high-tech nature.'
As for the standard BMW M3 and M4, the official reveal is scheduled for September 2020. At the heart of each new model is the M division's new S58 engine. The twin-turbocharged 3.0-litre inline six-cylinder successor to the longrunning S55 unit delivers 353 kW and 600 Nm in the standard M3 and M4 – 21 kW and 50 Nm more than the outputs of the outgoing models.
The rear-wheel-drive derivatives will come with the choice of either a standard 6-speed manual or optional 8-speed (torque-converter, not dual-clutch) automatic transmission in combination with BMW M's electronically controlled M Sport locking rear differential. In the new M3 Competition and M4 Competition, the output is increased by a further 22 kW to a headlining 375 kW through what BMW M describes as "some specific software changes", although torque remains at 600 Nm.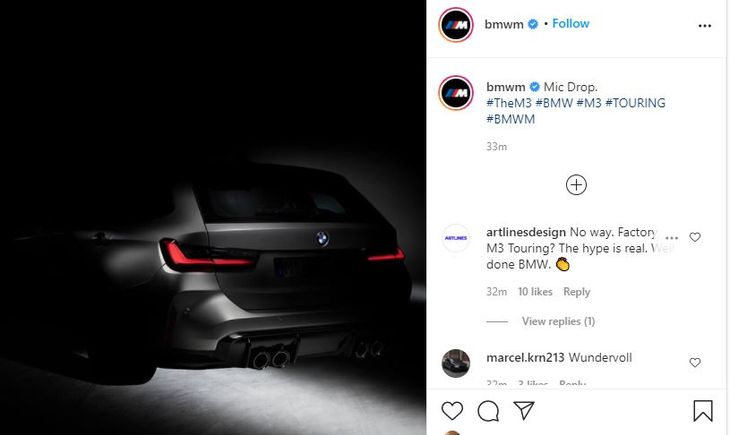 Further Reading
BMW M3 (2020) International Prototype Drive
Disguised 2021 BMW M3 at the Nurburgring [Video]
New BMW M4 rendered: Wild or Mild?