BMW's announcement that it would be building an M3 Touring raised both hopes and fears. Hopes of a renewed love for station wagons and fears that the entire project would be a flop.
Picture credit: S. Baldauf/SB-Medien. We have paid for these photos and at the photographer's request, have watermarked them.​
What you see here are the first spy shots of the all-new BMW M3 Touring hitting European roads for the first time. The all-new BMW 4-door M3 and 2-door M4 are due for an official reveal in September 2020 and we're expecting some fireworks. Using a version of the BMW X3 M Competition's 3.0-litre turbocharged 6-cylinder petrol engine, outputs should be around the 375 kW and 600 Nm for the top-spec Competition. For the first time, all-wheel drive is going to make its debut, but for purists, there will be a manually-equipped rear-wheel-drive model. Cue the clutch-dumping sideways theatrics.
While we're chomping at the bit to see what the all-new BMW M3 and M4 can offer, especially in light that the next-generation Mercedes-AMG C63 will apparently lose its V8 in favour of a 2.0-litre electrified 4-cylinder, it was the news that BMW would be making a Touring version of the M3 that really got us frothing. This is not BMW's first attempt at an M station wagon either.
BMW M built a production version of the V10 M5 in Touring spec, plus there was the striking E46 M3 Touring concept from 2000 that really had pundits excited. It was never given the green light for production, but the spark was lit and it proved something important: a Touring model could be built alongside the standard E46 M3 coupe without extensively altering the tooling and production line.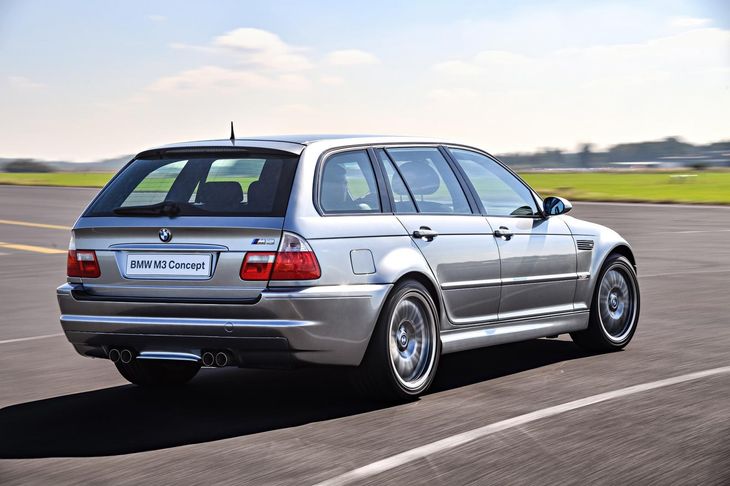 While it never made production, the creation of the BMW M3 Touring Concept looked special.
While station wagons are not a firm favourite among mainstream petrolheads (in SA especially), Audi's RS division will tell you that enough RS4 and RS6 Avants are sold to justify their existence. Interestingly, both the RS4 and RS6 are sold in only Avant station wagon body styles, and this has been the case for the past few generations.
Mercedes-AMG will happily sell you a C63 S Estate as well as an E63 S Estate. Granted, Affalterbach's wagon offering is not sold in SA, with AMG opting for the sedan and coupe body style of its V8-powered rocketship instead. Merc will bring in a standard C-Class Estate however, if you ask nicely. There's also the cult status of performance wagons like the Volvo 850R.
We know already the BMW M3/M4 family will be offered in 2 states of tune: M and Competition, but will the BMW M3 Touring succeed? Given its production timeline with a reveal and release scheduled around 2023, we're left wondering if the decision to release the BMW M3 Touring so long after its coupe and sedan siblings is a good idea or not.
There's a huge appetite for BMW M's offerings in South Africa and we predict that BMW SA will bring in the Competition models of the M3 and M4, but we suspect the only way you'll get an M3 Touring in is by a special request made to BMW. Something BMW will likely oblige for a slight premium on the price.
We'll update you as the BMW M3 Touring development progresses.
Further Reading
BMW M3 (2020) International Prototype Drive
Modern Classic: BMW E46 M3 Buyer's Guide