Although the exterior designs of BMW's long-awaited new M3 (G80) and M4 (G82) – which are expected to arrive in local showrooms during the first half of 2021 – offer few surprises (thanks to a spate of teaser images and a recent pre-launch leak), the specifications of the various derivatives are different to what many expected...
Here's the most obvious difference: If the previous-generation M3 and M4 looked very similar from the front, it was because the headlamp-, grille and bumper designs of the cars on which they were based – the F30-generation 3 Series sedan and F32-generation 4 Series coupe – were very derivative. However, with the recent launch of the 4 Series, with its controversial large, upright kidney grille that set it apart from the frontal appearance of the G20-generation 3 Series, it raised the hope that the new M3 and M4 might be quite distinct from one another.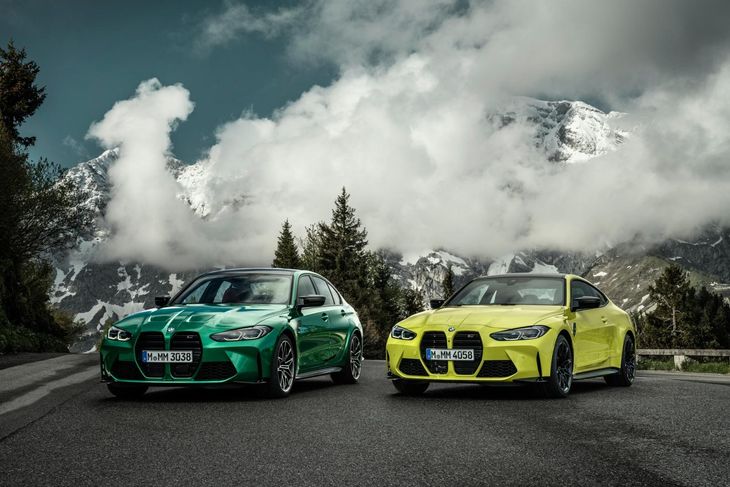 The new generation M3 and M4 look resplendent in Isle of Man Green and Sao Paulo Yellow respectively.
However, BMW has opted to install (an M-specific version of) the 4 Series' grille on both models, along with sculpted bumpers and wheel arches, M fender gills, side sill extensions (with attachments to the cars' aprons), carbon-fibre roofs, tail spoilers and, of course, a quartet of M tailpipes.
The pair are shod with forged M light-alloy wheels (18- and 19-inch fore and aft, 1 inch bigger for Competition versions with M xDrive and optional high-performance tyres), plus the exhaust system is model-specific with electrically operated flaps to facilitate that stirring straight-six howl.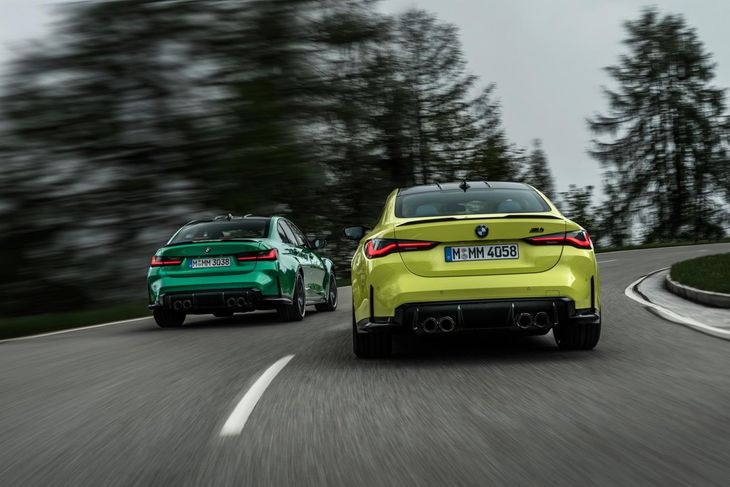 Although M xDrive will debut on the Competition versions of the pair, all-wheel-drive versions will only be available later.
Another surprise is that although the pair's 3.0-litre twin-turbo inline-6 engines will be offered in 2 states of tune, 353 kW and 375 kW (both produced at 6 250 rpm) in the standard and Competition versions, they will not have the same maximum torque output (as is the case with the X3 M and X3 M Competition derivatives, for example). Instead, the standard version produces 550 Nm from 2 650 to 6 130 rpm, while the Competition develops 100 Nm more (650 Nm, albeit over a narrower band of 2 750 to 5 500 rpm).
The standard M3 and M4 is claimed to accelerate from 0 to 100 kph in 4.2 sec and the Competition versions are said to shave that time to 3.9 sec!
Read our BMW M3 (2020) International Prototype Drive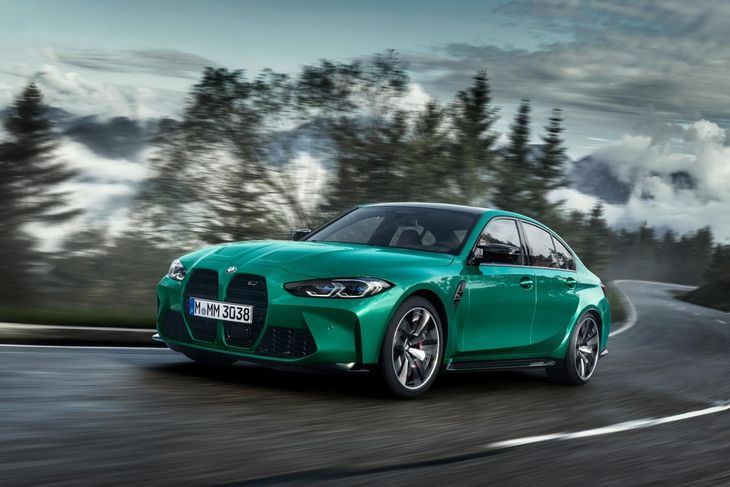 The installation of the 4 Series' upright grille on the M3 is rather controversial – it's the only 3 Series derivative to sport it.
Traditionalists will rejoice that, as widely expected, the standard M3 and M4 will be offered with a 6-speed manual 'box (with Gear Shift Assistant technology), whereas the Competition versions are equipped with an 8‑speed M Steptronic transmission with Drivelogic and 3 shift programs.
What wasn't expected, however, is that BMW has launched all versions in rear-wheel-drive configuration; the M3/ M4 Competition with M xDrive, which combines a rear-biased M xDrive with the Active M Differential and 3 selectable drive modes: 4WD, 4WD Sport and 2WD (the latter for pure rear‑wheel drive and deactivated stability control, also knows as "Drift Mode") will arrive later in 2021.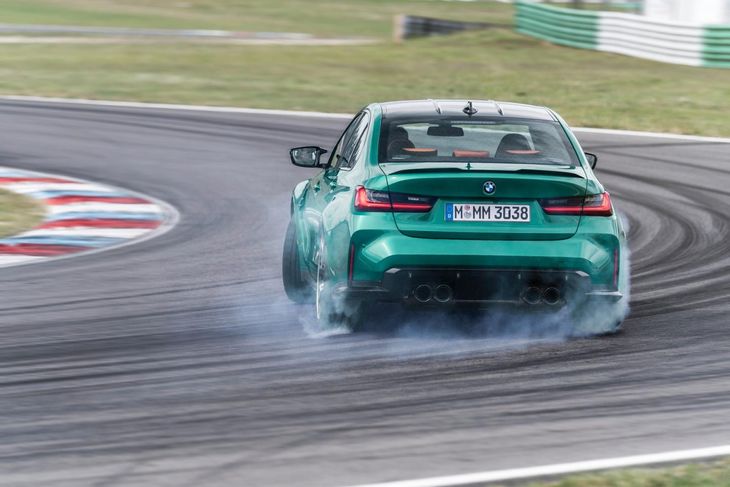 Drivers will also have the option of choosing between 10 M Traction Control settings (depending on how brave they feel).
Both models feature an extremely stiff body structure and chassis mounting thanks to model-specific bracing elements for the engine compartment, a front axle subframe with an aluminium shear panel, underfloor bracing elements and a rear-axle subframe with a rigid connection to the body.
Compared with the previous generation M3 and M4 models, the Adaptive M suspension (with electronically controlled shock absorbers) is now fitted as standard, as is the M Servotronic variable-ratio steering setup. BMW's M division has further made modifications to the cars' front- and rear-axle assemblies and implemented an integrated braking system with 2 settings for pedal feel and response.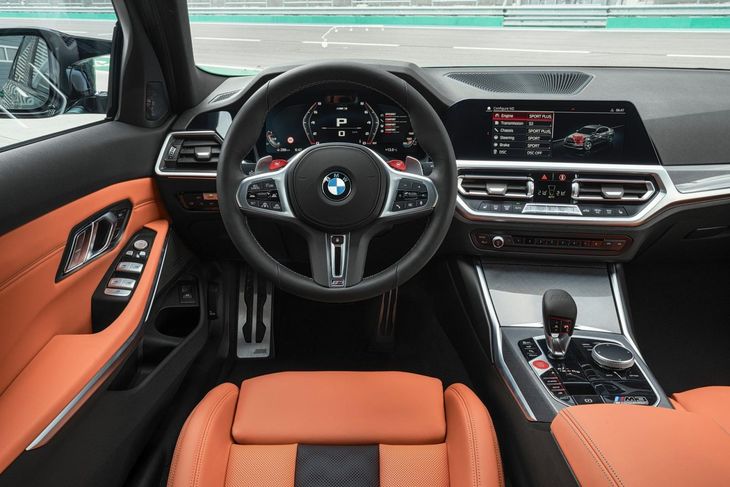 The M3 and M4 feature M-specific displays in the instrument binnacle, infotainment system menus and, if specified, HUD.
Beefed-up M Compound brakes provide stopping power (they can optionally be upgraded), while the cars' dynamic stability control setups include an M Dynamic mode as before, but with the option of a 10-stage-adjustable M Traction Control function.
Inside, the pair features newly developed M sport seats and fine-grain Merino leather trim with extended features, as well as a thick-rimmed steering wheel (with a pair of red M buttons, through which 2 pre-set driving setups can be activated) and M-specific displays and controls.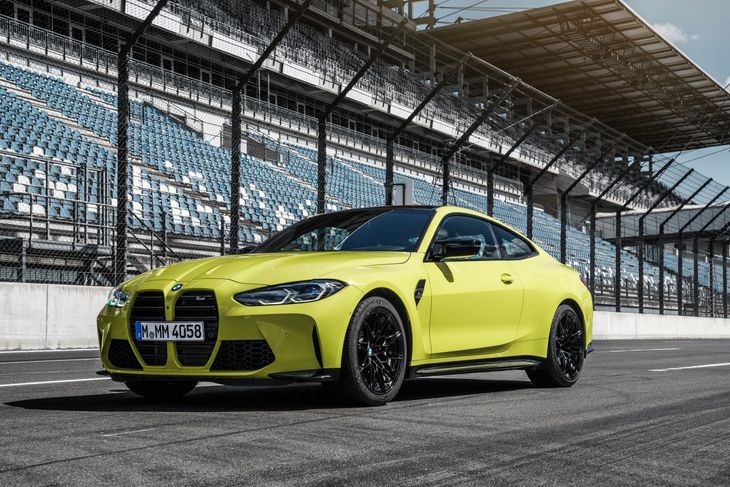 The M4 Competition, with an 8-speed M Steptronic transmission, will be the top-of-the-range model in South Africa.
The centre console, meanwhile, features a red start-, as well as a Setup and M Mode buttons. "Setup" provides direct access to the engine, chassis, steering and braking system settings – and, depending on the specific derivative, also M xDrive, Gear Shift Assistant and traction control. "M Mode", in turn, enables the pilot to alter the intervention thresholds of the driver assistance systems and the displays in the instrument cluster.
Meanwhile, the M3 and M4 features BMW Live Cockpit Professional with fully digital display grouping, BMW Maps navigation system and BMW Intelligent Personal Assistant, as well as park distance control, front-collision warning, lane departure warning as well as speed-limit info.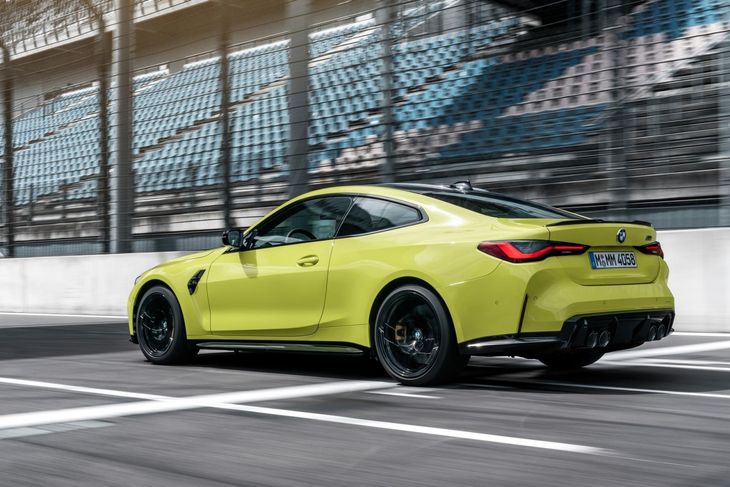 Track enthusiasts will be able to order their M3 or M4 with an weight-saving M Race Track Package.
And, these newcomers wouldn't be BMWs if they did not come with long options lists, would they? Boxes that can be ticked (at extra cost) include M Carbon bucket seats, M Carbon ceramic brakes, Driving Assistant Professional with Steering and Lane Control Assistant, Active Navigation, Emergency Lane Assistant, Parking Assistant with Reversing Assistant, BMW Drive Recorder and BMW Head-Up Display with M-specific displays.
The Head-Up Display incorporates Road and Sport settings, but with the – also optional – M Drive Professional package (including M Drift Analyser, M Laptimer and M Traction Control) it additionally features a Track mode.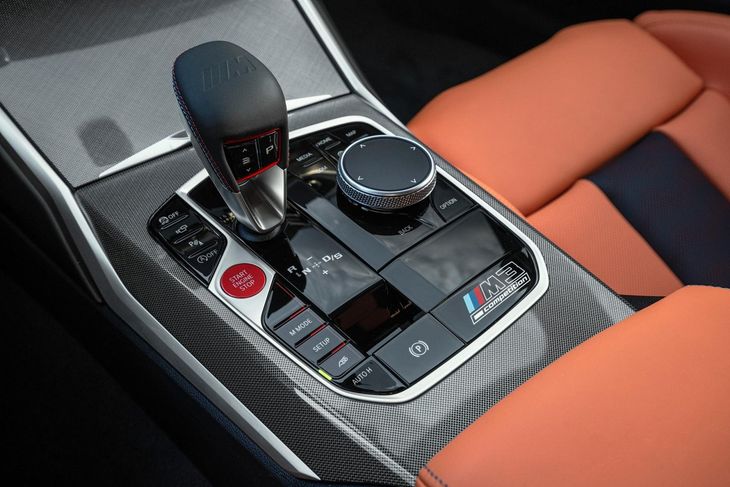 Drivers can toggle the M3 and M4's dynamic- and driver assistance settings at the push of a button on the centre console.
And finally, the optional M Race Track Package for the M3 and M4 is said to reduce vehicle weight by around 25 kg thanks to features including M Carbon ceramic brakes, special M light-alloy wheels and M Carbon bucket seats.
South African line-up for M3 & M4
BMW South Africa has announced that it will launch the Competition versions (that is to say with the higher output 375 kW/650 Nm motor) of the new M3 and M4 towards the middle of 2021. The cost of getting the faster versions (initially in RWD guise) is that buyers won't be able to choose between manual and automatic transmissions, because Competition derivatives are only available with the 8-speed M Steptronic auto 'box.
See also: M Performance parts for BMW M3 & M4
Related Content
BMW M3 (2020) International Prototype Drive
BMW M3 Touring: Will it succeed?