Lexus has revealed a new electric vehicle concept called the LF-Z Electrified1 which previews technology that will become reality by 2025.
The Lexus LF-Z Electrified1 is a Battery Electric Vehicle (BEV) concept that provides an indication of where the brand is headed in terms of electrification.
The concept features what Lexus calls Direct4 which is a new 4-wheel driving force control technology that utilises the instantaneous response of electric power to individually control each wheel in an effort to deliver enhanced and flexible performance. The concept is able to deliver front-, rear- and all-wheel-drive capability to suit the prevailing driving conditions.
Lexus says that the LF-Z Electrified1 concept boasts at least 400 kW of power and 700 Nm of torque. Equipped with a 90 kWh lithium-ion battery, which is assembled longitudinally in the vehicl floor, an estimated range of 600 km is achievable. More so, Lexus also says that zero to 100 kph is possible in just 3.0 seconds!

As is typical of Lexus design, the exterior features sharp and angular lines while the interior is said to feature a 'Tazuna' cockpit with a spacious, minimalist design. 'Tazuna' in Japanese means 'rein' which draws inspiration from the relationship between a horse and its rider and as such, the LF-Z features a yoke-like steering wheel and a sophisticated head-up display that enables the driver to perform all major functions directly. Artificial Intelligence (AI) will learn preferences and behaviours and will use this information to provide support to the driver via voice communication and can suggest routes or restaurants.
More Models Coming from Lexus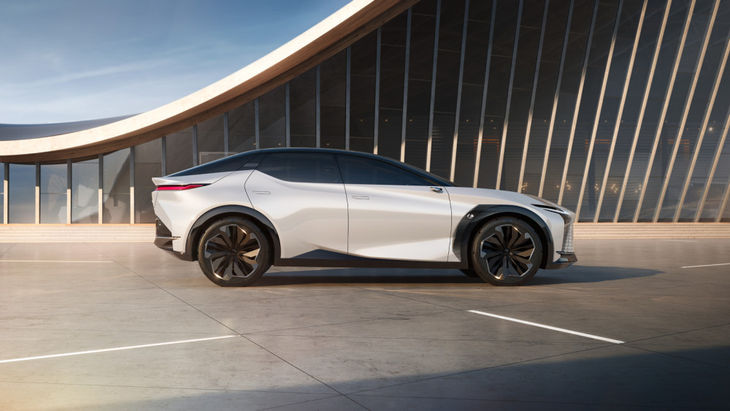 The reveal of the LF-Z forms part of Lexus' wider electric strategy which will be rolled out in years to come.
Lexus has announced that it will bring at least 20 new vehicles to market by 2025 with more than 10 of those destined to be electric as part of the 'Lexus Electrified' strategy. Lexus says that 2 new models will be revealed this year.
By 2025, Lexus aims to have an electric variant for each model range and it's said that electric sales will outperform both petrol- and diesel-only sales. The EV mix will include Battery Electric Vehicles (BEVs), Plug-In Hybrid Electric Vehicles (PHEVs) and Hybrid-Electric Vehicles (HEVs) which will be supplied to relevant markets.

Furthermore, Lexus aims to be entirely carbon-neutral by 2050 by reducing its impact in production, material production, parts and vehicles, vehicle logistics as well as recycling and disposing of older vehicles.

A new Shimoyama Technical Centre is scheduled to open in March 2024 in Japan which will push the boundaries of innovation in terms of manufacturing and processes.
Koji Sato, President and Chief Branding Officer, Lexus International commented, ""While fulfilling our social mission of realising a carbon-neutral society, we will continue to provide the fun and joy that cars bring, and we will contribute to the happiness and smiles of our customers and everyone involved with Lexus. Starting with two new models to be released this year, we will continue to develop innovative products that will add colour to the diversifying lifestyles of our customers. We hope you will look forward to the future of Lexus with its strong will to create the future toward the realisation of a hopeful mobility society."
Related Content
Lexus IS 300h (2021) Launch Review
Lexus Dominates 2021 JD Power Again