The flagship luxury sedan from Lexus has arrived in South Africa. Lexus claims it brings premium levels of powertrain smoothness, spaciousness, handling, ride comfort, safety, craftsmanship and attention to detail. Let's meet the new Lexus LS 500.
Riding on a new rear-wheel-drive platform and featuring trademark Lexus design cues like the spindle grille, the new Lexus LS 500, now in its fifth generation, is promising a lot. Underneath that bonnet is an interesting powertrain. It's a 3.5-litre twin-turbocharged V6 packing 310 kW and 600 Nm, meaning this luxury limo is capable of 100 kph sprints in 5 seconds. Lexus claims this engine promises V8 levels of power without the thirst associated with an 8-cylinder engine. Power goes to the rear wheels via a 10-speed automatic transmission. Lexus claims its new LS 500 consumes 9.5 L/ 100 km.
The new Lexus boasts adaptive variable damping as well as air suspension, with the aim of providing ultimate comfort irrespective of road quality as well as being able to raise/lower the car for easy access. Lexus has fitted its new LS 500 with 20-inch alloys wrapped in run-flat rubber and there are 11 colour options.
The cabin is where it becomes really special. While the rear of the LS 500 is arguably the best place to be, the new version features a driver-focused cockpit filled with luxury elements such as metal and wood as well as leather in abundance. The rear cabin features a multi-function touchscreen in the rear centre armrest console which is used to precisely control the position of the rear seats, together with audio, climate, sunshade and interior lighting functions. There are three preset seat modes: Business, which is the default; Entertain, which reclines the seat for comfortable viewing of the entertainment monitor, and Relax, which extends the leg ottoman, deeply reclines the seatback and moves the front passenger seat to its further forward position to provide maximum legroom. The rear seats feature 22-way adjustment too! The front seats are just as comfortable with 28-way adjustment and massage functionality.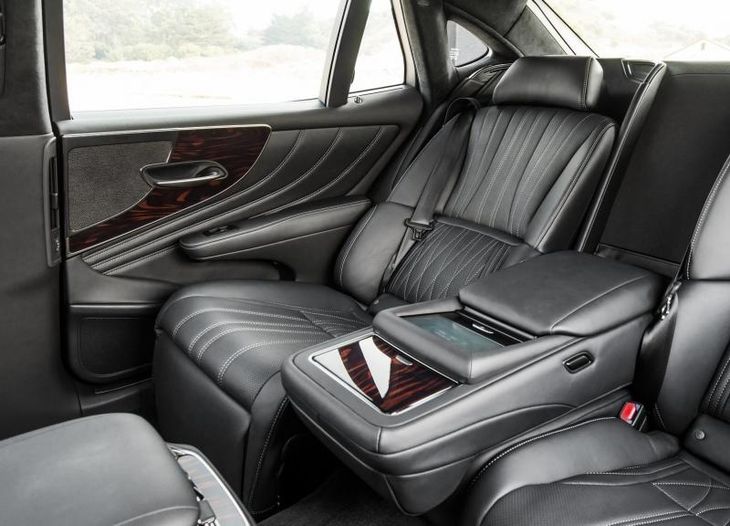 The rear cabin of the new Lexus LS 500 will be a very comfortable place to be
In terms of standard features, the new Lexus LS 500 comes packed to the hilt. Its safe too, featuring autonomous systems which will intervene to avoid crashes. There's a 12.3-inch multi-media screen, head-up display, rear-seat DVD entertainment as well as the famous Mark Levinson 23-speaker QLI Reference Surround Sound audio system.
Lexus LS 500 Price in South Africa (May 2018)
The new Lexus LS 500 goes up against the BMW 7 Series, Mercedes-Benz S-Class, Audi A8 and Jaguar XJ. Lexus is offering a 7-year/105 000km Warranty and Full Maintenance Plan. The vehicle service intervals are at every 15 000km, alternatively once a year.
Lexus LS 500 R2 141 400
Related content:
Interested in buying a Lexus LS?