The Discovery Sport seems to have become more appealing since it morphed into a 7-seater back in 2015. Having recently received its mid-life update, does the British offering still feel fresh and modern in a sea of upmarket SUVs? We spent a week in search of snow to find out.
We like: Smooth and quiet ride, comfort and luxury, go-anywhere ability.
We don't like: Thirstier than rivals, infotainment system crashy.
Fast Facts:
Price: R944 100 (R1 074 066 as tested)
Engine: 2.0-litre 4-cylinder turbodiesel
Power/Torque: 132 kW/430 Nm
Transmission: 9-speed Tiptronic
Fuel consumption: 7.0–7.6 L/100km (WLTP claimed)
Luggage capacity (5 seater): 963–1 794 litres (5 seat model)
Luggage capacity: 840–1 651 litres (5+2 seat model)
​Performance: 0-100 kph in 9.7 sec
What's new?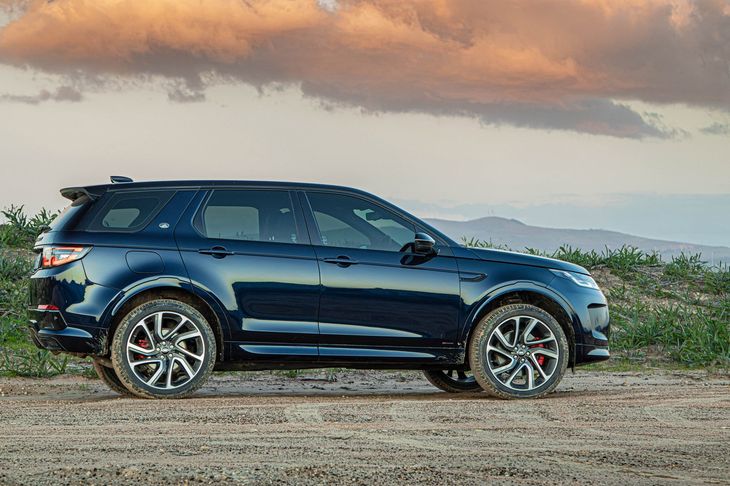 The facelifted Discovery Sport rides on a new platform borrowed from the new Evoque.
Post-facelift, the Discovery Sport rides on a different platform to its predecessor. In order to meet European emission targets, plug-in hybrid and 48V mild-hybrid derivatives had to be added into the Discovery Sport range. To make that possible, Land Rover now builds its executive SUV on the new Range Rover Evoque's platform. None of the plug-in hybrid or 48V mild-hybrid options are available in SA (yet), so it makes no difference to our market. However, what does make a difference is that the new platform is claimed to be 13% stiffer and offer improved noise, vibration and harshness (NVH) suppression. The fuel tank size has been increased to 67 litres and the load capacity is 20% larger.
Visual tweaks are the norm with facelifts; to that end, the Discovery Sport now incorporates new options such as 21-inch wheels, while the interior has been updated with a newer touchscreen infotainment system and wireless charging capability, among other things.
How does it fare in terms of…
Performance & efficiency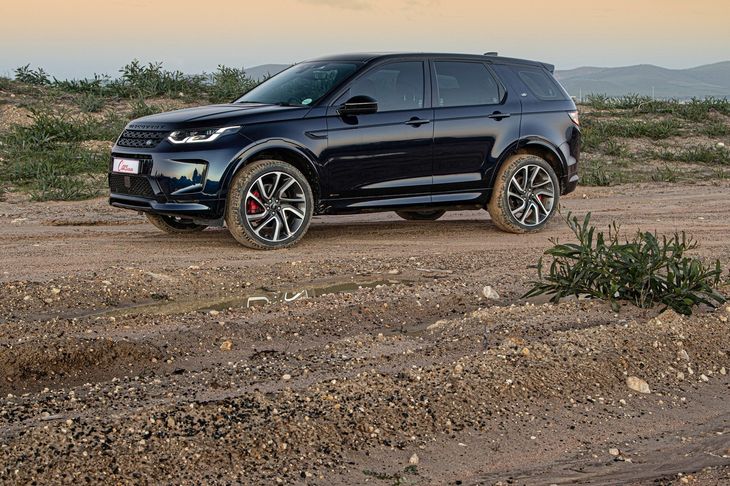 The turbodiesel engine under the bonnet is sufficiently powerful... if a little on the thirsty side.
The subject of this review is the D180 HSE, which is powered by a 132 kW/430 Nm 2.0-litre 4-cylinder turbodiesel engine, which also does duty in the Evoque. In terms of peak outputs, the Discovery Sport lags a little behind its rivals, but it compensates by producing its maximum torque over a wider band of the rev-range (from 1 500 to 3 000 rpm).
As far its general on-road performance is concerned, the turbodiesel mill never feels slow or underpowered, but you often notice a slight pause after pressing the throttle while rolling before the engine begins to react. It's something to be cognisant of when attempting swift overtaking manoeuvres or entering traffic circles. It's not going to ruin the driving experience, but when you compare it with the best engines in the segment, the Land Rover lacks some of the urgency that its German rivals' powertrains offer.
In theory, the enlarged fuel tank should give the Discovery Sport a bit more range, which, at the claimed consumption figure of 7.0 L/100 km, should translate to 950 km per tank. Unfortunately, during our 1 000-km evaluation of the D180 HSE we achieved a figure of 9.4 L/100 km. While that doesn't sound bad for a near 2-tonne family SUV, the Land Rover seems thirstier than almost all of its rivals. If fuel consumption is not a major consideration, perhaps the petrol-powered P250 derivative might be the better choice.
Handling and capability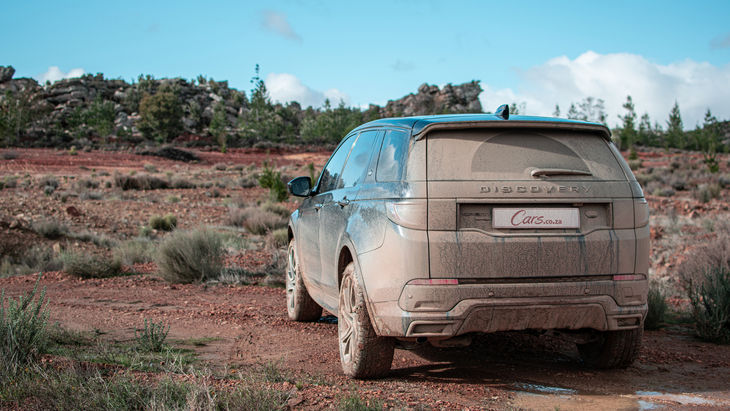 Land Rovers always feel more at home off the beaten path than rivals.
While the Discovery Sport's engine isn't class-leading, it makes up for it with a good balance of ride quality and off-roading ability. The aforementioned NVH-suppression measures certainly make their presence felt at speed, where road and wind noise are muted. It makes for a peaceful and premium experience when piling on the miles.
While many manufacturers have tuned their Executive SUVs to offer improved handling ability (ostensibly in search of sportscar levels of agility!), Land Rover has refined the Discovery Sport's comfort levels and smoothed out the suspension movements to create a ride that cushions out bumps, jolts and road imperfections better than Its rivals. Its not an athlete, but certainly feels reassuring to drive over a mountain pass. There's more body roll than you'd get out of a BMW X3, but it's smoother in the way suspension responds to steering inputs. In tandem with the optional adaptive damping (R12 300) it provides the best balance of road comfort and handling composure in the segment.
Our test unit was equipped with the new optional 21-inch wheels (R13 400). While they look incredible and imbue the Discovery Sport with oodles of road presence, they are a little compromising in off-road situations. While the general ride of the updated Land Rover is excellent ,it felt like it was in spite of the "21s" rather than because of them. They feel a little too firm on gravel roads, where a 19-inch or even 18-inch wheel shod with more generously-sidewalled tyres would really soak up hard jolts better.
Off-road credentials are the very essence of every Land Rover and while the Discovery Sport may look like a soft-roader, it's still very capable off-road. In normal conditions, the vehicle will default to front-wheel-drive, but as soon as the D180 HSE's electronic management system detects wheel-slip, the rear axle will kick in to help keep the vehicle moving. Terrain Response 2 is standard, but the buttons have moved from physical dials on the centre dash to being accessed via a single button, after which the driver can toggle between the modes by using the temperature dial. During a stint on the Matroosberg 4x4 loop (in search of snow), the Discovery Sport's limits were hardly tested.
Practicality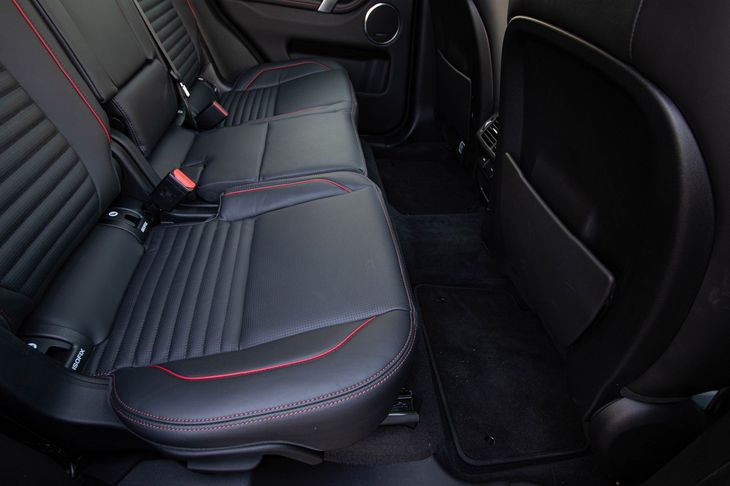 Rear seats slide on rails and can also recline.
The facelifted model is no longer a 7-seater vehicle in standard guise, it's a 5-seater with the option of 2 extra seats, which cost an additional R14 300. The new (Evoque-sourced) underpinnings allow for more passenger and load space, which wasn't something the pre-facelift model lacked, but then, space is never something one can have enough of in a family SUV.
Load space in the rear varies depending on where your rear seats are positioned (the rear bench can slide and recline), but in its smallest capacity the load bay will hold 963 litres worth of luggage (5-seat model) and with the rear seats folded down, a more-than-useful 1 794 litres of utility space is freed up. Suffice to say the Discovery Sport offers one of the biggest cargo and passenger spaces in the segment with rear passengers having more than ample room to stretch their legs and get comfortable.
Land Rover offers a plethora of options and accessories to cater for outdoor enthusiasts, from a waterproof activity key that you can wear on your wrist (while the proper key fob stays dry inside the car), to cargo nets for the rear and stowage rails to keep things from rolling about. Bike racks, which can be mounted on the roof (or the rear) are also available. An electric towbar is certainly one of the neatest bits of kit; it extends from the bumper only when needed and keeps the rear appendage-free when not in use.
Connectivity & entertainment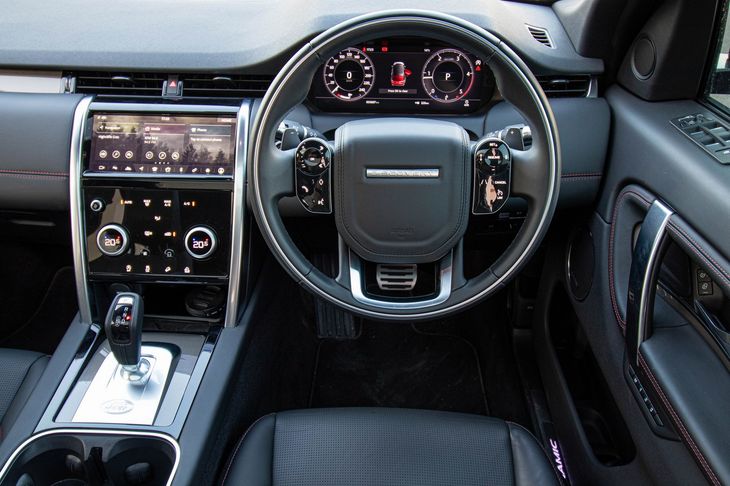 The Discovery Sport feels like an expensive product – it's interior is trimmed with premium materials.
Land Rover has been steadily improving its in-car tech for some time now. The British marque makes good use of camera technologies such as the "see-through bonnet" on the new Defender (Land Rover Models Gain ClearSight Tech) and the reverse-view camera display on the internal rear-view mirror, which we first encountered on the Evoque. This option was installed on our Discovery Sport test unit; it takes a bit of getting used to, but really improves rearward vision and is surprisingly clear at night too.
As for the infotainment system, Android Auto is finally available on Land Rover products (until recently, only Apple Carplay was supported), but we found it to be particularly buggy – it either randomly shut down or failed to start up when required. The infotainment screen's display quality is crisp and clear, but feels a little slow to react when navigating through the menus compared with the fast-paced systems fitted in some of its rival. This drawback has apparently been addressed in the latest Jaguar i-Pace update, in which the infotainment system is said to be much (around 85%) faster. This technology should trickle down into other JLR products in due course.
Land Rover certainly knows how to make a cabin feel luxurious and desirable. Whereas other manufacturers can leave you wondering where your money has been spent, Land Rovers always feel luxurious, with their plush leather choices and strategically placed soft-touch surfaces. What's more, the seats are always supportive and beautifully crafted – fore and aft. It's rare that you come across a finish or surface inside a Land Rover product that you would consider marginal.
Pricing and after-sales service
Jaguar Land Rover will certainly struggle to keep pricing competitive going forward. The Pound is particularly expensive after the Rand's crash during early 2020 and all JLR's products are imported from the UK. The base price for this HSE (top spec) D180 Discovery Sport is R944 100 as of July 2020. For a full overview of the build click here.
All derivatives come standard with Care Plan, which includes a warranty and service plan valid for 5 years or 100 000 km, whichever comes first.
Verdict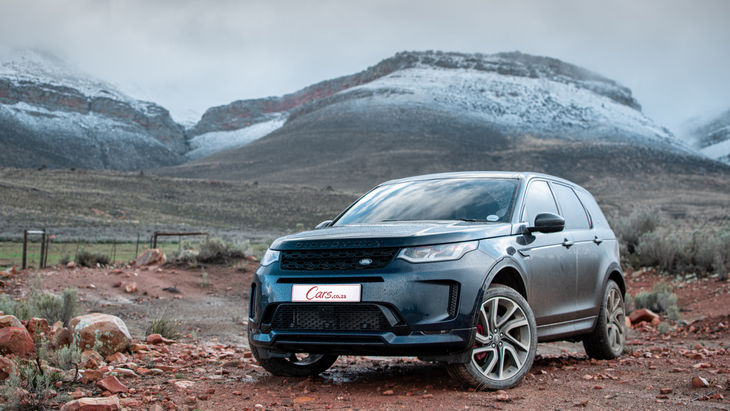 An adventure to the snow seemed like an apt way to spend our time with the Disco Sport.
While many SUVs in the premium sector flaunt their performance (and supposedly sportscar-like handling), Land Rover has continued to target customers that actively pursue outdoor lifestyles. The car is suited to comfortable cruising, dirt-road travelling and, with its excellent 4x4 capabilities, access to those outdoor activities in hard-to-reach locales.
The Discovery Sport's engine (at least the one in the D180 HSE) might lack some of the responsiveness and efficiency of the top-tier German equivalents, but it's still fit for purpose and won't leave you wanting much more. It's quiet inside too with excellent sound insulation.
As before, only more so, the interior is spacious and practical, but bathed in luxurious materials that make it feel premium. The infotainment system has a few niggly bugs that need to be solved, but fixes are apparently on the way too, as over-the-air updates are being pushed out regularly.
Compared with its rivals, the Discovery Sport is a more convincing offering, when its finely-judged balance of ride comfort and off-road capabilities are taken into consideration. What's more, it's the only model in the Executive SUV segment that offers the option of a 7-seat configuration, which is certainly a feather in its cap.
Related content:
Land Rover Discovery Sport Significantly Updated for 2019
Land Rover Defender (2020) International Launch Review