Ineos Automotive has finally taken the covers off its Grenadier - a rugged and capable 4x4 that's designed for the world's toughest and harshest environments.
We've been tracking the story of the Ineos Grenadier for some time and being fans of startups, are fascinated by its gestation. The quick summary thus far is one of the UK's wealthiest men Jim Ratcliffe (founder of Ineos, the chemical giants) announced bold plans to make a vehicle as rugged and capable as the previous-generation Land Rover Defender.
Given how the market has moved away from the hardcore offroad and semi-military applications and there are just a handful of models playing in this space (think of your non-AMG Mercedes-Benz G-Class and Toyota Land Cruisers), Ratcliffe and Ineos reckon they're onto something. Impressively, BMW is the engine supplier and the Grenadier will be powered by Munich's petrol and diesel 3.0 straight-6 engines. Production will be in the United Kingdom.
Commercial director Mark Tennant explained the Ineos Grenadier will be an "uncompromising 4x4 with a ladder chassis, beam axles and locking differentials." It would initially be in station wagon guise, but other bodies would follow, starting with a twin-cab bakkie. "Aftermarket specialists would be encouraged to come up with their own configurations and accessories. There will be long and short wheelbases." Expect some solid offroad credibility with a low-range transfer case, differentials and impressive approach and departure angles.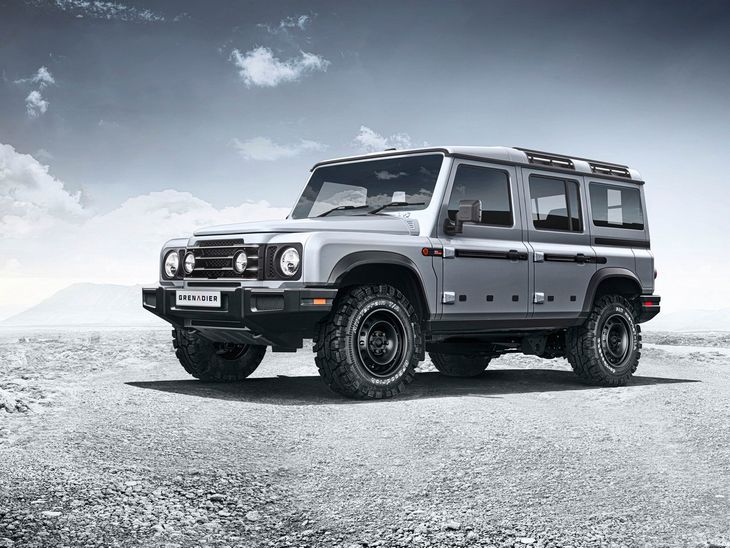 It looks like a blend of classic Land Rover Defender and classic Mercedes-Benz G-Class, both vehicles renowned for their offroad prowess.
Now we're finally getting to take a look at the Ineos Grenadier, which the brand claims will be a "capable, durable and reliable 4x4 designed and built to handle the world's harshest environments." There's a focus here on creating a vehicle that's to do a job, as opposed to being a lifestyle accessory - a workhorse if you will. There's no denying the hints of Defender in there and we expect the design to be overshadowed by the array of abilities.
"The brief was simple. We set out to design a modern, functional, and highly capable 4x4 vehicle with utility at its core", said Toby Ecuyer, Head of Design. "A design that is 'easy-to-read', with no ambiguity about the Grenadier's role in life. There to do everything you need, and nothing you don't. Nothing is for show. Modern engineering and production techniques ensure the Grenadier is highly capable, but we have been able to stay true to the essence of creating a utilitarian vehicle that will stand the test of time".
With the design formally revealed and we can look at the shape and style of the Ineos Grenadier in great detail, attention now turns to the prototypes, which will be sent to the far-flung regions of the world to complete a claimed 1.8 million kilometres for testing. The Ineos Grenadiers will be put through their paces in all conditions to see if they live up to expectations.
It's an interesting project as it's quite unlike any mainstream vehicle. Think of it as a blank canvas or open-source even, with the hope customers will tailor their Grenadier to suit their requirements. The details are terrific, things like the front lights are the same units on the left and the right, making service and parts availability easier. There'll be accessories galore, both from Ineos itself and for 3rd party companies to make compatible componentry. It will be practical too, with space for a Euro-spec pallet.
It's expected the Ineos Grenadier will go into production towards the end of 2021 and if you as a South African reader are wondering why this matters, there's been considerable local interest in this vehicle and Ineos is already talking to potential importers. The best part? It's not going to be too expensive, with Ineos confirming it will be aiming at the Toyota Fortuner/Ford Everest price point.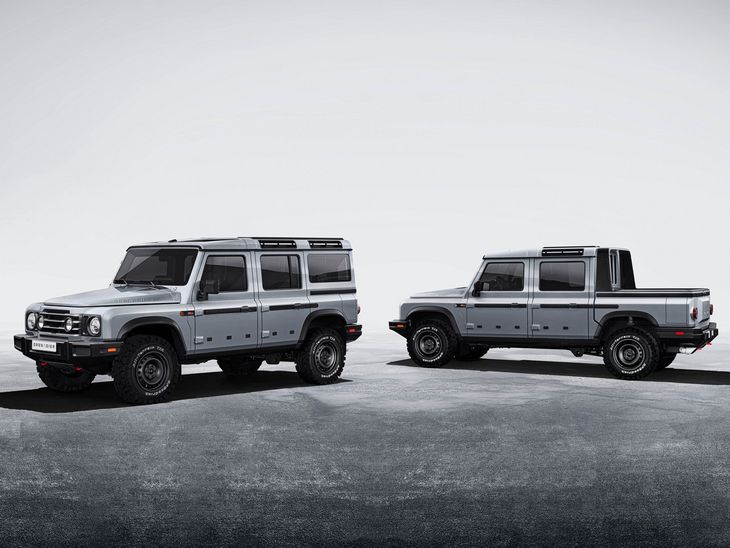 A double-cab bakkie is on the cards too.
Further Reading
Reborn Defender will be BMW Powered
Land Rover Defender Heritage Edition Video Review
Land Rover Defender (2020) International Launch Review