Following on from our March report regarding Project Genadier (a remake of the Defender), our UK contributor Wayne Gorrett met with senior executives from Ineos Automotive in London last week and filed this update exclusively for CARS.co.za
It started with an informal chat over a beer or three in a pub called 'The Grenadier', located in the ultra-posh London neighbourhood of Belgravia. It was the spring of 2016, just a few weeks after the last Land Rover Defender rolled off the production line after 67 years in production.
The concept of a utilitarian, Brit-built 4x4 was just an idea back then, but two and a half years on, the prospect of an Ineos Automotive Grenadier 4x4 just became very real. The factory is already under construction and prototypes are being tested in Austria.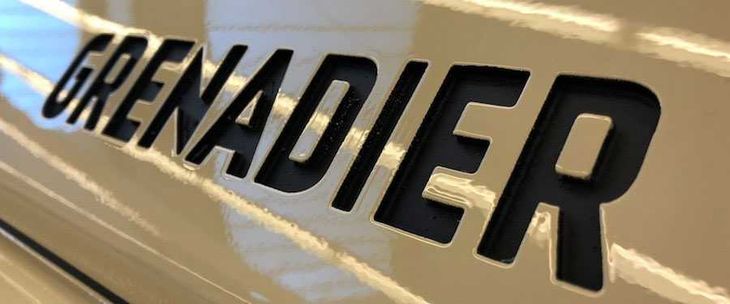 The age-old story of a pub meet up that turns into an automotive venture.
The car will be revealed around this time next year, with production and sales scheduled for early 2021. Already, there is talk of the second-generation hydrogen fuel cell version – which is handy for Ineos Chemicals UK, as it produces hydrogen on an industrial scale.
'Project Grenadier' is the brainchild of self-made UK billionaire Sir Jim Ratcliffe – owner of Ineos Chemicals and its offshoot Ineos Automotive. Sir Jim saw a chasm emerge in the market after the demise of the Land Rover Defender. His vision was to design and build a rugged, no-nonsense 4x4 as a tool for farmers, foresters, utility companies and aid agencies, not a statement of seasonal fashion.
I met with Sir Jim's senior executive team to get some answers to further questions on the project…
Where will the Ineos Grenadier be built?
The vehicle will be manufactured at an all-new, purpose-built factory currently under construction in Bridgend – the southern Welsh town recently T-boned by Ford's announcement that it's closing its engine plant there (in an ironic twist, the building in the top left-hand corner of the architect's aerial perspective is the very same building).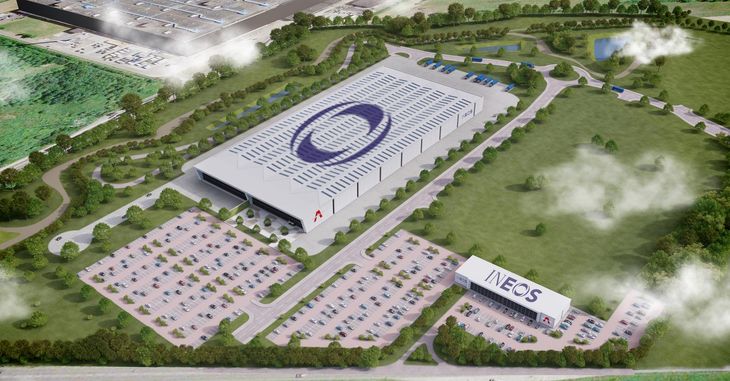 Ineos Automotive is building its factory opposite the recently shut down Ford assembly plant.
The Welsh government has helped Ineos Automotive acquire the site and will assist with staff training – expected to be up to 500, eventually – as well as making a financial contribution to the project – the amount of which was not revealed.
Commercial director Mark Tennant went on to explain: "Infrastructure development is already underway, we have broken ground in Bridgend and there are lots of diggers running around." He suggested that within four years, the facility could be producing as many as 18 000 Grenadiers a year.
Although final assembly will be done at Bridgend, the engines and transmissions will be shipped in from Germany and body panels and other parts will arrive pre-painted from a new plant being developed in parallel in Estarreja, just south-west of Porto in Portugal.
"It's very much a pan-European supply base for the project," said Tennant.
What more can you tell us about the 4x4?
Tennent explained that the Grenadier will be an "uncompromising 4x4 with a ladder chassis, beam axles and locking differentials." It would initially be in station wagon guise, but other bodies would follow, starting with a twin-cab pick-up. "Aftermarket specialists would be encouraged to come up with their own configurations and accessories. There will be long and short wheelbases."
Tennant added: "We are essentially dropping the 'S' from 'SUV'. The Grenadier will be a utility vehicle, a working tool. It may be a more lifestyle fit in the SA, where it might be used at the weekend as well as in the working week, towing a horsebox or a jet ski.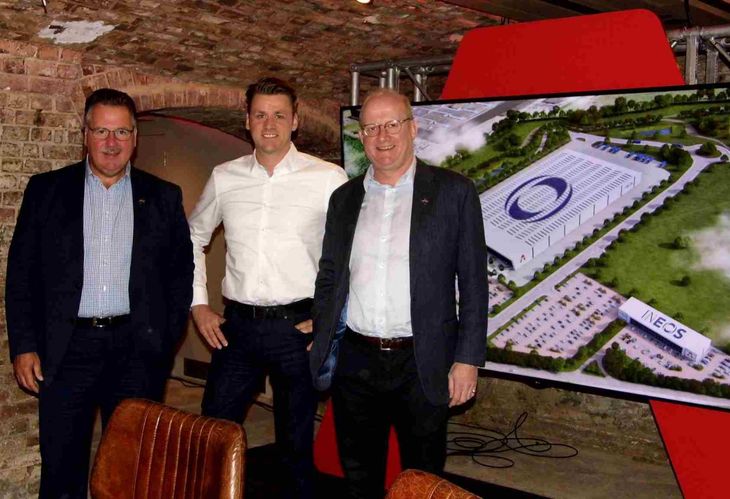 The management team behind the reborn Defender project.
Expect dimensions of the Grenadier to be roughly the same as the old Defender, with short overhangs and sharp approach and departure angles. It will be narrower than the current BMW X5, and low enough to fit into a typical garage.
It was confirmed that due to a worthwhile number of enquiries received from South Africa and the region, Ineos Automotive is currently in talks with two potential importers.
What final decisions have been made about engines and transmissions?
All models will house diesel or petrol versions of BMW's latest-spec 3.0-litre straight-six engine, driving through an automatic gearbox – likely to be an eight-speed ZF or Aisin unit, but CEO Dirk Heilmann would not be drawn on which, nor whether a manual option will be offered – although that does now seem unlikely.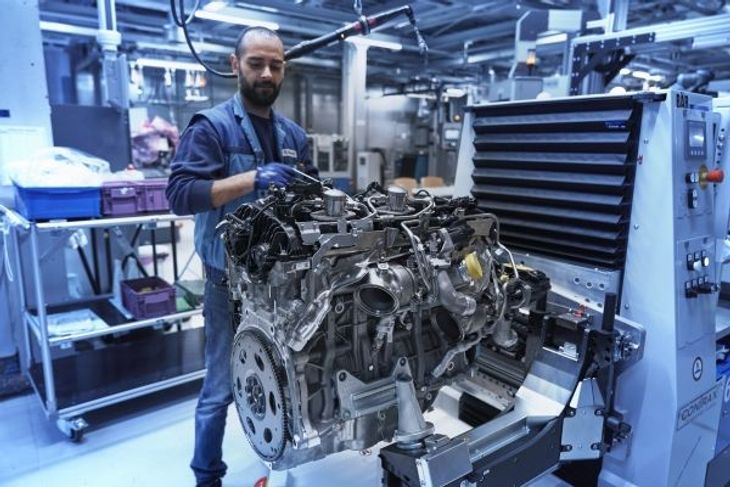 Brand new 6-cylinder BMW engines will power the Grenadier.
The suspension will be a non-independent arrangement with coil-sprung live axles front and rear, a new system specially designed by Ineos Automotive engineers with extreme durability in mind.
The adoption of such a simple suspension configuration with a tough ladder chassis and a separate body will allow a number of body styles to be offered should the market need arise. Heilmann said he is taking what he calls an 'open-source approach' and actively encourage aftermarket suppliers to propose their own special equipment for the Grenadier.
What about greener powertrains?
Ineos Automotive thinks hybrids and plug-in hybrid electric are not in the future of its vehicles.
"It's not just the weight of the battery pack, but there aren't many chargers in the Australian outback or on the Serengeti. We're already beginning to look at hydrogen fuel cells, with Innovate UK help," said Tennant.
"As a group, we already supply hydrogen to buses, small trucks and the like. We've built up a degree of expertise and see it as a good solution for the future."
How will it look?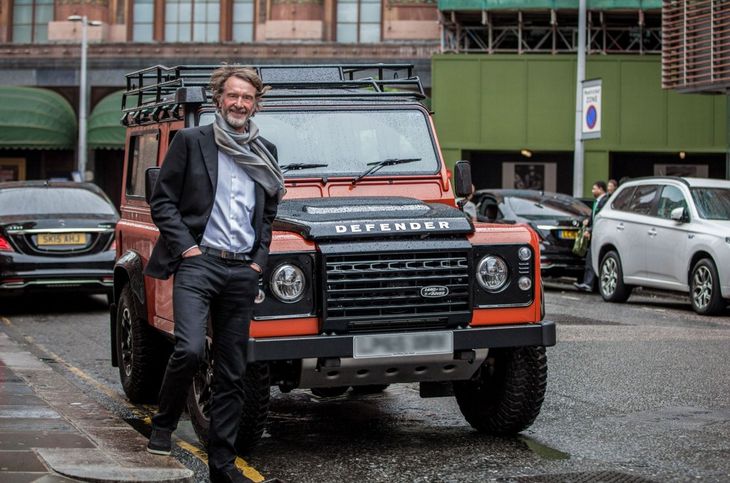 Although not likely to look exactly like the old Defender, it will be a utility vehicle first.
Of equal importance for the Grenadier is how it looks. "We've got to get that right," said Tennant. "We've contracted specialists in Germany and we are now testing that design on potential customers," said Tennant.
Tell us more about the interior
"We know we need to keep it as simple as possible, but we also have to be aware of our customers' expectations. The 21st-century hammer invariably involves plugging something in," added Tennant.
"We will meet all the regulations of each market we enter. For example, regulations in the states dictate that all new cars sold must have a reversing camera – so, we will factory-fit one on all our vehicles for the USA.
"We will have an abundance of USB sockets and Bluetooth, but we won't have tech for its own sake. This vehicle needs to be self-reliant in the field and incredibly reliable."
What affect will the new Land Rover Defender have on the future of the Grenadier?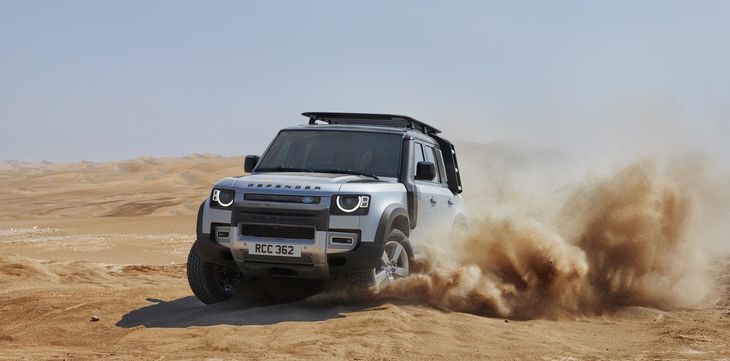 The new Defender has gone a little soft for some hardcore enthusiasts.
The unveiling of the new Defender in Geneva last week confirmed their view that Land Rover has moved out of the pure-utility market.
"It's a great looking vehicle and we wish them every success, but we don't see any toe-treading between them," said Tennant.
How much will the Grenadier cost?
Although prices are expected to undercut its Land Rover rival, the brand has hinted it could target high-spec pick-up trucks such as the Ford Ranger Wildtrak. That'll give it a price range of around £35,000 - £45,000 (SAR600-700k).
Tennant said: "We can't get to the price of the old Defender, so it will be above that."
Dirk Heilmann, Chief Executive Officer of Ineos Automotive, concluded: "We are progressing well with the design and engineering work, as well as our marketing and distribution plans. In the months ahead, we look forward to sharing more information about the Grenadier and engaging with local suppliers, the community and respective regions, in advance of the start of production in 2021."