Korean brand Hyundai's Tucson is a firm favourite in South Africa. Though the brand does not officially publicise its monthly sales volumes, we have it on good authority that the Tucson is one of the top-selling family car/SUVs in this country. Besides, you can gauge its popularity by just witnessing the sheer number of them in traffic. But which derivative is best? We think a mighty strong case can be made for this... the 1.7-litre turbodiesel Executive.
We like: Smooth, economical engine, ride quality, spacious, well-built cabin
We don't like: Steep price
Alternatives:
From Germany, with more space: The new Volkswagen Tiguan was recently crowned our Family Car of the Year, albeit in petrol guise. We have yet to test the new turbodiesel derivative, but on paper at least it appears to be down on power, similarly specced to the Hyundai, yet more expensive. It does, however, offer a larger cabin.
For more power: A new Mazda CX-5 was recently shown and will be heading for South Africa later this year. We still rate the current model highly, however, and in 2.2DE Active guise it is significantly more powerful than the Hyundai and Volkswagen. Of course, it is thirstier, too, and the cabin is not as spacious as those of the Tiguan or Tucson.
Want to spend less?: It is also worth looking at the popular Nissan X-Trail, provided you're willing to forego a few modern conveniences. In 1.6 dCi XE guise it is significantly cheaper, but offers more power, a very spacious cabin, good fuel economy and high levels of comfort. It can also be specced with 7 seats.
Compare the specifications of the Hyundai Tucson with the Volkswagen Tiguan and Mazda CX-5 by clicking here
What is it?
In a market that can't get enough of compact SUVs or crossovers, the Hyundai Tucson appears to be a darling of South African families. At first glance, the reasons for this may not be that obvious – the latest Tucson is a pricey product that is neither as flamboyant as some of its rivals, nor as generously specified. And yet, it achieves startling sales figures month after month. So what's key the to its success? We spent a week with what is arguably the sweetest model in the line-up, the 1.7-litre turbodiesel Executive, to figure it out.
How does it fare in terms of?
Performance and Efficiency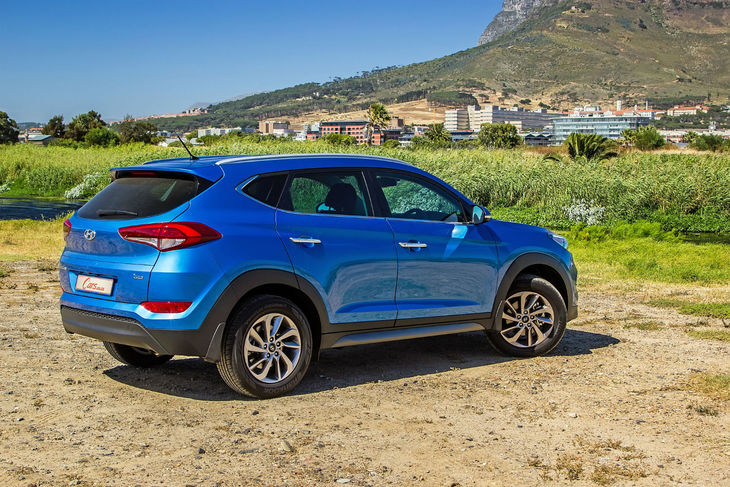 Good looks married to a frugal, punchy and refined engine... what's not to like?
This particular version of the Tucson is powered by one of those rare engines that appear to punch above its weight. The 1.7-litre turbodiesel under the bonnet is claimed to deliver power and torque figures of 85 kW and 280 Nm which, while competitive with the likes of the Tiguan and Kadjar, are not headline-grabbing stuff, particularly keeping in mind the size and weight of the vehicle.
But any concerns about a potential lack of power are dispelled in the first few hundred metres of driving this Tucson. The power delivery is smooth and linear, with a marked lack of the turbolag that often affects small turbocharged engines. The key, of course, is the torque delivery – the full 280 Nm is already available from 1 250 rpm. The engine remains smooth and refined throughout its rev range, too. Coupled with a very slick 6-speed manual transmission, driving the Tucson is not a chore at all. In fact, we suggest Hyundai should redo its performance testing, as the claimed performance figures (particularly the 0-100 kph time) appear way too conservative given the Tucson's responsiveness in general driving situations.
And what of efficiency? Here, too, the Tucson does very well indeed. Hyundai claims a fairly high combined cycle consumption figure of 6.8 L/100 km, which we think may be either incorrect or very conservative. We suggest a consumption figure of 6.5 L/100 km is quite achievable.
Refinement and Comfort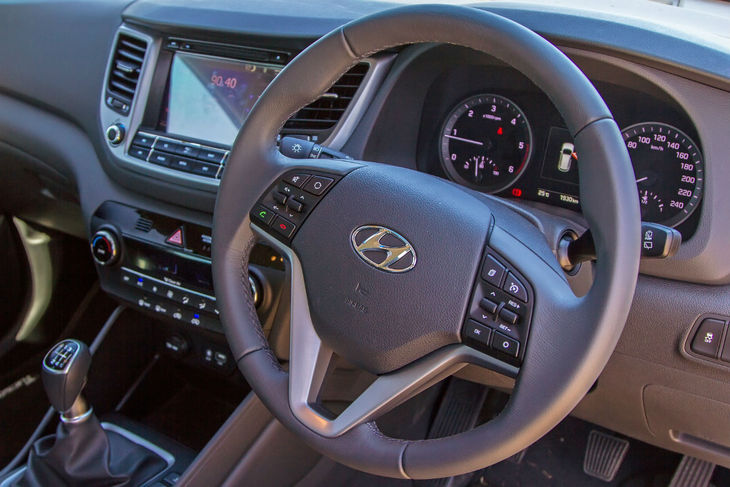 High quality materials, a hushed cabin and loads of features make the Tucson interior a pleasant place to be.
An area in which the latest Tucson (as well as the Sportage) has made considerable progress is in general refinement. The cabin environment feels appreciably upmarket and remains hushed, even at higher speeds. In fact, overall noise suppression is very impressive, because even the diesel engine under the bonnet remains relatively muted when worked hard. We've already mentioned the very good transmission, too. Combine this with good, nicely weighted steering and you have a vehicle that is a pleasure to drive.
A car such as the Tucson will have to remain comfortable on a variety of road surfaces, given its family transporter role. We have thus far been very impressed with this Korean's ride and handling setup, and this derivative further reinforced the perception that Hyundai is now nearing (or at) the very top in this segment in that regard. Although this Tucson rides on striking 17-inch wheels as standard, the tyres (225/60) have generous sidewalls which definitely contribute to the overall cushioned ride characteristics.
Standard features?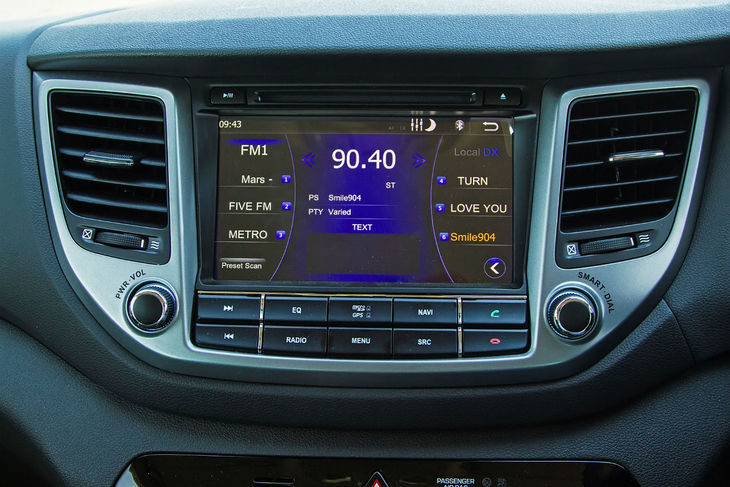 The optional 8-inch touch-screen is part of an entertainment package that also adds navigation. It costs R15 000.
This Tucson is offered in Executive trim, which means the standard specification is quite generous and certainly as good, if not better than, some rivals that are even pricier. You get black leather upholstery as standard, and both front seats feature electric adjustment (a rarity in this segment, especially as standard). Dual-zone climate control is part of the package, and there are rear ventilation outlets, auto lights/wipers, cruise control and a rearview camera display.
Fitted as standard is a 3.8-inch display screen for the 6-speaker infotainment system that offers Bluetooth, USB and Aux support. It might be worth spending an extra R15 000 to get the more comprehensive entertainment system, which includes navigation and an 8-inch touchscreen system, as well as USB Mirror Link.
In terms of safety specification the Tucson offers a class-standard 6 airbags, ABS with EBD and an electronic stability system. Isofix child seat anchors are fitted at the rear.
Packaging?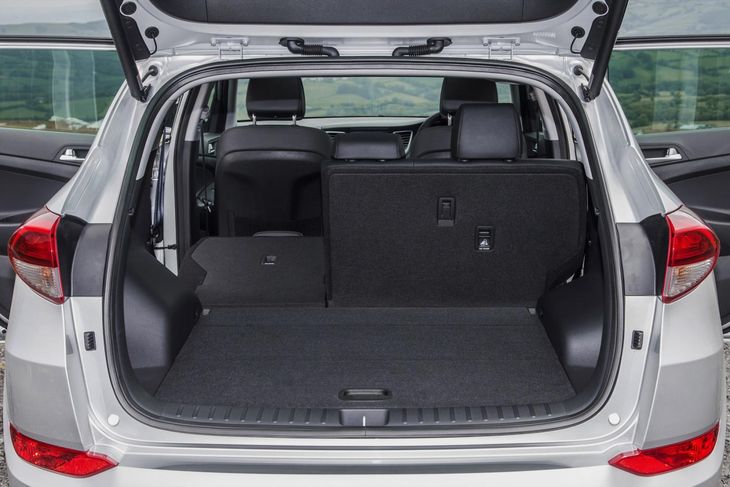 Tucson's boot is bested by the Tiguan's for size, but will be big enough for most families.
As mentioned in some of our previous Tucson reviews, this Hyundai is nicely shaped for a family of 5, but ultimately not the most spacious vehicle in its segment. Nevertheless, rear legroom is good, particularly if the rear seats are mostly going to be used by the kids and the boot is usefully large, too. The rear seat backrest can also recline and, of course, fold forward to extend total cargo space.
What the Tucson arguably lacks are some clever, detail touches, such as the Tiguan's flip-up trays, or the sliding rear seats of some other rivals. We doubt these will be dealbreakers for most consumers, however.
Pricing & Warranty
The Hyundai Tucson 1.6 CRDi Executive sells for R449 900 (at the time of testing) and comes backed by Hyundai's excellent 5-year/150 000 km warranty (including a 7-year warranty on main drivetrain components) and a lengthy 5-year/120 000 km service plan.
Verdict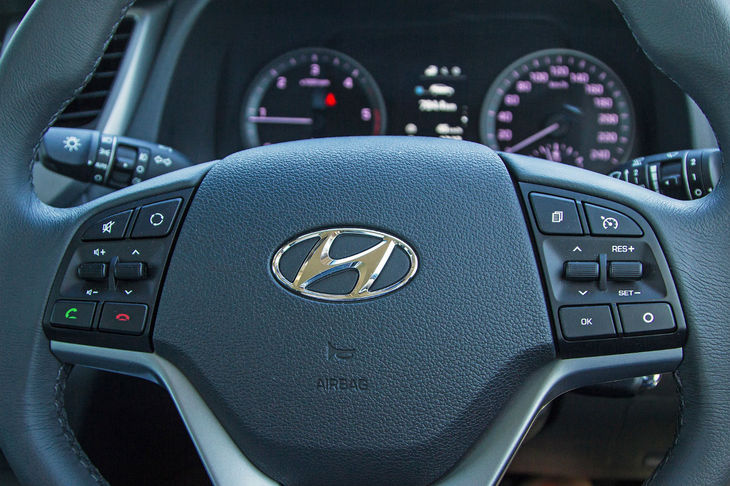 The Hyundai brand has come a long way, and given the Tucson's all-round excellence, it just about justifies the pricing.
We continue to rate the Tucson highly and this 1.7-litre CRDi Executive derivative is now arguably our favourite. Yes, the addition of an automatic transmission would arguably further enhance its appeal as a family car, but at what cost? Given the fact that the manual transmission in this model is slick and easy to operate, we can live with changing gears ourselves. More importantly, it offers a blend of comfort, performance, frugality, refinement, quality and spaciousness that is very appealing, even at the seemingly lofty price.
Further Reading
Cars.co.za Consumer Awards - Best Family Car category
Comparative Test: Kia Sportage vs Hyundai Tucson vs Renault Kadjar vs VW Tiguan (2016)
Hyundai Tucson 1.6 Turbo Executive (2016) Review
Hyundai Tucson 1.6 Turbo 4WD Elite (2016) Review
Hyundai Tucson (2016) video review
Interested in buying a Hyundai Tucson?