In a segment where style and sophistication are becoming just as important as practicality, the new Hyundai Tucson has a real chance of being the market's darling. Has Hyundai done enough to continue where the successful and popular iX35 left off, however?
We like: Impressive ride and build quality, good looks, interior space, warranty
We don't like: Price tag, slightly dull interior, awkward rear seat folding mechanism
Alternatives
For better value: Comparatively, the Nissan Qashqai 1.6T Acenta is R40 000 cheaper than this Tucson, and doesn't lack any of the specification. While it's slightly down on power compared with the Tucson, we don't think you'll really notice. It also has a better overall warranty at 6-years/150 000 km.
For more tech: The new Renault Kadjar has a futuristic interior featuring two digital screens. The ease of use of the infotainment screen and the customisable nature of its advanced operating system make the Tucson's interior feel old.
For more style: The Kadjar isn't perfect as we discovered in our video review, but in terms of style, sophistication and flair, we think it might be a segment leader. It's a bold car from the French manufacturer.
Compare the Hyundai Tucson with the Nissan Qashqai and Renault Kadjar
Is style enough?

If style matters to you, then the Hyundai Tucson is worth consideration.
A style assessment is always subjective, but we think it's safe to say that the Tucson is a looker. Borrowing lines from the larger Santa Fe, it embodies some of the best expressions of Hyundai's current design language with its large wrap-around headlights, a bold, Audi-esque grille and a high waistline that creates a sporty stance. Of course, all of that is just waffle; suffice it to say the Tucson will certainly stand out in the school parking lot. A Job well done, Hyundai...
How does it fare in terms of…
Standard comfort and safety features?
With 6 airbags and stability control as standard on this model, the Tucson is well equipped in terms of safety features, both to prevent you FROM being involved in an accident (ABS, EBD, ESP) and minimising harm should a crash be unavoidable. The higher ride height and elevated driver's seat add to its occupant's sensation of being slightly safer and, as opposed to when sitting in some full-sized SUVs, it strikes a nice balance between a commanding road view and an engaging driving position.
While the fascia is rather uninspiring to look at (more on that later), the car is well equipped. Carried over from the iX35 is the reverse-view camera (built into the rear-view mirror). It's completely invisible until the reverse gear is selected, which is a neat trick. The reality, however, is that the screen area displayed is much smaller, making it more difficult to spot objects in your path.
In addition, Bluetooth telephony, an MP3-compatible audio system equipped with a USB port and auxiliary socket, a handy 12V outlet, electric front seats, a multifunction steering wheel and a rake- and reach-adjustable steering wheel are standard features. While the leather looks and feels real, it's worth noting that it's actually artificial. We would recommend the black and grey colour scheme, it not only looks more premium but also aids in making the "leather" seem as genuine as possible. It certainly fooled me.
Performance and economy?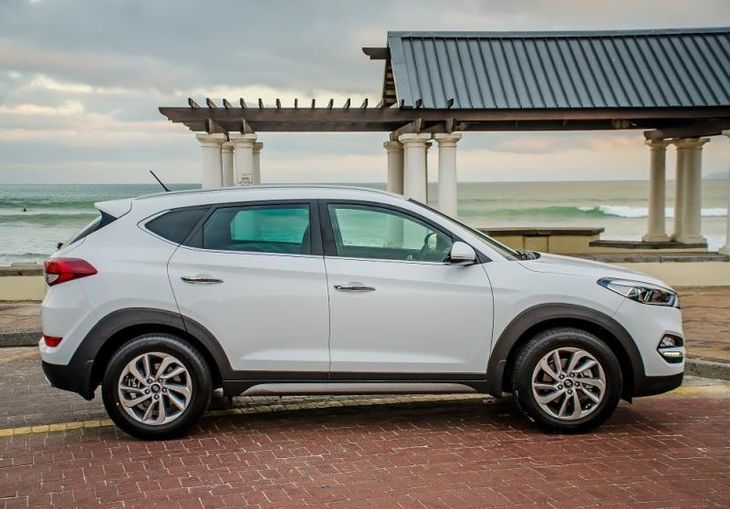 The front-wheel drive 1.6 Tucson delivers a smooth and refined ride, but an automatic transmission is only offered on the top-spec AWD version.
This 1.6-litre turbopetrol engine mated with a 6-speed gearbox with front-wheel drive is a smooth combination. Thanks to a peak power output of 130 kW, it's actually quite a brisk car, capable of sharp bursts of acceleration and cruising effortlessly on the highway. However in today's day and age of heavy traffic and urban, stop-start commuting, I can't imagine why they don't offer this engine with an automatic 'box and front wheel drive; only the naturally aspirated 2.0 and 1.6 Turbo AWD derivatives are available with a self-shifting 'box. There's also no turbodiesel engine on offer either, but Hyundai is currently testing whether its advanced and efficient 1.7-litre turbodiesel engine can cope with the fuel available at our pumps.
This presents a quandary: the naturally aspirated 2.0-litre engine will feel sluggish at highveld altitudes, and for many buyers, the extra R80 000 required to purchase the AWD automatic might be a stretch too far. If you don't mind the manual transmission, then this could be the sweetspot in the range, but it might be worth waiting for the turbodiesel alternative considering that the engine in the iX35 was particularly fuel efficient.
With regards to fuel economy, Hyundai claims 8.5 L/100 km, which is, interestingly 25%, worse than the 6.2 L/100 km claimed by the Nissan Qashqai using the same-sized engine.
Packaging?

The Tucson's interior isn't sophisticated but it is well-built with a premium feel.
The phrase "boring but bulletproof" very aptly describes the fascia and dashboard of the Tucson. There's no getting around the fact that it's dull; the entire affair is one shade of grey and the lack of any screens (besides the small monochrome radio screen) makes it look dated compared to its rivals.
However, it does feel extremely well put together. There's a solidity to the entire cabin which is noticeable and reassuring. Despite its shortcomings, the interior still exudes a premium feel.
Interior space in the Tucson is generous. For front passengers, there is ample head-, shoulder- and legroom. Rear space is also more than satisfactory and will comfortably seat two large adults, with space for three adults with a bit of a squeeze.
The rear seats do fold flat to open up a large, usable load area. On a Saturday home-improvement mission, I found myself in need of a new door – a standard sized interior door. The helpful man at the hardware store was sceptical but with the seats down, we easily slid the door into the car, without intruding on the front passengers' seating area. Note, the seats only fold flat and do not tumble forward.
The mechanism to fold the seats, however, is unnecessarily frustrating to use. There are two release loops which need to be pulled, one on either side of the car, located near the rear passenger's hip. A simple button or release on top of the seat would have much more convenient. You can view a demonstration of this system in our video below.
With the rear seats in place, the luggage capacity compares favourably with those of its rivals'. At 488 litres, its more than 100 litres larger than the Kadjar's, and nearly 60 litres larger than the load space officially offered by the Qashqai. In English, this means it will easily cope with kit bags, hockey sticks, school bags and the dog. Possibly all at the same time.

Ride and handling?
What is immediately impressive is how quiet the cabin is. Not much noise from the road or engine bay permeates to the interior. It speaks to the refined build quality of the entire car, which is communicated to your ears as whisper quiet progress and to your backside as a very comfortable ride. The Tucson's suspension setup treads the fine line between pliant and sporty, erring slightly towards the softer side. However, it does feel confident; poised enough to push through corners at speed, which is frankly unnecessary – this is a family car after all.
The Executive model rides on 17-inch wheels with appropriately tall sidewalls, which adds to the comfort created by the suspension. While the range-topping Elite Auto looks dashing with its 19-inch wheels, as Mike Fourie found out in his test drive, it does result in a bumpier ride over anything but smooth surfaces. We would say the 17-inch wheels are the preferred option in terms of wheel size in the Tucson range.
Price and warranty
The Hyundai Tucson 1.6 Turbo Executive has a suggested retail price of R419 900 and comes standard with a 5-year/150 000 km warranty. While Hyundai is making a big noise about its new 7-year/200 000 km warranty, the reality is that this only applies to certain drivetrain components, notably the engine and gearbox.
Verdict
There's no doubt that the Hyundai Tucson is a well-built, comfortable compact SUV/crossover. We think it looks terrific and it will appeal to many people. It's practical and spacious too, which makes it a solid choice for families, especially for those who aren't in the market for a 7-seater. This 1.6 Turbo Executive would be our pick of the range.
However, we think buyers in this segment are looking for a drive that's as hassle-free as possible and without an automatic available on this more powerful, more desirable 1.6 turbo front-wheel drive model, Hyundai might lose potential buyers.
Additionally, the relative lack of technology, particularly in the infotainment area, might result in buyers looking elsewhere for something more modern and sophisticated.
While the Tucson certainly represents progress over its predecessor, it might be worth waiting until more engine and gearbox options become available.
Search for a new / used Hyundai Tucson on Cars.co.za
Hyundai Tucson 1.6 Turbo Executive Manual - Quick Specs


Related content:
Hyundai Tucson 1.6 Turbo 4WD Elite (2016) Review
2016 Hyundai Tucson – In-Depth Review, pricing and specs [Video]
Interested in buying a Hyundai Tucson?
Looking for a used Hyundai ix35? Click here