Whereas the ix35 vaulted Hyundai into the premium territory of the compact SUV market, the Tucson builds on its predecessor's strengths and has a few extra talents. Is the flagship 1.6 Turbo 4WD Elite the pick of the bunch, however?
We like: Sharp exterior styling, improved rear legroom, luxury ambience
We don't like: Slow throttle response, indifferent ride quality
Alternatives:
Like-for-like established rivals: Price-wise, the recently refreshed Toyota RAV4 2.5 AWD VX is closest to the Tucson, but it doesn't look as dapper or feel quite as premium inside, and the Ford Kuga 1.5T AWD Trend looks to offer slightly better economy and admittedly less specification for a lot less than the Hyundai. Again, the Kuga can't match the Tucson's kerb appeal or luxurious cabin, but R50 000 would be a significant saving.
For genuine off-road ability: Whether top-of-the-range compact SUVs require all-wheel-drive ability (given their decidedly urban operating zones) is moot. However, should buyers genuinely expect to venture from the beaten path (more than the occasional dirt road sojourn), then the Subaru Forester 2.5 XS Premium would be a willing subject, courtesy of its X-mode off-road function. At least our experience with the vehicle suggests it would be.
For value for money: If you are willing to forego an all-wheel-drive configuration and still want a comprehensively equipped, petrol-engined automatic compact SUV, the Mazda CX-5 2.5 Individual is almost impossible to beat on a spec-for-Rand basis; it looks the part, too. It may not be as spacious or as new as the Tucson, but with a price of R438 800, you shouldn't mind.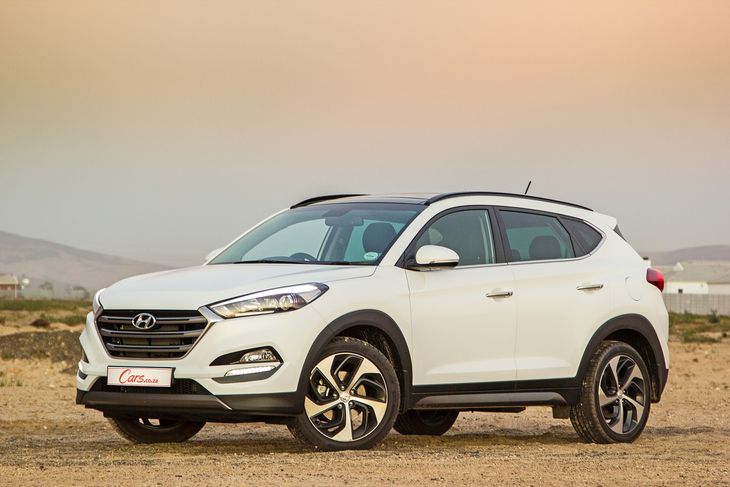 The Tucson's exterior treatment offers a blend of posh looks and a modicum of ruggedness.
The range-topper
While Hyundai considers the introduction of turbodiesel derivatives to its Tucson range (previously known as the ix35, but, in fact, the product has returned to its original moniker from two generations ago), the 1.6-litre direct injection 4-cylinder turbopetrol engine is only available with a 7-speed dual-clutch automatic in conjunction with an all-wheel drivetrain.
Thanks to the overwhelming popularity of its ix35 predecessor, the Tucson comes to the market with an established clientele, and apart from adopting a downsized, forced-induction engine, the Hyundai is also improved in significant areas, especially rear legroom. Although it was styled in Europe and looks distinctly handsome, in top-of-the-range spec, the marque's "affordable luxury" calling card does not ring strictly true, given a R499 999 asking price. However, the Tucson does have its merits.
How does it fare in terms of…
Executive appeal?
In Elite guise, the Tucson cuts a distinguished figure. Its front-end styling is bold and eye-catching, yet elegantly detailed. It has a sleek profile when viewed from the side and its rear three-quarter aspect is pleasingly sporty, down to the slim wraparound headlamps and trapezoidal exhaust ends. What's more, the striking 19-inch alloys fill out the black-cladded wheel arches with aplomb.
Inside, as expected, the layout of the fascia doesn't quite match the allure of the exterior treatment, but it's neat and uncluttered. Nonetheless, the leather-trimmed interior exudes quality and is eminently comfortable... The driver's seat avails a commanding view and offers a wide range of adjustment thanks to the provision of electrical adjustment. The digital climate control console looks chunky and is intuitive to use and there's a sizeable oddment tray in front of the gear selector, below the bottom of the fascia, where a 12V power socket, plus USB and auxiliary inputs are located.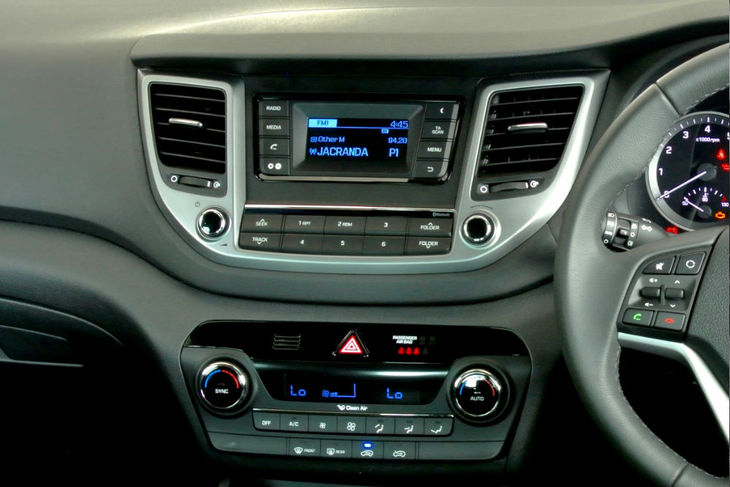 This image depicts what the standard audio system unit looks like. It serves its purpose, but lacks sophistication.
Ergonomically, there is little to fault in the top-spec Tucson. Whereas the reverse-view camera's feed is displayed on the infotainment screen in most vehicles, the Tucson utilises a small rectangle in the rear-view mirror. Also, a full-colour touchscreen including satellite navigation is an optional extra at R15 500 (to specify and fit) and even though it's not the slickest infotainment system of its kind, the standard audio system's blue-on-black lettering looks a little basic if you're forking out R500 000. To its credit, however, the Elite's panoramic sunroof is a plus.
Performance and ride?
As a comfort-orientated family vehicle, the Tucson strikes a good balance between performance and efficiency, as well as ride and handling... once it's gathered momentum. Irrespective of whether it can be attributed to conservative throttle mapping or turbo lag, the Tucson feels a trifle lazy off the line (when pulling away at intersections or in stop-start traffic conditions). Once the revs reach 1 500 rpm, the Hyundai delivers its full wad of torque (265 N.m) right up to 4 500 and, with measured throttle inputs, the transmission resists the urge to hunt and shifts slickly in everyday driving conditions. The engine-transmission combination is admittedly better suited to cruising than cut-and-thrust driving, but, when driven in a considered manner, the 1.6 Turbo should realise fuel consumption figures of around 10.0 L/100 km, which is more than the manufacturer's claim, but fair.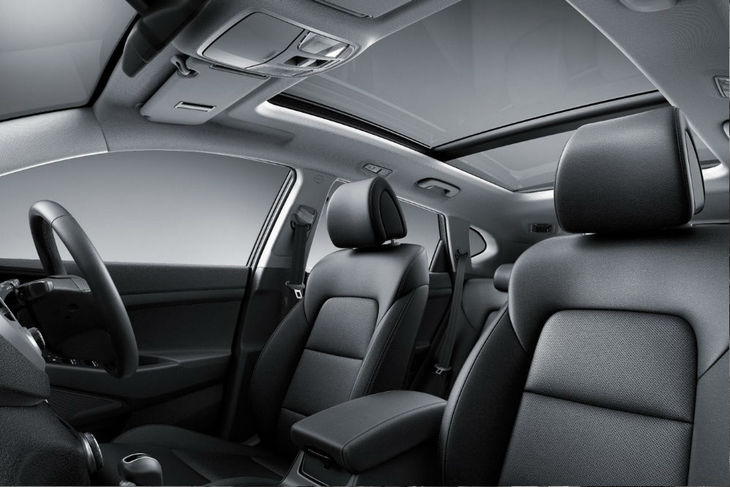 The standard panaromic sunroof adds a sense of airiness to an otherwise dark interior.
Furthermore, there is a downside to those aesthetically pleasing 19-inch rims and rubber, although the tyres' profile (45) is not that low. The Hyundai's reactions to steering inputs feel crisp, accurate and predictable, as does its body control when cornering, but whereas the ride is generally pliant, sharp bumps in the Hyundai's path announce themselves by discernible thuds when traversed.
Practicality and safety?
Improvements in cabin space (the Tucson is appreciably longer and a little bit wider than its predecessor) is most notable at the rear, where occupants are afforded generous legroom (even for adults). The luggage room available with the rear seats upright is less than class-leading, but freeing up utility space is as easy as releasing the 60:40 split seatback at either side of the bench. To see just how much space is available, watch this demonstration by Cars.co.za's Ciro de Siena.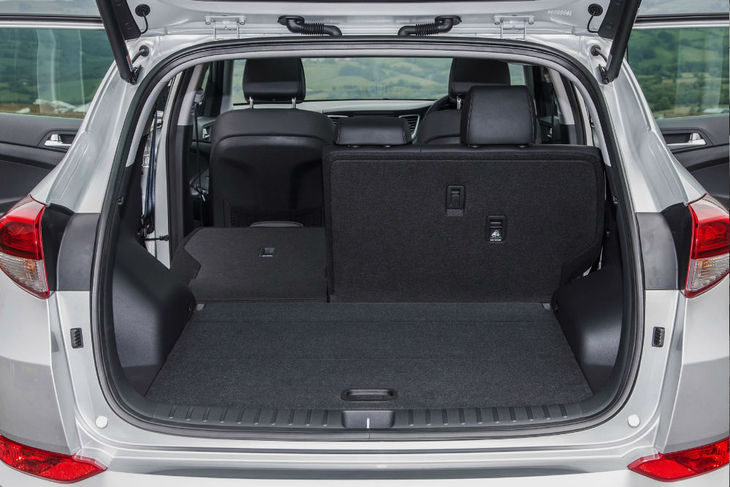 The rear seatbacks fold flat to free up useful utility space. Note the shopping bag hook on the right.
There are other nods to practicality as well, including the aforementioned oddment tray, the cooled glovebox, a sunglass holder above the rear-view mirror, a sizeable storage box under the armrest, ventilation outlets for the rear passengers and a shopping bag hook (and a pair of ISOfix anchor points) in the rear seatbacks. In terms of safety, 6 airbags, blind spot monitor, a speed-sensitive automatic door lock (activated at 15 kph), ABS with EBD and electronic stability control are fitted.
Although the Tucson's sporty "footwear" and relatively low ride height rule out serious off-roading, the automatically activated all-wheel-drive system provides excellent stability on low-grip surfaces such as dirt roads. ABS-system-operated downhill brake control is also available (should you require it)...

Hyundai Tucson 1.6 Turbo 4WD Elite price in South Africa
The flagship Tucson costs R499 999, which includes a 5-year/90 000 km service plan, as well as 7-year/200 000 km powertrain- and 5-year/150 000 km manufacturer's warranties.
Verdict
The Tucson is Hyundai's top-selling model and it's not difficult to understand why that's the case. In terms of build quality and finish, it feels like a premium product, and in terms of overall refinement, it's very difficult to criticise. Unfortunately, this particular derivative does not represent the best value for money in the range: it's well-, as opposed to generously specced, and costs R499 999 — that's even before the touchscreen infotainment/navigation system has been specified.
Having said that, the Tucson is a product that is likely to do well based on the phenomenal success of its predecessor, and that's before we've factored in its own strengths, of which there are quite a few. Backed by Hyundai's reputation for solidity and reliability, not to mention the firm's 7-year powertrain- and 5-year manufacturer's warranties, this newcomer will have sealed some buyers' purchasing decisions even before they've walked into the showroom.
View detailed specifications of the Hyundai Tucson 1.6 Turbo 4WD Elite
Compare the specifications of the Hyundai Tucson 1.6 Turbo AWD Elite, Toyota RAV4 2.5 AWD VX and Ford Kuga 1.5T AWD Trend
Related content:
Watch a Cars.co.za Video Review of the Hyundai Tucson 1.6 Turbo Executive:
Hyundai Tucson (2016) First Drive
2016 Hyundai Tucson Specs and Pricing in SA
Interested in buying a Hyundai Tucson?
Search for a Hyundai Tucson for sale on Cars.co.za
Perhaps a used ix35 is what you are looking for? View stock for sale here