If you are looking to transport your family in relative comfort and with ease then you've come to the right category. These are the Family Car semi-finalists for the Cars.co.za Consumer Awards – powered by WesBank!
The second annual Cars.co.za Consumer Awards – now powered by WesBank, is underway and the 65 semi-finalists across 13 categories have been chosen. Make sure you visit the Cars.co.za Consumer Awards – powered by WesBank website for all the vehicle and category information and also be sure to follow us on Twitter (@CarsSouthAfrica), Facebook (CarsSA) and Instagram (carssouthafrica) for the latest updates.
The Cars.co.za Ownership Satisfaction Survey, in partnership with leading data specialists, Lightstone Consumer, forms an integral part of the awards programme, with the survey accounting for 50% of the final result in each category. The brand-specific data incorporates feedback from thousands of South African new vehicle owners, based on their experiences of their vehicles (must be less than 5 years old and serviced through franchised outlets).
Have your say and complete the Cars.co.za Ownership Satisfaction Survey now!
In this category, the typical family car is required to perform a wide variety of duties; it needs to be a practical, safe all-rounder. The winner of this category should be as ideal for the daily school-run as for a family holiday sojourn to a distant location. In judging this category we've placed particular emphasis on interior flexibility, comfort and safety.
For a car to be considered for this category it needed to meet the following criteria: the listed price must be between R350 000 and R500 000 at the time of semi-finalist voting (September 1, 2016), including the cost of all necessary optional extras; ABS, air-conditioning, a minimum of 6 airbags, split/fold rear seatback and a service plan need to be standard. And, finally, the vehicle must be fitted with an automatic transmission.
The semi-finalists in the Family Car category of the Cars.co.za Consumer Awards – powered by WesBank are (in no particular order):
Volkswagen Tiguan 1.4 TSI Comfortline DSG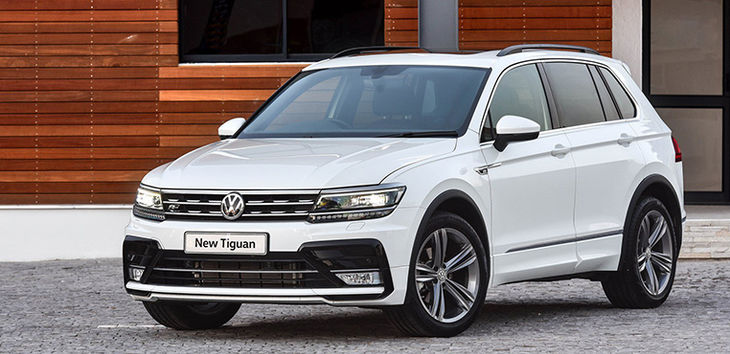 Fresh from its local launch, the all-new Volkswagen Tiguan has already left a lasting impression on the Cars.co.za team. With its upmarket finishes and crisp new design, it comes across as a premium offering, yet the cabin's practicality and comfort levels have also been improved. The 1.4-litre turbocharged petrol engine that does duty in the Tiguan is claimed to consume just 6.1 L/100 km when paired with the smooth-shifting DSG dual-clutch transmission. This makes it one of the most frugal petrol-powered crossovers on the market.
The Volkswagen Tiguan is lighter, longer, wider and lower than the outgoing model. The extra 60 mm in length and 30 mm in width result in extra cabin space. Apart from the fact that the interior is well-made and trimmed in a plethora of soft-touch materials, the Tiguan is also more family friendly than its predecessor. The level of rear legroom afforded, for example, is good and the fold-down rear trays and cupholders (if specified) are nice to have features.
Read our first drive of the new Volkswagen Tiguan
Mazda CX-5 2.0 Active Auto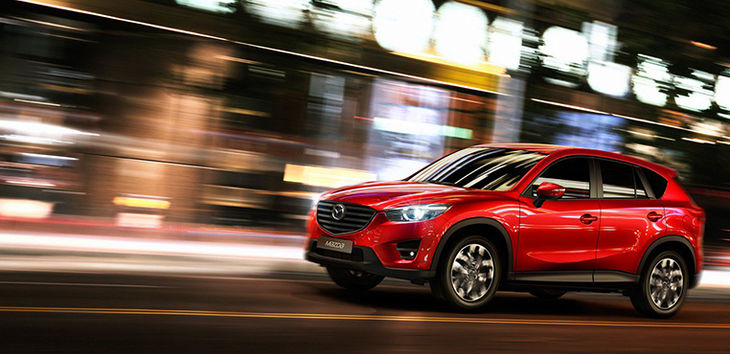 As a brand, Mazda is in the ascendancy. One of its most popular models is the recently refreshed CX-5. It offers excellent build quality, practicality and a balance of comfort and safety features that is hard to beat at the price. Mazda's engineers have taken a close look at every factor that impacts fuel efficiency, consequently this CX-5 offers relatively light fuel consumption – a figure of 6.4 L/100 km is claimed, translating to a range of 875 km on a full 56-litre tank.
Riding on a relatively long wheelbase of 2 700 mm and boasting one of the bigger bodies in the compact crossover/SUV segment, the CX-5's interior is suitably spacious. The boot is well shaped (403 litres) and a total of 1 390 litres of packing space is on offer with the 40:20:40-split rear seats folded.
Read our review of the Mazda CX-5
Hyundai Tucson 2.0 Elite Auto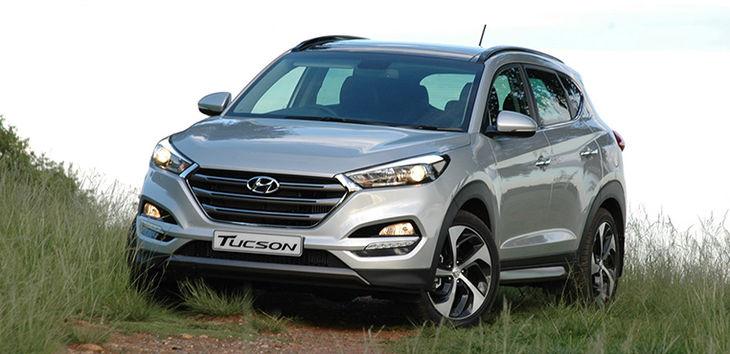 In a segment where style and sophistication are becoming just as important as practicality, the new Hyundai Tucson has a real chance of being the market's darling. Boasting a stylish design and spacious, well-made cabin, the Tucson has brought Hyundai right back into contention in a segment where its predecessor, the ix35, was a top seller for a long time. Hyundai claims a relatively high combined cycle consumption figure of 9.0 L/100 km, which translates into a range of 689 km between fill-ups. This hasn't deterred buyers, however, as the 2.0 Elite Auto is the range's top seller locally.
Interior space in the Tucson is generous. For front passengers, there is ample head-, shoulder- and legroom. Rear space is also more than satisfactory and will comfortably seat a pair of large adults, with space for 3 adults with a bit of a squeeze. The rear seats do fold flat to open up a large, usable load area. With the rear seats in place, the luggage capacity (488 litres) compares favourably with those of its rivals.
Read our review of the Hyundai Tucson
Honda CR-V 2.0 Elegance Auto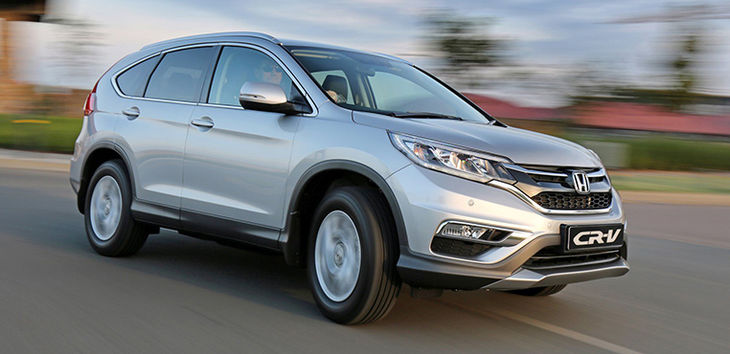 Honda knows all too well what customers in this segment of the market want. High priorities include space and practicality, refinement, loads of features and reliability. With the updated CR-V, the Japanese manufacturer provides just that – a vehicle that is likely to be very reliable, and which can perform a variety of duties "without breaking a sweat". It is not one of the world's top-selling crossovers without reason. Honda claims a combined cycle consumption figure of 7.6 L/100 km for this model which should translate into a tank range of around 750 km between fill-ups.
There's not much in this category that can match the CR-V for space. It has a huge boot (556 litres) and the rear seats can be folded flat to offer more loading space. There are clever levers in the boot that can be used to tumble the rear seats forward easily. The boot is not only bigger than most of the competition, but it's also better shaped.

The Honda feels very spacious to passengers, mostly because of the extra height in the cabin. Rear legroom is very good, and the doors open wide to almost 90 degrees, so getting in and out is easy. This design also makes the fitment of child seats an easy affair.

In the front of the cabin, Honda has taken an almost MPV-like approach with the design of the CR-V's fascia – it appears elevated, to create the sensation of space lower down and the transmission lever is mounted high, too. There are loads of storage areas dotted around the cabin.
Read our review of the Honda CR-V
Nissan X-Trail 2.5 SE CVT AWD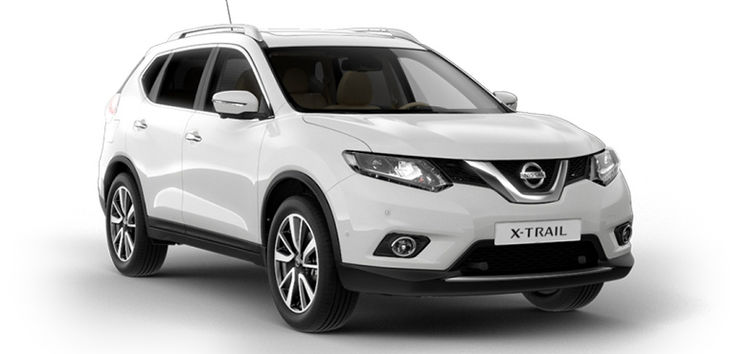 Finding a spacious compact SUV/crossover at this price level that also offers a good standard specification level, is difficult enough. Now add a requirement for 7 seats and it's all but impossible to find. Nonetheless, the Nissan X-Trail does all of the above and consequently could be the ideal family car.
The current X-Trail boasts a wheelbase that 175 mm longer than its predecessors'. This has resulted not only in significantly more rear legroom, but has also freed up enough space to allow for the fitment of a third row of seats, at an extra cost of less than R10 000. While the 2 extra seats are not suitable for accommodating adults over long distances, they endow the Nissan with a feature no other car in this shortlist can match.
Even if you don't need the extra seats, the X-Trail's interior packaging is among the best, with a big boot (550 litres) and a second row of seats that recline, fold and slide. Finally, notwithstanding its "softer" styling, the new model boasts an even higher ground clearance than before, so it is a comfortable companion off the beaten track. A full-size spare wheel is fitted for extra peace of mind and you can transport items up to 100 kg in weight on the roof rails.
Nissan claims a combined cycle fuel consumption figure of 8.3 L/100 km for this model, which is comparatively high. Still, you should be able to achieve a cruising range of around 700 km on a single tankful.