We get behind the wheel of Hyundai's first bona fide hot hatchback – and poster child of the firm's fledgling performance division. It's not confirmed to come to South Africa, but as an alternative to the iconic and highly desirable Volkswagen Golf GTI, the i30 N doesn't disappoint, our UK correspondent finds. Not in the least, in fact...
By Richard Lane
What is it?
The i30 N is the first hot hatch from a marque with a full works entry in the World Rally Championship, and therefore something to be taken very seriously indeed. Hyundai's aim has been to cram in as much performance for the least possible cost to buyers and that should have your ears pricked up.
Why now? Well, Hyundai has seen significant sales growth in the past 5 years. To build on that success and to translate rally podiums into profit, it's now launching a performance arm – N.
Enter Albert Biermann, long-time boss of BMW's performance arm – M. He's the type of man who expects the "ESC off" button in a car to actually mean "off" (in the i30 N, it does) and yet recognises that, in 2017, a 5-door hot hatch needs to be usable to be a hit in showrooms. This machine is very much his baby and the German's presence is a major reason for optimism about its ability to entertain.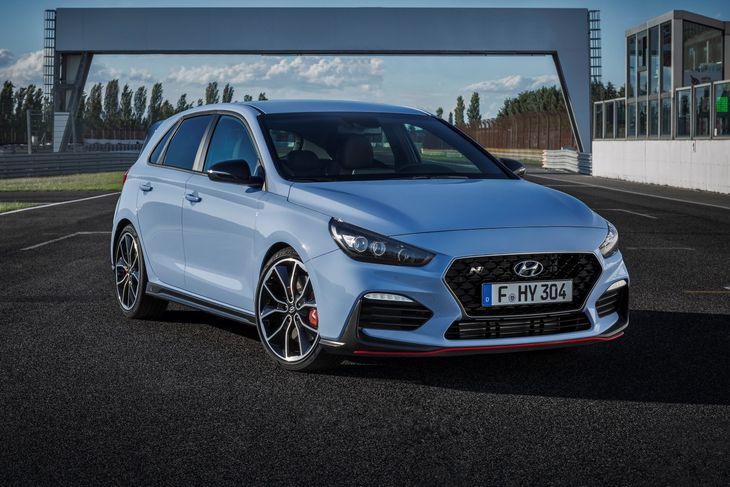 Hyundai's new i30 N takes square aim at the hot hatch establishment. Let's hope it makes it to South Africa!
The fundamental i30 N package is nothing out of the ordinary – it's a 5-door hatch with a turbocharged 2.0-litre engine driving the front wheels. What is rather unusual is the level of hardware on offer for a modest outlay, with the £24 995 (the equivalent of R450 000... in the UK market) base model getting 184 kW, an electronic limited-slip differential and 3-way adaptive suspension. An optional Performance Package sees those figures increase to £27 995 (the equivalent of R510 000... in the UK market) and 202 kW.
As for pace, the standard car hits 100 kph from rest in 6.4 sec, while the Performance model shaves 0.3 sec from that time. Both will hit 250 kph and manage around 7.0 L/100 km combined, says Hyundai.
Key design features

A sporty diffuser and twin tailpipes communicate intent and the performance i30 N will power from 0 to 100 kph in 6.1 seconds.
The 5-door bodyshell is the same as that used for the standard i30, with Hyundai claiming it to be already adequately stiff (the N gets underbody strut braces, nevertheless). Wider wheel arches have been grafted on and the N car sits up to 8 mm lower.
Aggressive bumpers with deep intakes at the front, a red pinstripe on the splitter and a triangular brake light that sits within the gloss-black rear spoiler are other identifiers, although perhaps none are as conspicuous as the N's rather lovely, and unique, signature colour – Performance Blue. There's also a choice of 18-inch wheels (shod in Michelin Pilot Super Sport tyres) or 19-inch options (bespoke Pirelli P Zero).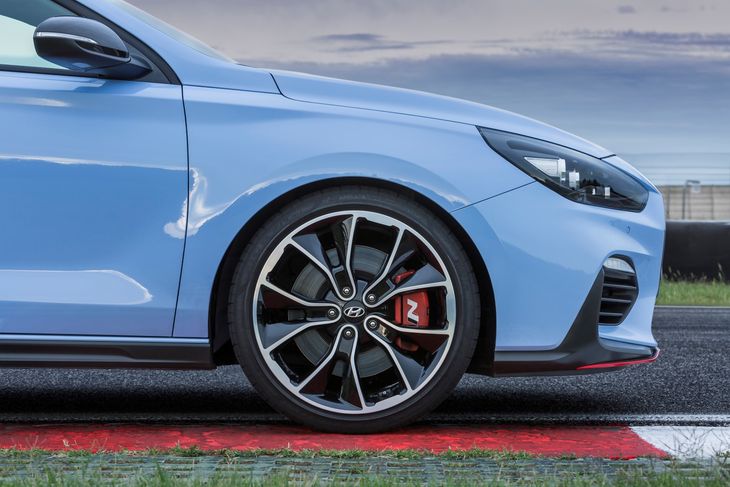 A hardcore N mode will extract the most performance, while Eco and Normal modes are best used for everyday driving.
Components for the car's upgraded brakes, fettled engine, toughened-up 6-speed gearbox, reinforced clutch and sophisticated suspension are all either built in-house or supplied by Korean firms with whom Hyundai has a close relationship. It might have been developed at the Nürburgring, but the i30N's physical form is refreshingly home-grown, and that's helped it undercut the competition.
The car is also highly configurable, with settings for the e-differential, engine map, exhaust, suspension, steering and ESC. All in all, there are 1 944 combinations, although by default they're grouped into Eco, Normal, Sport and a hardcore N mode. There's also an N Custom mode, with which you can deploy your favourite settings at the touch of a button.
Inside, the i30 N gets either a 5.0-inch display atop the dash or an optional 8.0-inch unit. You get Apple CarPlay and Android Auto, as well as readouts for power, torque, turbo boost pressure, lap times and – sure to go down well with the local constabulary – acceleration. Performance Pack models also get a removable brace that stretches across the boot floor – how about that for intent?
What's it like to drive?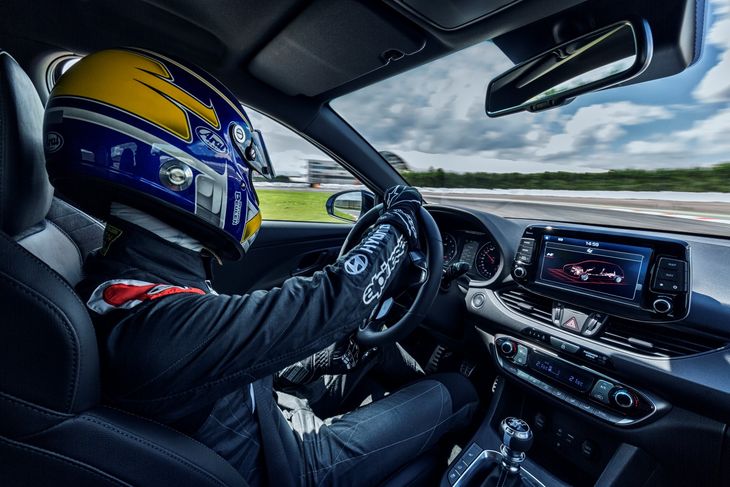 The i30 N's performance is commendable, particularly when you consider that it was developed in 30 months. It's a staggering achievement for Hyundai.
Extremely impressive. Surprisingly so, given that in just 30 months the project has gone from being an entry on the Hyundai board's wish list to a product you can buy from dealerships complete with a 5-year warranty.
Perhaps most impressive is that the i30N gets the fundamentals right. The seats are decently low and supportive, and there's plenty of adjustability in the steering column. That's a big tick in the box in this segment. In our left-hand-drive test car, the pedals were slightly offset to the right, but still well spaced for heel-and-toe shifts (if you'd prefer not to use the admittedly excellent rev-matching function).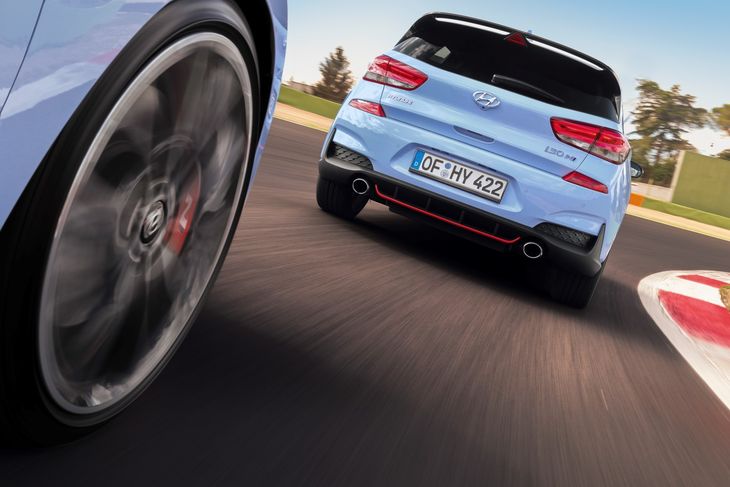 The i30 N is a competent all-rounder. It can be a formidable performer in full attack mode, but can also be a comfortable daily driver.
Factor in the quick, tactile throw of the gearstick and the short-travel clutch and you'd swear Hyundai had been building this kind of car for generations. The i30 N also feels robust to its core, although the material quality is a league below what you'd get in a Golf GTI.
On the move, the 2.0-litre engine is supple enough to take a higher gear and carry eye-widening speed through corners by leaning hard on the superbly damped chassis. Alternatively, you can drop a cog or two and get familiar with the engine's 6000 rpm sweet spot. Either way, throttle response is refreshingly crisp for a turbocharged unit, and while there's no great climax to be had as engine speed rises, there's plenty of character here – particularly with the off-throttle pops and bangs from the exhaust (as is de rigueur) in N mode. The Performance Package car also features an overboost function that delivers 380 Nm for up to eight seconds at a time.
It's difficult to overstate what a brilliant job Hyundai has done with this car's chassis. The most severe mode, Sport+, is usable – preferable, even – on most roads, although the Sport setting beneath it quells flares of wheelspin that rougher surfaces precipitate. Normal mode, meanwhile, calms proceedings to the extent that you might forget you're at the wheel of such a potent hatch. The burly engine and commendably feelsome steering are merely the supporting cast.
Qualms?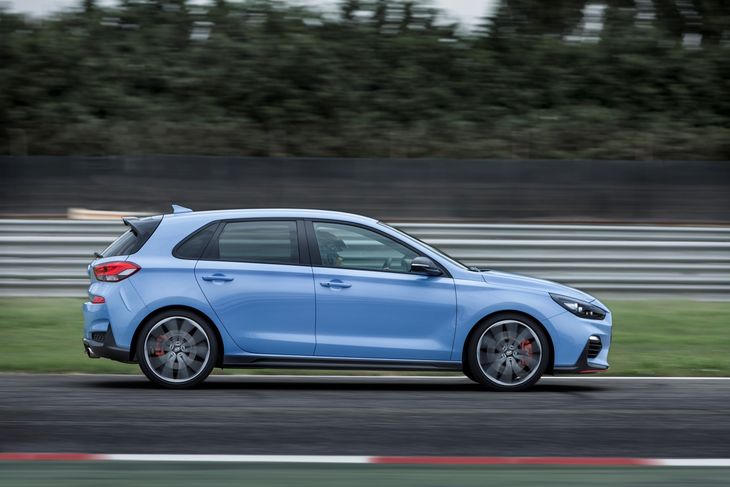 The i30 N's versatility is a key strength but track enthusiasts might be left wanting a little more.
There aren't many. The i30 N is not a car that'll suck you into an apex regardless of your entry speed in the style of, say, a Clio RS. Neither does it change direction with the brusque conviction of the French rivals; in fact, it can feel quite nose heavy if you're even a little bit too ambitious on turn-in. The ABS also seems a tad sensitive, although that could be a consequence of the blistered Italian rat-runs.
First impressions suggest that track day regulars – whom Hyundai is attempting to woo with the i30 N – might also want for a more mobile rear axle. Biermann admits a Renault Sport Mégane is the sharper tool in this regard, but insists the i30 N is the more versatile proposition and better device for learning. He's probably right, too.
As for aesthetics, call them "tame" if you like, but Hyundai prefers to use the word "timeless". We'll give it the benefit of the doubt on this one – there's a refreshing lack of chintz to the i30 N that imbues it with an elegance reminiscent of the Clio 197 and original Focus RS. No bad thing.
Should I buy one?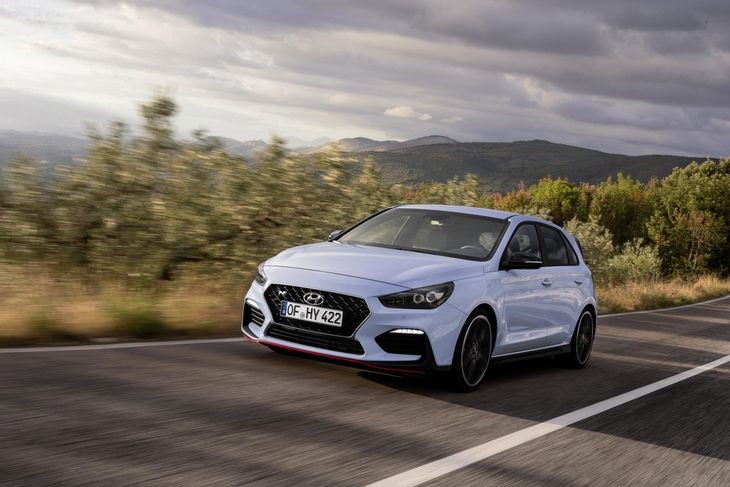 The Hyundai i30N's future in South Africa has not been confirmed, but if it comes, it should undercut the competition by a fair margin.
Well, you can't. Hyundai South Africa cannot confirm whether it will introduce the hot hatch; the i30 N's future availability will depend on a number of factors, not least the exchange rate. Moreover, the hot hatch market has never been so competitive... Newcomer Hyundai, however, has 2 things to help it hit the ground running: top-level motorsport experience and the right personnel. So has that worked out?
On the evidence of this first drive, you'd have to say it has. Hyundai has pulled off some feat in delivering a car that feels so intuitive and enjoyable – not to mention heroically fast when the moment arises – and yet will happily play shopping cart when necessary.
Moreover, at the equivalent cost of R510 000, even the higher-spec Performance Pack N-car undercuts the likes of the Honda Civic Type R and, remarkably given the kit on offer, the Golf GTI (we reiterate: in the UK market). That the Hyundai is arguably the better all-rounder than either should guarantee it your time and, at the very least, your consideration. Oh, if only this i30 derivative could come to the Republic.

Hyundai i30 N Performance Package
Where: Rome, Italy
On sale: Maybe never (in South Africa)
Price: £27 995 (est. R510 000)
Engine: 2.0-litre turbocharged petrol
Power: 202 kW at 6 000 rpm
Torque: 352 Nm at 1 450 to 4 000 rpm
Gearbox: 6-speed manual
Kerb weight: 1 429 kg
Top speed: 250 kph
0-100 kph: 6.1 sec
Fuel economy: 7.0 L/100 km
Related Content
Hyundai Finally Showcases GTI-Rival [with Video]
Update: Hyundai i30 N Teased Ahead of Reveal [With Video]
Update: New Hyundai i30 Coming to SA in 2017
Volkswagen Golf GTI (2017) Video Review
Volkswagen Gof GTI (2017) Quick Review
6 Alternatives to the Volkswagen Golf GTI
Renault Megane RS finally revealed in Frankfurt
Interested in buying a Hyundai i30?