It looks good, but how do the GWM P Series double cab's numbers add up, compared with Hilux or Ranger?
Has South Africa's Huawei bakkie moment arrived? Ten years ago, a Chinese double-cab bakkie was a disposable item – fleet managers or private buyers made a cost-to-depreciation calculation and if the vehicle was affordable enough, they bought one... then, after a few years had passed, they dispassionately discarded the strictly utilitarian LCV from the Far East the moment it presented with bothersome mechanical issues.
In light of the bakkie's low price, marginal comfort and an iffy driving experience didn't matter. The double-cab bakkie market has evolved, however, as has most customers' expectations. Emerging bakkie brands have either adapted and survived, like Mahindra (Scorpio), or failed, like Tata.
Toyota, Ford and Isuzu have not had to take note of any Indian or Chinese rival. Yet. But GWM's P Series could change all of that.
With pricing and local specification now available, we take a deep dive into the P Series and analyse how it compares to the market leaders.
Diesel power with very competitive numbers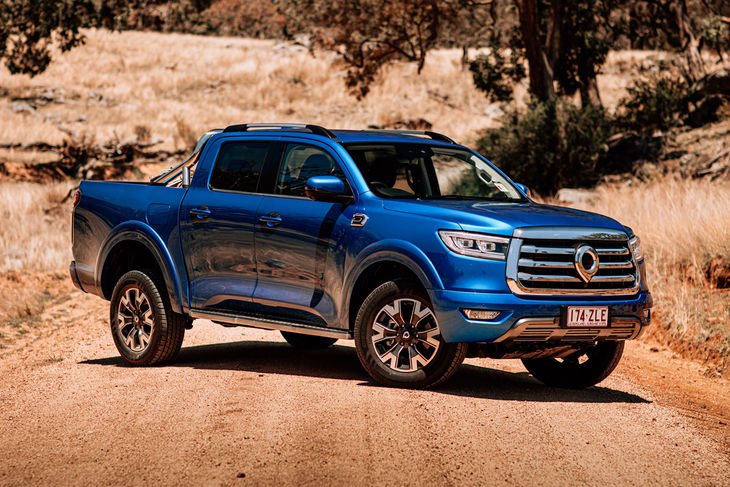 The engine numbers look promising as do the dimensions of the new P Series.
When the P Series was revealed in September 2019, it featured an impressive design and a host of modern features. But the engine configuration was deeply problematic – the first version was powered by a 2.0-litre turbocharged petrol motor, boosting 140 kW and 360 Nm.
In the Chinese domestic market, small capacity turbopetrol engines dominate. But in all traditional bakkie markets, such as South Africa, they aren't popular, with turbodiesels being in much greater demand.
Logic has prevailed with GMW's local product planning. The P-Series bakkies destined for Mzansi are powered by a 2.0-litre turbodiesel engine. It has less power than the Chinese brand's similarly configured petrol engine (only 120 kW), but more torque, peaking at 400 Nm.
Compared to the smaller-engined Toyota Hilux, Ford Ranger and Isuzu D-Max bakkies, those outputs are quite competitive. In the price bandwidth that GWM is positioning its P-Series double-cab, none of its rivals offers comparable power.
Ford Motor Company of South Africa has retained the 2.2-litre engine specification in its updated Ranger, in which it produces 118 kW and 385 Nm in those Rangers that are priced in line with GWM's P Series.
Toyota's 2.4-litre Hilux makes 110 kW and 400 Nm, while the 2.5-litre D-Max is way down on torque compared to the GMW P Series, with the Japanese bakkie only boosting to 110 kW and 320 Nm.
Judged purely on its engine merit, P Series lacks for nothing compared with its rivals.
Digitally relevant cabin design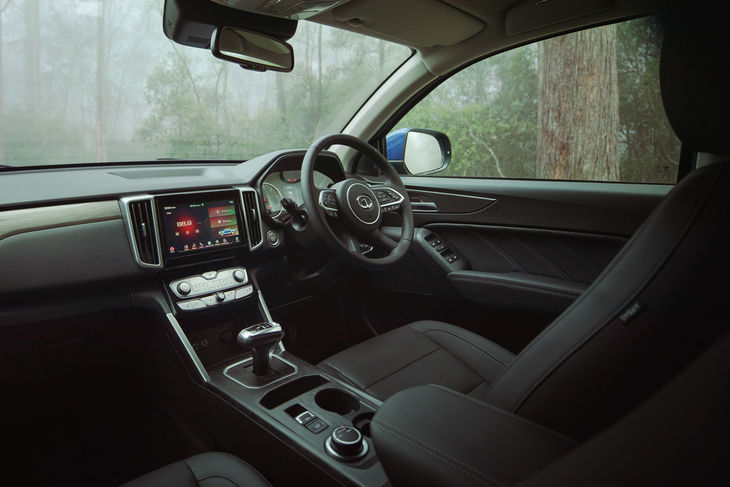 The P-Series cabin has good storage space and a modern infotainment system.
China supplies most of the world's touchscreens and digital componentry, allowing GWM access to a valuable supply chain.
Without having to consider its customers' legacy ergonomic preferences, which is something that shapes the interior design of Hilux and Ranger (for example), GWM's interior architects could dare to be bold. The result is a bakkie cabin that is modern and comprehensively digitised.
The premium derivatives feature a 7-inch virtual instrumentation cluster and a 9-inch touchscreen anchors the bakkie's infotainment offering.
GWM also realises that Smartphone battery status is important to all drivers and provides inductive charging. This prevents the annoyance and untidiness of having USB charging cables permanently draped from the output port to the centre-console storage area.
A better gearbox than Hilux or D-Max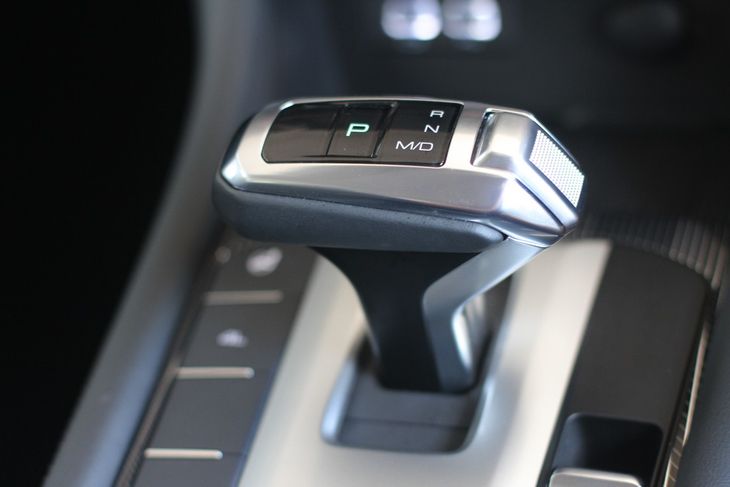 The 8-speed gearbox built by ZF is one of the best gearboxes and most widely used on the planet.
As double-cab bakkies have transitioned into the role of being family vehicles, the demand for better automatic gearbox options has increased.
When Volkswagen launched the Amarok a decade ago, it enjoyed an enormous advantage over all other bakkies, thanks to the ZF 8-speed automatic transmission. Generally regarded as perhaps the most influential self-shifting 'box ever designed, the abundance of gears and intelligent shifting software has enabled users of ZF's 8-speed design to meticulously calibrate it for specific vehicle applications.
GWM has not wasted time or resources seeking an alternative. The P Series uses ZF's 8-speed auto and it is only bested in the local market by Ford's 10-speed transmission. But there's an exclusion to that comparison…
At the prices GWM is charging for its P-Series double cabs, you can only buy an equivalent Ranger with a 6-speed automatic transmission. Toyota similarly offers only a 6-speed auto on its Hilux and Isuzu comes off worse in any drivetrain comparison with its ageing 5-speed gearbox.
South African bakkie owners are tough on gearboxes: towing heavy loads, navigating steep off-road terrain and requiring rapid kickdown shifts for overtaking purposes. With GWM having sourced the best German-designed gearbox, it promises to deliver a very smooth driving experience.
A tailgate that might be too clever – for its own good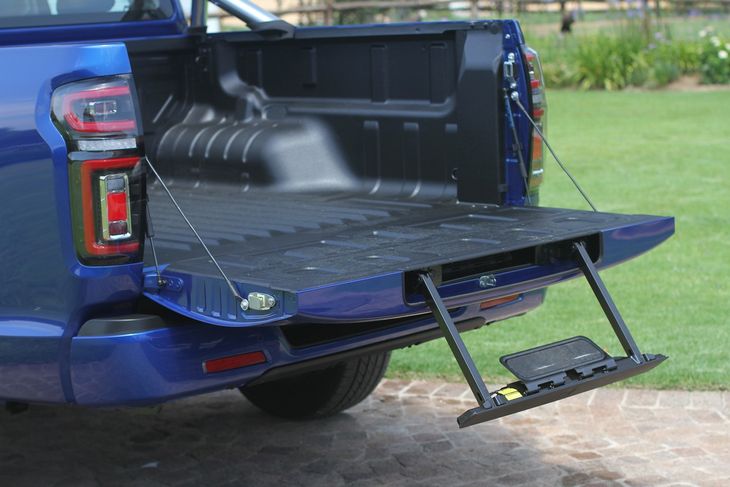 The tailgate seems like a smart idea, but without anywhere to grab on might not be that smart after all.

Considering the increasingly diverse profile of double-cab bakkie customers, designers have been forced to make tailgates more user-friendly. The days of farmers and construction crews being the only ones to lift a tailgate are over.
Volkswagen and Ford have both integrated torsion bars in their Amarok and Ranger's tailgates, allowing even the slightest user to easily close the load box. Lighter steel stampings have also reduced weight, which has undoubtedly helped in this regard.
GWM has done well to create an adequately shaped load box, which is incidentally the same size as that of the Hilux. But one feature, with good intentions, could perhaps be lost on South African bakkie users – and trigger frustration.
The P Series has a deployable tailgate step. In theory, this is to allow easier step-up access to the bakkie's load box. An uncomfortable truth is that if you struggle to get onto the back of a bakkie, perhaps you shouldn't really be using an assistance step.
The traditional South African method of stepping on a tyre, and climbing over the load box's side, while grabbing hold of a roll bar for balance, is proven. It is also perhaps safer than stepping on a small strut rectangle, without any bracing surfaces or rails for your hands to grip.
Whether that tailgate step linkage will remain rattle-free after 50 000 km of corrugated Karoo roads, well, remains to be seen.
It should be good as an all-terrain vehicle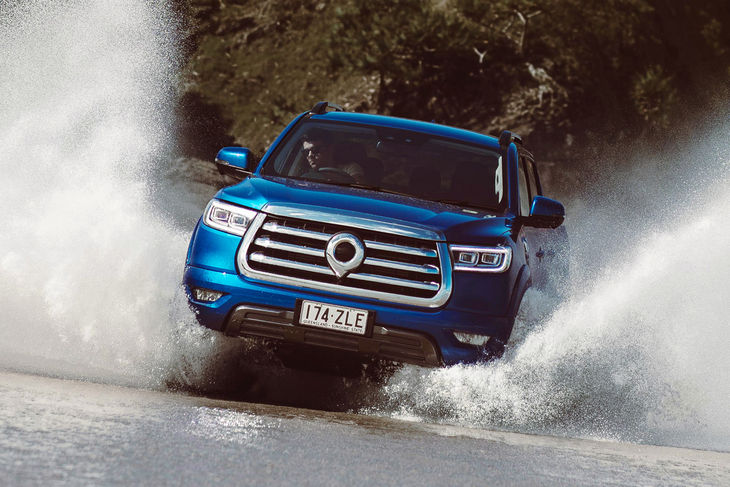 Decent approach and departure angles but the lack of a rear diff may put hardcore off-road users off.
The truth is that most double-cab bakkies never engage a rear differential lock or shift their transfer case into low-range. But for those who fancy the idea of a generously equipped double-cab 4x4, the GMW P Series has some decent all-terrain geometry and traction features.
With 232 mm of ground clearance, the P Series might not rival a Hilux's 279 mm of obstacle clearance, but it is close to a Ranger's 237 mm and better than D-Max's 225 mm.
The Chinese bakkie has fairly good approach-angle geometry too, at 27 degrees. Isuzu's D-Max is best, at 30 degrees, trailed by the Hilux at 29- and Ranger at 25.5 degrees.
With 400 Nm, low-range, a rear differential lock and that ZF 8-speed gearbox, there is no reason to believe the P Series double-cab will be less than adept at conquering local terrain.
The P Series' pricing is inarguably competitive. You can have an LS 4x4 double-cab for R479 900, while the premium version sells for R544 900, tallying discounts of more than 10% compared to its American and Japanese rivals.
Related content:
GWM P Series (2020) Specs & Price
Ford Ranger XL Sport (2020) Launch Review
First look: Facelifted Nissan Navara
Isuzu D-Max postponed until 2022