The recently revised Toyota Hilux line-up comprises 36 derivatives, which include 4 specification levels, 4 body styles and 4 engine options. Herewith the pricing of the entire range, plus specifications of the Xtra cab and double-cab bakkies.
As we reported in last month's update story, the most notable aesthetic update to the range is the adoption of the Dakar-Edition front grille on SRX and Raider derivatives. The former spec further gains a touchscreen audio system and a reverse-view camera, while the latter benefits from a black interior and satnav.
SERIOUS ABOUT BUYING?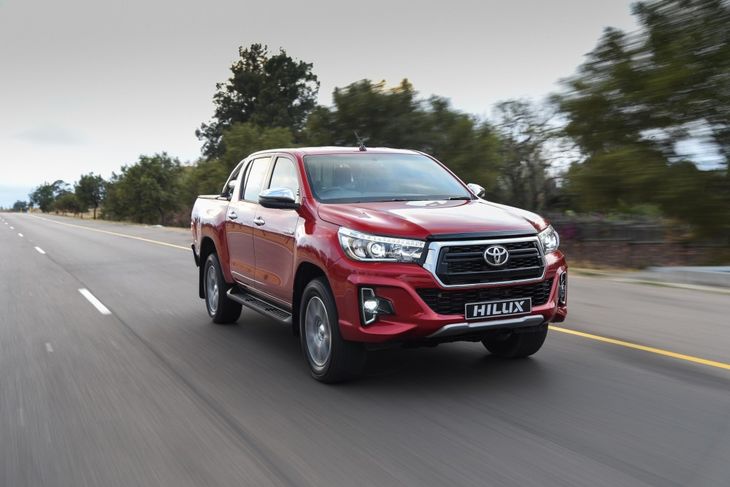 Raider-spec derivatives sport some of the most intricately detailed foglamp designs (and trims) in the bakkie market.
Toyota Hilux Xtra cab range
Toyota now offers 6 derivatives of the Hilux Xtra cab variant (in SRX and Raider specifications), which includes a new 2-wheel-drive Raised Body 6-speed auto.
The SRX-badged bakkies are powered by the 2.4-litre GD-6 turbodiesel engine (with peak outputs of 110 kW, at 3 400 rpm and 400 Nm, from 1 600 to 2 000 rpm), which is mated with either a 6-speed manual gearbox or a 6-speed automatic transmission.
Apart from the aforementioned revised frontal design, SRX derivatives sport a colour-coded bumper with matching skid plate, fog lamps, black side steps (and side mirrors), plus come fitted with 17-inch alloy wheels shod with 265/70R17 tyres.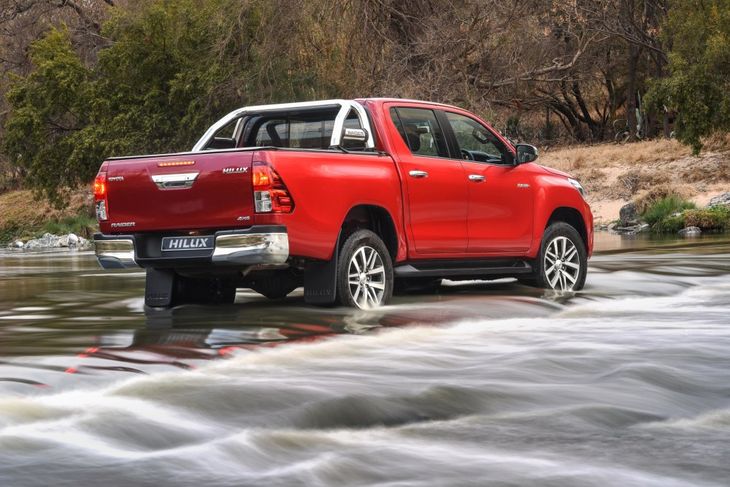 Chrome accents abound on Raider-spec Hiluxes and 18-inch alloys are standard.
Notable SRX features include:
Auto light control (with follow-me-home functionality), remote central locking and auto door-locking.
Fabric trim, power windows, air-conditioning, a multi-information display, rake-and-reach steering column adjustment and multiple storage binnacles.
A 4-speaker touchscreen infotainment system (with Bluetooth, USB and reverse-view camera), supported by a multifunction steering wheel.
Driver-, passenger- and driver knee airbags. ABS, EBD and Brake Assist, plus Vehicle Stability- (VSC), Traction- (TRC) and Trailer Sway Control (TSC).
For details on the Raider specification, see below.
Toyota Hilux Double-Cab range
For 2018, the double-cab range kicks off with an entry-level "S" derivative, which can be distinguished by a black bumper and front grille. As its appearance suggests, it's a no-frills Hilux with PVC interior trim, a latch-type tailgate with cargo hooks and 17-inch wheels. Buyers have the choice of the 2.4 GD-6 turbodiesel (mated with a 6-speed manual 'box) or the 2.7-litre VVTi petrol engine, which produces peak outputs of 122 kW and 245 Nm, and is exclusively available with a 5-speed manual 'box.
Other changes to the double-cab lineup include the addition of two 2.4 GD-6 Raised Body 2-wheel-drive derivatives: in SR (6-speed manual) and SRX (6-speed auto) specifications respectively. The previously-offered 2.7 VVTi SRX derivative has been discontinued.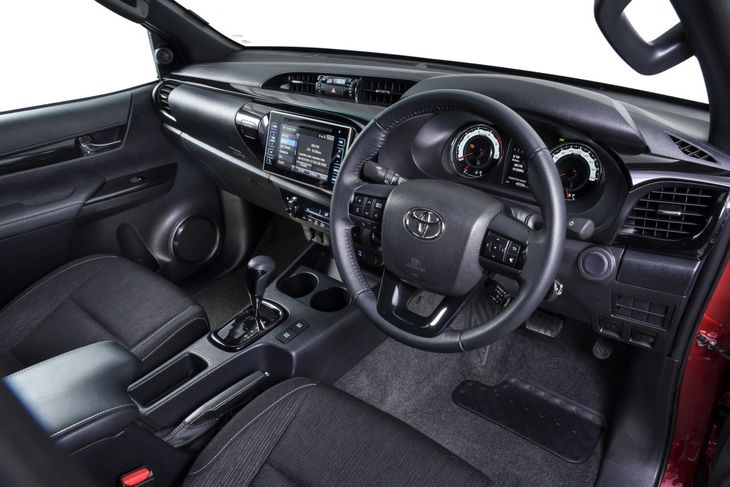 The elegant black Raider interior, replete with similarly-toned headliner and tasteful trim inserts.
Meanwhile, the range-topping Raider derivatives are powered by the familiar 2.8 GD-6 turbodiesel motor with 130 kW and 420 Nm (450 Nm in automatic guise). The throaty 4.0-litre V6, which is reportedly popular with "dune-surfing Namibian buyers", remains on offer, with peak outputs of 175 kW and 376 Nm respectively.
Raider derivatives can be distinguished by a chrome-look grille surround, with similarly trimmed exterior mirrors (power-retractable) and door handles. The headlamps (full LED) have LED daytime running lights and fog lamps, the latter with multi-dimensional garnishes. Standard exterior adornments also include 18-inch alloy wheels.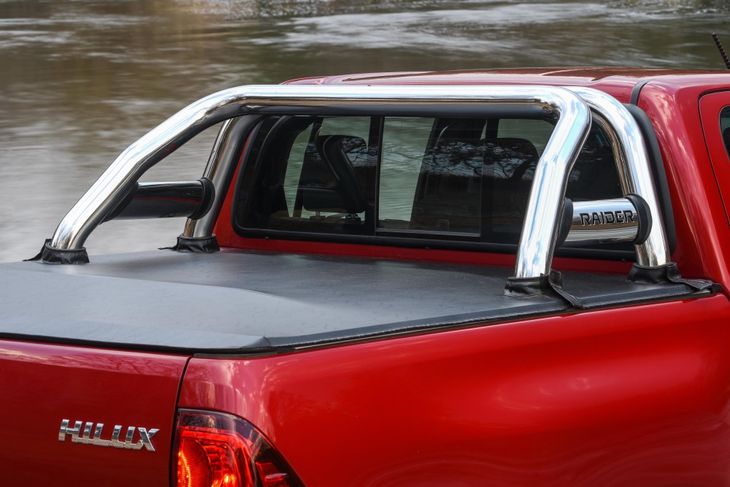 This Raider derivative is additionally specced with a styling bar and matching tonneau cover.
Notable Dakar-spec features include:
The limited-edition Dakar's full black interior, replete with black headliner and metallic-black interior trim accents, is carried over.
Fabric trim, climate- and cruise control, a TFT colour multi-information display, leather steering and shift lever, air-conditioned glovebox, 12- and 220-Volt accessory connectors, plus a rear armrest with cupholders.
A 6-speaker touchscreen infotainment system (with Bluetooth, USB, satellite navigation, DVD-compatibility and a reverse-view camera), supported by a multifunction steering wheel.
Over and above the SRX-level safety equipment, Raider derivatives are equipped with 7 airbags (including curtain and driver knee 'bags).
Wrapping up the updates to the range are all-new chassis cabs (available in 2.0 VVTi 5MT AC workhorse, 2.4 GD-6 5MT AC workhorse and 2.4 GD-6 6MT SRX 4x4 derivatives), increased safety spec on workhorse versions and the Inferno Orange metallic paint finish (introduced on limited-edition Dakar) is now widely available.
Watch a video of the Hilux Dakar Edition review:

Toyota Hilux – prices in SA
These prices were correct as published in late August 2018. All Hilux derivatives are sold with a 3-year/100 000km warranty and a 9-service/90 000 km service plan as standard. Extended service plans are available from all Toyota dealers. Check out full specification details and finance estimates here.
Single-Cab

2.0 VVTi 5MT - R253 200
2.0 VVTi 5MT A/C - R261 200
2.4 GD-6 5MT - R287 300
2.4 GD-6 5MT A/C - R295 300
2.4 GD-6 RB SR 6MT (NEW) - R360 900
2.4 GD-6 4x4 SR 6MT - R422 300
2.4 GD-6 RB SRX 6MT - R375 500
2.4 GD-6 RB SRX 6AT (NEW) - R391 800
2.4 GD-6 4x4 SRX 6MT - R441 600
2.4 GD-6 4x4 SRX 6AT - R459 800
2.8 GD-6 RB RAIDER 6MT - R443 400
2.8 GD-6 RB RAIDER 6AT - R461 600
2.8 GD-6 4x4 RAIDER 6MT - R507 300
2.8 GD-6 4x4 RAIDER 6AT - R525 800

Xtra-Cab

2.4 GD-6 RB SRX 6MT - R386 700
2.4 GD-6 RB SRX 6AT (NEW) - R403 000
2.8 GD-6 RB RAIDER 6MT - R470 800
2.8 GD-6 RB RAIDER 6AT - R489 300
2.8 GD-6 4x4 RAIDER 6MT - R536 700
2.8 GD-6 4x4 RAIDER 6AT - R555 300

Double-Cab

2.7 VVTi RB "S" 5MT - R385 100
2.4 GD-6 RB "S" 6MT (NEW) - R407 800
2.4 GD-6 RB SR 6MT (NEW) - R417 500
2.4 GD-6 4x4 SR 6MT - R483 400
2.4 GD-6 RB SRX 6MT - R432 000
2.4 GD-6 RB SRX 6AT (NEW) - R446 400
2.4 GD-6 4x4 SRX 6MT - R503 500
2.4 GD-6 4x4 SRX 6AT - R526 900
2.8 GD-6 RB RAIDER 6MT - R534 900
2.8 GD-6 RB RAIDER 6AT - R553 600
2.8 GD-6 4x4 RAIDER 6MT - R601 500
2.8 GD-6 4x4 RAIDER 6AT - R621 900
4.0 V6 4x4 RAIDER 6AT - R663 800

Chassis-Cab

2.0 VVTi 5MT A/C (NEW) - R250 500
2.4 GD-6 5MT A/C (NEW) - R284 700
2.4 GD-6 4x4 SRX 6MT (NEW) - R407 100
Related Content:
6 Cheapest Automatic Double-Cab Bakkies in SA
Toyota Hilux Dakar (2018) Video Review
Toyota Hilux 2.8GD-6 Double Cab 4x4 Raider Dakar (2018) Quick Review
Toyota Hilux 2.8GD-6 DC 4x4 Raider Auto (2016) Review