Great Wall Motors has shown off its new concept, called the Black Bullet.
The popularity of hardcore offroad bakkies is at an all-time high. Granted there have been extensive aftermarket conversions across all brands, but it was the likes of the Ford Ranger Raptor and Isuzu Arctic Trucks AT35 that gave customers the chance to own something truly capable and badass, without risking the warranty.
Many brands are now making offroad-focused beast bakkies and Great Wall Motors has joined the club with a concept that was shown at the 2020 Beijing Motor Show. This is the GWM Black Bullet Concept and it looks exactly how something competing in this segment should. Look at those proper knobbly offroad tyres!
The matte black finish with orange detailing is a great touch, but its the sheer array of accessories that will have bakkie fans salivating. Check out the LED light bar, the snorkel and flared wheel arches. There's also a new rear bumper, a winch, tow hooks and chrome exhaust tips. The loadbay also features a spare wheel cover. Inside, the cabin gets 2-tone black and white quilted leather as well as orange accents.
The GWM Black Beast Concept is built on the latest bakkie platform, called the GWM P Series. This model's introduction into SA has been delayed due to COVID-19, but it's still expected to reach showrooms before the end of 2020 and will be taking on the Ford Ranger, Toyota Hilux and Mazda BT-50. The all-new Isuzu D-Max has unfortunately been delayed until 2022.
The P Series measures 5.4 metres nose-to-tail, 1.86 metres wide and stands 1.93 metres tall. This new Chinese double-cab rides on the P71 ladder-frame platform, which it shares with the Haval H9 large SUV – familiar to South Africans who are followers of the Chinese brand. The cabin architecture is impressive for a Chinese vehicle with a large touchscreen infotainment system and passenger vehicle-like ergonomics.
Mechanically, the P Series is powered by a 2.0-litre turbocharged petrol which drives all four wheels via an 8-speed ZF automatic transmission. The 2.0-litre four-cylinder engine boosts 140 kW and 360 Nm. GWM has also equipped the P Series with 3 differential locks, which should theoretically give it unrivalled off-road ability. GWM has not yet been clear as to whether the 3 differential locks will be a standard configuration or optional, as part of a dedicated off-road package. Features? Plenty. There is a surround-view camera, rear-view camera and 12 radar pods allow for lane departure warning and adaptive cruise control. All active safety interventions systems are managed by Bosch's 9.3-generation stability control.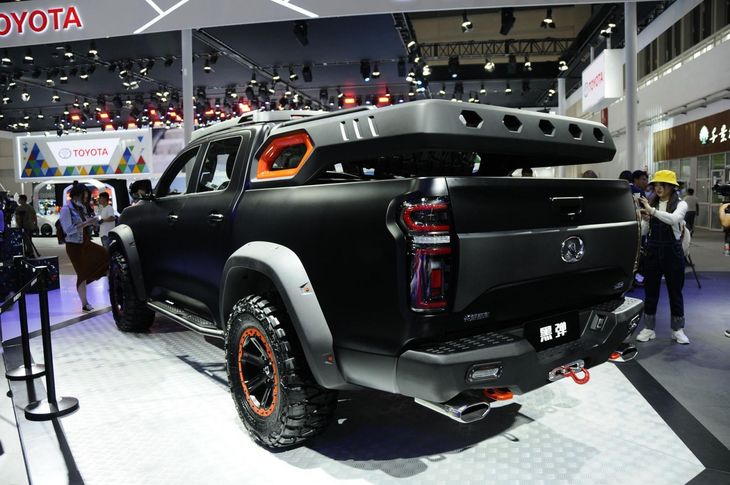 Further Reading
GWM P Series Bakkie - SA Details