Global NCAP has been out testing some of the latest models built in India, most of which make their way to SA in similar form.
The Global NCAP tests vehicles that are often not sold in Europe and therefore don't need to go through the stringent Euro NCAP testing before going on sale. These cars tend to be cheaper and designed for emerging economies like South Africa, Latin America and South-East Asia.
The latest vehicles to undergo crashing are the Suzuki S-Presso, Hyundai Grand i10 and the Kia Seltos. The models tested are all Indian built and all available in SA, the only difference is the safety spec that is installed for SA versions. The S-Presso tested here has 1 less airbag than our local model and the Kia Seltos tested only has 2 airbags where it is standard with 6 airbags in SA. The Grand i10 Nios as it is called in India is a similar spec to our local Grand i10 which has just gone on sale.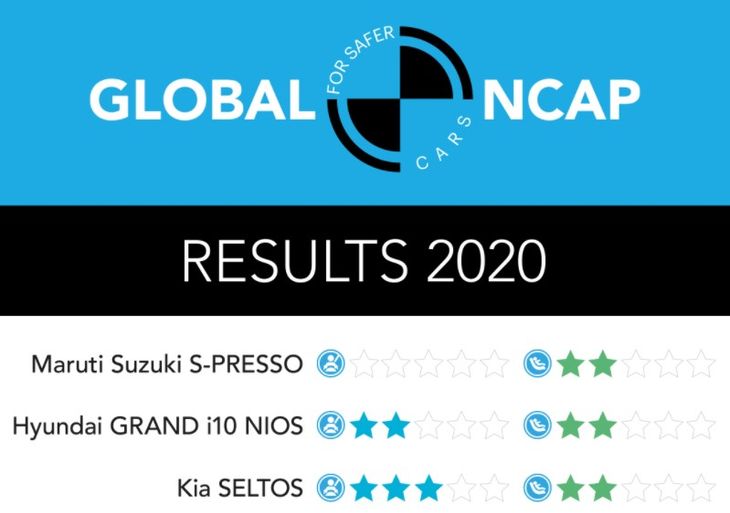 Also read: Results: Global NCAP test SA-spec Avanza, Amaze & Ignis
Suzuki S-Presso - zero stars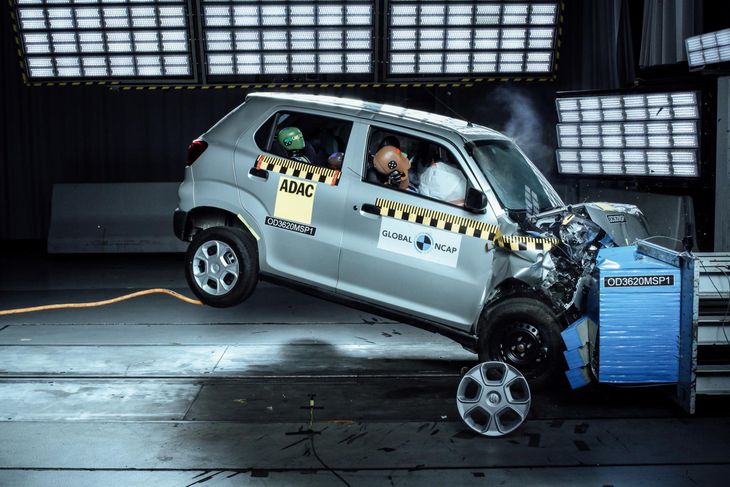 Whilst being an airbag short compared with our local variant, the S-Presso's crash structure didn't fare all that well in the 64 kph crash test. Global NCAP testers noted the following: 'The S-Presso achieved zero stars for adult occupant protection and two stars for child occupant protection. The S-Presso offers only driver airbag as standard. The high readings in the passenger neck explain the zero star result (the passenger airbag fitted to our local variant may have improved this score slightly). However, chest loadings in both front passengers were high and in more updated protocols could also lead to a red chest and a zero stars for this reason as well. Its structure was rated as unstable and should be improved. Its footwell area was rated as unstable as well. Child occupant protection showed poor results for both child dummies in the dynamic test explained by the poor performance of the restraint systems. The car does not offer 3 point belts in all positions as standard and has no ISOFIX anchorages for the Child Restraint Systems (CRS).'
Hyundai Grand i10 - 2 stars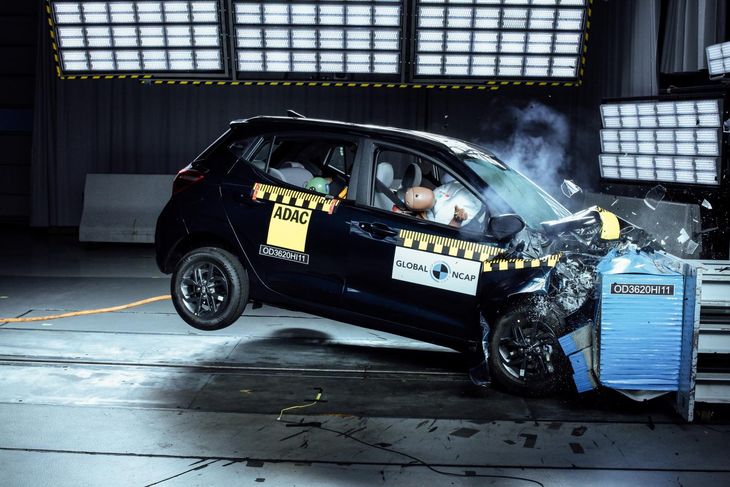 The Grand i10 fared slightly better than the S-Presso with a 2-star rating. 'The Grand i10 Nios achieved two stars for adult occupant protection and two stars for child occupant protection. The Grand i10 Nios offers double frontal airbags and pretensioners for both front passengers as standard. Its structure was rated as unstable. Its footwell area was rated as unstable. Head and neck protection for adult occupants was good. Chest protection was weak for the driver and adequate for the passenger leading to limitation of the Seat belt reminder (SBR) points having standard SBR for front passengers. Child occupant protection showed poor results mainly explained by the decision of the car manufacturer not to recommend the CRSs for the test. Global NCAP is of the opinion that car manufacturers are responsible for all the occupants and child occupants are frequent passengers. Refusing to recommend a CRS for the test raises questions about the car manufacturer policy and relevance towards child occupant protection for the Indian market. The 3-year-old dummy showed poor protection for the head due to excessive forward excursion of the head during the crash and limited chest protection. The 18-month-old showed better protection. The car does not offer standard 3 point belts in all seating positions and does not offer standard ISOFIX anchorages.'
Kia Seltos 3-stars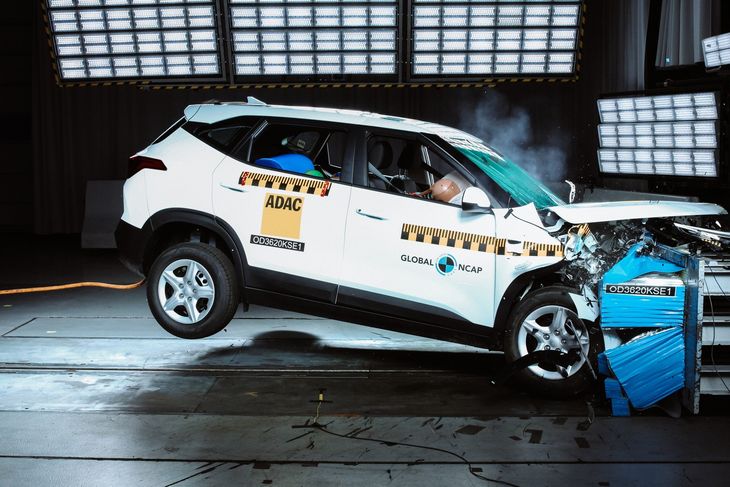 The Kia Seltos tested here has 4 fewer airbags than the equivalent model sold in SA, but the outer structure of the vehicle remains the same and that had a notable effect on the score. Child protection will differ with more airbags fitted in the rear so the Indian spec cars are likely to fare far worse than our local derivatives in this regard. 'The Seltos achieved three stars for adult occupant protection and two stars for child occupant protection. The Seltos offers double frontal airbag and pretensioners as standard. Its structure was rated as a borderline case unstable. Its footwell area was rated as unstable. Head protection was adequate for both front passengers as both airbags bottomed out during the crash test. Neck protection for adult occupants was good. Chest protection was good for passenger and marginal for driver. The car offers SBR for the front seating positions. Child occupant protection showed poor results mainly because the manufacturers refused to recommend CRS for the test, and this decision brings the dynamic score to zero. The dynamic performance was poor as the head of the 3-year-old showed contact during the rebound face after the impact. The car showed limited protection for the 3-year-old head and neck while the 18-month-old received acceptable protection. The car does not offer standard 3 point belts in all seating positions and has no ISOFIX anchorages standard.'
Related content
Global NCAP lauds Mahindra XUV300
5 Stars for Isuzu D-Max Safety