We recently attended the launch of the 3rd-generation Grand i10 in the Western Cape. Given the popularity of the Grand i10 and sustained demand for pocket-friendly compact cars, Hyundai has high hopes for the new model...
The Indian-built Hyundai Grand i10 has done well in South Africa – between 2014 and 2020, the 2nd-generation model garnered almost 50 000 sales. This 3rd-generation model brings some sharper looks, updated connectivity and is notably larger than its predecessor. Hyundai is pitching its newcomer against the market's perennial favourite, the Volkswagen Polo Vivo, as well as the Kia Picanto, Ford Figo and Toyota Aygo.
What's on offer?

With 2 engines, 2 transmissions and 2 levels of trim, we think Hyundai has covered all the bases.
The Korean brand is offering its new Grand i10 with a choice of 2 naturally-aspirated petrol engines; a 1.0-litre 3-cylinder and a 1.2-litre 4-cylinder. Both derivatives are available with either a 5-speed manual gearbox or a 4-speed automatic transmission.
There are 2 levels of trim; Motion and Fluid. There's quite a bit of overlap between the 2 trim levels with both featuring a touchscreen infotainment system that is Bluetooth-enabled and compatible with Android Auto and Apple CarPlay; dual-front airbags and ABS are standard. The Fluid spec adds niceties such as faux-leather trim, rear park assist, front foglights, daytime running lights and 15-inch alloy wheels.
More info: Hyundai Grand i10 (2020) Specs & Price
What's it like to drive?

The new Hyundai Grand i10 is available with a dual-tone contrasting finish.
We sampled a Grand i10 1.0-litre Fluid, with a manual gearbox, at the launch event. Aesthetically speaking, the Hyundai looks every bit a freshly-styled and thoroughly modern city runabout; its alloy wheels and daytime running lights endow the 1.0 Fluid with an understated premium look.
As an adult of above-average height, I was impressed with the ample headroom once I was ensconced in the height-adjustable driver's seat. The partial digital/analogue dashboard has a minimalist, but contemporary, look with the basic information displayed in a clear, legible manner. Our first stumbling block was the infotainment system – Android Auto refused to boot, but we understand that the current version of the smartphone software is not 100% stable at present. We're happy to report the Bluetooth synced quickly and the USB's convenient location was a bonus.
Our launch route comprised a variety of roads and surfaces, ranging from the national highway to pockmarked farm service roads. It may sound like a bit of a "scattershot route" but it availed us an opportunity to drive the Hyundai on a broad spectrum of tarmac and dirt that the average consumer may encounter on their daily travels. The 1.0-litre naturally-aspirated 3-cylinder may churn out a minuscule 49 kW and 94 Nm of torque, which sounds woeful, but the little motor only has an 892 kg-car (and its occupants, plus their luggage) to move around; the car's not as sluggish as you might expect. The key to this compact offering's (pleasantly surprising) urge is a wonderfully light and slick gearbox and clutch combination.
Not only is the leftmost pedal and 'box effortless to use, but dare we say there's an element of sporty engagement that encourages you to stretch the car's legs. And stretch the car's legs you will – especially when conducting in-gear overtaking manoeuvres, when you're likely call upon the motor's entire rev range. The steering is good too, not only is it fairly direct, but it's lightly weighted – perfect for those tight inner-city parking bays.
When it comes to ride quality, the Grand i10 has a pliant suspension and rides composedly on 15-inch alloy wheels (the Motion is hod with 14-inch steel wheels with covers). There's a focus on comfort and refinement here, which is impressive considering the Grand i10 is a budget-car offering.
Summary
The Grand i10's recipe has not been changed radically for the 3rd generation. Instead, it carries on where the 2nd-gen model left off, by offering a pleasant and uncomplicated driving experience. Those whose budgets can't stretch to the 1.2 won't feel hard done by, as the 1.0 is more than up to the task of being an accomplished city runabout. There's reasonable specification across the pair of trim levels and customers should feel satisfied in terms of safety kit, with anti-lock brakes (ABS) and dual front airbags. Hyundai's warranty and service plan should also prove to be a drawcard.
Hyundai now has a comprehensive budget car portfolio that has the sub-R300k segment well and truly covered. There's the Hyundai Atos, priced from R170 000 and a #CarsAwards – powered by WesBank finalist, the new Grand i10 and if you need more space, there's the Hyundai i20, but bear in mind that the next-generation i20 is scheduled to arrive in the local market during 2021.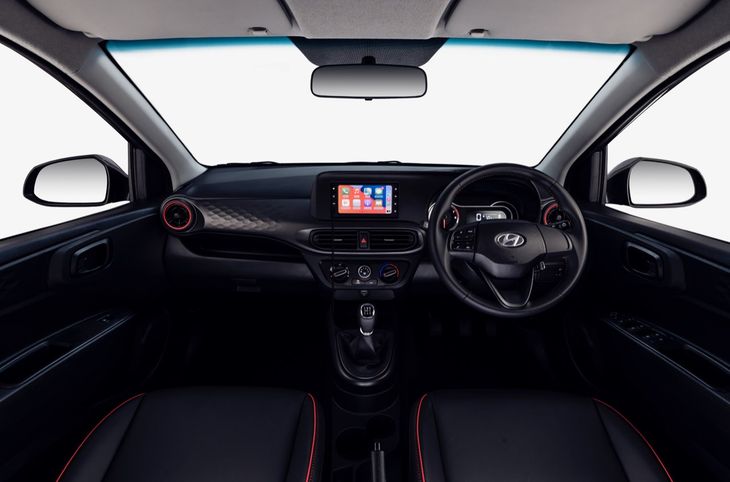 The sporty looking cabin is a great place to be, with a surprisingly generous amount of space on offer.
Hyundai Grand i10 Price in South Africa (October 2020)
The 3rd-generation Hyundai Grand i10 is sold with a 7-year/200 000 km manufacturer warranty, a 1-year/15 000 km service plan, and as well as roadside assistance valid for 5 years/150 000 km.
1.0 Motion MT R191 900
1.0 Motion AT R216 900
1.0 Fluid MT R216 900
1.2 Fluid MT R230 900
1.2 Fluid AT R256 900
Further Reading
Hyundai Grand i10 (2020) Specs and Price
Renault Kwid 1.0 Climber (2020) Review
Volkswagen Polo Vivo 1.4 Comfortline (2018) Review