We haven't been able to travel significant distances with the Suzuki S-Presso, which joined our test fleet just before the national lockdown. David Taylor has nonetheless learnt a great deal about the Japanese brand's newcomer. How does it stack up in the budget-car segment?
We like: Pricing, standard features, free insurance, nippy performance
We don't like: Awkward driving position, vague steering, yet to receive a Global NCAP safety rating
Fast Facts
Price: R147 900 (May 2020)
Engine: Naturally-aspirated 1.0-litre 3-cylinder petrol
Power/Torque: 50 kW / 90 Nm
Transmission: 5-speed manual
Fuel economy: 4.9 L/100 km (27-litre tank)
Load space: 239 litres
Serious About Buying?
Check out full specification details and finance estimates here.
Some Suzuki dealers regularly offer specials: Look at New Car Specials here!
What is it?

Despite it having the dimensions of a small city car, the S-Presso's seating position and design give it a baby-SUV vibe.
Suzuki must have noticed how well the Renault Kwid and Datsun Go were doing in terms of sales in developing markets and naturally wanted a slice of that share... The S-Presso hails from the Suzuki stronghold of India, where these entry-level cars have been tremendously successful; the Kwid also features prominently in local sales charts.
At first glance, the Suzuki S-Presso's styling is best described as awkward and unconventional, but that is not necessarily a criticism – car design seems to have become very safe and predictable of late, so it's not all that often that something with ground-breaking looks comes to market. Hmm, is this a compact hatchback, or a baby SUV?
In S-Edition guise, the Indian-made newcomer could easily pass as the latter as this trim level adds design elements such as wheel-arch cladding, side body-cladding, silver upper-grille garnish and a front skid plate. The S-Presso's 180 mm of ground clearance further leads us to lean towards a compact-SUV designation.
How it performs in terms of…
Performance and economy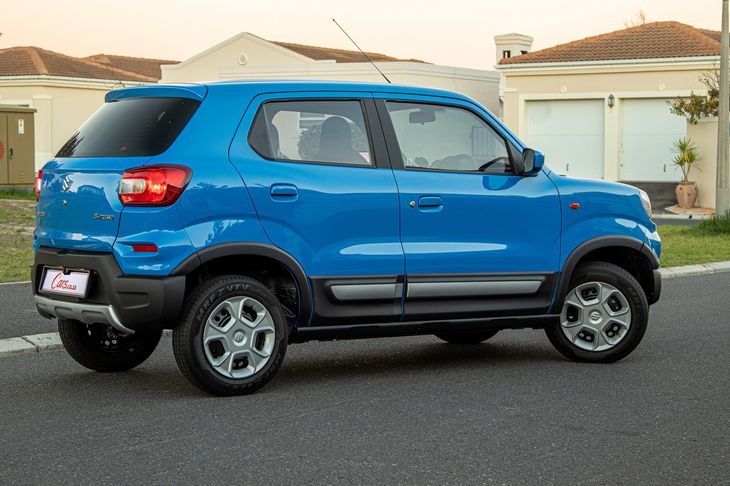 Weighing just 770 kg, the Suzuki S-Presso is just like the coffee, in a way... Compact and nippy.
Under the bonnet is a compact 3-cylinder, 1.0-litre petrol engine. It produces 50 kW and 90 Nm of torque and drives the front wheels via a 5-speed manual gearbox. Now, while those outputs seem paltry, it's important to remember the Suzuki doesn't weigh all that much and not a lot of power is required to get it going. With a kerb weight of just 770 kg, the little 1.0 S-Edition feels surprisingly nippy and agile to drive. Aided by a light-action clutch and snappy manual gearbox, the newcomer darts through the traffic as if it were a motorcycle, albeit a 4-wheeled one. That's a win in our books, although you don't really want to "stretch the engine's legs" – it sounds quite harsh high up in the rev range.
True to most of Suzuki's offerings, the new S-Presso is quite light on fuel. While we couldn't quite achieve the claimed consumption figure of 4.9 L/100 km, the indicated return of 5.5 L/100 (after driving exclusively on urban roads – in other words, to the shops and back – was impressive. One minor gripe, however, is the size of the fuel tank (27 litres), which is only marginally smaller than the Kwid's (28 litres), but consider that rivals such as the Datsun Go+ and Hyundai Atos offer 35-litre tanks.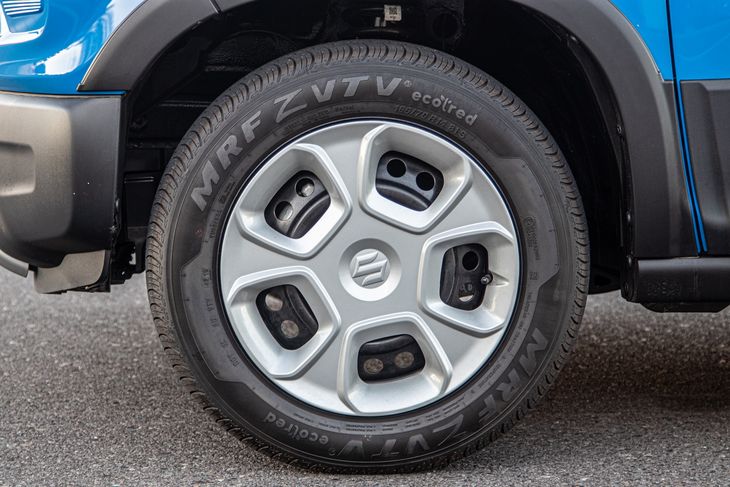 These 14-inch high-profile tyres do a good job of soaking up bumps. Plus there's 180 mm of ground clearance for when you need to mount kerbs.
Under lockdown, the S-Presso was limited to making supply runs for the most part. We spent the majority of our time behind its 'wheel pottering through the suburbs, where its ride quality proved acceptable. Helped by 14-inch wheels wrapped in higher-profile tyres, the suspension absorbed cracks and bumps, especially those pesky under-tar tree roots.
The vehicle does tend to exhibit a measure of body roll when cornering at moderate speeds, which, given its tall stature, is to be expected. While the overall driving experience is fair, the Suzuki falls short of the benchmark set by its Korean rival – the Hyundai Atos, which exhibits arguably the best driving manners in its segment.
Our main gripe with the S-Presso is its perched driving position: you feel as if you're sitting on the car, as opposed to in it. There's no rake- or reach-adjustment for the steering column, so it's tricky for tall occupants to get comfortable behind the Suzuki's tiller. What's more, the newcomer's steering is fair, but it lacks feel and responsiveness.
Another annoyance was quite a bit of wind noise when travelling at triple-digit speeds. Parking manoeuvres proved an absolute cinch to execute, however; thanks to its tiny turning circle, the S-Presso can deal with (what would usually be) 3-point turns in 2 movements.
Interior execution and features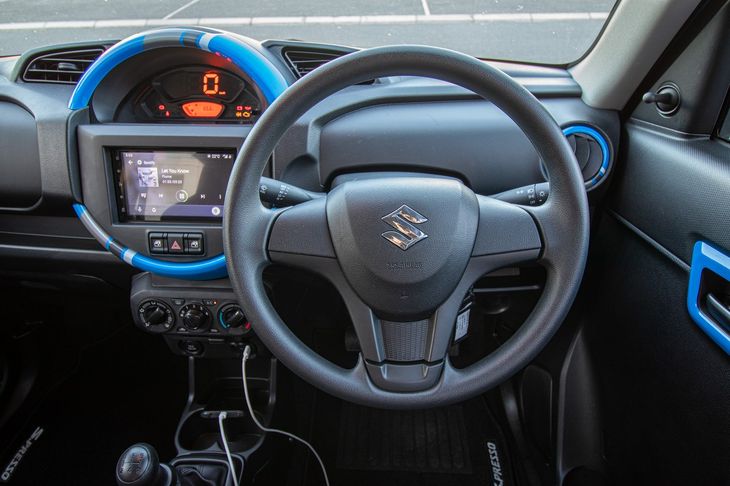 We love the colour scheme of this particular S-Presso. Note the mobile device that's plugged in – Android Auto is active.
The cabin of the S-Presso is a fun and interesting space to occupy. There's an air of youthfulness here, replete with bright, colourful trim around the centrally-mounted speedometer/trip computer module and ventilation outlets. There are some cheap-feeling materials, but that is par for this segment and not a deal-breaker whatsoever.
Budget cars used to be stripped-out econoboxes, but these days manufacturers load as many mod-cons into their entry-level products as they can in a bid to appeal to buyers looking for optimal value. The Suzuki comes with a 7-inch infotainment touchscreen with Android Auto/Apple CarPlay connectivity and USB/12V charging ports.
We've become accustomed to controlling the Android Auto interface via voice control (activated by a button on the steering wheel), but because the S-Presso does not have a multifunction 'wheel, the service needs to be activated via a button on the touchscreen.
In terms of standard fare, there's a manual air-conditioner, a reverse-view camera, rear parking sensors, electric windows, as well as Bluetooth connectivity.
On-paper safety features include anti-lock brakes with electronic brake-force distribution and dual front airbags. Suzuki claims its new Heartect platform has been designed to disperse impact energy better in the event of a vehicular collision. However, there's yet to be a crash test for this newcomer, so we'll wait for that before passing judgement on this vehicle in terms of its safety credentials. The budget segment doesn't have a stellar track record when it comes to this, we're hopeful the S-Presso will buck the trend.
Practicality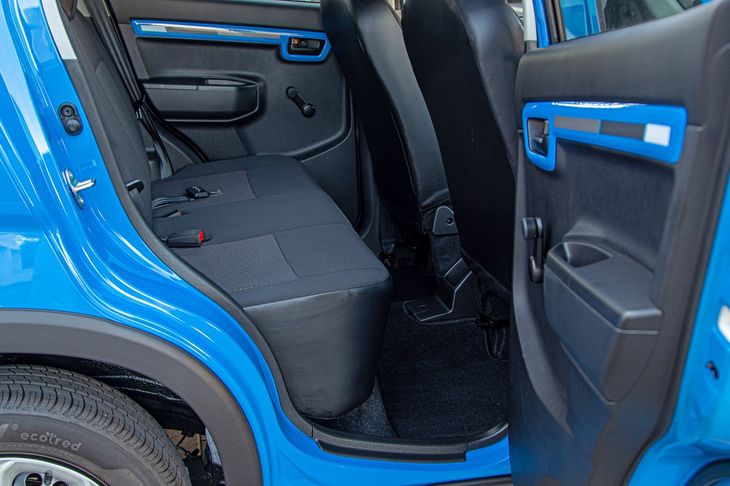 Odd driving position aside, the S-Presso's rear legroom is surprisingly practical with decent kneeroom and headroom. Pity about the rear headrests which poke you in the neck.
This is one of the best aspects of the S-Presso. Granted, it may have a quirky driving position that's not going to suit all drivers, but rear-occupant space is surprisingly good. If you are a tall person, the sit-behind-yourself test is often make-or-break for compact cars, but the Suzuki affords sufficient rear head- and knee room. The only black mark is the aft headrests, which are mounted rather low... Adults are bound to find the headrests at level with the bases of their necks, so the items are clearly suited for children.
Luggage space, meanwhile, is commendable for a vehicle of this size and while the quoted capacity is around 240 litres, the load bay doesn't actually seem that snug; it offers sufficient depth and capacity for many shopping bags. There's sufficient in-car storage too, with plenty of spaces to place housekeys, electronic devices and water bottles.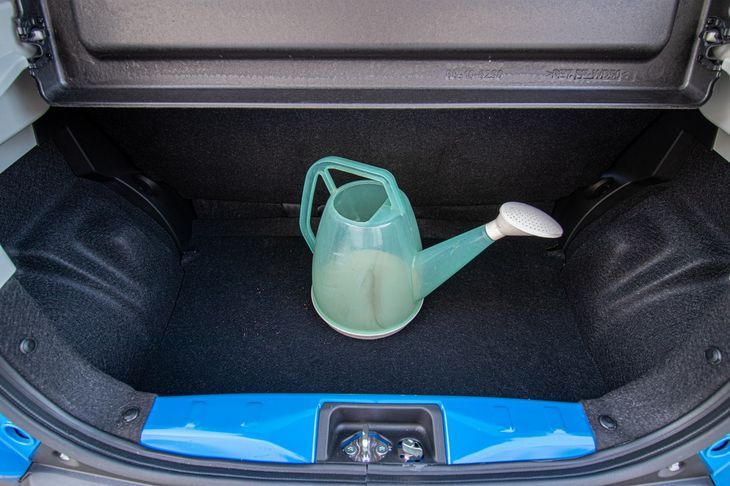 The S-Presso's load bay is generous for a vehicle in this segment.
Price and warranty
The Suzuki S-Presso range starts at R134 900, with this test unit costing R147 900. The new Suzuki S-Presso is sold with a 5-year/200 000 km warranty, 2-year/30 000 km service plan and 1 year's comprehensive insurance.
Buy a new/used Suzuki on Cars.co.za
Verdict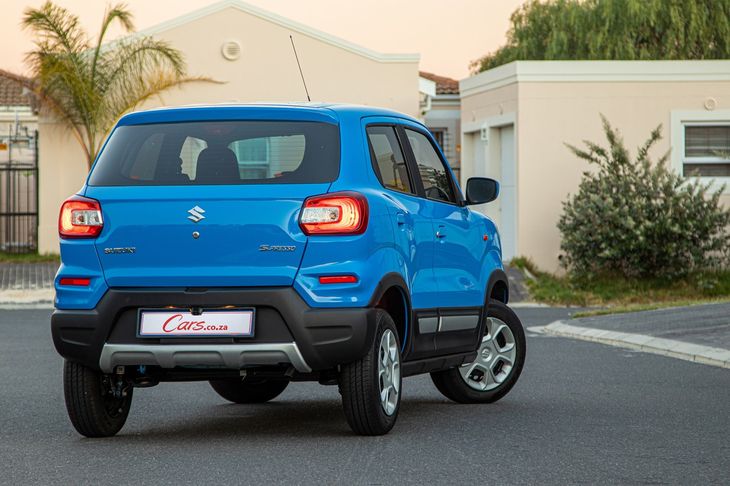 The Suzuki S-Presso suffers from the same criticisms levelled at its rivals, but it undercuts them when it comes to price.
In the budget-car market, car brands strive to offer products that offer consumers great value for money – with as few obvious compromises/feature-deletions as possible. We could write reams of copy about firms stiving for economies of scale and the intensive use of cost-cutting materials to keep unit-costs low. The attention to detail in efforts to save money on entry-level models is quite astonishing and the little savings all add up. For example, in the case of the Suzuki, there's just a single spray jet for the windscreen.
What's the best cheap new car in South Africa? The Suzuki S-Presso is not necessarily the answer; it has its share of faults, but at this price point, one cannot expect perfection and besides, most of its rivals have similar shortcomings. While the standard spec is good, it's only on par with its rivals. The 1.0 S-Edition has an enthusiastic little engine, which is certainly a boon, but is it great to drive? Good, yes. Great? Not quite. While it's adequate, it doesn't have quite the nice-to-drive characteristics of the Hyundai Atos.
Suzuki does have a pair of significant factors in its favour: the compact-car brand has a reputation for offering excellent after-sales support. As a 2-time Cars.co.za Consumer Awards – powered by WesBank Brand of the Year winner, the Japanese marque offers commendable brand support/customer service, which is a big plus for first-time buyers.
What's more, the new S-Presso undercuts its competition on price. When you compare the 1.0 S-Edition to its direct rivals below, you'll find it's significantly more affordable than its opposition. Once we're in a position to do so, you can bet we'll line up a rumble between South Africa's cheapest cars to find out which one is best.
Related content:
Suzuki Alto Dead, Replaced by S-Presso
Suzuki S-Presso in SA (2020) Specs & Price