Hopefully, these upgrades are coming to local Rangers soon...
Ford has responded to customer feedback from Australian bakkie buyers and will execute some small upgrades to the facelifted Ranger.
With the South African and Australian bakkie markets being so similar, what happens in Australia is usually repeated locally within a few months.
So what are the Australian Ford Rangers getting? Well, from the outside, not much. On Wildtrak models there is a new 6-spoke alloy wheel design and redesigned Bi-LED headlights – which improve both illumination and appearance.
The Wildtrak's loadbox shutter cover is now power-operated and can be controlled remotely via the key fob or a cabin switch. This is a notable improvement over the current manually operated cover and will greatly increase ownership convenience, especially if you are in a hurry and stopping to buy a load of braai wood next to the road.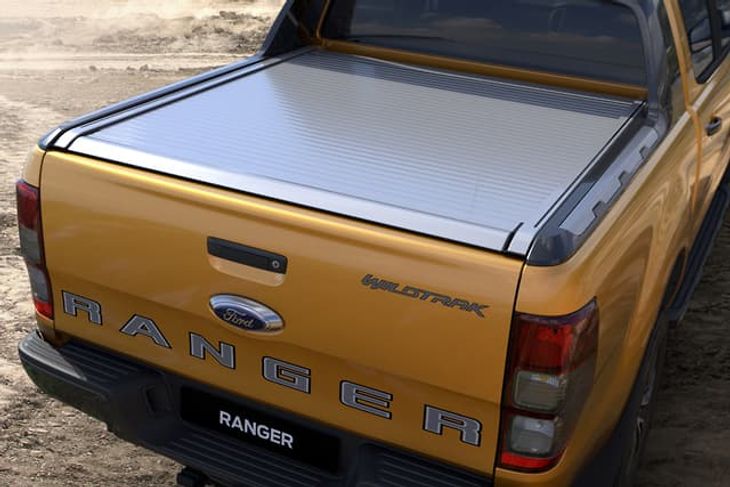 An electric load bay cover is a useful upgrade for the Ranger Wildtrak.
Inside, the 2020 model-year Ranger upgrades tally Ford's latest 8-inch SYNC3 touchscreen infotainment systems, featuring both Apple CarPlay and Android Auto. Ford has also added a USB port in the roof console, behind the rear-view mirror, to power dashcams.
Mechanically there are no significant changes, except for the option of a new heavy-duty suspension package. With revised spring rates and damper settings, Ranger's heavy-duty suspension package is aimed at those users who regularly load their Ranger to capacity and travel on gravel.
The most notable detail of this heavy-duty suspension upgrade is that Ford's engineers have been able to increase bump stop clearance by 70%. This means that if you hit a pothole at speed with a fully loaded Ranger, the risk of blowing through its suspension travel and potentially losing control, is greatly reduced.
Ford has committed to delivering all the abovementioned upgrades to its Australian customers by December 2019. The heavy-duty suspension package and powered roller shutter on Wildtrak would be very welcome additions to the South African Ranger product portfolio in 2020…
Buy a new or used Ford Ranger on Cars.co.za
Related Content
Ford Ranger Raptor (2019) Video Review
Ford Ranger 2.0 4x4 XLT Automatic (2019) Review
Ford Ranger 2.0Bi-T DC 4x4 Wildtrak auto (2019) Review
Toyota Hilux vs Ford Ranger (2019) Comparative Test