We recently put an updated Ford Ranger 2.0Bi-Turbo double cab 4x4 Wildtrak auto through its paces. Can a downsized engine and a new 10-speed 'box make that much of a difference to the flagship derivative in the line-up? You bet! There's a lot more than just a powertrain change – let's find out if the updated bakkie deserves a closer look.
We like: Refined powertrain, standard spec (most connected model in its segment), rugged and capable.
We don't like: Some iffy plastics here and there, lingering concerns about theft.
Fast Facts:
Price: R678 200
Engine: 2.0-litre i4 bi-turbo diesel
Gearbox: 10-speed automatic
Fuel economy: 8.1 L/100 km (claimed)
Power/Torque: 157 kW/500 Nm
Own a Ford? Tell us about your experience here.
SERIOUS ABOUT BUYING?
Where does it fit in?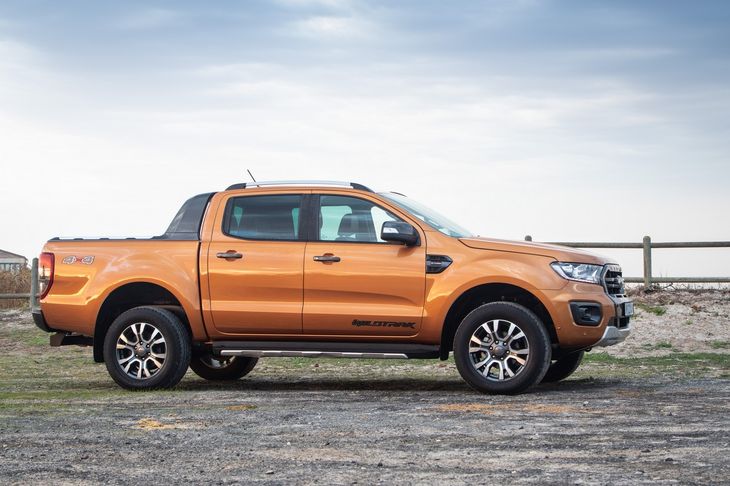 The changes on the exterior of the Wildtrak are minimal, with a subtle bi-turbo badge on the flank
The updated Ford Ranger range was launched in South Africa in April 2019 and, given how popular this double-cab bakkie is, a thorough revision was required to keep the Blue Oval's pick-up up to date in a cutthroat segment. The Ranger is available in 3 body styles: single cab, super cab and double-cab. Ford has carried over some of the engines of the previous version and product portfolio now comprises around 30 derivatives.
The pre-facelift Ranger was not without its faults. There were complaints about the reliability of the 3.2-litre's automatic transmission and how easy it seemed for the bakkie to get stolen. We enjoyed the soundtrack of the 5-cylinder engine, but it had an unhealthy appetite for diesel and felt more sluggish than its outputs suggested. There were also some interior quality issues, which we thought were unacceptable for a vehicle that cost as much as the previous Wildtrak did, but Ford claims to have addressed these issues. Has the comprehensive upgrade been successful?
How does it fare in terms of...
Performance & Efficiency?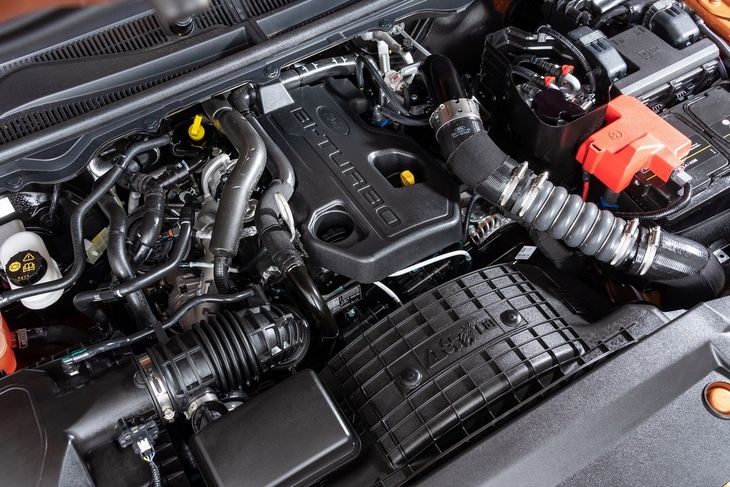 At the heart of the Wildtrak is a bi-turbo 2.0-litre diesel engine. Power and torque are up despite the loss of 1 cylinder and 1.2 litres of capacity.
One of the major changes to the Wildtrak can be found under its bonnet. The Ranger line-up features a couple of new-generation 2.0-litre 4-cylinder diesel engines and this 157 kW/500 Nm bi-turbo motor is the flagship motor. Assembled at Ford's plant in Port Elizabeth, this new powerplant is not only more powerful than the older 3.2-litre 5-cylinder turbodiesel unit, which produced 147 kW and 470 Nm, but it has a vastly improved claimed consumption figure of 8.1 L/100 km, which is undoubtedly helped by the efficiency of its main cohort: the new 10-speed automatic transmission.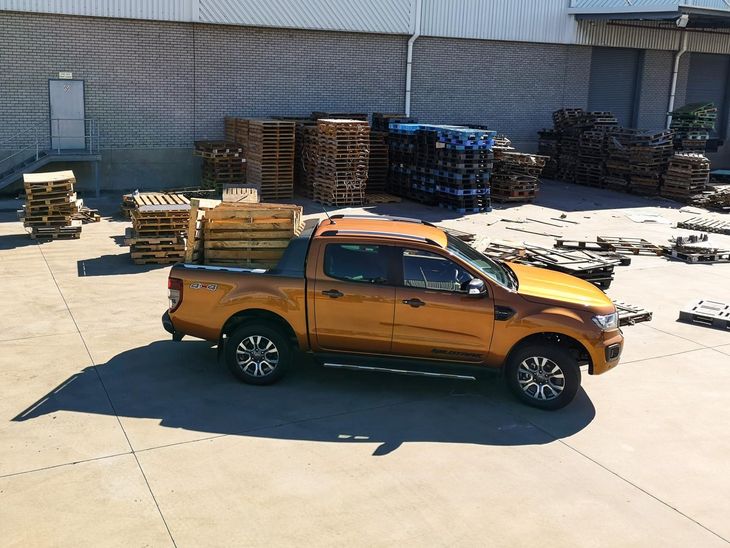 We put the workhorse capabilities of the Wildtrak to the test; it carried plenty of wooden pallets (Picture credit: Andrew Crawford).
What is the new engine like? Well, first impressions (at the updated range's media launch) were good and we can now confirm that this new 2.0-litre bi-turbo is much more responsive and eager than the 3.2, with the added bonus of the Ranger being exceptionally quiet and refined for a vehicle in this class. The power delivery is silky-smooth and the transmission shifts gears smartly and timeously; it never seems to hunt for the correct ratio.
Thanks to some clever tech, the transmission can shift down far more quickly than you might expect. Say you want to execute a quick overtaking manoeuvre while you're cruising in 10th gear, for example. Just indicate, floor the accelerator and the transmission will effortlessly drop down to 6th or 7th almost immediately. With the bi-turbo setup, lag is largely unnoticeable and the Wildtrak can summon all 500 Newton metres in an instant.
Comfort & standard features?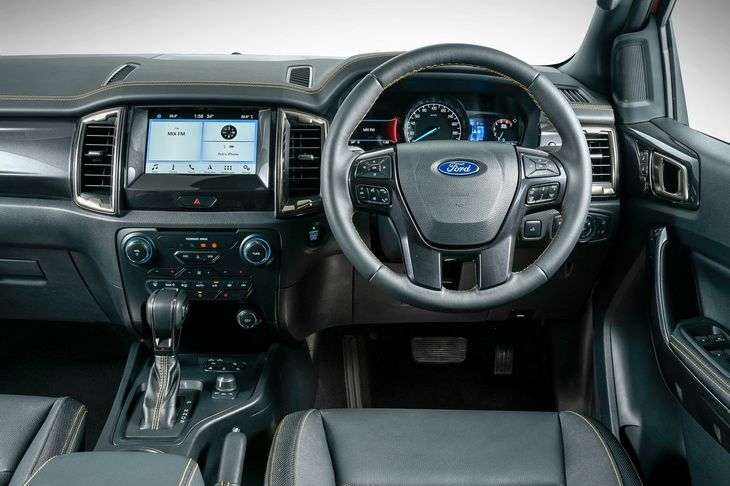 The cabin of the updated Ford Ranger Wildtrak doesn't look that much different to before, but features a number of quality upgrades.
In luxurious Wildtrak trim, the Ford Ranger unashamedly panders to the "leisure" or "lifestyle" end of the double-cab bakkie market. While there is definitely a market for hardcore and superbly capable bakkies, the reality is that not all that many people who buy Wildtrak-spec Rangers will fully utilise the 4x4 double cab's immense off-road abilities, at least not very often. To park an attention-grabbing big-rig like this in your driveway is a status statement and the knowledge that you can easily pack the family and drive to Mozambique is, well, a bonus. Double-cabs, however, aren't renowned for excellent occupant comfort and, to compensate, Ford has tried its utmost to flood the Ranger's cabin with convenience features.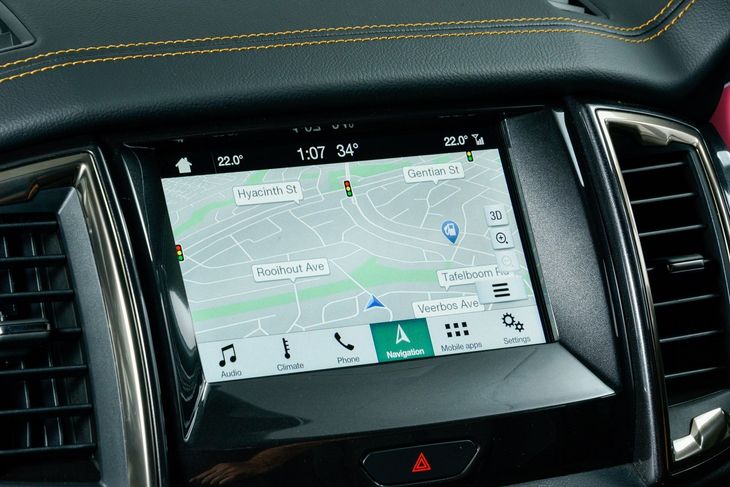 The Ford SYNC3 setup is arguably best-in-class in terms of its intuitive and comprehensive infotainment interface.
It's hard to argue against the Ranger Wildtrak being the most connected and feature-packed product in its segment. From a semi-digital dashboard with crisp graphics to the advanced-yet-intuitive SYNC3 infotainment system and everything in between, the Ford offers more connectivity than any other bakkie in the market. There are 2 USB ports at the front (they're illuminated so you can find them in the dark), plus Apple CarPlay and Android Auto compatibility and satellite navigation are standard. As we're heading into the winter months, we made use of the (front) seat heaters and, for those who plan to load up the Ranger's capacious load bed, the bakkie's new tailgate benefits from a torsion rod, which makes it easier to operate.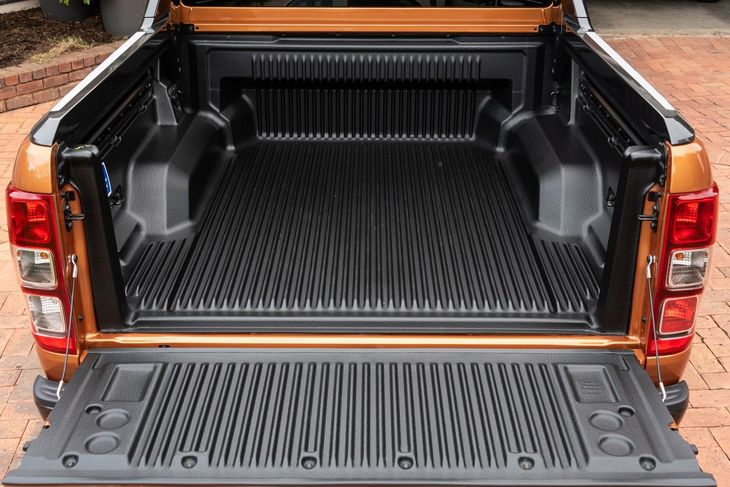 The load bed now features an easy-to-lift tailgate.
If you compare this new Wildtrak with the previous iteration, you'll notice that some of the orange accents have been toned down. We liked them, but can completely understand that some people found them "a bit much". Oh, and 1 of our favourite features from the Ranger's Everest sibling has been carried over to the updated bakkie: noise-cancelling technology, which cleverly envelops the cabin with sound waves to dial out road noise. Some may say it's a gimmick, but you'll appreciate it on longer journeys! We also appreciate the keyless entry and the convenient start button. The Ranger Wildtrak further boasts commendable levels of safety spec (some of it autonomous), including forward-collision alert, lane-keeping assist and adaptive cruise control, the latter of which is exclusive in this segment. Rear passengers, meanwhile, will appreciate the 230V charging socket.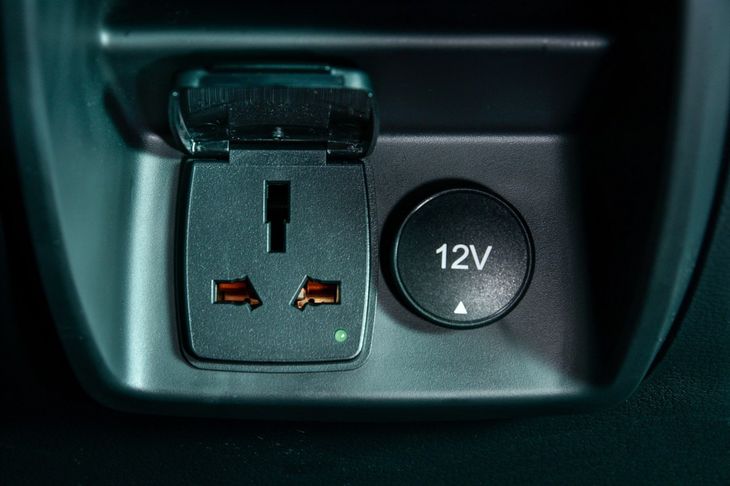 One of the best convenience features we've seen in a double-cab bakkie: a 230V plug for charging devices.
Ride & Handling
Double-cabs, which are body-on-frame vehicles, tend to ride uncomfortably when their load beds are unladen. When there's no weight on their leaf spring-suspended rear axles, bakkies can bounce, jiggle and shimmy at higher speeds. While it'd be impossible to eliminate this characteristic entirely, Ford has tweaked the Ranger's suspension to make the general ride quality more composed: the front anti-roll bar has been repositioned, which facilitates a decrease in the front spring rates. The firm has also tweaked the bakkie's damper rates and lowered its standard tyre pressures.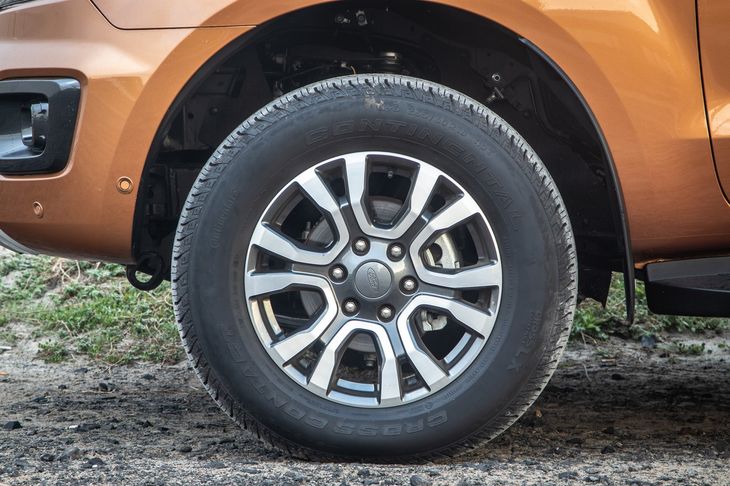 The Ford Ranger ride quality has improved slightly, but it's still no lithe and agile performer thanks to its body-on-frame assembly.
Does it all work? While the majority of our test period was spent on the road, we suspect that's also where you'd find nearly all the updated Rangers, especially Wildtraks! Given the addition of noise-cancelling tech, a quieter and more refined engine, as well as a slightly reworked suspension, we're happy to report that the Ranger's levels of on-road comfort are quite satisfactory. In typical bakkie fashion, the Wildtrak is hardly a dynamic vehicle and when you pitch it into corners, it can feel cumbersome. The steering's not the most direct, but it's light and easy to use, plus it hides the fact that you're driving something that's larger than the majority of passenger vehicles. We also had the chance to put the bakkie through some dirt and while the Ranger Wildtrak's 4x4 capabilities are unchanged, it's still a tremendously capable vehicle when the tar ends and the sand/rocks/mud begins.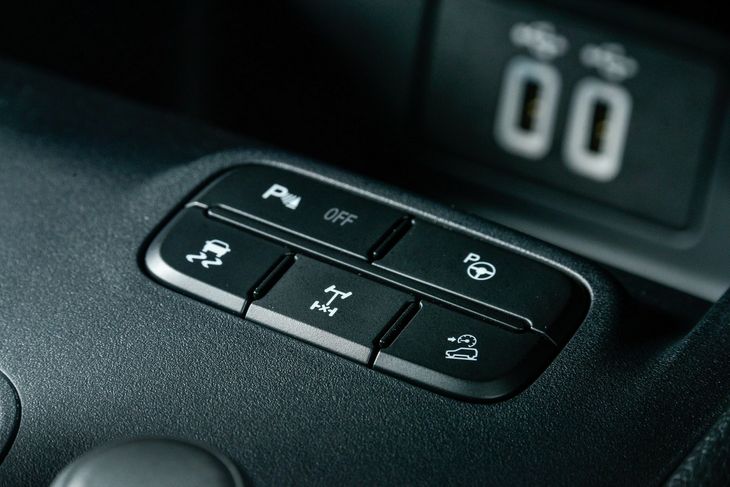 Hill Descent Control, rear differential lock, traction control and auto parking can be found here. Note 2x USB ports in the distance.
Pricing and warranty
This Ford Ranger Wildtrak 2.0 bi-turbo double-cab 4x4 Wildtrak auto retails for R678 200. All Ford Rangers come standard with Ford Protect, comprising a 4-year/120 000 km warranty, 3-year/unlimited distance roadside assistance and 5-year/unlimited km corrosion warranty. A 6-year/90 000 km service plan is included, with 15 000 km service intervals.
Verdict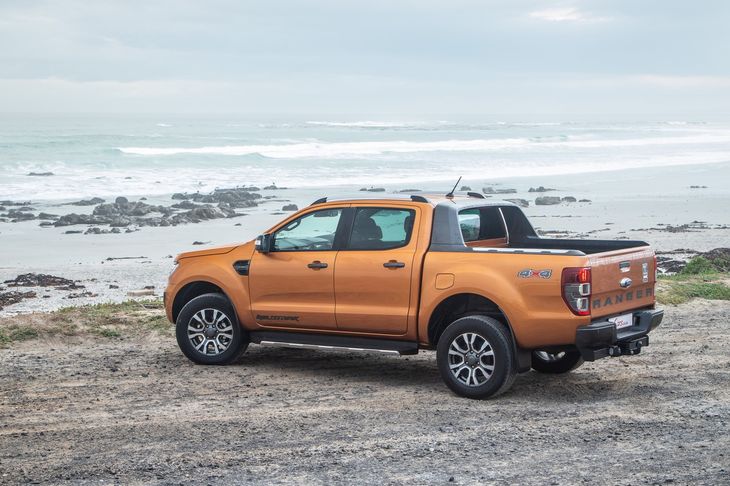 The Ford Ranger's upgrades may not be visible to the naked eye, but the newcomer represents a big step forward for the bakkie segment
Many Ford fans (and even casual observers) reacted negatively when the updated Ranger was unveiled. The most common criticism was that the "new" model resembled its predecessor too closely and, to be fair, the visual changes are minor. But the real changes can be found under the bakkie's sheet metal and this is where the 2.0Bi-T DC 4x4 Wildtrak auto truly shines. It might have a smaller capacity than the 3.2, but the new 2.0 biturbo powerplant supersedes the 5-cylinder unit (which is still offered in other derivatives) in terms of outputs, efficiency and refinement.
Initial reservations about the 10-speed transmission having "too many ratios" proved unfounded – the new 'box is well-calibrated to the engine's performance characteristics and shifts in a measured, predictable manner. Those who intend on making use of the Ranger's 3 500 kg tow rating (for braked trailers) are likely to find the additional ratios very useful. We have had extensive experience of the Ranger's off-road capabilities over the years and, by virtue of 237 mm of ground clearance, multiple off-road modes and a low-range transfer case, the Wildtrak thrives in the rough stuff.
It needs to be noted, however, that Ford has received a lot of negative press of late (April/May 2019) due to issues with theft. After a few viral videos that show how easy it is to nick a Ranger by deactivating its alarm by the front wheel came to light, we were quite shocked. While not a lot can be done to safeguard previous generation Rangers, Ford South Africa has told us that this new-spec Ranger comes with a Category 1 Thatcham-specification alarm, which is an upgrade of the previous setup. This means the vehicle has ignition detection, perimeter detection and the alarm will go off if a window is broken or the vehicle is tilted. The alarm also has its own battery supply, so if criminals manage to disconnect the car's battery, the alarm will continue to sound. Only time will tell if this new alarm system represents a marked improvement as a vehicle-theft deterrent.
Should you buy one? The updates to the 2.0Bi-T DC 4x4 Wildtrak auto do make it a stronger proposition than ever. The all-new powertrain is impressive, refined and frugal, and represents a big leap forward for the segment. Those who'd like to recycle disparaging remarks about the "puny 2.0-litre motor" in the Volkswagen Amarok and level them at the Ford must be prepared to eat their words (yet again). If you currently own a pre-facelift Wildtrak and you're considering an upgrade to the new iteration (with its downsized engine), you are highly unlikely to be disappointed.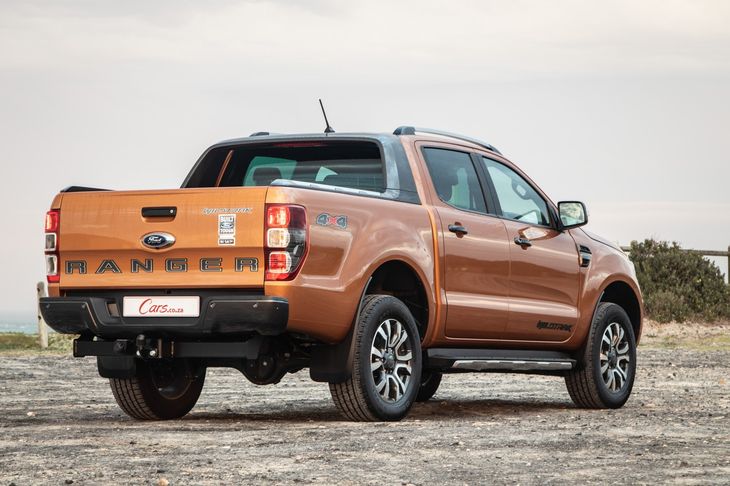 The Ford Ranger comes with a nice sticker saying "Built in SA". The body is assembled in Silverton, Pretoria with the engine built in Port Elizabeth
Looking to buy a new/used Ford Ranger?
Find one on Cars.co.za by clicking here
Rival Comparison