A Ford Mustang electric SUV doesn't sound right at all, and yet, the Ford Mustang Mach-E looks desirable. Here's what you need to know.
Ford has launched the Mustang Mach-E, which is an all-electric SUV, which underlines the Blue Oval's plans for an electric future. "At the first-ever Detroit auto show, Henry Ford said he was working on something that would strike like forked lightning," said Bill Ford, executive chairman, Ford Motor Company. "That was the Model T. Today, the Ford Motor Company is proud to unveil a car that strikes like forked lightning all over again. The all-new, all-electric Mustang Mach-E. It's fast. It's fun. It's freedom. For a new generation of Mustang owners."
Strangely, the vehicle was revealed in November 2019, but will only go on sale towards the end of 2020. When it launches, the Ford Mustang Mach-E will be available with standard and extended range batteries, with the choice of either rear-wheel drive or all-wheel drive. Range is estimated at 480 km for the latter version and Ford is claiming the all-wheel-drive model will be quicker to 100 kph than a Porsche Macan. There will also be 2 performance versions, with a target performance figure of under 4 seconds to 100 kph for the GT, while the GT Performance Edition is aiming for the 3.5 second to 100 kph bracket. Outputs of 342 kW and 830 Nm are being touted. For those interested, the battery capacities are 75.7 kWh and 98.8 kWh, the latter being the extended range. The FordPass Charging Network is the largest public charging network in the US, and there are more than 12 500 charging stations and 35 000 charging plugs available. Using one of the powerful fast chargers will see the Mustang Mach-E go from 10% to 80% in around 38 minutes.
Inside, there's a Tesla-style central infotainment screen. Ford says this is the next-generation SYNC which features things like machine learning, over-the-air updates, smartphone-like controls and a cloud-connected assistant. The main benefit of an electric car is the addition of a front trunk, or frunk, which adds to the cargo-carrying capacity.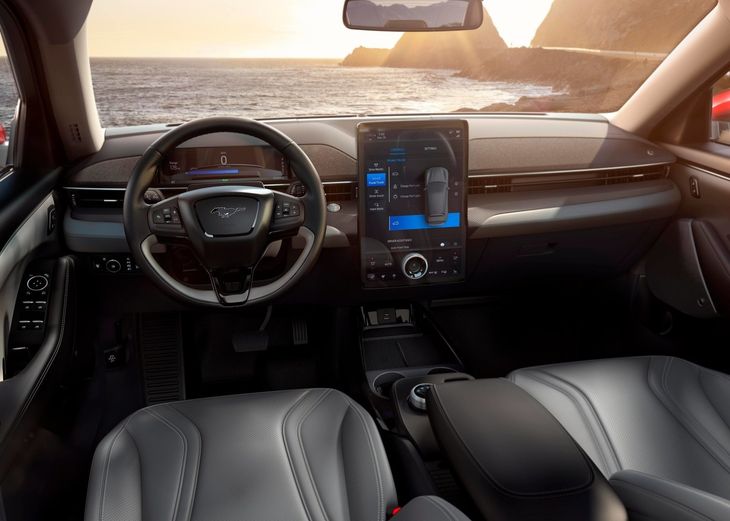 The Ford Mustang Mach-E cabin.
Further Reading
Ford Teases All-Electric Mustang SUV
Ford Mustang 5.0 GT Fastback (2019) Review